The Least Expensive Sectionals At IKEA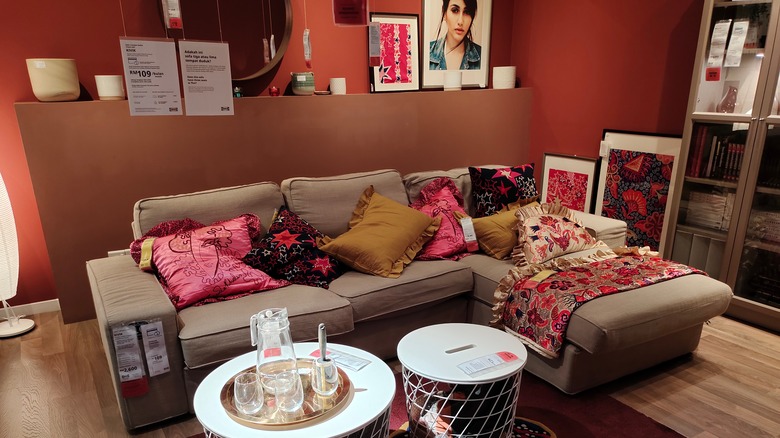 muhammad afzan bin awang/Shutterstock
IKEA is a much-loved furniture store for all shoppers, especially those on a budget. The Swedish furniture conglomerate offers consistently low prices for well-made, practical home accessories, décor, and, of course, furniture. Compared to competitor stores, like Target, Kitchn reports that IKEA tends to beat its rivals' prices or at the very least match.
The generous prices extend to usually costly furniture items, such as sectionals. Couches, especially sectionals, tend to be quite expensive — the cost is usually justified, as the living room staple is meant to last anywhere from 8 to 12 years. But that doesn't change the upfront hit to your bank account, and decent sectionals tend to start around the $1,000 mark, via Hello Furniture & Mattress. Luckily, IKEA has you covered yet again for stylish yet affordable sectionals. While you may have to use some elbow grease to assemble it, your wallet will certainly thank you.
Pärup sectional
One of the more affordable but stylish sectionals sold at IKEA is the Pärup sectional, which starts at $899, per the IKEA product page. The sectional comes in four colors: vissle gray, vissle dark green, gunnared dark gray, and gunnared beige. The first two on that list cost $899, and the latter two cost $999.
The Pärup sectional has four seat cushions plus a corner cushion, with six back cushions. It also has a classic, square design, with stylish round light oak legs. The seat cushions measure 18.5 inches from the floor, and each side of the sectional measures 92.5 in length and is nearly 21 inches deep. Consumers have described the Pärup sectional as soft; as a bonus, the cover is removable and machine washable, and the purchase also includes a 10-year warranty. The cushions are made of pocket springs, meant to make the seat comfortable and supportive.
Friheten sleeper sectional
While the previous sectional was very affordable for its size, this next one is even cheaper. The Friheten sleeper sectional starts at just $799, per IKEA. This sectional comes in five different colors. At $799, skiftebo dark gray and skiftebo blue colors are available. Offered at $899 are hyllie dark gray and hyllie beige. Finally, at $999, there's the option of bomstad black, which has a leather-like appearance.
This IKEA couch only has three seats, the chaise included, and three back cushions. It measures nearly 18 inches from the floor to the seat cushions, 90.5 inches across the back, and 22.5 inches deep. The chaise is a little longer than 47 inches. This sectional has a lot more to offer than just sitting, though. The bottom of the couch portion pulls out and up, transforming it into a spacious sleeper sofa. As a bonus, the chaise lifts offer space for storing various objects, and it can also be moved to the left or right of the couch, depending on your preference.