The Least Expensive Rugs At West Elm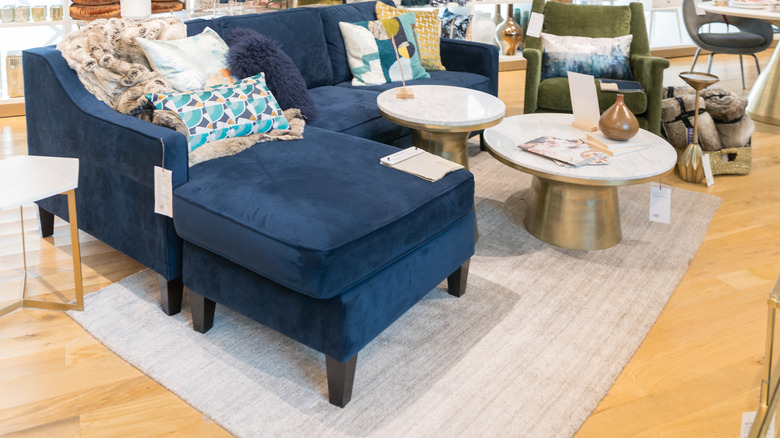 Helen89/Shutterstock
Introducing a rug into a room can bring texture, balance, complementary colors, and contrast. There are so many designs to choose from, but you always have to ensure they will go with your existing design scheme. However, it can be pretty expensive to buy a rug, depending on the size and material. If you want something more high-end, it can cost anywhere between $400 to $10,000, per Circle Furniture.
Luckily, West Elm has quite a few affordable rugs, with many starting at just $39, according to their official website. This home retail store is known for its sustainability work, as it's the only retailer of its kind to be on Barron's 100 Most Sustainable U.S. Companies list for four consecutive years, per their official website. Many of their items are handmade and originally designed, so although you're paying an amazingly low price, you aren't sacrificing quality. Read on to see some West Elm rugs you can get for bargain prices.
Neutral beauties
For those with minimalistic or Scandinavian-designed homes, this Jute Boucle rug from West Elm may be a great option to implement into your home, as it starts at $30 for the 18"x30" option, per their official website. It comes in various sizes at different price points and can be used as an area rug, kitchen runner, or door mat. Although this rug was handwoven, it is still durable enough for high-traffic areas because of its more rough texture. 
The Heather Taylor Home Simple Striped rug is also an excellent option for neutral homes, and it starts at $35 for the 2'x3' option, per their official website. They also offer a longer 2.5'x7' option that would make a perfect runner or a 9'x12' for an area rug. It has an off-white background with dark brown stripes for contrast. This rug was tightly woven, making it more durable and less likely to shed. It is made of 100% cotton, and the style can add a touch of warmth to a home.
Add a touch of color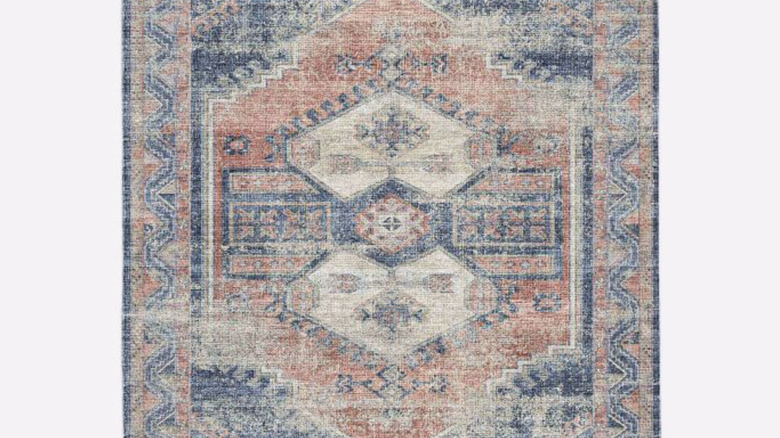 If you've been designing with a bunch of neutrals, using a rug is an easy way to incorporate a burst of color. The Crest Border Easy Care rug from West Elm introduces shades of blue and red and starts at $39, according to their official website. The distressed coloring of this rug makes it a great vintage addition to a home, complemented with other soft colors. This rug is also great for those with big families, as it's easy to clean and does well in high-traffic areas.
The Paisley Heirloom Easy Care rug is also a good option, and it starts at the same price point, according to the West Elm site. It is a faint and distressed sky blue color, and its border is a light cream. It has a subtle pattern that isn't overwhelming. This is a great rug to use as contrast if you have dark furniture in your space.