The Easiest Way To Help Your Garage Live Up To Its Potential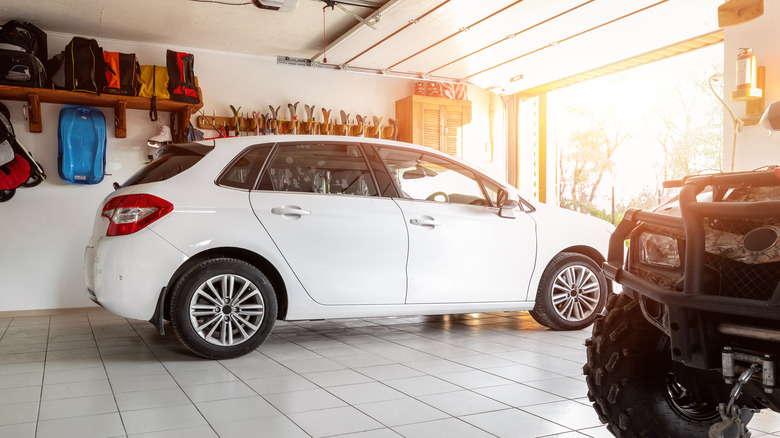 Gorloff-KV/Shutterstock
A garage is a great amenity, but are you making the most of yours? All of that space being used just for parking and storing extra junk that you can't throw out can often seem like a waste. The Newswheel agrees that your garage can have a multitude of alternate uses, such as a workout space, kids' playing area, workshop, or even a home office. This, of course, depends on a number of other factors, like the state of your garage, how much you're willing to invest, and your locale. 
You can even go a step further. According to Homebuilding & Renovating, if your budget allows, you could consider extending your kitchen into your garage or adding a floor above to increase your space vertically. However, we think there's one easy hack you need to master to make any of these possibilities work. Here's the best way to level up your garage in no time.
Organization is key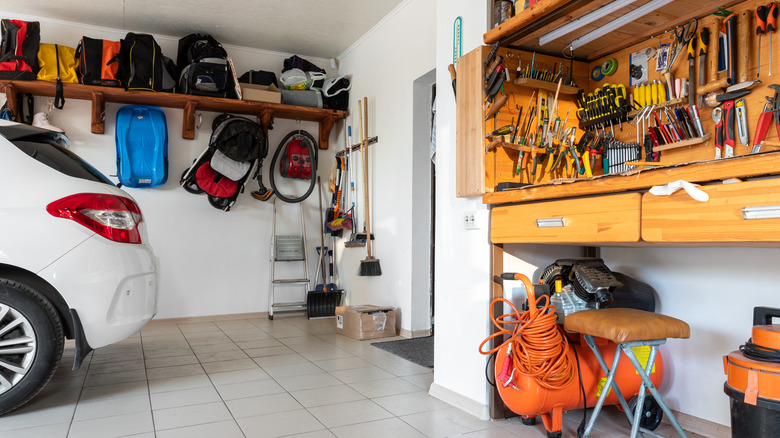 Gorloff-KV/Shutterstock
According to The Closet Works, inc, a well-organized garage will instantly make your garage look cleaner and larger. It'll also make sure anything expensive or dangerous stays safely put away. Not to mention, you'll find it much easier to find what you're looking for. We all know what a nightmare it can be to rummage through your garage and not find what you're looking for.
You should start by drawing up the floor plan of your garage, along with dimensions such as windows, doors, and room lengths and widths. This will let you maximize the planning of your equipment so you save as much space as possible. Smart Racks recommend keeping as many items off the floor as possible. Overhead storage is a great hack to help save as much floor space as possible. This also makes cleaning your garage much easier. You could also incorporate organizing tools such as plastic bins, clear jars, and a label maker, in addition to shelving.
The need for shelving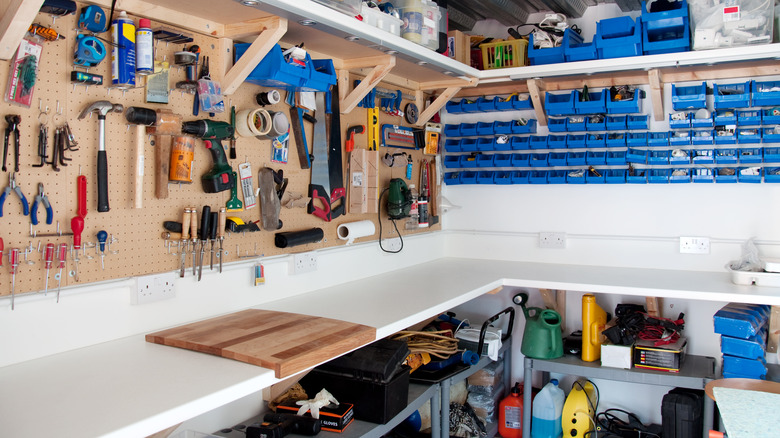 Cmspic/Shutterstock
Investing in good shelving plays a big role in the organization process of your garage. Opting for strong shelving guarantees that you can get the most out of them instead of having to worry about over-stuffing them if you opt for cheaper shelves. You can add a standing unit, wall-mounted shelves, or cabinet shelves depending on your available space.
According to Garage Organization, garage shelving can be installed in metal, plastic, or wood. Metal cabinets are sturdy and durable, making them suitable for high-traffic garages. Plastic cabinets are also a great option as they can withstand strong chemicals and temperature fluctuations, and are also inexpensive and simple to clean. Wood cabinets, on the other hand, aren't perfect for the garage due to their weight. They are also sensitive to moisture damage, so if the garage is in a humid region, this might be an issue. These are all important concerns you should think about when considering which material you want for your garage shelving.