The Bathroom Design Norm That Christina Hall Broke
Most people can agree that bathrooms are challenging to design due to all the factors to think about. Not only do you have to choose paint colors, tile shade, a vanity, or even a freestanding tub, but you must also make sure everything will work well with the water and prevent future damage. If you're trying to design your bathroom without making any major mistakes, it may be a good idea to observe the tactics of some interior designers. For example, design and real estate expert Christina Hall is the host of "Christina on the Coast," per HGTV. So, she may be able to provide some life-saving tips for those planning a bathroom renovation.
While filming her show, she broke a design norm she typically follows when designing a bathroom, per Realtor. Hall and her client go back and forth on using a particular material, but her contractor Mike Rose comes in to save the day. Let's check out the rule we all can potentially break when designing our bathrooms.
Bathrooms can have wood floors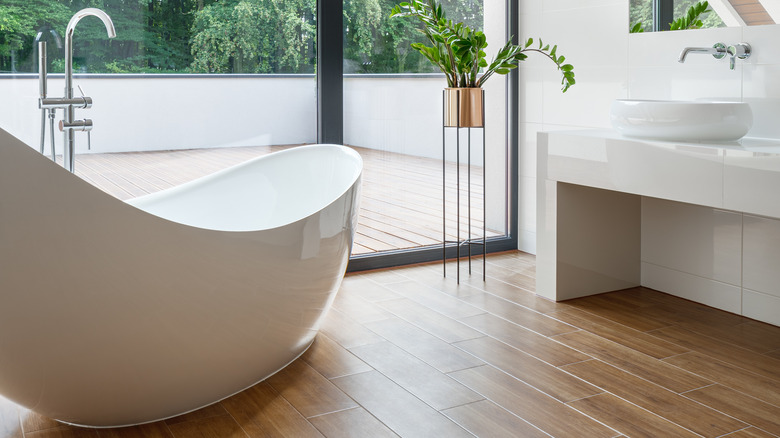 Dariusz Jarzabek/Shutterstock
In an episode of "Christina on the Coast," Christina Hall's clients Miguel and Sabrina stated they desired a master suite that complements their kitchen, per Realtor. After figuring out what kind of tiles and cabinetry they would like to see in the space, the floors were their next topic of discussion. Miguel was persistent in using the same wood floor from their first level and installing it in the bathroom to create a uniform look. However, Hall was worried about the risk of water damage.
She stated that most people do not install wood flooring into their bathrooms for that exact reason. The moisture in the bathroom can potentially cause hardwood floors to rot, warp, or cup, per FloordingDay. However, her contractor Mike Rose pushed her to break her bathroom design norm by stating that you can install wood floors into a bathroom safely by using a special glue capable of preventing water from seeping into the wood. The result? A beautifully cohesive home.