What Is The Difference Between Hardscape And Softscape?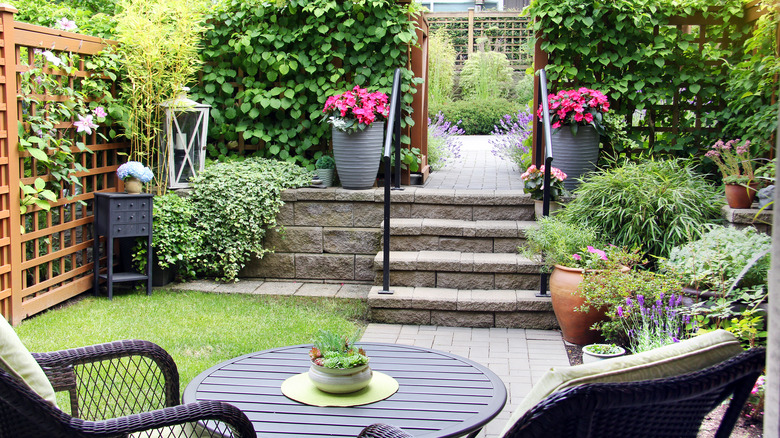 Hannamariah/Shutterstock
A backyard is only as good as its form and function. And keen homeowners know the value of a versatile, usable, and beautiful landscape design. Because of this, the business of landscaping has ballooned into a $128 billion industry over the years. According to the research group IBISWorld, this consistent growth is expected to continue well into the future.
So, you've reached the point where you're ready to take on your empty backyard and turn it into the recreation and relaxation space of your dreams. First of all, congratulations! It's exciting to put a plan into motion, especially one that will escalate the wow factor of your home. You may be finding yourself pretty far down the rabbit hole of design websites and TV shows touting all the latest and greatest in outdoor layout and décor. Terms you've never heard of are being tossed around by the experts and your head is starting to spin.
Let us help you get a clearer understanding of two of the terms you're likely trying to differentiate between: hardscape and softscape. To begin with, both are necessary for a complete and livable outdoor space. They each incorporate different elements of the design and your backyard will never be as amazing as it can be if you skimp on either.
Hardscape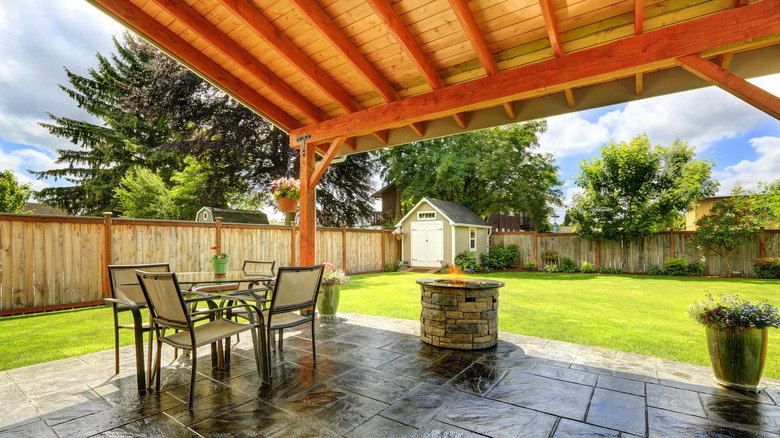 Artazum/Shutterstock
First, think function. In Robert Reffkin's MasterClass, the real estate entrepreneur explains that hardscaping refers to man-made structures that allow us to effectively use our outdoor living space. If you think of all the hard surfaces contained within your backyard, for instance, you'll quickly get a clear picture of which elements represent hardscaping. The stone walkway helps you safely and easily walk across the lawn. The pergola over your head blocks the harsh rays of the sun from scorching you while you read a book on the patio. The fire pit keeps you toasty so you can stargaze or roast marshmallows late into the wee hours of a chilly night.
Another way to think of hardscaping elements is that they are inactive and inorganic. A retaining wall is a good example of something that is not going to spring to life or move. A driveway is another. These elements are woven together to lay a foundation and give shape to the overall design plan. While some of these backyard upgrades may lean toward the expensive side, ultimately, they extend your living space outdoors and allow you to really make the most of your entire property.
The upfront cost is likely to pay out big in the future. A true benefit of high-quality hardscaping is that it increases the value of your property with a return on investment that can reach 150%, says Turf Magazine. That's certainly a figure worth getting behind if you can do it.
Softscape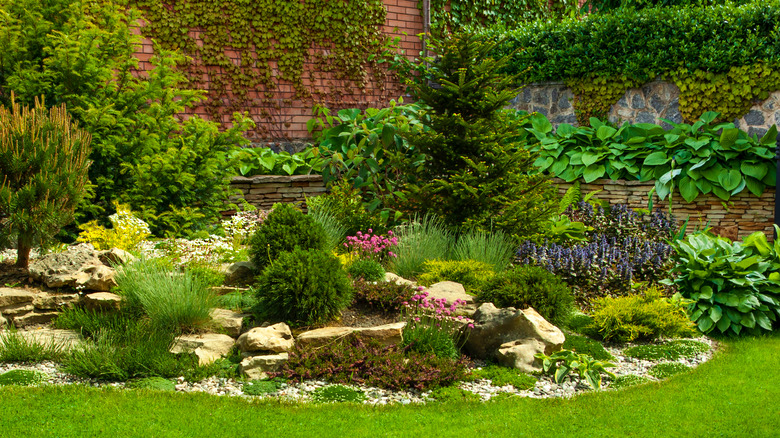 Andrey tiyk/Shutterstock
Now, consider form. Once you have your hardscaping elements in place, it's time to complement them with softscaping. According to Huckleberry Landscape Design, this is where the project literally comes alive. Softening up the hard elements with shrubs, flowers, mulch, and garden soil is what softscaping entails. You can think of it as the way you incorporate nature and beautify an otherwise bland, though structurally sound, design.
To illustrate the point, think of the rock wall surrounding your new fountain as representing the hardscape; the plants and water you fill the area with will represent the softscape. On a similar note, edging your stone patio (hardscape) with hostas and monkey grass (softscape) finishes the look with style and makes the form more comfortable. Softscaping also encompasses larger trees in the yard or tall flowering bushes that grow along a fence line.
Softening the structural aspects of your landscape design can happen in more subtle ways too. Colorful hanging baskets suspended from the roof of a pergola will add cheerful energy; as would containers and raised beds for vegetable gardening. Natural elements increase comfort. They have the potential to perfume the air with the sweet scent of blossoming flowers while welcoming delightful characters like birds and butterflies over for a visit. Depending on your style, you may opt for a few softscape elements here and there, or you could allow your plants to take center stage.