How To Easily Remove The Doors On Your Kitchen Cabinets For Open Shelving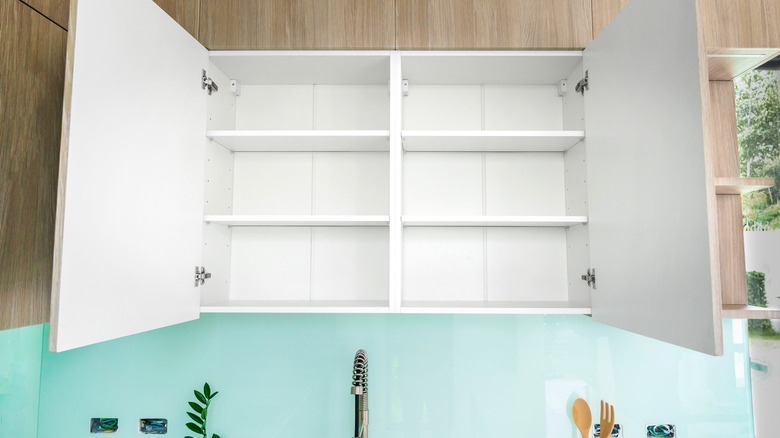 PK-Donovan/Shutterstock
Open kitchen shelving has been growing in popularity over the past few years, and for good reason. As Apollo Kitchens says, they're efficient, flexible, and more inviting and friendly compared to traditional closed cabinetry. Open shelving is also much easier to clean and organize. What's more, it's usually the most budget-friendly option as well.
For these aesthetic and practical reasons, if you've been thinking about installing open shelves in your kitchen, you could easily test the design out by working with the kitchen cabinets you already have. (It's all about removing the cabinet doors.)
Note that installing brand new open shelving can cost you anywhere from $60 to $500, according to Mad City Windows. And so if you're keen on open shelves but don't want to spend the extra cash, we've got you covered. With a few tools and the right method, you can turn your existing kitchen cabinets into open shelves in no time. After you do, you can enjoy more convenience while giving your kitchen a fresh new look.
Removing your kitchen cabinet doors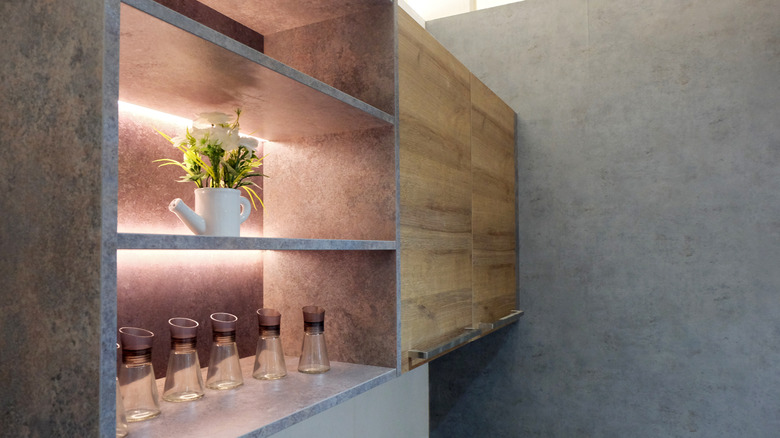 Papah-kah/Shutterstock
Turning your existing kitchen cabinets into open shelving may seem like a daunting task if you're unfamiliar with handiwork, but it's really quite simple. As DIY blog Dream Green DIY explains, start out by carefully taking out the doors of the cabinets you would like to have open.
Most kitchen cabinet doors are usually fastened with a hinge, so you just need to unscrew those hinges and your doors should come right off. Dream Green DIY recommends keeping the removed doors in storage because you never know if you might need them (or go back to your closed cabinets).
Next, get rid of any old shelf lining that might remain. If your shelves are bare, you can, of course, skip this step, and proceed to give the inside of your brand new shelf/shelves a good clean with a suitable cleaning product, and you're good to go.
You can stop there and start filling your open shelves, but as Sherwin-Williams suggests, you could also smooth them with sandpaper and paint the insides for an elevated look.
Styling your new open shelves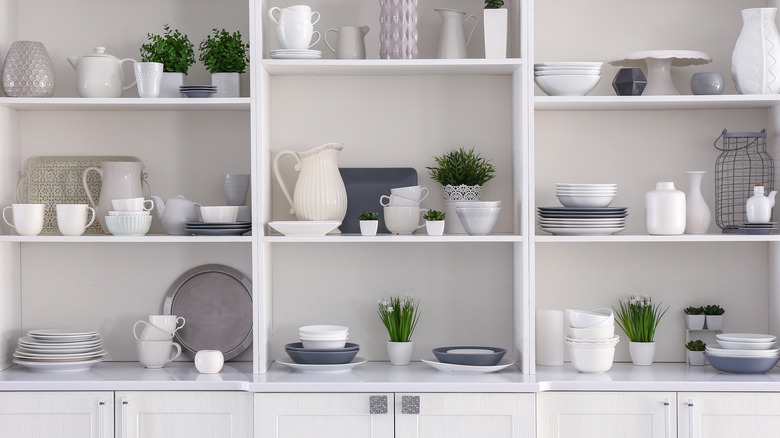 Pixel-Shot/Shutterstock
Now that you're all set with new shelves after removing the kitchen cabinets from their hinges, you want to make sure they look good and stylish. With open shelving, the right styling can make your kitchen look that much better. Vaunt Design recommends adding a few decorative ornaments to your shelves along with your dishware. Plants, art, or a sculptural vase are great options.
Also, consider mixing up the materials of what you put on your new open shelves. Don't be afraid to mix materials like stoneware and wooden utensils. Wine glasses and other dishware that have an aesthetic quality to them are perfect for displaying in your kitchen. If you have cookbooks or other trinkets, feel free to add them to your open shelves for a sophisticated feel.
At the end of the day, though, make sure you stay true to your design aesthetic and what you want to see in your kitchen. Removing kitchen cabinet doors is a big change, but open shelves are a great opportunity for you to try being creative with your home décor without having to try too hard, so have fun.