Syd And Shea McGee Reveal How To Create A Perfect Summer Entryway
Frazer Harrison/Getty Images
Although it's August, that doesn't mean summer is over yet. This means your home should still maintain a bright and inviting vibe that interprets the summer colors. For the next month, you'll hopefully have enough sunshine for one more good summer party before we transition into the glorious fall season. So, you still have time to give your entryway that summer design you've been yearning for, especially if you plan on having more friends before school starts.
Lucky for you, Syd and Shea McGee have offered some fun advice on how you can create an amazing summer entryway, per their official website. The married couple are known for their hit Netflix show "Dream Home Makeover," where they work with homeowners to transform their interior spaces based on their budget. So far, they've been a hit and are now on season three of their show, according to their website. As a result, they may know a thing or two about how to make a space work for you.
Start off with the basics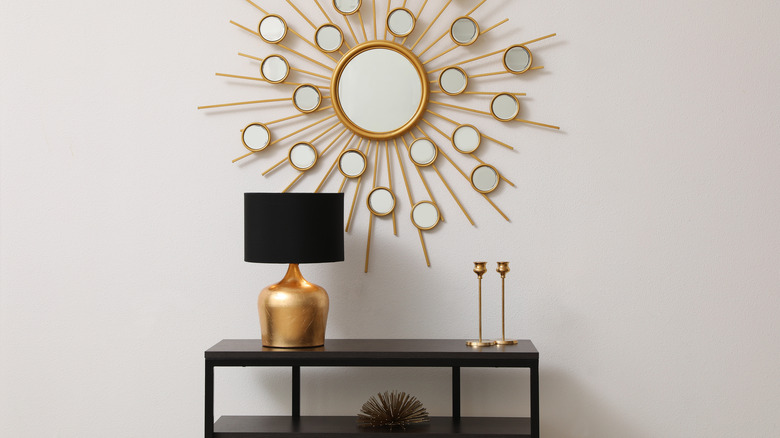 New Africa/Shutterstock
The McGee's believe the first thing you need is some sort of console table to start the design process on, per their official website. This table will be used to add decor and other items to ensure the design vision is balanced and harmonious. Above that table, she has placed an oval mirror with texture to add interest. The oval shape itself is also interesting enough to contrast the table. 
Adding texture is a critical part of interior design and is often forgotten about by those not working with designers, according to LuxDeco. But, it's not difficult to do, and you can achieve this design element in many ways. You can do this by adding textured furniture, such as a fluffy bench or a velvet sofa. If you don't want to buy big-ticket items, you can also be successful in adding texture through small decor items, such as a gritty vase. However, be careful not to add too much texture, otherwise, it will muddy up the design.
Don't forget the accents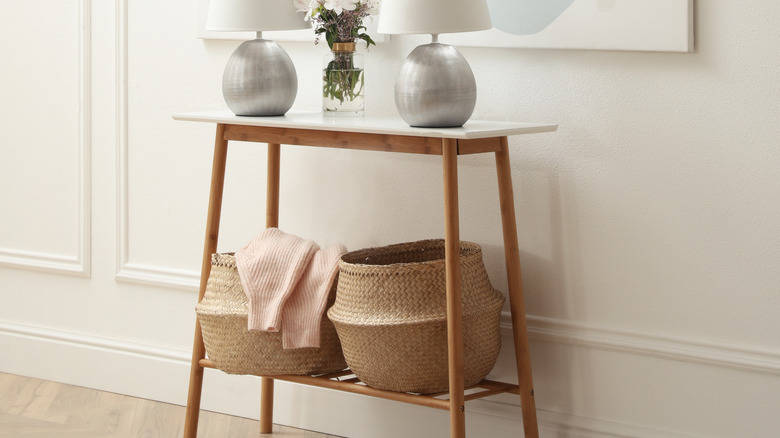 New Africa/Shutterstock
Accents are important to the McGee's, which is why they included a variety of items on their console, such as stacked books, per their website. They did this to add height to the look, while the vase and large lamp balance out each other to create a harmonious design. The McGee's also added a small plant that was placed on top of the books to add a nice touch of color, and they expanded the entryway's functionality by introducing a tote bag underneath to store blankets.
There are a plethora of other ways to add storage to an entryway that is both discrete and stylish. ShelfGenie says you can introduce woven baskets, which will look best in homes that are going for that rustic, farmhouse vibe. They come in different sizes, which means they can be used to store different things. You can also add a nearby bench that has storage underneath the seat; this is one of the best options as it has the most functionalities.