15 Edgy Teal Paint Shades That You'll Want In Your Home
A little complex, a little soothing. Somewhere between the colors of blue and green transpires the enthralling and rich shade of teal. A relative of the brighter green-blue cyan, teal can be tender and edgy or revitalizing and private. A tertiary color, teal is the combination of blue and green tints that mingle with white, giving it that deep, dreamy quality. 
If you want to implement some powerful shades of teal within your home, there are several choices. From light to dark, teal is a cool member of the green color family and a great choice for a coastal water vibe as well as a woodsy atmosphere. To achieve both strength and serenity, apply teal to your bathroom, bedroom, and living room walls, among other spaces. You might even layer it in a monochrome scheme or only as an accent if you want to make a bold statement, per Living Etc. Additionally, colors that naturally complement the daring seaside shade are black, brown, orange, pink, yellow, and white. Read on to discover the perfect shade of teal for your home.
Bright and dreamy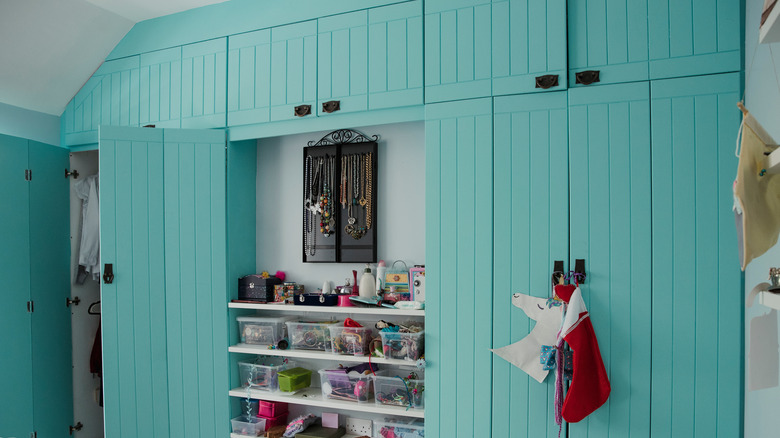 DGLimages/Shutterstock
A bright teal can cover a lot of area like this large cabinetry shown above. Light and energetic, this creamy blue shade promotes a positive aura for a craft-style work area, including ample storage space for jewelry and clothes. A bold look, the pleasant teal contrasts nicely with the built-in white shelves and dark hardware. 
Bold pastels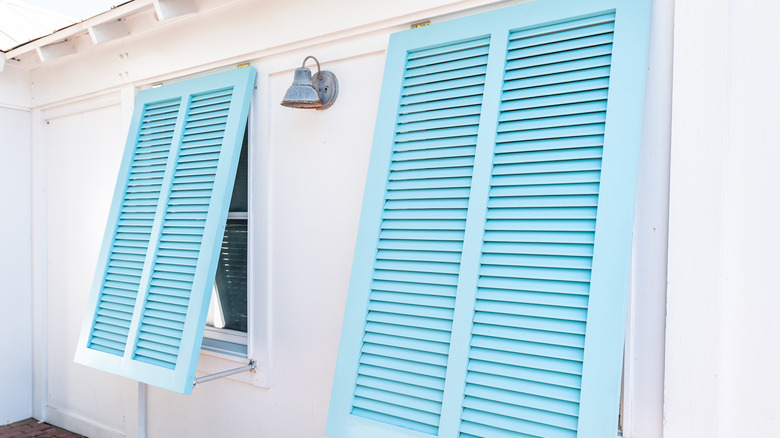 Kristi Blokhin/Shutterstock
As light as teal can be, this pastel shade is lively and brave, as seen coated on two wooden hurricane shutters. This pretty blue tone is perfect for tropical or coastal exterior trim and shutters, as it juxtaposes a pristine white wall with a silver metal light fixture.
Classic charm
The shade of teal painted on this front door is compelling and inviting. With a classic balance, the blue-green combo pops out from the neutral interior and contrasts nicely with the sunny yellow foyer table, black and white chevron area rug, and dark wood floors. 
Rustic appeal
This faint, creamy teal has a green tint that would enhance an indoor greenhouse or garden space. Splash it onto a vintage piece of wood furniture or fence for a rustic appeal. Pictured is a muted teal wall that balances well with the company of white and silver pots and various plant life. 
Beachy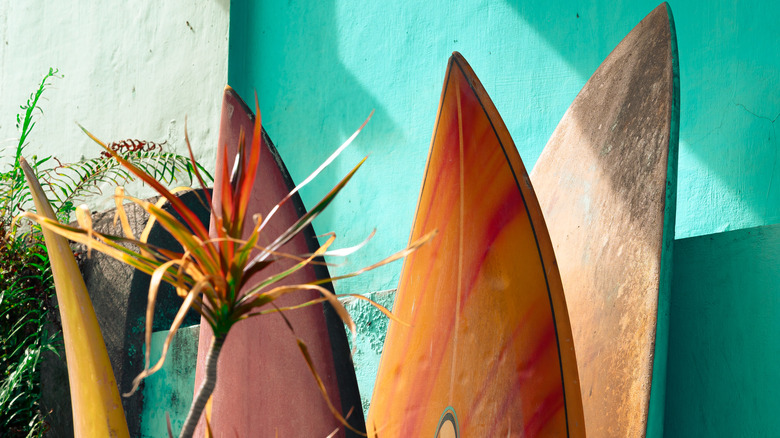 walk.yyz/Shutterstock
Nearly turquoise, this teal is ready for sun and fun. Reflective of water and sky, the vibrant teal shade is reminiscent of the ocean, and pairs well with beachy decor, as seen with the wooden surfboards. This shade is full of both excitement and relaxation. 
Modern coastal
With clean lines and subtle hues, a modern coastal vibe is minimal in appearance with a seaside flare. This delicate teal accent wall poses well with the sand-colored partition, dark brown wood floors, and white and gray accents for a relaxed outdoor beach vibe. 
Tranquil escape
A bedroom should induce a sense of rest and repair. This mesmerizing shade of teal is light and tranquil, as seen on the walls of this bedroom. The black bedframe exquisitely enhances the calm color along with the harmonizing hues on the bed and the light casting through the delicate curtains.
Nautical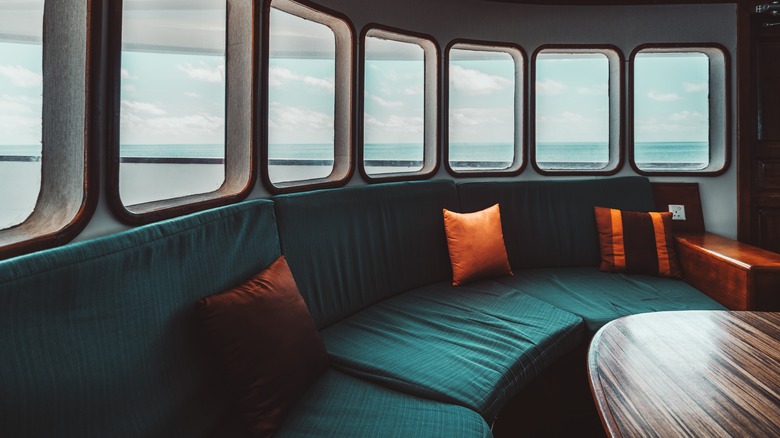 skyNext/Shutterstock
Shades of teal can get rich and deep as the sea. This nautical style hue is captivating against the dark wooden arm, contrasting yellow pillows, and tan/brown table. While keeping it marine-like, a hue this dark could work as an accent wall, door trim, or other space while pairing with white, tan, brown, yellow, or orange.
Serene
Bathrooms and spa rooms are a place to renew and rejuvenate. This therapeutic teal shines through an opulent floor tile of a neutral bathroom, including black, white, gray, and tan elements. There are also a few teal tiles within the wall design to complement. You could also switch this shade to decorate a shower wall and apply a neutral flooring.
Teal green
As many colors balance well with teal, gold shines through with a modern vintage look. Pictured above is an earthy teal green shade with an illuminating gold picture frame and other rose gold metal furnishings. The wall is bold and distinguished, with additional dynamic greenery in the plants, decor, and cabinet.
Perfect accent
Some teals resemble greener hues, others are on the blue side, and some are the perfect blend of both. The accent wall pictured above showcases a rich balance of each, as it pops against a lighter grayish wall in the foreground, along with other gray and green elements through the chair, plants, and light fixtures.
Studious and sophisticated
A cool, subdued teal can be used to enrich a sophisticated space like an office, work, or study area. Pictured here is a composed shade on the wall to coincide with a white baseboard and gray and silver elements with the desk and chair. Notice the light wooden floor that also complements this hue. 
Rich monochrome
Following a monochrome scheme, this affluent teal hue implements an oceanic blue-green sensation across an entire sitting room. From the similarly colored couch and ottoman to the painted wall, you might get lost at sea. Complementing colors shown are tan beach grass, pink decor, graceful white curtains, and transparent chairs.
Dramatic
How dark can it get? Opaque and intense, this shade of teal goes further into the depths of the ocean as it stands out against a small bedroom space with floating tan shelves. The white bed contrasts nicely with the rich shade, the opposing peacock patterned wall, and posh pink and dark blue bedding.
Intermingling shades of teal
From light to dark, you might style various shades of teal into a theme or pattern, as in this kids' bedroom shown above. An enchanting landscape of mountains and clouds is emphasized through image shadowing and decor, including the blankets. Notice the lovely contrast of orange elements and a vivid teal outline around the white window.