The Best Bedding Color If You Have A Gray Bedroom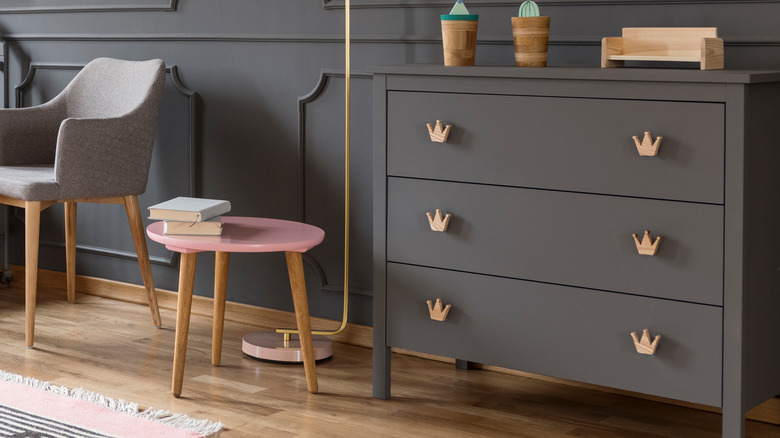 Photographee.eu/Shutterstock
Though most people associate it with loss and despair, the color gray actually denotes a sense of balance and neutrality, Oberlo states. Despite its somewhat negative reputation, gray has been widely popular in the interior design world for years. In fact, Mymove named it one of the top 15 bedroom paint colors to try because of its rich tones and modern vibe. There are so many shades of gray — the most well-known being charcoal, graphite, and slate — which opens up even more color combinations for you to try out in your home.
Once you've painted your space, it's time to start styling it. Your bedroom gives people an idea of your vibe, which implies you should reflect that in your style choices, meaning furniture, lighting, and most importantly, bedding. The bedding ties the room together, so you must think carefully about your color choice. So, what bedding hue should you choose if you have a gray room? We have the answer! Just keep on reading.
Keep it classic with navy blue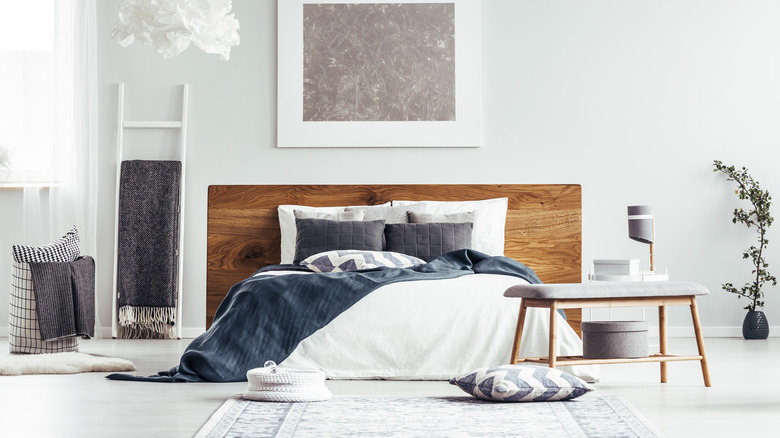 Photographee.eu/Shutterstock
We often see gray and navy paired together for menswear, but now it's time to bring that stunning color combination to your bedroom. While it may strike you as an overwhelmingly cool-toned palette, with the right shade of gray (a soft, light nuance), these two colors create a classic vibe. However, if the gray and navy color palette is too masculine for your taste, Shutterfly suggests bringing in slight pops of tan or green to tone it down. In addition, you can get some houseplants or cover your windows with ivory curtains.
According to Treehouse, navy blue is associated with deep thinkers and those who prefer an organized space. If you feel this suits your personality and style, you're a good candidate for a themed room, which may include navy blue bedroom furniture, which will tie in the blue bedding. When it comes to the bedding itself, feel free to get creative with your solids and patterns. For example, if you have a solid blue duvet, give blue-and-white striped sheets a try, or vice-versa. The possibilities are endless!
Shake things up with lime green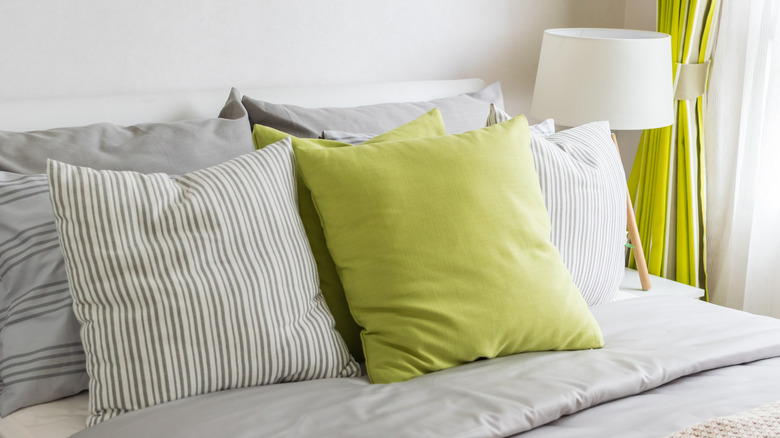 WorldWide/Shutterstock
If you're looking to brighten up the look of your gray bedroom, or you just want something out-of-the-box, try lime green bedding. According to Color Psychology, lime green represents high energy and is said to evoke emotions of liveliness, creativity, and confidence. Whereas navy and gray create a sophisticated look, the juxtaposition between the muted gray and the neon green creates a funky yet trendy vibe, Shutterfly says. That being said, it's just bold enough to add personality to a room, but not too much that it overwhelms you.
To style your gray and lime green bedroom, stick with the bold theme by only adding pops of lime green, such as accent pillows or area rugs. If you'd like to offset the boldness of this bright color, soften the look with neutral colors, like a beige bedroom furniture set. This way, you can still show off your creativity with lime green without sacrificing your personal sense of style.