Are The Least Expensive Sofas At Urban Outfitters Worth Buying?
Helen89/Shutterstock
Whether you're completely renovating your living room or you simply want to upgrade your old, stained sofa, it's time to hit the furniture store. Now, unless you know the exact sofa you want, searching for a new addition to your living room can get overwhelming... and expensive. According to Hello Furniture and Mattress, homeowners can spend upwards of $5,000 for this living room must-have. Of course, there are much cheaper options, but that sometimes means sacrificing quality for affordability, which means you'll end up spending more in the long run by needing to replace your couch every few years.
If you have a budget that falls in between the high-end and low-end options, Urban Outfitters might be the place to search for your new sofa. Though the retailer is known for men's and women's fashion, Urban Outfitters also has an entire range of home decor and furniture, from wall art to dressers to beds and headboards. Let's look at some of the most budget-friendly couches and see if they're worth the price.
Brenna Convertible Sofa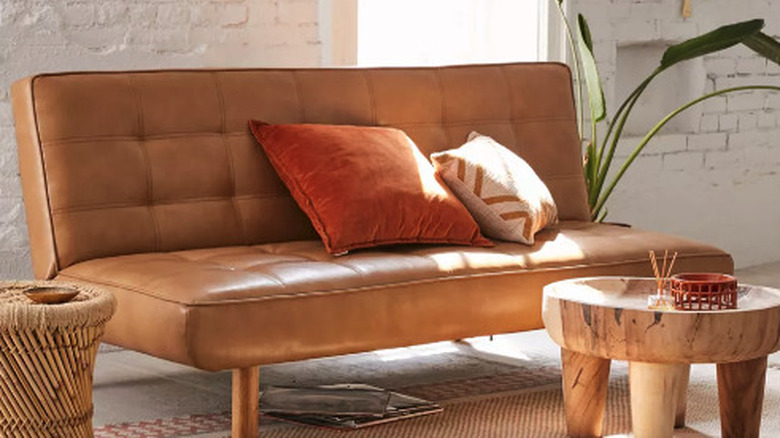 Urban Outfitters
Designed with faux leather, the Breanna Convertible Sofa is a mid-range option at $800. One of the first things you'll notice about this sofa is the lack of arms. Armless sofas and chairs are a big thing in home design today, says Trendy Couches; however, you have to consider the pros and cons before making a decision with this type of sofa. For starters, armless sofas are smaller than average, so if you don't have a lot of room to work with, this may be a good choice for you. Because of their compact size, you can easily move your armless sofa anytime you're looking for a change.
The downside of having an armless sofa is the lack of comfort. If you want to lay down and rest your head, there isn't anything to rest your head on. Of course, you can purchase accent pillows (which will also help to style your sofa), but odds are, they'll end up consuming a lot of the space, leaving less room for you or your friends. On the flip side, the Breanna Convertible can be transformed into a bed (hence its name), so you'll have a place for your guests to sleep.
All that being said, the Breanna Convertible Sofa is a nice choice if you're looking for style over comfort. This would be an excellent addition to an office or additional living room, but we wouldn't recommend this as your go-to everyday sofa.
Chamberlin Sofa
The next least-expensive sofa from Urban Outfitters is the Chamberlin Sofa, which retails for $900. It is constructed from LiveSmart fabric, which is made of "low denier, high-performance polyester fibers that are encapsulated in a nano-based stain-repellent, water-repellent finish," according to Textile World. Because of its water-resistant fabric, the Chamberlin Sofa makes cleaning up spills easy. In the case of a spill, simply blot the liquid away with a cloth or paper towel. The Chamberlin is available in eight colors, including Rose, Slate, Pepper, Ivory, Chocolate, Mimosa, Olive, and Navy. With so many color choices, this sofa will complement most spaces.
The frame is constructed of hardwood, and four metal feet adorn each corner of the sofa. With its large cushions, it comfortably seats three. It seems promising between the low price and special features, but a look at the rating might change your mind. The three reviews are all 1-star, with customers noting that the couch is uncomfortable and hard to assemble. Perhaps dissatisfied customers are more inclined to write a review, but with a 15% restocking fee upon return, we say it's not worth the risk.