Are The Least Expensive Dressers At Urban Outfitters Worth Buying?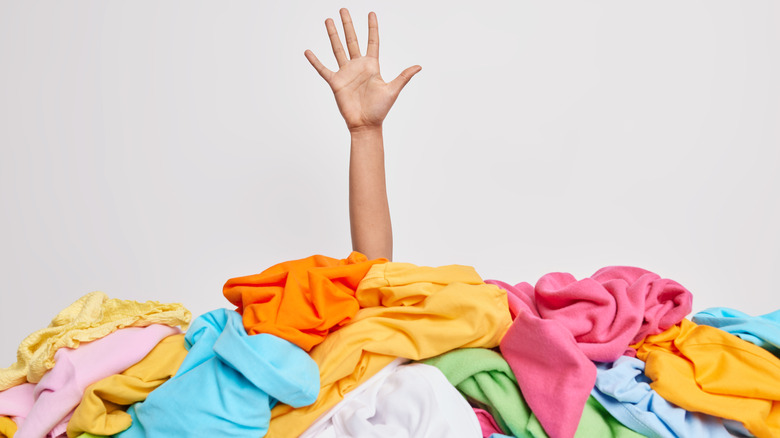 Cast Of Thousands/Shutterstock
If you have a pile of clothing that you need a home for, you may be tempted to buy a dresser from a retailer like Urban Outfitters. The company, known for its lifestyle furnishings that blend culture and creativity in each piece, offers a wide range of dresser options from which you can choose. Like everything else, you need to be sure you are choosing a high-quality product or at least one worth the money you've invested in it.
If you take a look at the Urban Outfitters website, prices range widely from a few hundred dollars to nearly $1,700, with lots of choices in between. Before you make a purchase, take a few minutes to consider the amount of storage you need, the space you have to dedicate to the dresser, and the style you're after, as these things play a big role in determining if dressers are truly worth it to you or not. Let's take a look at the least expensive options.
Check out this 6-drawer option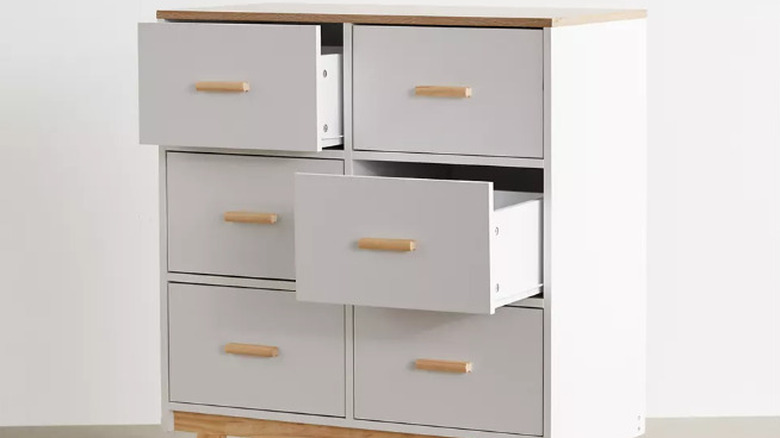 Urban Outfitters
The Piper 6-Drawer Dresser, priced at $179, is a compact dresser measuring about 31.5" by 15.75" by 35.43" with about 8.66" in height between the drawers. It's cute with its contrasting wood and colored front, and it's likely to be a good option for those who have a limited amount of space to create storage. Weighing over 76 pounds, it's also a pretty heavy item.
Is it worth the price, though? It could be if you're not in need of a super sturdy product, as it only has a drawer weight limit of just over 13 pounds. Another key is that it's not fully hardwood but particle board and pine, which means it could suffer some damage rather easily. HomeLane notes that particle board isn't as strong as plywood or MDF and may be specifically at risk of damage if you spill something on it. The other drawback is that you'll need to assemble it, which may not be the ideal scenario for some.
This one's larger for a bit more room
The Kirby Tall 4-Drawer Dresser is the next level up in price with a list price of $329. It measures about 26.61" by 15.83" and 40.08" overall with a drawer dimension of 23.25" by 13.88" by 6.25", a bit bigger than the last dresser. It also has a higher drawer weight limit of 30 pounds, which means far more storage in each overall space. It has an industrial-modern design to it with a black, metal standing base and round knobs on each of the drawers.
The Kirby dresser is made of manufactured wood, also known as engineered wood, which Woodworkly describes as boards made by pressing small pieces of wood together and then using other ingredients to help hold it all together. It's like taking the scraps and forming them into the desired shape and holding it together with sawdust and glue. However, it's durable, and that makes this dresser worth the higher price tag for some people. You'll still need to assemble it, and it doesn't offer the same quality as hardwood slabs would, but for an affordable option, it works well.