What Is The California Casual Decor Style?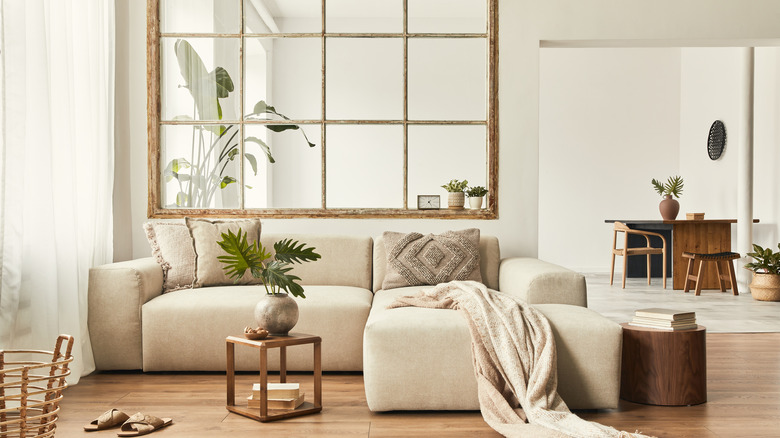 Followtheflow/Shutterstock
The California Casual look, otherwise referred to as California Coastal, is sweeping homes everywhere, not just in California. If you're looking for a décor style that represents the wild and free vibe that is the West Coast, you'll find California Casual is right up your alley. This style is especially great for those that live in colder climates who want to bring the sun and warm weather to them. Be careful not to confuse California Casual with nautical themed décor. When you think of California, you may picture sailboats and sandy beaches; however, that nautical aesthetic is very different from the California Casual vibe. 
Incorporating nautical accents involves vibrant white and blue color palettes often paired with wicker furniture, whereas California Casual has a more subdued color scheme to represent the laid back vibe that is California, as seen on One Kindesign. California Casual décor has many unique characteristics that separate it from other styles you've already seen, and with the right colors and materials, you too can have it in your home. Let's take a look at what it means to be California casual (and no, it doesn't involve surfboards).
Earthy tones and a lot of neutrals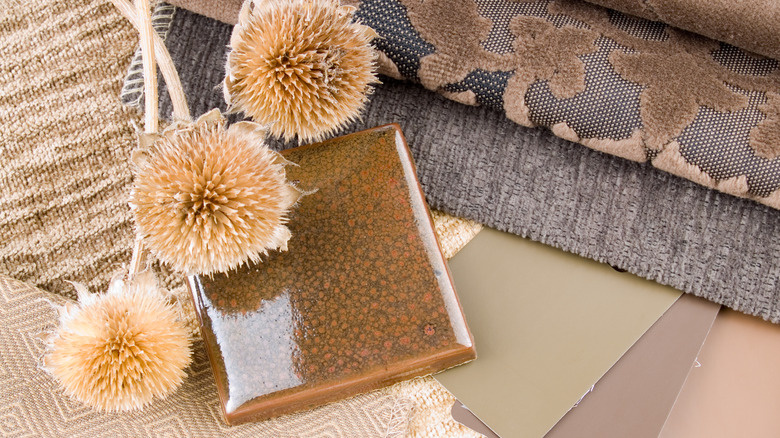 M.M.PHOTO/Shutterstock
To achieve the California Casual color palette, turn your attention towards earthy tones, such as shades of brown, beige, and green. Coincidentally, brown shades are a hot trend this year, according to Vogue. Feel free to add a few pops of gray here and there too. Creating this California Casual color scheme is extremely easy because you can mix and match warm and inviting colors with cooler tones. You don't have to worry about using both in the same room; they'll blend together effortlessly. Keep the walls light with ivory or tan paint, as dark shades give a room an entirely different and much less easy breezy vibe.
When attempting to achieve the California Casual style, one important rule of thumb is to stay within the neutral color scheme. That includes accent pillows, lighting, and any other decorative pieces you'd like to display in that room. By diverting from the color palette, you'd ultimately be moving away from the style as a whole.
Texture, texture, texture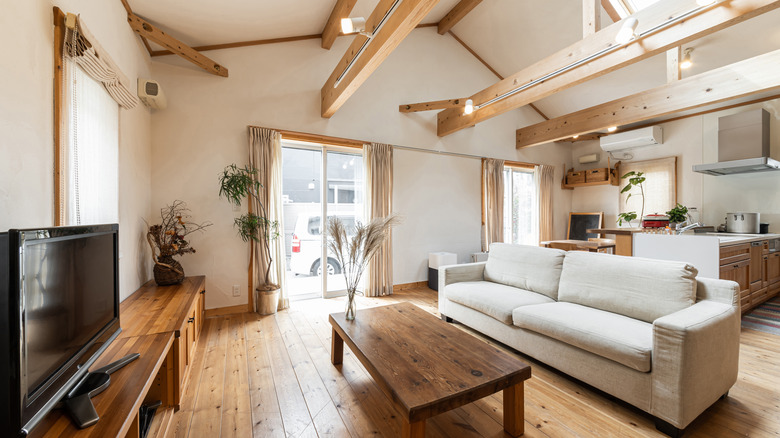 mapo_japan/Shutterstock
California Casual is not just about the earthy color palette; it also involves mixing and matching textures. The Modern Eclectic suggests a few signature pieces that are must-haves in order to obtain the Southern California feel, like ceramic vases and a geometric rug to tie the coastal casual look together. Opt for a rug with muted colors to stick with the relaxed vibe of the rest of the room. For an extra special touch, add some fake plants to the room, specifically a faux dracaena tree, which are popular in Southern California landscapes, according to the Los Angeles Times.
Touches of wood throughout the space will help enhance the California Casual décor style even more. Consider white oak floors and wooden furniture to really encapsulate the chill California energy. If you can swing it, think about adding wooden beams to your ceiling to really seal the deal. With these additional touches of wood in your space, the California Casual look goes from zero to 100.