How To Transform Your Backyard Into A Party Space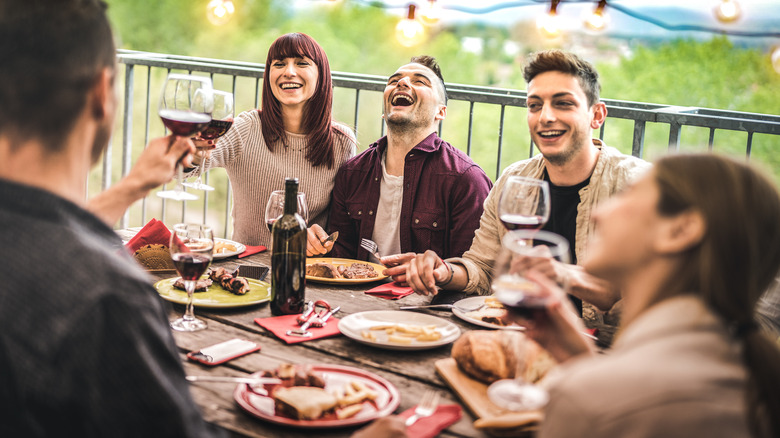 View Apart/Shutterstock
Whether it's a simple patio or a large, spacious yard, having an outdoor space is a fantastic amenity. If you're someone who likes to have lots of guests and parties, your backyard area is a great space to host them. Decorating your backyard to host summer parties has plenty of benefits, chief amongst them being the beautiful final product.
More than that, though, having a patio or backyard area can add property value to your home when it comes time to sell. As Old North State Landscape Development notes, patios in particular are a very valuable hardscape element. Any backyard that has been well maintained and decorated, though, will add curb appeal. Your backyard is also an extension of your home, which makes it a good idea to dedicate as much attention to it as the rest of your house when it comes to decorating and beautifying it. Keep reading for some great ideas on how to turn your backyard into a great party space.
Outdoor seating
Sheila Say/Shutterstock
One of the first things you should invest in when decorating and furnishing your backyard, especially for hosting parties, is seating. Seating isn't as simple for outdoor living spaces as it is for the inside of your house, though. You have to factor in things like material and longevity against the elements on top of aesthetic value. Most patio furniture will be made with wood, wicker, plastic, or some other water resistant material, and cushions that are removable and/or won't mildew if they get wet.
Aside from materials, there are numerous stylistic options for outdoor seating. Some of the most common include cushioned or woven chairs, patio sofas, chaises or lounge chairs, porch swings, and benches, per Home Depot. Larger seating options like couches or sectionals provide more sitting space in a more compact way, whereas individual chairs are more customizable. A great option somewhere in the middle is modular furniture, which can be made to look like one sectional or taken apart for multiple individual seating options (via Starsong).
Dining areas
Bbernard/Shutterstock
Another must-have piece of furniture for your outdoor party space is a dining area, or at the very least a space where guests can comfortably gather, eat, talk, and enjoy themselves. If you're working with limited space, you can combine the dining and seating areas into one. On the other hand, if you have a large backyard with lots of space to fill, you can play around with distinct lounging and dining areas.
There are plenty of great options for outdoor furniture. Some classic and traditional options include benches and tables or a simple dining table with patio chairs. There are lots of creative options, too. One unique idea from Grain & Frame is a pub style dining area, which involves installing shutter windows in your home, and a dining counter on the outside with barstools. This allows you to serve food directly from your kitchen. Other built-in options include sunken seating pits and corner booths.
Fire pit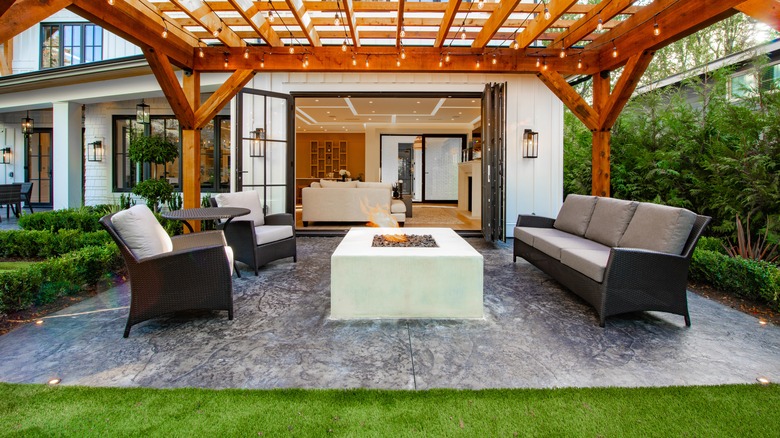 Sheila Say/Shutterstock
When starting out your backyard entertainment space, you should first focus on functional furniture and items, like seating and dining. However, you also need decorative and recreational items to spruce it up. One addition that is a mix of all three is a fire pit. Whether you use it to warm up your backyard on a chilly evening, roast marshmallows or hot dogs with friends and family, or simply to add a bit of visual intrigue, a fire pit is a fantastic addition to your backyard.
There are lots of benefits to having a fire pit outside. Entertaining your guests doesn't have to be an exclusively warm weather event — a fire pit allows you and your guests to cozy up with some blankets in front of a roaring fire while still enjoying the beauty of the outdoors. There are fire pit options for every type of decorative approach, including tables with built-in fires (real or artificial), in-ground fire pits, large stone structures, and more.
Koi pond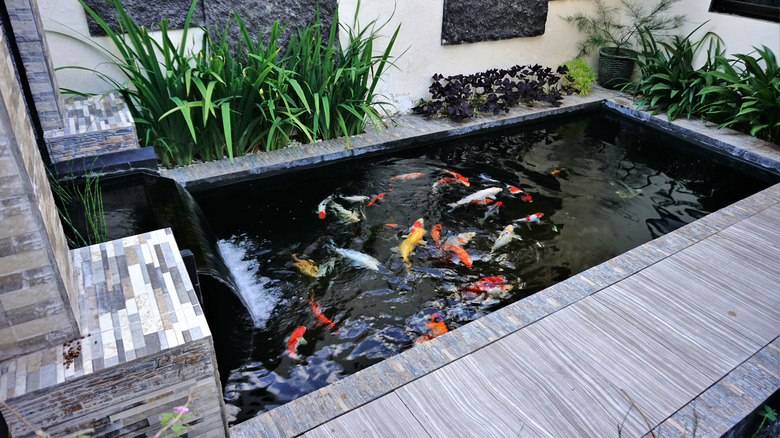 Ani Rofiqah/Shutterstock
When decorating the inside of your home, especially if you have frequent guests, a common piece of advice is to have a conversation piece. The same concept applies to the exterior of your home, but it may be trickier to pull off. A great way to add ambience and beauty to your backyard party space is by installing and maintaining a koi pond.
Keeping koi ponds first became popular in Japan in the 17th century, and became popular in North America and Europe in the 20th century, according to Reflections Water Gardens. Koi ponds not only add lots of beauty and aesthetic value to the yards they're in, but they're also associated with increased luck and strength — two great things for a frequent party host. Koi ponds, as well as most water features, are great sources of stress relief, too. As a bonus, koi are very low maintenance, and they add to your property's overall value.
Outdoor bar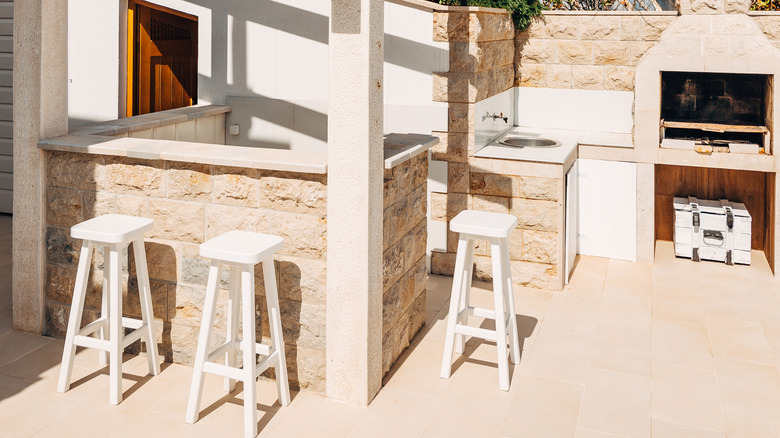 Nadtochiy/Shutterstock
One of the most fun, but also stressful, aspects of hosting a party is preparing the food and drinks. Making a drink platter can be very satisfying, but after each guest has had their fill, it can become frustrating to have to keep running back inside to make new ones, for both you and your guests. Solve this problem before it is one by creating a bar area in your backyard, allowing your guests to easily prepare their own drinks, thereby taking the stress off of you.
Creating an outdoor bar doesn't have to be a huge project, but there are a few things you need to keep in mind when designing it. One of those aspects is how large you want it to be. According to My Green Impressions, each seat at the bar requires at least 2 feet of space, so calculate how many seats you want, which will help you to know how long it needs to be. In terms of height, bar stools usually measure anywhere from 36 to 41 inches tall. You also need to factor in storage and preparation areas. Other aspects like material, aesthetic, etc. are variable depending on your budget and preference. If you want to get fancy, consider adding a sink, mini fridge, or ice maker.
Outdoor TV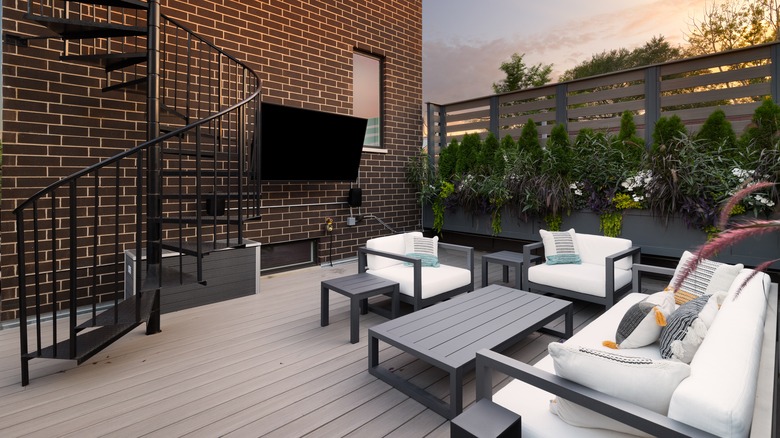 Hendrickson Photography/Shutterstock
All great party hosts should be able to entertain their guests, and what easier way to entertain a large group of people than providing a television? Whether you're watching a sports game, a fan favorite television show, or want to have a movie night under the stars, installing a television outside is a great way to make your backyard a better party space.
As with most things, though, installing a television outdoors is not as easy as installing one inside. Installing brackets on materials like siding or brick will be more complex than plaster or drywall. You also have to factor in weather, heat, moisture, and other uncontrolled variables. SealTV says to first install an outdoor television enclosure, which will prevent damage from the elements, as well as prevent theft. If possible, install your television in a shaded area. If not possible, install it facing towards the south, since the sun will be behind the television most of the day and not cause a glare. You'll also need to get a heavy duty television mount that's designed to withstand heat, moisture, etc.
Movie area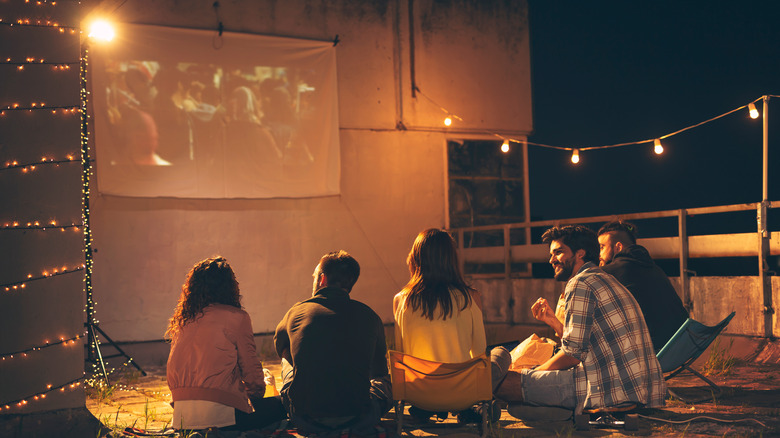 Impact Photography/Shutterstock
Having your friends over for movie night is always a fun time, so why not set up your backyard as a dedicated screening area for all of you to enjoy? While having a television outdoors can do the job, adding a large projector creates a more intimate, cozy, retro vibe that a television just can't match.
To begin, you need to plan out how much of your backyard you're willing to dedicate to a screening area. According to Projector Top, however large the projector is, you should ideally have at least the same amount of distance for viewing. For example, if you have a smaller 100 inch projector, you should provide at least 8 feet of distance. There are plenty of great, high definition projectors on the market with great sound systems, but if you're working on a budget, a simple white sheet tacked between some trees or on a laundry line with a Bluetooth speaker should do the trick. Don't forget the projector, some of which are Wi-Fi adaptable. Add blankets, pillows, and ambient lighting, and enjoy your favorite movies with your favorite people.
Lighting
Photographee.eu/Shutterstock
Ambience is everything when hosting a party, especially when doing so outdoors. While moon and star light is beautiful, it is certainly not enough to light an entire backyard party. Luckily, outdoor lighting is not just functional, but decorative, and can add a lot of character to your backyard party space.
There is no right way to light your backyard, but there are ways to create certain moods through lighting. For more decorative, ambient lighting, you can add torches or small lanterns to create a cozy and intimate atmosphere, per Lowe's. For more functional lighting, consider adding small, even hidden, landscape lighting throughout your yard, which will discreetly light it up from the bottom up. If you have a roof over your patio, consider adding a ceiling light or dramatic chandelier. If you have a trendier taste in outdoor decor, add some fun string lights throughout. String them along the trim of your roof deck or siding, wrap them around posts, or even add them to landscape elements like tree trunks.
Candles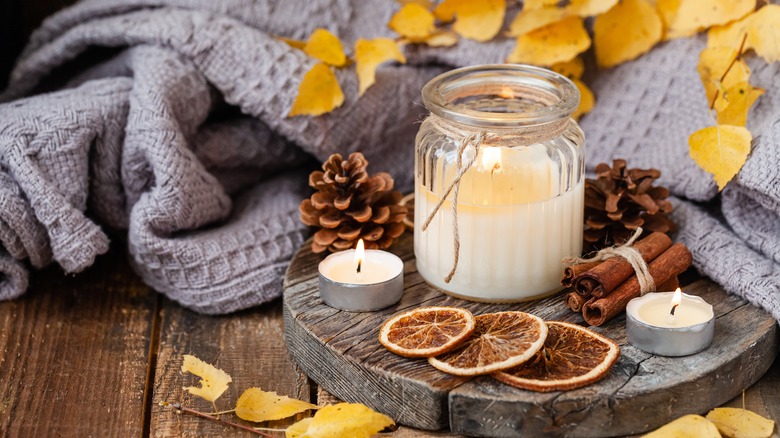 Vera Prokhorova/Shutterstock
Another source of soft ambient lighting comes from candles, which are just as wonderful outdoors as they are inside. However, they don't provide much functional light. That doesn't mean they can't serve a practical purpose in your backyard, though. While enjoying an evening outdoors is usually very relaxing, especially when in the company of friends, it can also be incredibly annoying when you come inside with a plethora of bug bites.
There are lots of natural oils and fragrances that quite effectively repel pesky bugs like mosquitoes. According to Life-N-Reflection, aside from the well known citronella, some other oils that are natural bug repellents include lavender, peppermint, rosemary, thyme, lemon eucalyptus, sage, and lemon balm. Look for candles or wax melts with these oils in them to make your backyard both smell good and bug free. Look for larger, three wick candles to burn outdoors, as they'll likely be more resistant to the wind than smaller, single-wick candles. Plus, they'll last longer and burn more evenly — just make sure the candle is always within eyeshot.
Privacy screens and curtains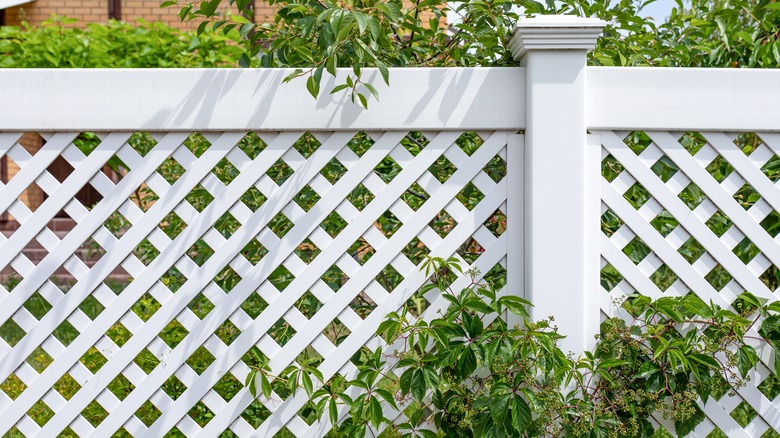 LariBat/Shutterstock
Enjoying the company of your friends is one of the best parts of being a party host. Being watched by your nosy neighbors, however, is one of the more annoying downsides. Privacy fences are a major plus for those who like to have guests over or spend a lot of time outdoors, but certain leases or local ordinances may prevent you from building a fence.
Luckily, there are other ways make your backyard feel more private besides a fence. Privacy screens are a fantastic way to provide some shelter from your neighbors' prying eyes, while also offering you the opportunity to further beautify your yard. There are plenty of options when it comes to privacy fences, too. For example, RollerUp points out that metal privacy screens are attractive and resistant to the elements while not overbearing your patio, whereas a wooden privacy screen functions aesthetically more like a fence, offering a sense of permanency. You can also opt for walls of vines or other plants, whether real or not, as well as bamboo, vinyl, or even a screen roll. For a breezier, more casual look, consider hanging curtains around the perimeter of your deck.
Heaters and fans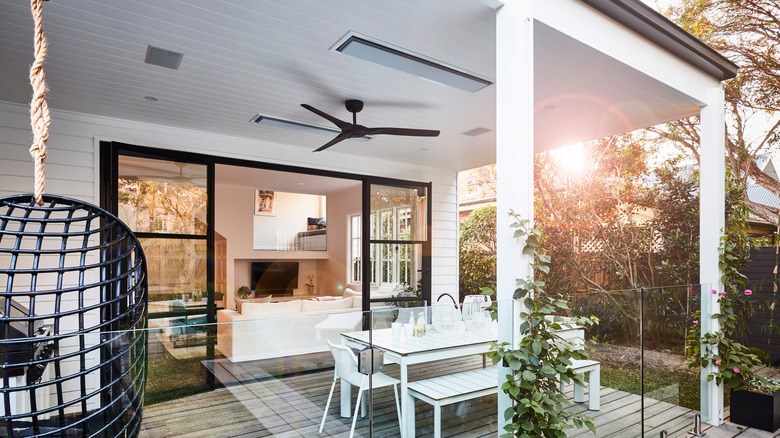 PhotoMavenStock/Shutterstock
One of the best parts of hosting a party outdoors is getting to enjoy the seasonal weather. However, it is also one of the more uncontrollable aspects of hosting outdoors. While the afternoon and early evening may have been warm, the evening may make your backyard too cold to enjoy. On the flipside, particularly hot summer nights are never enjoyable, no matter how good of a party you throw.
A great way to help counteract more extreme weather conditions is to provide either heat or cool air, depending on the situation. If the evenings are getting a little too chilly to enjoy, consider adding an outdoor space heater to your patio or deck. Outdoor heaters are a little trickier to get right as opposed to indoor heaters, as they need to be able to safely heat your entire party area without running up your energy bill, as Tom's Guide notes, so ensure you take your time researching which one is right for you.
As for keeping your backyard cool, those with a roof over their deck or patio can add a ceiling fan. There are many benefits to outdoor ceiling fans aside from keeping your outdoor space cooler. Some ceiling fans also have lights, and they also help dispel bugs and nesting birds (via Martec).
Shade and shelter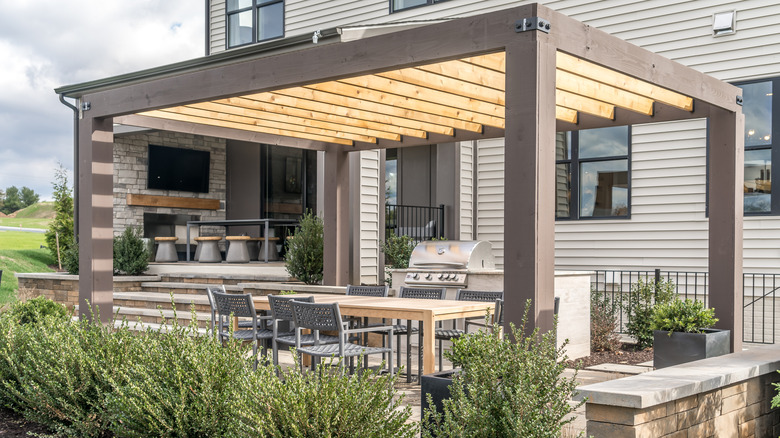 Tokar/Shutterstock
Having a roofed patio or deck is a major advantage when it comes to throwing outdoor parties. Not only can you more easily install lights and fans, but they also protect against sun, wind, rain, and dust, allowing your party guests to have the best time possible in your backyard party area. That being said, not every host is so lucky, and adding a roof to your deck can be very costly and time-consuming.
Roofs aren't the only source of shade and shelter, though. There are quite a few options — some more permanent and others on the temporary side. As for permanent fixtures, a great option for adding shade to your backyard is a pergola. Pergolas are essentially archways with four posts and a covered top. Some have an open lattice-style roof, while others are completely covered. Aside from helping provide shade, they are also great for growing vining plants. Another more temporary option for outdoor shade and shelter is patio umbrellas, which help protect you from the harsh sun and the elements for a fraction of the cost of other options (via Coastwide Shade Sails).
Patio/deck plants
Stock_Studio/Shutterstock
One of the easiest ways to decorate the inside of your house is to add lots of houseplants, which create a sense of life, as well as provide textural and color variance. The same applies to your back patio or deck. Lots of houseplants thrive if you bring them outdoors for the hot and humid summer months. Those that live in subtropical or tropical climates can keep them outside year round, but all other climates should bring the plants back inside for the winter.
There are almost endless options for what types of plants to add to your back patio. You can go for plants with similar colors with mix-and-match pots, or similarly colored pots with plants of different colors and variations. According to Decks.com, some of the best plants to display on your patio include crotons, caladiums, and ornamental grass. As for flowers, they recommend begonias, hydrangeas, and impatiens. Succulents always make a great outdoor addition, too, as do herbs.
Install outdoor speakers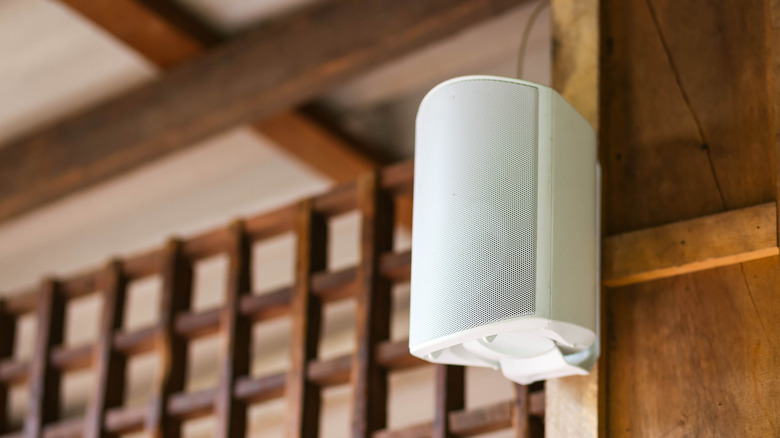 Titikul_B/Shutterstock
Whether you're playing music, a television show, or movie, it's a pointless source of entertainment if your guests can't even hear it. A great addition to your backyard for hosting parties are high end speakers. Outdoor speakers aren't just simple audio devices, but are designed to create an entire cohesive soundscape specifically to your backyard. Plus, they're weatherproof and harder to steal than a simple handheld speaker.
That being said, there are plenty of Bluetooth speakers that can deliver high quality sound to your guests for a fraction of the price of professional speakers. Having any kind of sound system is definitely a plus, especially when considering property value. When installing any kind of speaker system, though, be sure to keep your neighbors and local noise laws in mind — having top of the line equipment doesn't mean anything if you can't use it without the cops being called.