The 15 Best Paint Shades To Consider For Your Foyer
Whether you have a small entryway or a large front hall, you'll likely want your foyer to be a space that leaves you feeling confident and ready to face the day before you step out into the world each morning. It should also be a welcoming place for you to come home to each night. Beyond that, the exterior of your home might be the first thing that guests see when they approach the place where you happen to live; however, your foyer is the first impression they get of the interior. As designer Susanna Salk explained to Ballard Designs, "Your entry is your calling card to the world."
That's why when you're decorating your foyer, you'll want to choose a paint color that helps to create the vibe that you're looking for while also enhancing the style of the space. For instance, do you want a shade that's bold and dramatic? Or, perhaps you would rather have a foyer in your home that's bright and calming. You might also be interested in a classic look that's timeless or maybe you want to embrace the latest, trendiest designs for your foyer.
Whatever you prefer, be sure to check out the following paint shades that you'll definitely want to consider for your foyer.
1. Frosty light blue
Create a space that's chic and versatile by painting your foyer this gorgeous shade of frosty light blue. Keeping things bright without being overwhelming, it's a color that will be the perfect base for any classic or contemporary design. From there, you can opt to add other touches of blue décor in creative ways.
2. Deep orange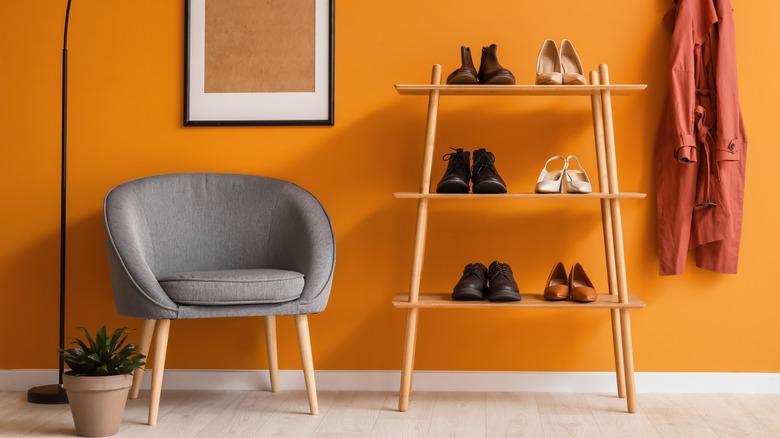 Pixel-Shot/Shutterstock
Create a space that's bright, playful, and posh all at the same time by choosing this stunning shade of deep orange. A color that's not quite as intense as a pumpkin orange, this slightly darker version can be used in foyers that boast a contemporary style, a boho look, or even a cute country charm.
3. Cool gray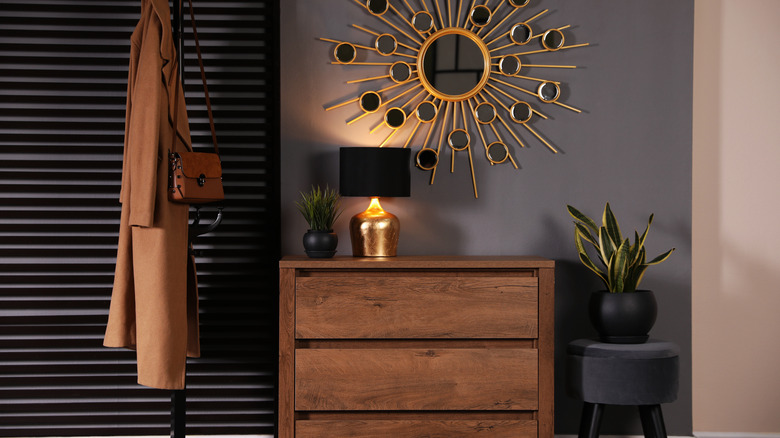 New Africa/Shutterstock
Not quite a dark gray but definitely not light, this attractive shade that's somewhere in between is what you might think of as a cool color. In this case, it's the perfect background for a range of warmer décor, such as a wood dresser as well as both a gold mirror and lamp.
4. Chic greige
Featuring a hint of gray and a touch of beige, greige is a relatively passive color that can enhance pretty much any space. Keep your foyer a relaxing space by using white details and rust-colored accents along greige. Or, you could add punches of blue, green, and even orange details in order to spice up the space.
5. Dark maroon
If you love an eye-catching color, then you might not be able to resist this fabulous maroon. A little on the darker side and almost ashy, it's a fantastic choice for a bold foyer design. Whether your home has a traditional look or changes along with current trends, this dark maroon will always look stylish and refined.
6. Pretty pink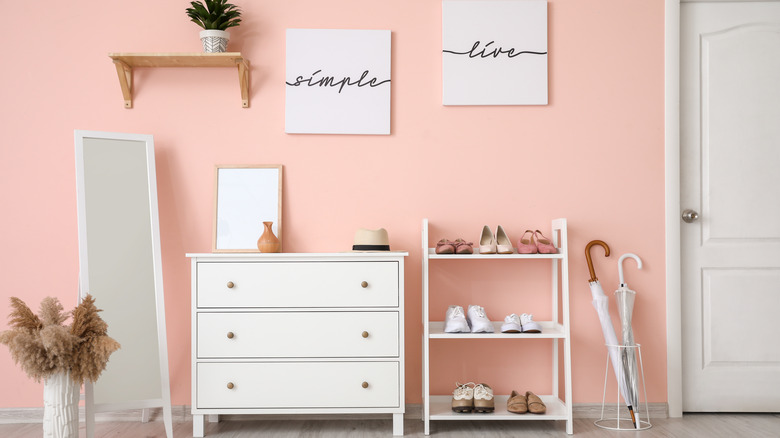 Pixel-Shot/Shutterstock
Pink is a color that is undeniably pretty. Beyond that, if you opt for a softer shade of the beloved color, then it can also be calming, which makes it ideal for a foyer. Pair the pink paint with white accents for a lighter look or, instead, opt for black décor for something that's a little more chic.
7. Olive green
Impressively sophisticated and noticeably sleek, this almost cool shade of olive green is an obvious choice for a foyer paint color that will stay stylish for years to come. You could choose to dress up your olive green entryway with richly adorned antiques and ornate décor, or keep things simple, sleek, and minimalistic depending on your taste.
8. Creamy yellow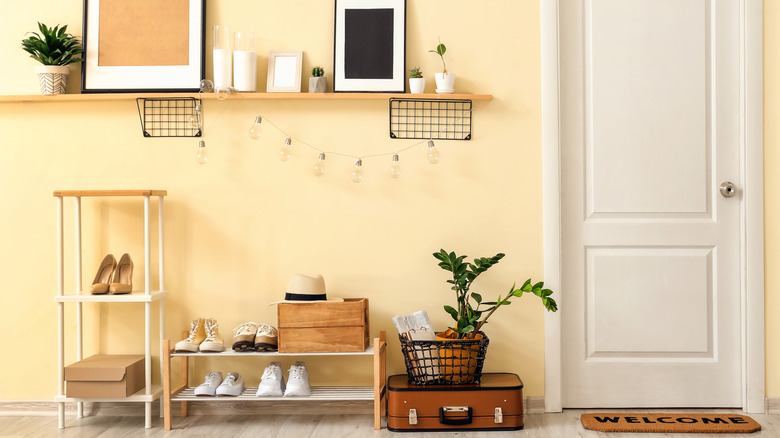 Pixel-Shot/Shutterstock
A typical cream shade of paint would look lovely in a foyer. At the same time, you can mix things up by choosing a shade of creamy yellow. Sunnier and a touch warmer than a normal cream color, this shade would be ideal for a smaller or windowless foyer that you'd like to keep on the brighter side.
9. Dusty red
Red paint shades can add a passionate, romantic, and fiery touch to a room. However, some might be too bold and bright for your foyer. Instead, consider using a dusty red. Although it's a slightly muted shade, it's also incredibly stunning. Help the color stand out just enough by using subtle black and white accents and slim furniture.
10. Baby blue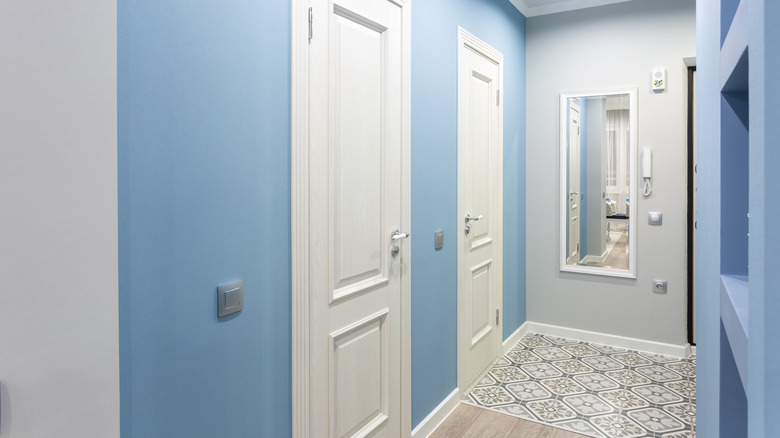 jantsarik/Shutterstock
There's a very good reason why baby blue is a color that's often used in nurseries. Neutral and serene, it can help to lull a sleepy little one. In the same way, a shade of baby blue in your contemporary, country, or even regal foyer will help you to feel relaxed every time you walk into your entryway.
11. Soft yellow
Turn your foyer into a sunny space that's not too in-your-face by opting for a shade of soft yellow. Absolutely adorable or wonderfully elegant depending on how you style the rest of the space, this yellow would work wonderfully in a smaller foyer that can't handle a dark shade, which might make things look uncomfortably cramped.
12. Intense red
If you want to feel a surge of energy every time you leave your house and like that same vibe when you return home, then you might be intrigued by the thought of a bright red foyer. By opting for an intense shade of red, you can pair that with furniture and décor that's just as bold.
13. Light minty green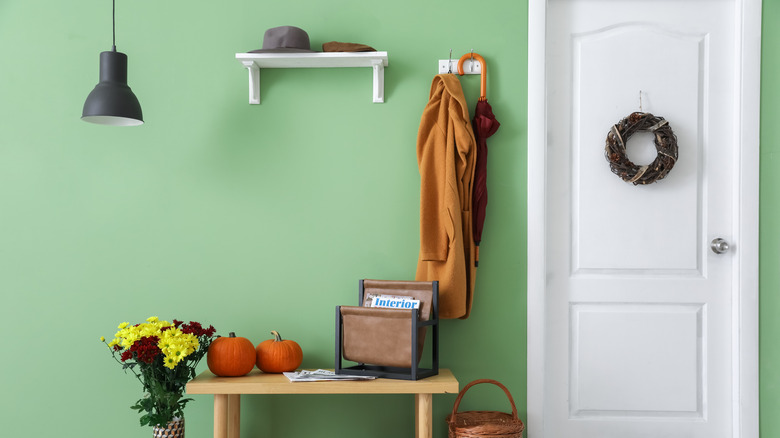 Pixel-Shot/Shutterstock
This delicious shade of light minty green can be serene when hit with soft light at night or can be quite a bit brighter when direct sunshine floods the space during the day. On top of that, this color is another that would suit any style from an old French provincial aesthetic to a modern suburban space.
14. Dark turquoise
Turquoise isn't the most common shade for a paint color, which is exactly one of the reasons why you might want to use it in your home's foyer. Unique in the best kind of way, it not only adds a vibrant pop of color to the space but also makes your foyer modern and memorable.
15. Classic white
While there are various colors that you should keep in mind when choosing a shade of paint for your foyer, you definitely shouldn't ignore white. Clean, crisp, and a blank slate when it comes to adding the kind of details that will define the style of the space, there's a good reason why it's a classic choice.