Are Dusty Pastels In Home Decor Going Out Of Style?
Sometimes a layer of dust can be a good thing. Often associated with bohemian style interior design, dusty pastels might complement a relaxed, natural vibe for your home, but are they going out of style? A more muted version of the brighter originals such as millennial pink, baby blue, and lavender, dusty pastels might express lighter sides of your personal style. Boho chic shades like dusty rose, pale green, or peach emerged to enhance a more down-to-earth aura throughout the space, and according to Decoist, homeowners may now seek more refined and accomplished-looking spaces within their houses post-pandemic. With a new outlook on life, is the dust fading?
Whether it's in your home décor or paint tints, design trends like boho may change or fade, but that doesn't mean color choices have to. Lively, earthy shades have yet to be seen through artwork, furniture, pillows, planters, and other decorations. Instead, you might mix popular colors like blue, yellow, and pink with other practical pieces. Whether your style is modern, vintage, traditional, or other, you can still apply various dusty pastel shades through your home elements. Keep reading to learn why dusty pastels may still be accurate.
Abstract artwork and décor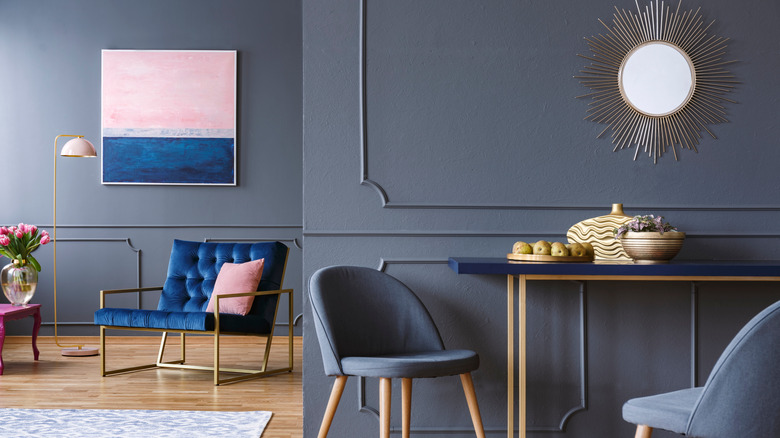 Ground Picture/Shutterstock
Art pieces are often displayed throughout various places inside and outside of the home. If your walls have a neutral base like white, ivory, cream, or gray, you might showcase paintings, pictures, sculptures, vases, or other significant pieces that display your light, subdued pastels of choice (via Trendir). For a desert-like theme, you might feature peaches, pinks, and oranges, or for a floral flare, display lavender, blue, pink, and yellow. A picture that embodies a pale pink hue might contrast significantly against a dark, muted blue-gray wall like the sitting room pictured above. Added rich blue colors are also present within the chairs and table, along with the wood floor and furniture legs.
If you choose a more minimalist route, places like the kitchen or bathroom are great areas to display a dusty hue through a lamp or chandelier with green, pink, or blue, which may contrast well with browns, grays, and whites. Soft and serene, a blend of dusty colors like terracotta, mint green, or yellow pillows might display nicely along a dark brown wooden breakfast nook bench, including a black and white contrast from the walls and windows. If you own a lot of plants, incorporate light, pastel-colored pots and planters amidst your setting.
Faint furnishings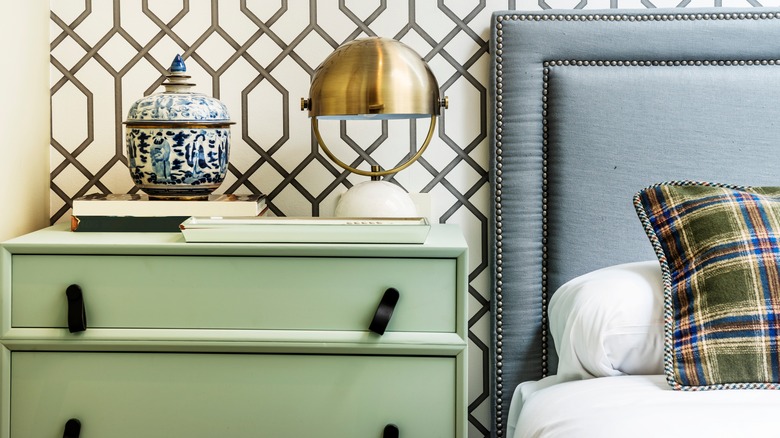 Toyakisphoto/Shutterstock
When you come home, you want spaces to feel tranquil yet inviting. Whatever your interior style is, you can display faint-colored furniture and furnishings while still complementing your design. Color options are endless, even among soft pieces like couches or chairs. For example, you might choose a dusty coral, purple, blue, or green piece, which will give a subtle contrast against white or neutral-colored walls.
Dusky pastels look especially chic on accent chairs, which add a faint flush of color to a living room, bedroom, or bathroom (via Style In Form). Another way to showcase your hazy colors is through a dresser or cabinet like the pale lime green one pictured above. The eclectic look blends the piece in a cozy bedroom with a shadowy blue headboard, gold metal lamp, Asian-inspired pottery, and art deco-style patterned wallpaper.
If your style is more traditional, you might cover a living room in a white and cream base through the walls and curtains while adding faint blue furniture, along with a black and white fireplace. Additionally, you could style light pastel metal chairs with a brown wooden farmhouse table. From modern and sophisticated to conventional and casual, dusty pastels are natural and grounded enough to complement almost any style as it evolves.