20 Boho Living Rooms That Embody The Hippie-Chick Spirit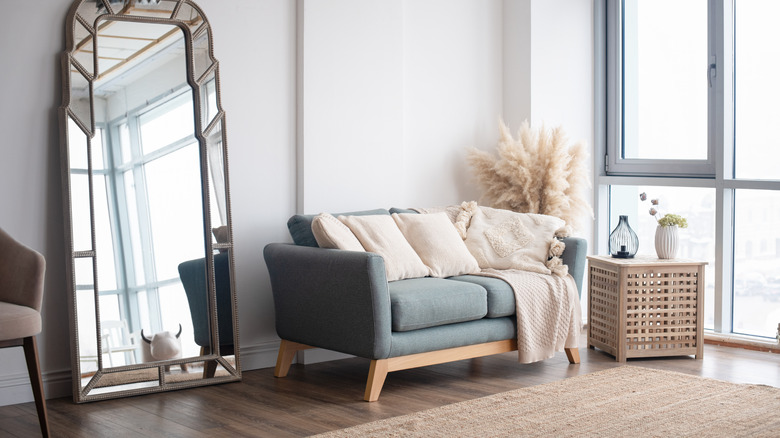 Zakharova_Elena/Shutterstock
A very popular design style in homes today, bohemian décor is an eclectic mix of the past and present with a soft, relaxed, and casual vibe.  With an abundance of natural elements, it compliments a number of spaces and can turn any home into a calming oasis filled with greenery, texture, and pattern. According to The Design Tabloid, the word "bohemian" comes from a term used for artists in Europe following the French Revolution when, no longer under royal patronage, they were forced to find community and common ground. Their style pulled influence from a number of places, including eastern Europe, Asia, and Africa.  
The American version of boho style further draws from a number of veins, including beat and hippie countercultural movements of the late 1960s and 1970s. The culture and style that developed were rooted in creativity, frugalness, and free-spirited living, all of which echo in the style's influence today. If you're looking to bring some bohemian style into your own space, the living room is a great place to start given its communal nature. For starters, comfy, casual seating is a must. Boho's abundance of lived-in and creative elements can fit any home's demands, including those that need to be child- and pet-friendly. The free-spirited vibe is sure to breathe new creative life into your space. 
1. Natural materials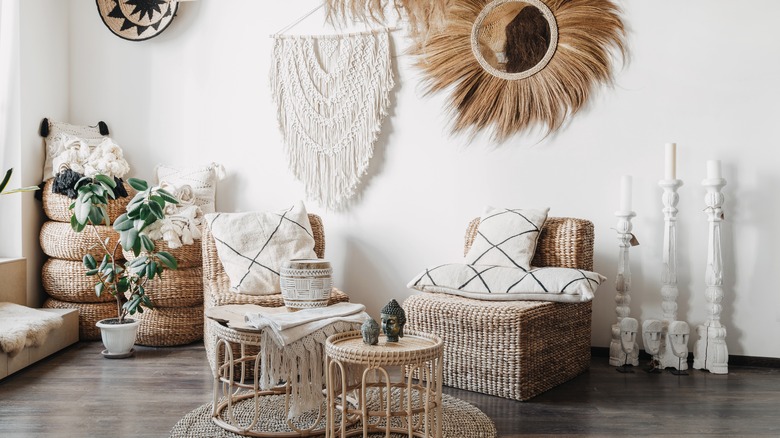 brizmaker/Shutterstock
Boho style's signature trademark may just be its preponderance of natural materials like rattan furniture, jute, sisal, and other woven fabrics. Here, various textures in both seating and wall-hangings create a rich, yet light and airy, feel that speaks the artsy aesthetic at its finest. 
2. Plants and more plants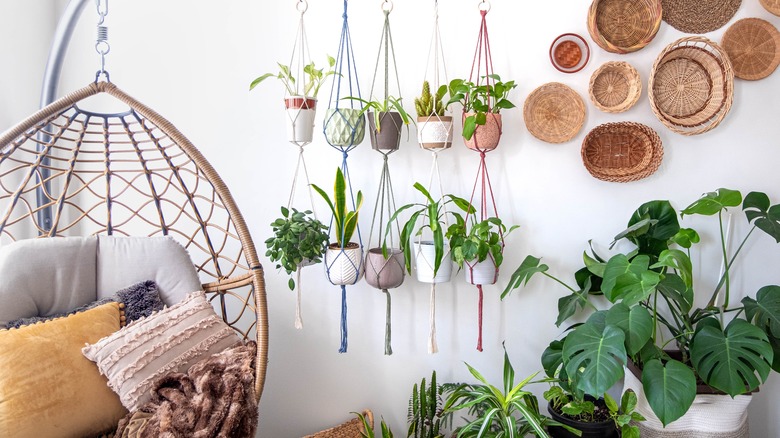 TippyTortue/Shutterstock
Boho style also loves greenery, which pairs well with the other natural materials and textures already there. Potted plants and hanging baskets not only offer a well-received dose of the outdoors, but also serve as wall décor along with hung wicker trays and baskets.
3. Boho modern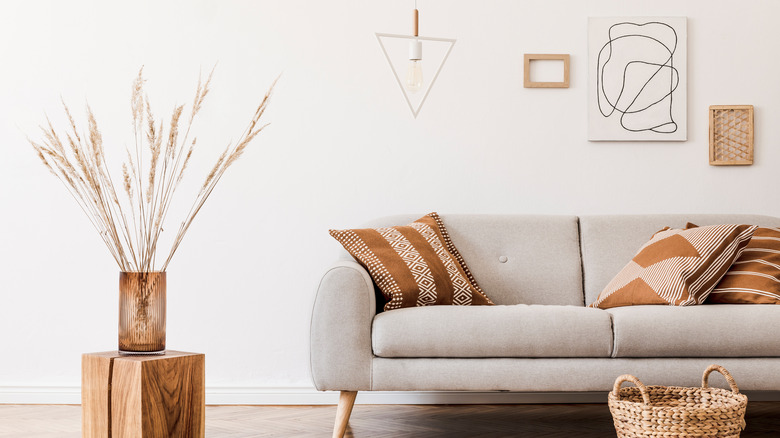 Followtheflow/Shutterstock
One of the most popular renditions of boho décor in recent years has been a contemporary spin that relies on many of the trappings of bohemian style, such as pattern, texture, and natural materials. For a twist, the trend pairs them with more minimal, neutral spaces and furniture elements like this modern couch littered with patterned cushions.
4. Earth tones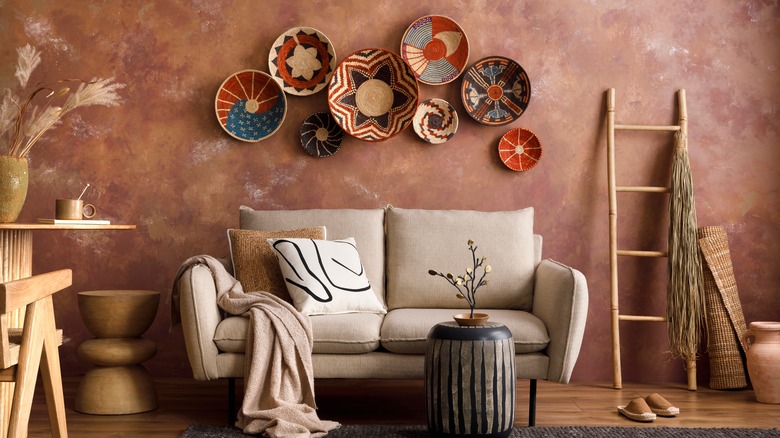 Followtheflow/Shutterstock
Boho style makes ample use of Southwest-style design through its use of earth tones and accents, like this deep terra cotta wall littered with Aztec-inspired baskets in a multitude of brighter colors. 
5. Color and pattern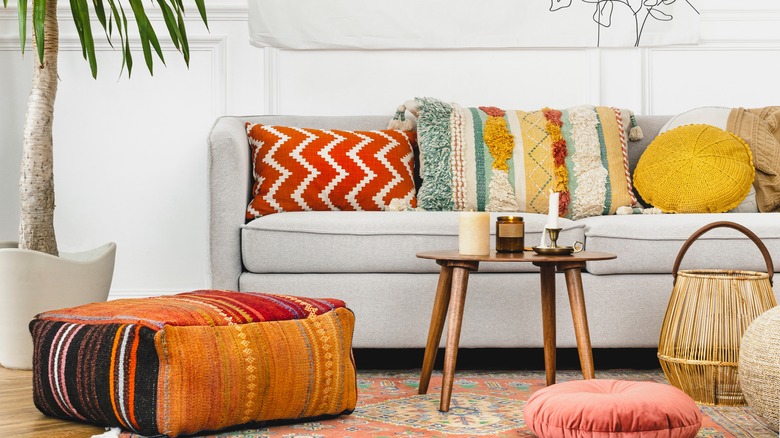 Rawpixel.com/Shutterstock
One great way to easily incorporate a touch of the bohemian into a space is to add throw pillows. Here, a simple couch becomes a stunning backdrop for cushions in various fabrics and patterns like woven cotton, fringe, and velvet. 
6. Easten accents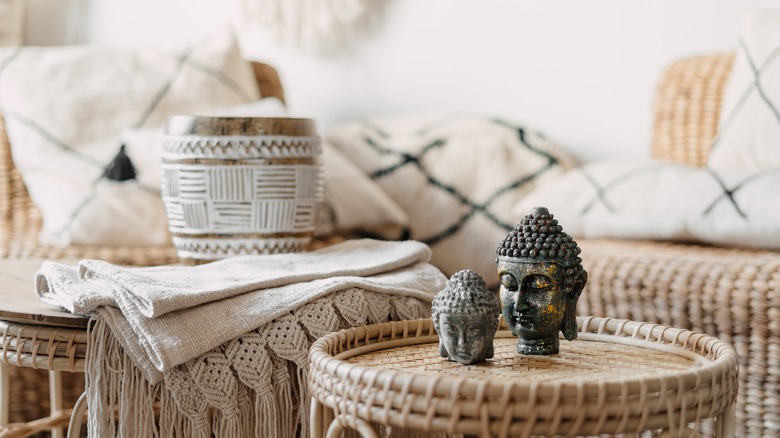 brizmaker/Shutterstock
Many boho spaces rely on Eastern-inspired accents, like these pewter and stone Buddha sculptures, to bring in a hint of other cultures. They offer visual interest as well as a feeling of boho zen.
7. Contrasting textures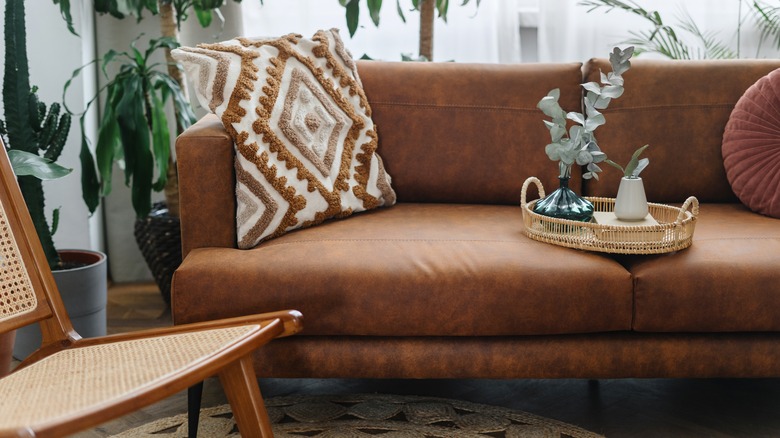 brizmaker/Shutterstock
Bohemian style is all about texture. Here, a cane chair combines with woven cushions and a sisal rug to provide a stark contrast to the sleek leather sofa. 
8. Floor level living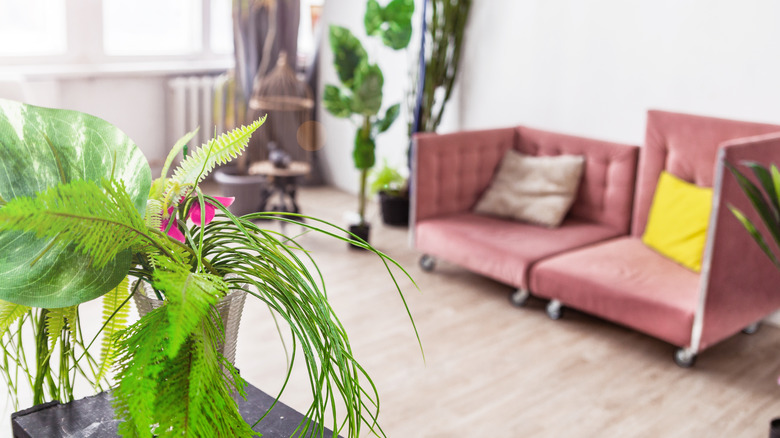 Yuliya Yesina/Shutterstock
Boho style's relaxed and casual vibe translates into low, adaptable, and comfortable pieces like this modular pink daybed on wheels. A great way to up the aesthetic is to bring in low-slung furniture and a multitude of floor cushions, poufs, and ottomans.
9. Boho industrial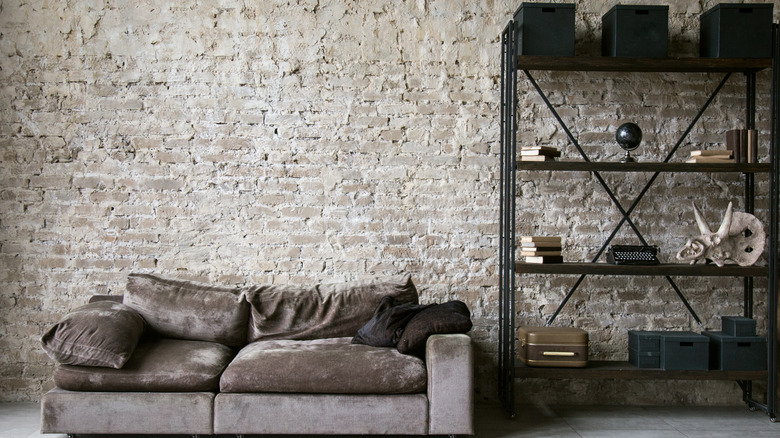 Kate Aedon/Shutterstock
Many contemporary boho style rooms mix industrial materials like brick and metal shelving with softer, more glam elements like this steel gray velvet sofa, which manages to feel both modern and vintage at the same time.
10. Artsy accents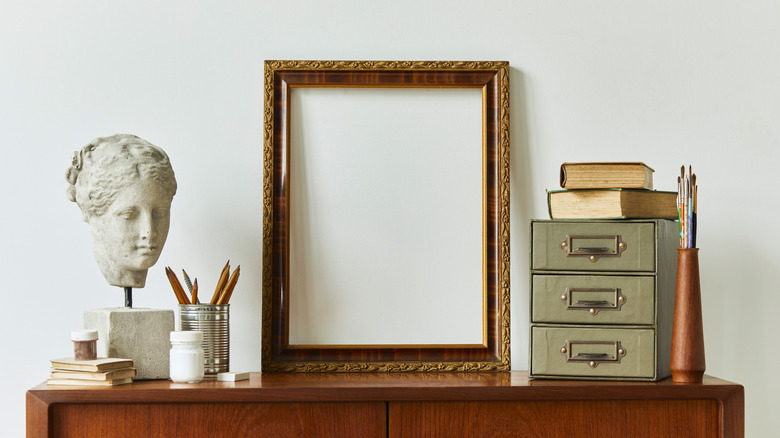 Followtheflow/Shutterstock
Since the word bohemian has its roots in art, literature, and music of the 18th and 19th century, an easy way to bring the style into your living room space is with touches like a gilt picture frame. Mirrors, books, and marble busts add a high-culture vibe to the space.
11. Dynamic artwork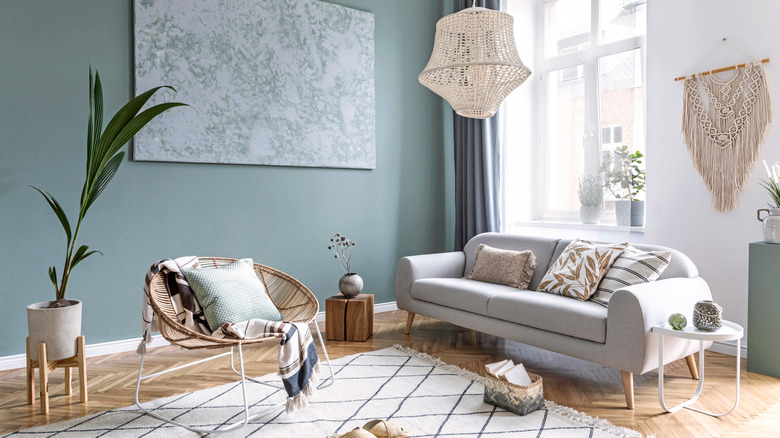 Followtheflow/Shutterstock
Similarly, bold and dynamic pieces of artwork often serve as great focal points in boho rooms. Here, a large abstract painting provides a beautiful backdrop for other vintage and bohemian-influenced pieces like lamps and wall hangings.
12. Macrame all day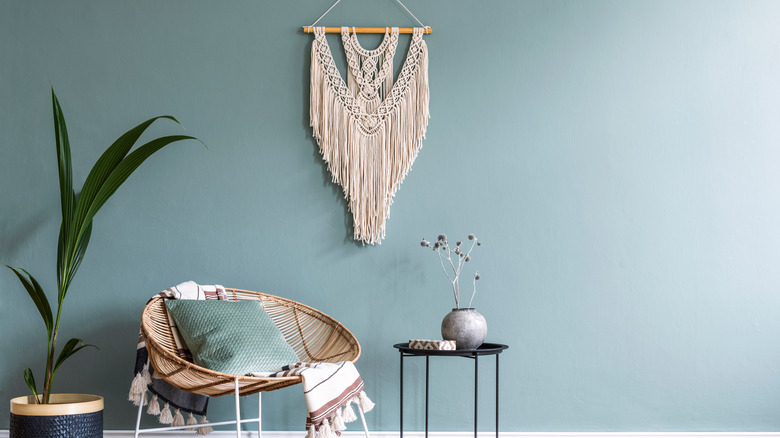 Followtheflow/Shutterstock
One of the most popular elements in boho style living rooms today is macrame. From planters to wall hangings, you can incorporate macrame in your home with vintage pieces found at thrift stores and markets, or with modern-day renditions sold at a variety of retailers. You can also go the DIY route and fashion your own. 
13. Lighting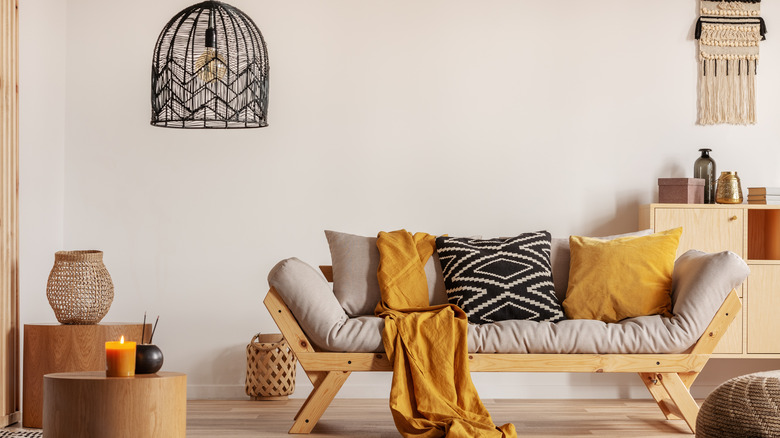 Ground Picture/Shutterstock
To increase the boho factor in your living room, be sure to take advantage of creative and quirky lighting. This includes sculptural accent lamps, wicker or rattan lampshades, twinkle lights, lanterns, and an abundance of candles. 
14. Softness
New Africa/Shutterstock
Boho style's comfort depends very much on the softness and luxuriousness of its key pieces like this thick, tufted futon covered with multi-textured accent pillows. As a futon, the sofa turns instantly into a bed for an even more adaptable space. 
15. Boho vintage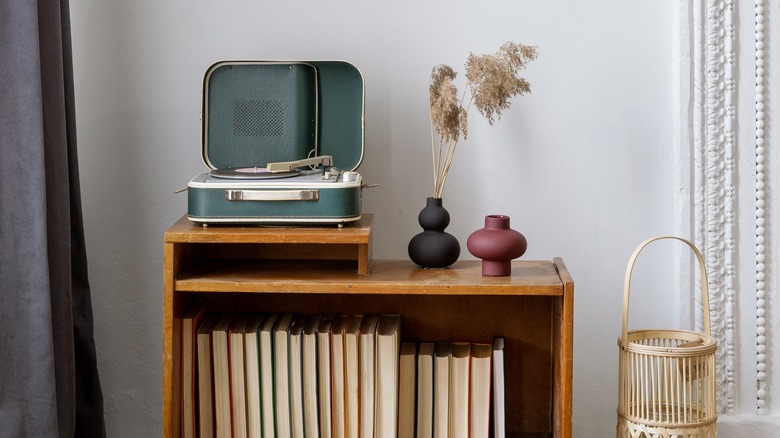 brizmaker/Shutterstock
With many of its influences drawn from the span of the past two centuries, the bohemian aesthetic often makes use of vintage elements like this midcentury cabinet and retro-inspired record player. They are paired with books, sculptural vases, and wicker accent pieces to complete the look.
16. Rustic vibes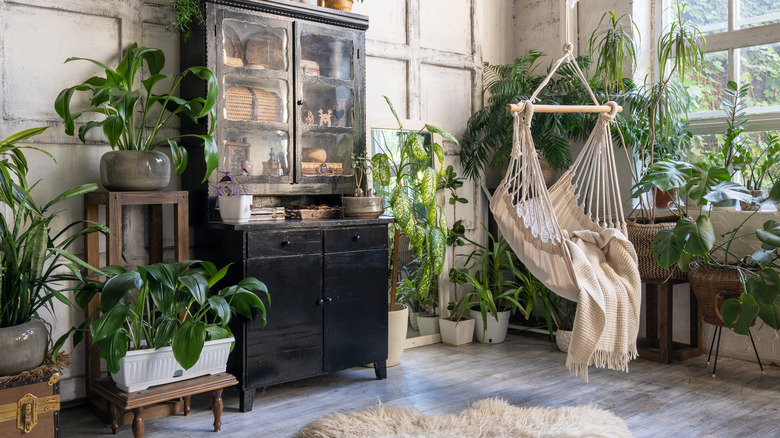 brizmaker/Shutterstock
Bohemian style often employs rustic elements like this vintage cabinet, hardwood floors, and wood-paneled wall, which further impact the room's boho and vintage feel, creating a timeless, fresh space that inhabits a multitude of style eras all at once. The space is finished off by a stylish woven sling chair draped in soft throws.
17. Beaded curtains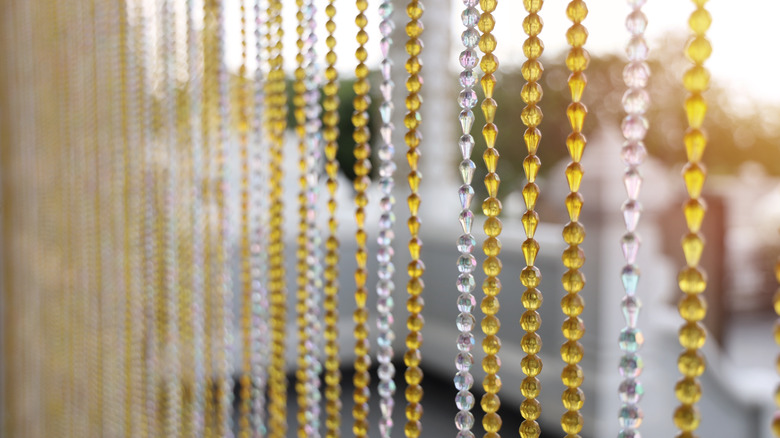 phol_66/Shutterstock
A popular item in mid-century homes, beaded curtains offer a great way to define spaces while still giving them an open feel and allowing the light to pass through. Like other hanging elements in boho spaces, they are both functional and visually interesting.
18. On the walls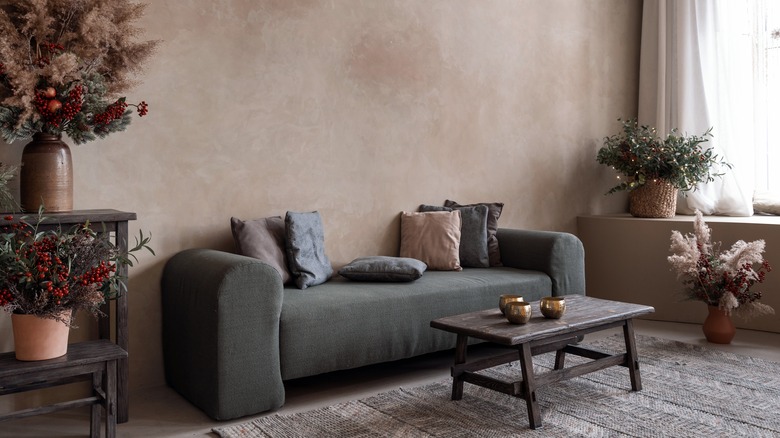 brizmaker/Shutterstock
While many boho spaces sport white, bright walls, others make use of rustic painting techniques like lime washing or sponge painting to give an old-world feel to the walls that complement other elements such as this low, contemporary couch and natural rug. 
19. Texture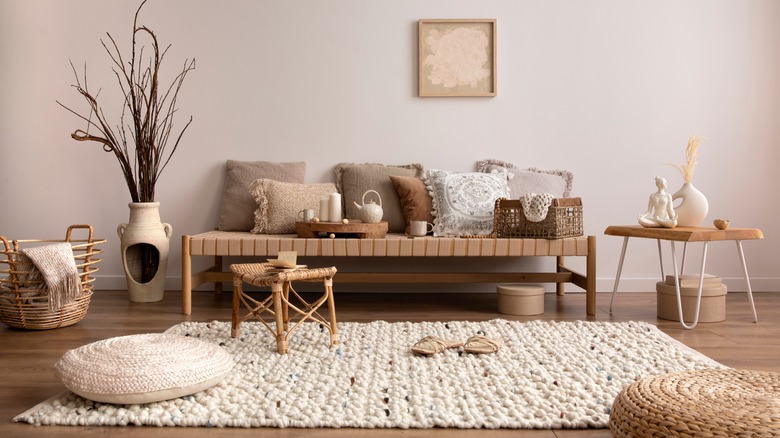 Followtheflow/Shutterstock
Even the most neutral boho rooms sport a number of rich textures in the mixing of natural and soft elements.  Here, a simple bench is warmed by chenille, lace, and woven pillows that exude creamy comfort, as well as a soft crocheted rug. Rattan pieces and a vase of branches add further texture.
20. Old and new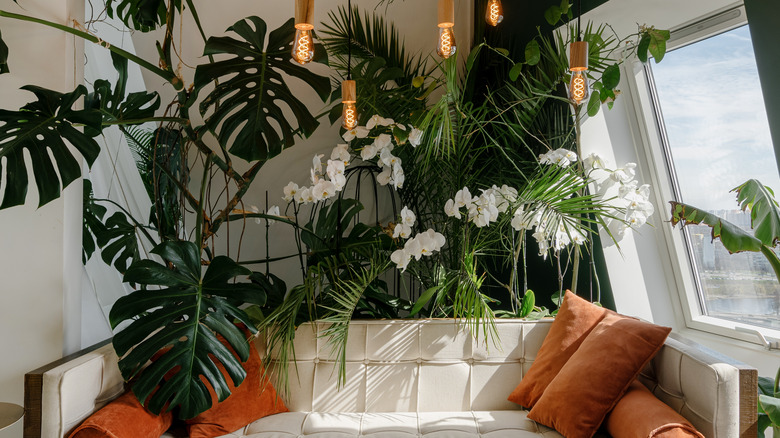 brizmaker/Shutterstock
Because of its rich, vintage history, boho style often blends contemporary elements like this modern leather sofa with softer, more luxurious throw pillows in pure mid-century burnt orange. For a finishing touch, add industrial Edison bulb-inspired light fixtures.