Tips And Tricks For Warming Up The Exterior And Interior Of Your Home, According To Good Bones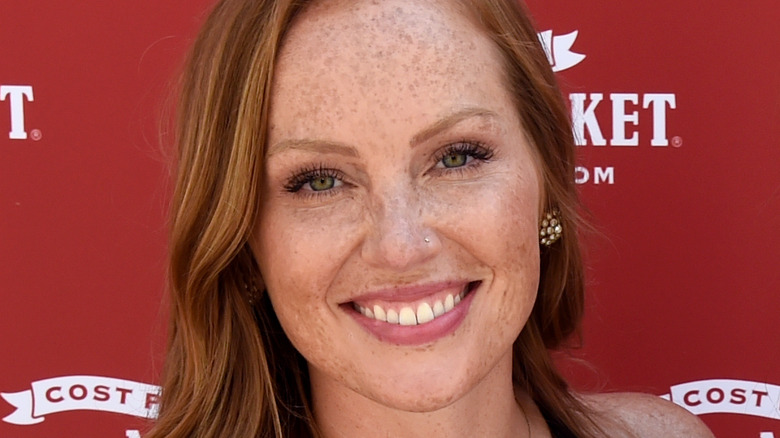 Michael Kovac/Getty Images
One of the most popular home decor design styles is the farmhouse look. It's been around for seemingly ever, and for good reason; it adds a certain warmth to a home, making it seem cozier and more inviting, says Khalima Lights. If you follow interior design trends, odds are you've seen images of the farmhouse and the cabin chic aesthetic floating around online. The key to creating either of these styles is by warming up your home, both inside and out — and no, we don't mean adjusting your thermostat! 
With a warm exterior, you're giving guests a sneak preview as to what they can expect when they walk into your home. It exudes a welcomeness that extends into your home's interior. Warming up the entirety of your house gives it that much sought-after homey vibe. To give you some inspiration on how to achieve this cozy feeling, Mina Starsiak Hawk, from HGTV's, "Good Bones," has a few tips and tricks to warm the interior and exterior of your home. 
Keep the exterior dark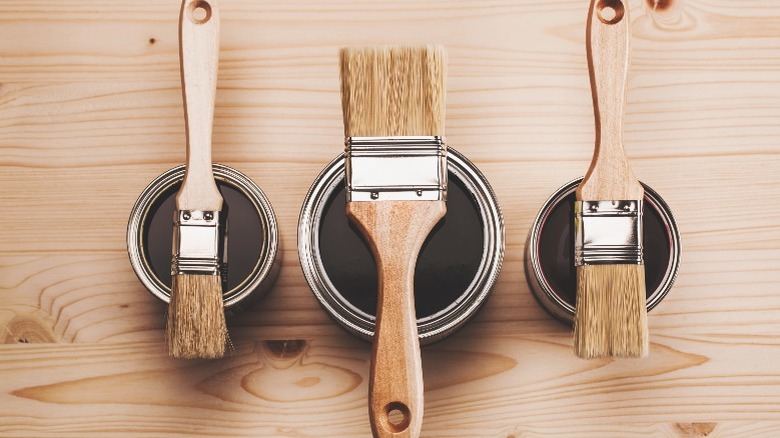 Efetova Anna/Shutterstock
In the episode, "Twinning is Winning," Starsiak Hawk decides on a cabin-chic look for her latest project, per Realtor. She says darker tones on the exterior of the home will create a moody, yet cozy feeling. The trick is to mix dark shades with lighter shades — using each on different areas of the house, she says. You should offset the browns with a different colored door, such as dark blue or red, which are commonly seen in the farmhouse aesthetic. When designing the exterior of your home, lean towards rich browns (think milk chocolate).
You don't want to paint the entirety of the house dark brown — that's counterintuitive. Instead, use those deep shades for the shake shingles and board and batten siding. Then, incorporate the lighter browns for your shutters or trim around the windows. Combining the two shades will create a subtle contrast, while still maintaining the warmth you're searching for.
Choose greige and natural wood for the interior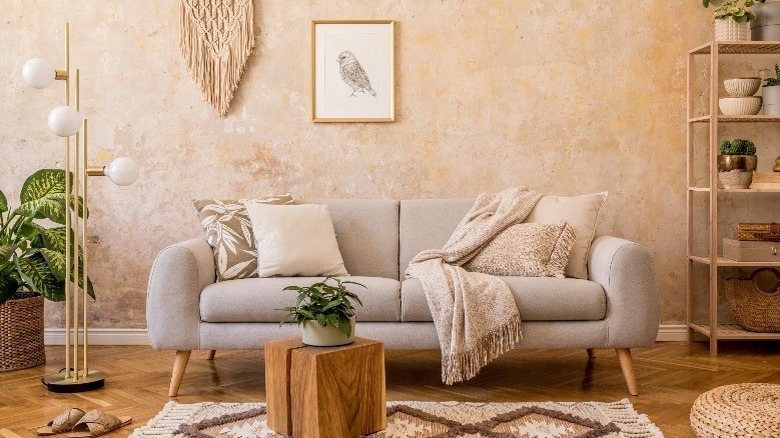 Followtheflow/Shutterstock
Starsiak Hawk says the key to giving your home a warm and cozy feeling is using greige (gray and beige) paint for both the walls and ceiling, as well as utilizing wood and furniture, (via Realtor.) To achieve that vibe, using natural wood in your home will do the trick, according to Contemporist. Using wood throughout your home mimics the cabin aesthetic we discussed earlier, which is why you feel an air of coziness having it in your space. Opt for wooden furniture in your living room, and wooden cabinets for your kitchen or bathroom — or both!
So, why the greige paint? Despite the fact it's half-gray, this paint color actually offers warmth to a room. The trick is to find a greige with more beige in it, which will accentuate the shade's yellow undertones, says Joss & Main. Incorporate warmer colors within the rest of the space to really bring out the beige, such as shades of mocha, cream, blush, and sand. Doing so will instantly add warmth and depth to any room.