16 Colors That Will Brighten Your Windowless Bathroom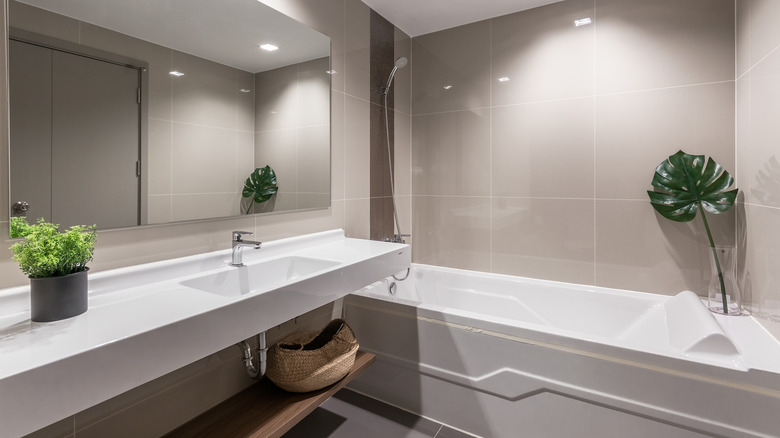 lOCOOl/Shutterstock
Bathrooms are one of the trickier rooms in a home to design and build. You're quite constrained to only a few variations — a tub or shower, a stand-alone sink or a counter, and your layout, usually. Aside from the color schemes and materials used, most bathrooms are quite similar in construction.
One thing that distinguishes some bathrooms from others is the presence of a window. There are pros and cons for either side — windows provide lots of natural light and can make a smaller bathroom feel a lot brighter and bigger, but there's also the larger issue of privacy (via Express Baths & Glass). Other issues include potential drafts, as well as the likelihood of mold growing on the glass. Without a window, though, your bathroom may feel small and dark. Lights can only do so much to make a bathroom feel truly bright — a lot of it comes down to the colors they reflect off of.
1. Olive green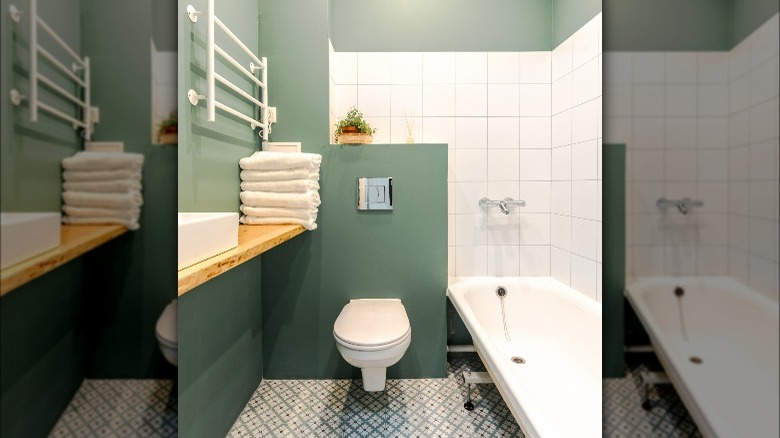 Polina Strelkova/Getty Images
Olive green may seem like a heavy color for a windowless bathroom, but when paired with a soft white, it can add some depth and dimension the room likely lacks. Choose a lighter shade and adequate lighting to help balance it out.
2. Light pink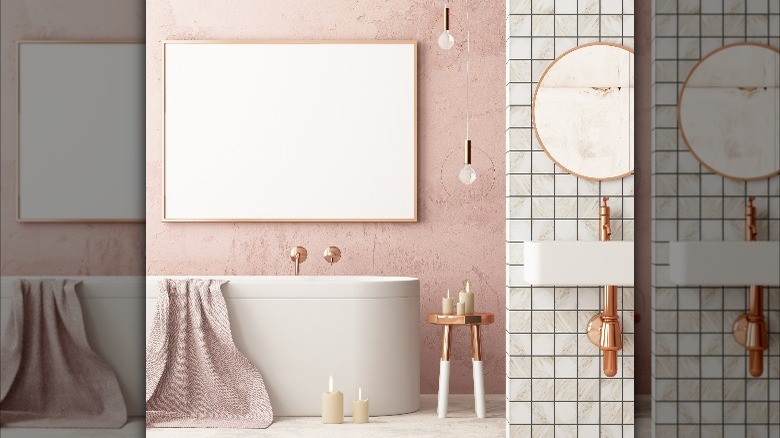 Fill239/Getty Images
Light pink is already a very bright color and can work wonders to lighten and liven up a windowless bathroom. Pair it with creams, ivories, and either yellow or rose gold for shimmery highlights, adding even more dimension to the room.
3. Nautical blue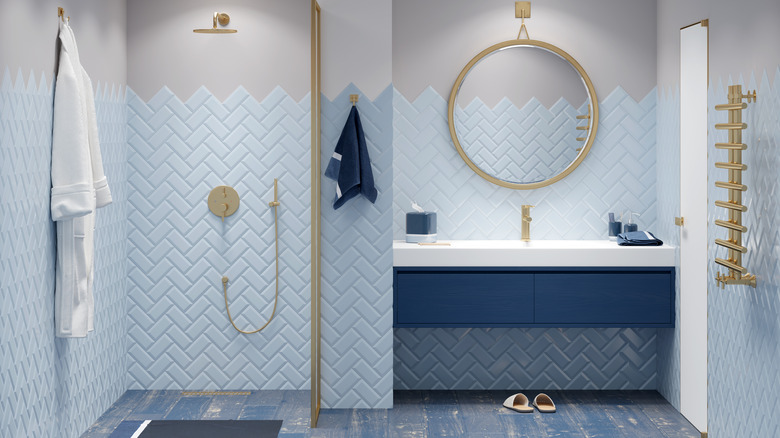 Gamespirit/Getty Images
Blue is another shade that is naturally bright in its lighter tones. Blue tends to be a bit overbearing, though, so consider leaning into it and going for a themed nautical bathroom. Pair blue vinyl floors with light blue wall tiles, balancing it all out with darker blue and gold accents.
4. Pale purple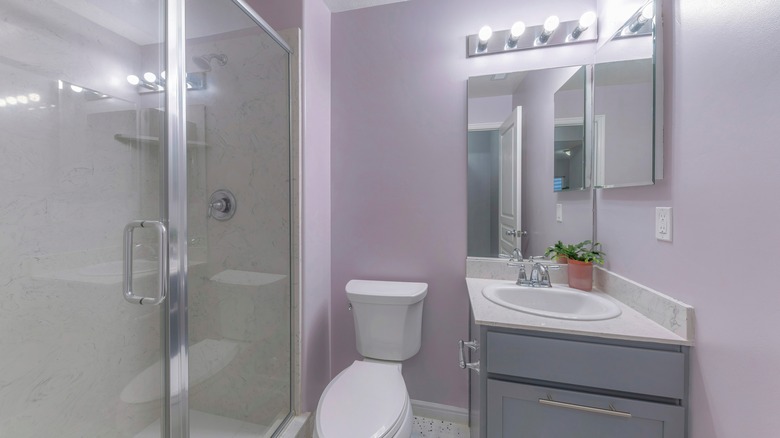 Jason Finn/Shutterstock
Pale purple works similarly to light pink, softening and brightening a darker space. Instead of pairing it with cream and gold, let the cool tones shine through with gray and silver or chrome pairings. 
5. Greige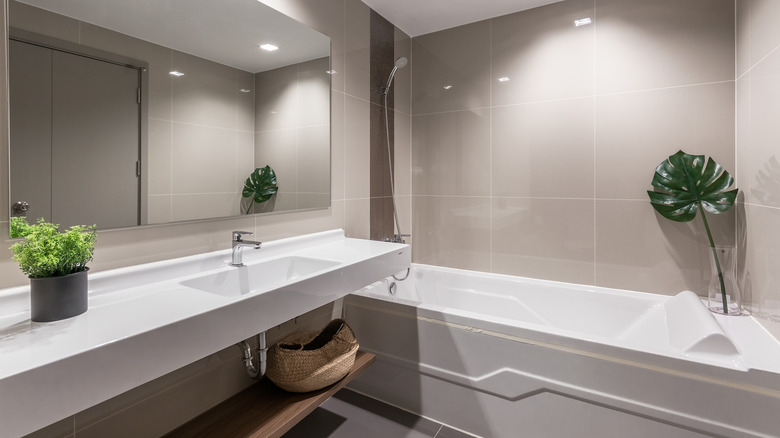 lOCOOl/Shutterstock
Greige is usually used to help soften a larger room, but lighter shades can be used to help brighten darker rooms. Pair with modern white appliances and sleek silhouettes, as well as a few plants throughout the room to help liven it up.
6. Bright white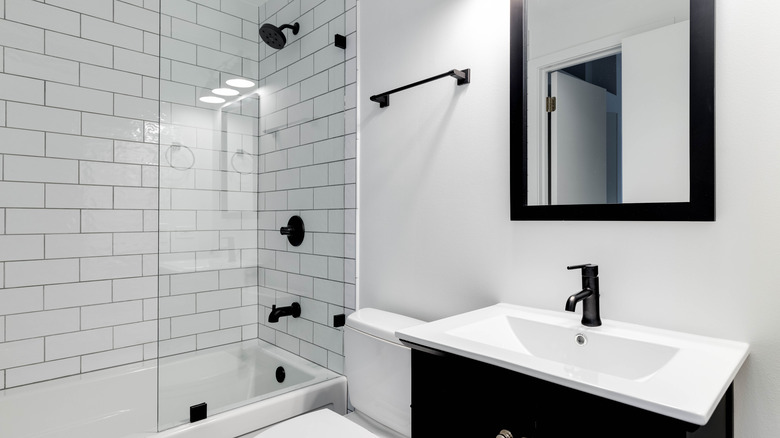 Hendrickson Photography/Shutterstock
No shade is quite as brightening as a classic cool white. Look for a very bright, paper shade of white, pairing it with black to prevent it from getting too glaring. 
7. Teal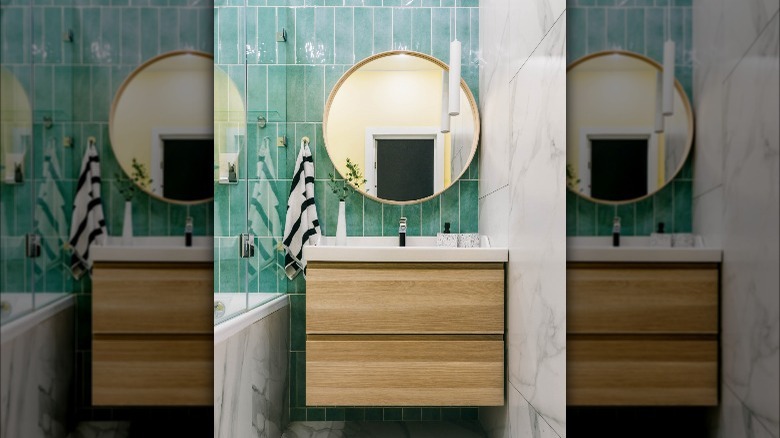 Polina Strelkova/Getty Images
Teal not only helps brighten a windowless bathroom, but it can also add a lot of personality. Choose a reflective teal tile with a bright bathroom light — the reflection will create the dimensional light a window would provide.
8. Light wood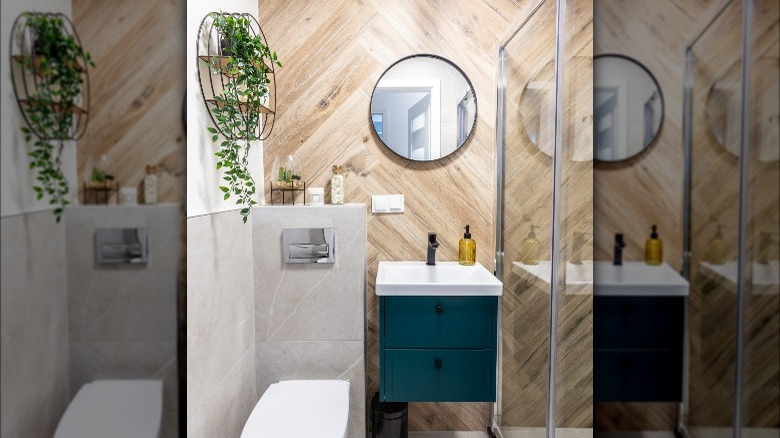 PHOTOCREO Michal Bednarek/Shutterstock
Choose a light, earthy shade of wood for your bathroom walls to help create an earthy, lively look. Pair with white accents and appliances to enhance its brightening properties.
9. Stone gray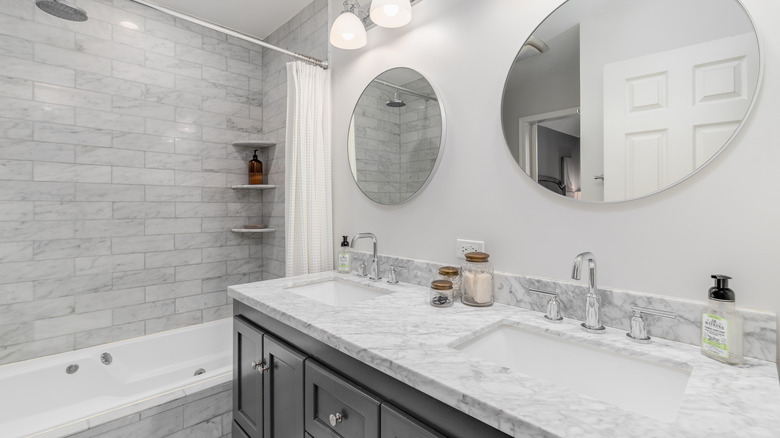 Hendrickson Photography/Shutterstock
Gray in general can be a little heavy and have a dulling effect in smaller, darker rooms. However, lighter, natural shades of stone gray can be quite brightening. Pair these sleek shades with actual stone-like marble in your bathroom for a refined, classic look.
10. Salmon pink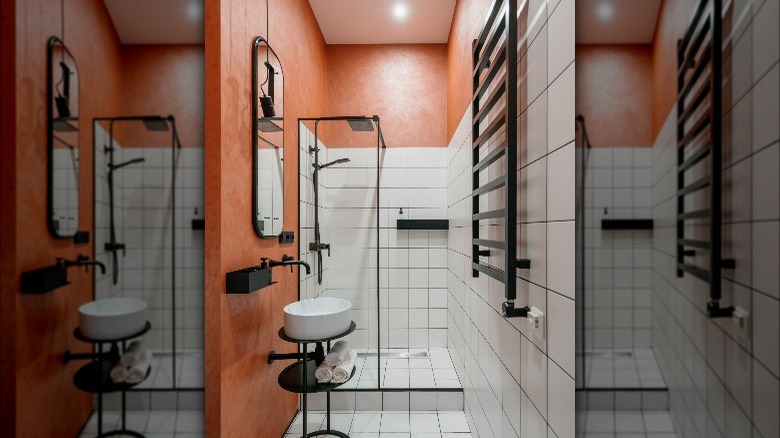 Brizmaker/Getty Images
Instead of traditional light pink, add a level of sophistication and maturity to your windowless bathroom with salmon pink. It will still be as bright and invigorating — if not more so — but with a refined edge. Pair with black hardware for a modern, trendy look.
11. Sunshine yellow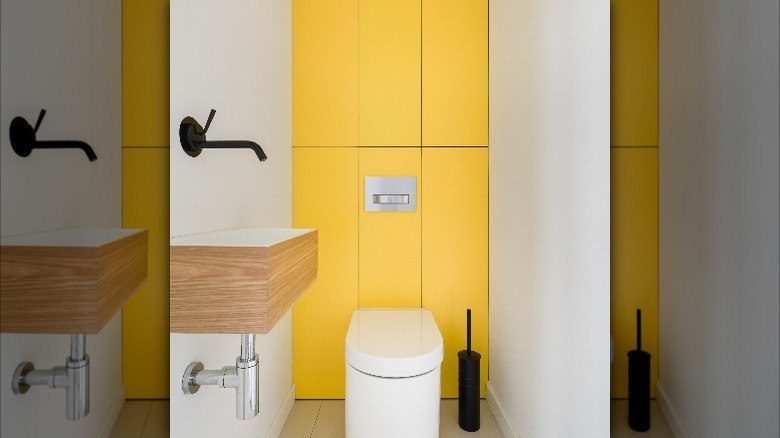 In4mal/Getty Images
Yellow is incredibly brightening, invoking images of the sun and fresh-cut flowers. A little goes a long way with yellow, making it incredibly effective at brightening a dark space. Add a sunshine yellow accent wall to your windowless bathroom to instantly give it a pick-me-up.
12. Beige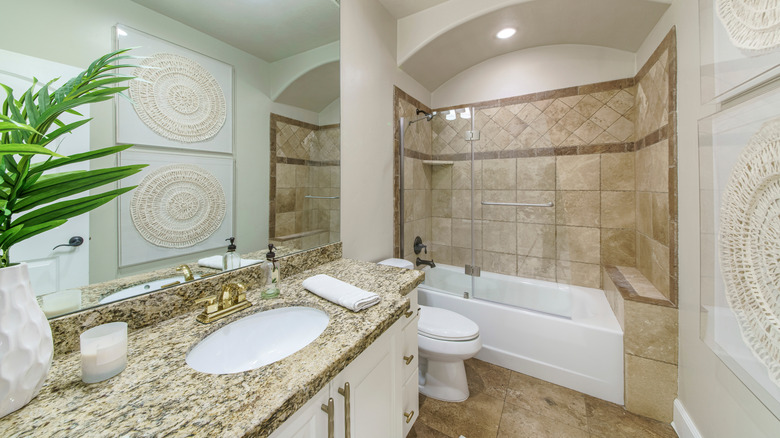 Jason Finn/Shutterstock
While you may think beige is a plain, boring color, it can have an incredibly refined look if used in the right context. For example, beige marble with dark silver hardware looks very elegant in a bathroom. Since it isn't too heavy or conspicuous, it also has a brightening effect.
13. Spearmint green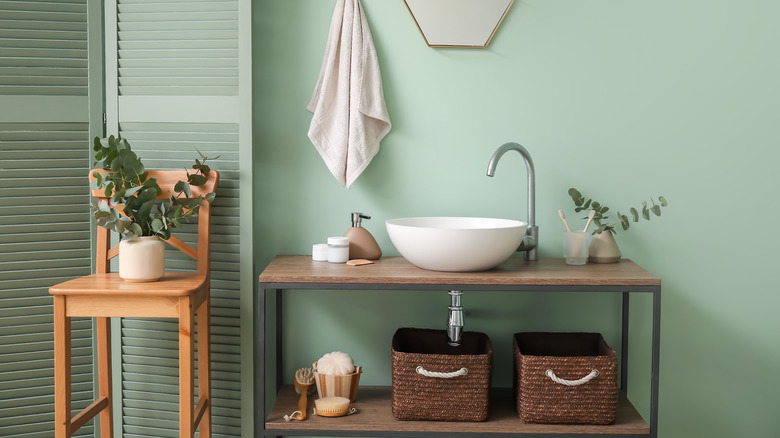 Pixel-Shot/Shutterstock
While warmer shades of green can look great in a windowless bathroom, so can brighter, cooler shades like spearmint green. It can be paired with wicker or wood for an earthier feel, or more industrial tones for an edgier look.
14. Sky blue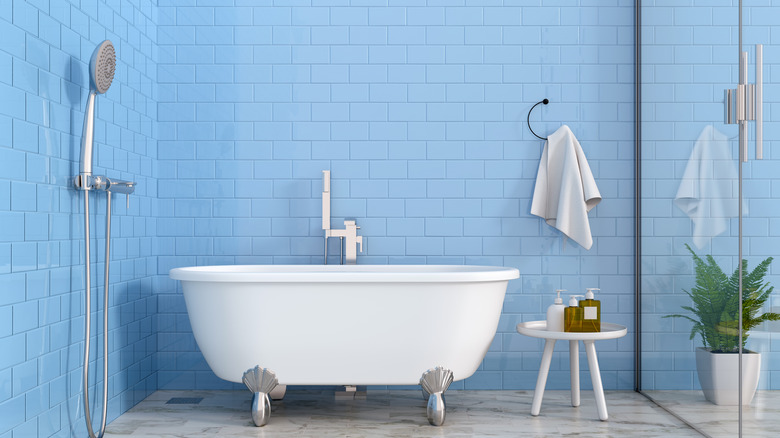 Wuttichaijangrab/Getty Images
If you want just one shade of blue in your bathroom, go for a super light shade of sky blue. Pair with lots of white and light silver for an ultimate brightening effect.
15. Mauve pink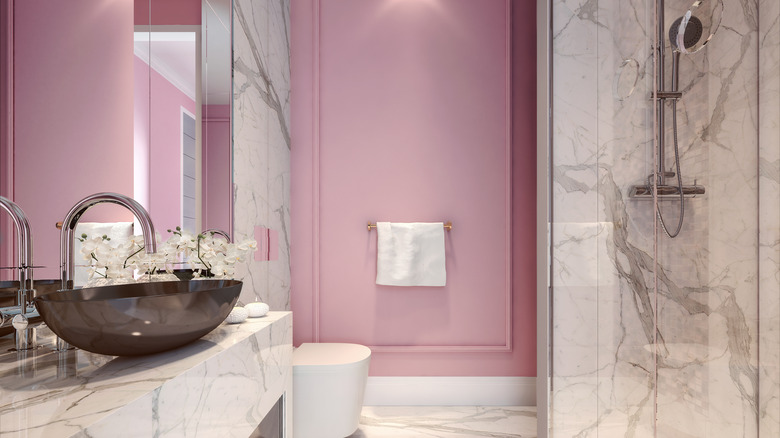 Snorkulencija/Getty Images
If you want the feminine tones of pink but with a more mature look, go for a rich, mauve-toned pink. It still brightens up your dark, windowless bathroom — especially in combination with white tones or marble — while remaining sophisticated and warm.
16. Sapphire blue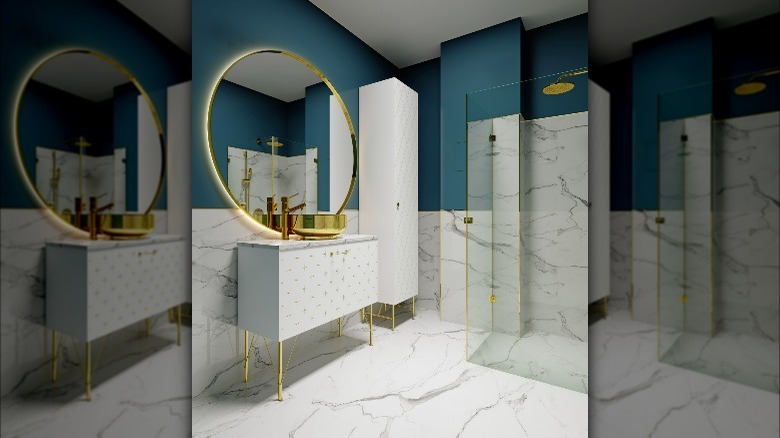 Peter_visual/Getty Images
For a richer, warmer blue tone that still brightens up your bathroom, go for a jewel-toned sapphire blue. Use it carefully so it doesn't accidentally darken your bathroom, pairing it with gold and white marble for added dimension.