Advice From HGTV's Farmhouse Fixer For Nailing Your Home Renovation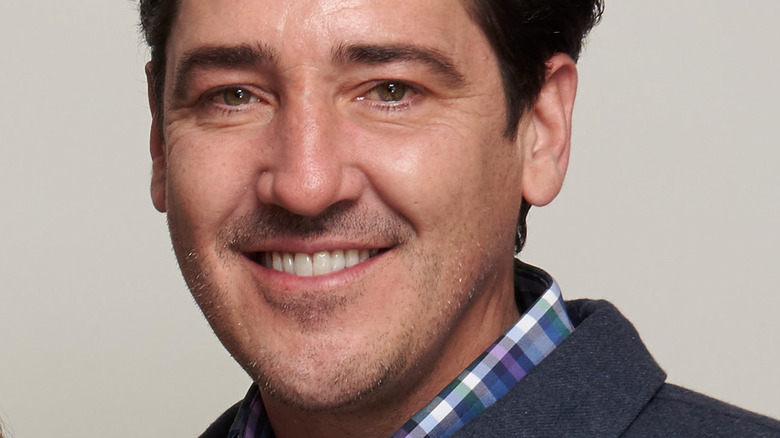 Corey Nickols/Getty Images
Renovating a home is never a quick and easy project. There are so many details to plan in order to create a harmonious and appealing design, it can sometimes seem like an endless task. According to AD Construction, the average home renovation can take three months to a year to complete, depending on how large your project is. And you could be spending anywhere between $15,000 to $155,000, depending on the space you're working on as well as the materials you're using. Because you're spending so much time and money, there's little room for error when it comes to a home renovation. The best thing you can do for yourself is to gather plenty of information to avoid tragic mishaps.
Luckily, "Farmhouse Fixer" restorer Jonathan Knight, along with designer Kristina Crestin, have revealed their tips to complete your home renovation correctly. According to HGTV, Knight and Crestin work together to restore New England farmhouses that are hundreds of years old. Knight alone has renovated over 200 homes and has experience satisfying clients on their construction needs. Now, you can use their insider knowledge to nail your renovation the first time.
Create a plan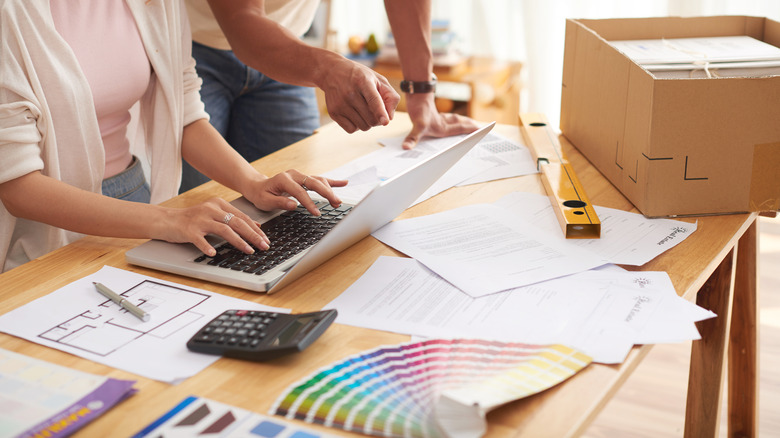 Dragonimages/Getty Images
In order to have a successful renovation experience, you first have to map out your desired goals. "Planning is your friend," interior designer Kristina Crestin said (via Realtor). "When you rush, you make mistakes and you end up spending more money." To accomplish your renovation goals, create a list of everything you need to better understand the type of functionality you want for the space. Also, think about updates that could add value to your home to reveal what your renovation priorities will be. 
Further, creating a budget is a must when renovating a home. "The budget can really sneak up on people," Crestin explains, adding, "They get a budget from a general contractor and it's just the basics, and they [then] find all of the things not included." When creating your renovation budget, consider a contingency budget, or one with funds available in the event of unexpected damage or a price increase in materials. You may also need to stay in a hotel during your renovation, so plan out a budget for that as well.
Get everyone involved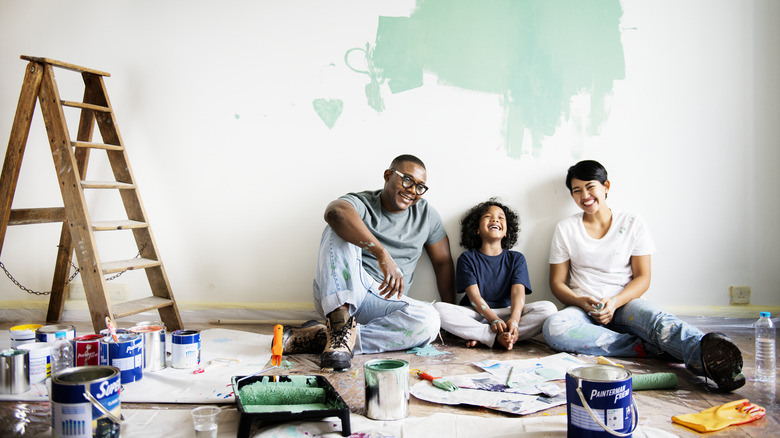 Rawpixel/Getty Images
If you're renovating a home for your family, Jonathan Knight and Kristina Crestin of "Farmhouse Fixer" believe it's not a bad idea to ask everyone what changes they'd like to see, per HGTV. When renovating an old farmhouse, Knight had asked his mother, sister, brother, and nephew for their input. The results? They created a beautiful kitchen with green cabinets, distressed ceiling beams, and vintage appliances for a rustic yet classic design. According to Parents, one way to enjoy renovating with your family is by allowing the children to help pick out paint colors. Instead of handing them an entire deck, give them three options you've already approved. 
Speaking of color, Knight believes trying unique hues can give your home the stylish flare it needs. He wasn't sure if the green cabinets would complement the neutral design seen throughout the farmhouse, but in the end, it turned out to be a great decision. However, if you're going to get creative with your color choices, there are a few rules to follow. Foremost, to keep in mind that lighting is a major factor, so it's a good idea to grab a sample and monitor how the paint color changes during different hours of the day.
Rethink the space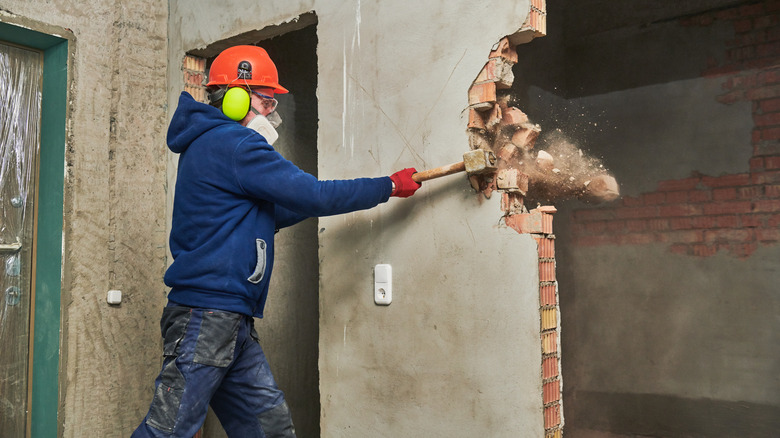 Dmitry Kalinovsky/Shutterstock
If there's something in your home not working for you, don't be afraid to tear it down and create something new. For example, Jonathan Knight's family didn't enjoy the awkwardly placed staircase in their home (via HGTV). So, he tore it down and created a chic pantry in its place. There, he installed cabinets painted a lovely blue, marble countertops, and glass upper cabinets. Now, instead of a nuisance, this space has turned into something beautiful and functional. If you're currently staring at something you want to remove from your home during a renovation, we suggest writing down a list of functionalities you need in the space and speaking to your contractor to create a feasible plan. 
Although functionality is important, don't forget about making your space unique with design. During one "Farmhouse Fixer" project, for example, stars Knight and Kristina Crestin learned the family hardly enjoyed meals at the dining table, so they abandoned the breakfast area and instead created a lengthy yet bold kitchen island with enough seating for everyone. They used this chance to add unique features, such as the antique butcher block.