Ikea Or Target: Which Has The Cheapest Vanities?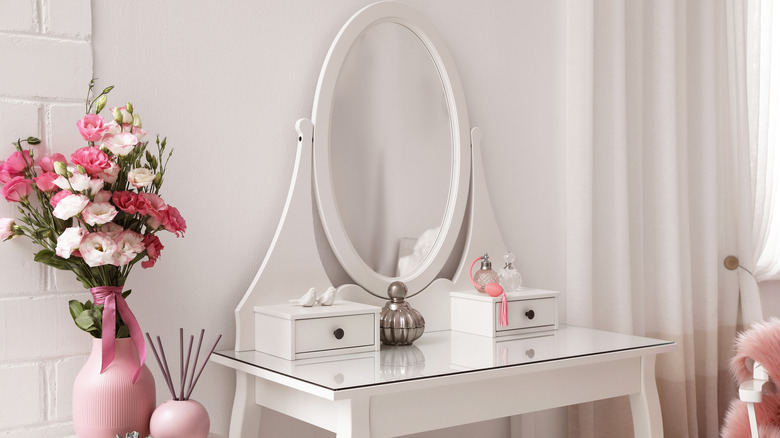 New Africa/Shutterstock
Vanity tables aren't a furnishing necessity in the same way couches, beds, or dining tables are, but they add an unparalleled level of refinement and elegance to your bedroom, dressing room, or bathroom. According to The Metropolitan Museum of Art, vanities were merely boxes to hold toiletries and beauty supplies and were transformed into vanity tables in 17th-century Europe. They then became a luxury home staple in the U.S. during the Art Deco movement of the early 20th century.
Vanities aren't exclusive to the higher classes anymore but are still just as luxurious. Not only are they highly decorative, but they're also incredibly practical. If you apply makeup or do your hair daily, having a dedicated area to store your cosmetic supplies and get ready all in one is convenient. Vanities aren't just ornate staple pieces, either — they can be found incredibly streamlined and minimalistic, as well as quite affordable. If you're looking for a vanity table on the cheap, you may consider popular furniture retailers like Ikea or Target, but which discount store offers the best deals and most affordable vanities?
Ikea vanities
Ikea is known for its vast catalog of simple, versatile furniture for incredibly low prices, and vanity tables are no exception. There is no shortage of vanity tables at Ikea, but they have two very inexpensive options. The first is their Alex Desk, which, while not a vanity table, can be used in various ways. This desk comes in white, gray-turquoise, and black, the white desk costing $159, and the other two costing $179. The simple desk has two drawers and a back panel for hiding cables for lights, hairdryers, etc., and has a 4.7-star rating.
The absolute cheapest vanity table at Ikea, though, is their Brimnes Dressing Table, which costs $149, and just comes in white. This is much more of a traditional vanity table. One side of the table pulls out to reveal a drawer for various cosmetics, and the other half lifts up for a divided storage compartment and a mirror. The drawer and storage compartment are both lined in red. This vanity has a 4.6-star rating and is made of particleboard. People tend to have mixed reviews on particleboard furniture, but it's not a bad choice for a vanity table — as GharPedia points out, particleboard is pretty easy to clean, which is ideal for makeup spills.
Target vanities
Target also has a fair amount of vanities in its catalog, but they run a little higher in terms of price, especially when compared to Ikea. One vanity very similar to the Brimnes model is Target's Costway Vanity Dressing Table, which costs $199 and has a 3.8-star rating and 75% recommendation rate but only nine total reviews. The white table has two-tiered thin drawers on one end and a storage compartment with a mirror on the other. It also comes with a stool fit for the table's proportions. It is also made of fiberboard and has a 90-day warranty.
The cheapest vanity at Target, though, is the Homcom Modern Glasstop Vanity Table, which costs $116. The table is a lot more compact, with a black steel frame, a glass top table, and a small, rotating circular mirror. There are no drawers, but there is a small storage shelf under the glass top shelf. It has a 180-day warranty but no reviews. Overall, though, Homcom as a brand has an average 4.2-star rating from Review Meta.
When comparing the vanities sold at Ikea and Target, Target does have the cheapest vanity table at $116, though it's quite small. The Costway table and Brimnes table are quite comparable in design. While Ikea's vanity is cheaper, Target takes the edge for quality with the included stool and warranty, making it the best overall deal.