This Storage Trick Will Help Make Your Small Bedroom Feel Bigger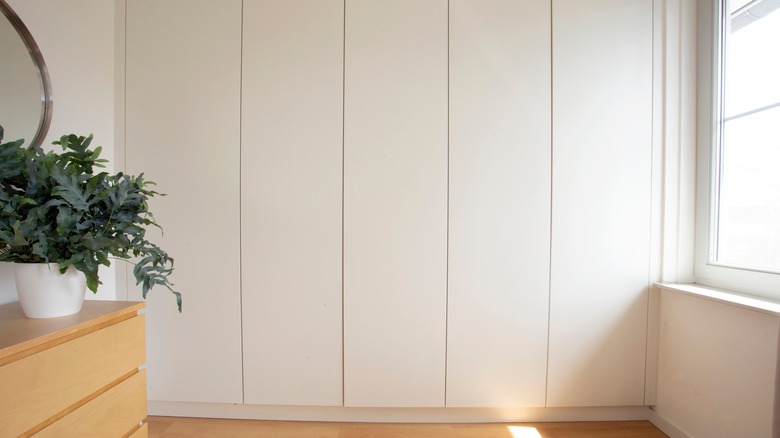 A-photographyy/Shutterstock
Storage is always essential in a bedroom and is possibly on equal footing with the bed itself. In small bedrooms, it can be a challenge to find a place for all of your things and eliminate the sort of clutter that can make the room seem smaller than it is. While there are many ideas for maximizing your space, like strowing things under the bed or using modular closets, one of the simplest ways to make an immediate impact is to invest in handleless storage in your sleeping space. 
Often the domain of popular "invisible" kitchen designs, according to Oppolia Home, this great way of outfitting cabinets and drawers without pulls and handles works just as well, if not better, in the bedroom. Favored for their clean, sleek appearance and minimalist aesthetics, they are just as practical as other designs but eliminate the visual clutter of hardware elements, which hugely benefits compact spaces. They also serve a far more functional role by removing bits that can be bumped, snagged, and tripped over during the night.
The benefits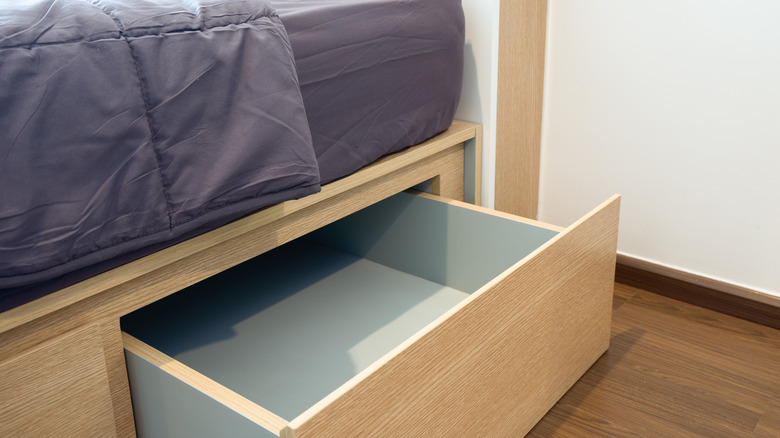 Paksongpob Kasempisaisin/Shutterstock
The practical benefits of handleless storage are obvious in terms of safety. No one wants to stub a toe or catch a slipper on the great under-the-bed storage drawers you just installed, nor snag a brand new dress on a protruding cabinet or drawer handle.
In smaller spaces, there is much less room to maneuver, meaning anything that protrudes into areas where people walk can be dangerous. Handleless storage cabinets and drawers easily eliminate hazards like this, leaving far fewer things to bump and catch on when moving in a tiny room (especially one you may be encountering in pitch dark). According to Imm Cologne, handleless pieces are a new design trend for kids' rooms and nursery spaces for safety and access reasons.
Handless cabinets and drawers rely on grooves, inlets, and mechanical means of opening and closing instead of pulls. Additionally, they're often spring-loaded, making them smooth and quiet to open. This may come in handy for rooms where two people with different schedules sleep.
The style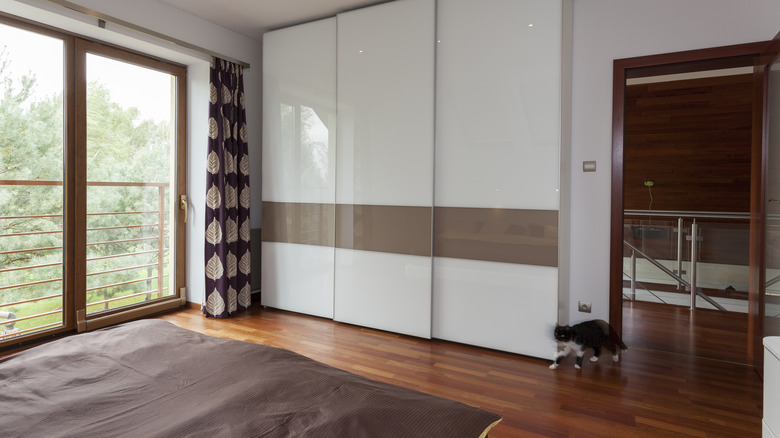 Ground Picture/Shutterstock
In addition to functional and safety issues in small spaces, handless storage in the form of drawers, cabinets, and wardrobes instantly confer a sleek modern look, eliminating the visual clutter of handles and creating a smooth canvas for the eye that almost makes the cabinets or drawers disappear. 
Even free-standing cabinets can look like built-ins, which may make a room seem more spacious and less populated by heavy pieces. Handleless storage also serves a valuable function for hiding things away but avoids calling attention to themselves as a piece of furniture. You can stealthily hide everything you want out of sight without adding too much bulk to the room.
Additionally, handleless cabinets and drawers are not limited to modern design schemes and can adapt to just about any decor style, depending on their shape and finish. As such, they can be just as attractive in materials like dark, burnished wood, woven straw, or metal, which fit everything from more traditional and classic decor styles to industrial and modern designs.