The Kitchen Trend Down Home Fab Star Chelsea DeBoer Is Steering Away From
Whether you know her from "Teen Mom 2" or the new HGTV makeover series "Down From Fab," Chelsea DeBoer has been a much loved television star since 2011. The new design series follows DeBoer and her husband Cole as they renovate and convert homes for clients.
While the DeBoers follow the requests and interests of their clients when renovating interiors, they certainly like to inject their own personal preferences and design flair during the process. As a result, there are certain styles to which they naturally gravitate. For example, DeBoer likes to mix rustic and modern décor, preferring cozy, warm, and lodge-style vibes with lots of cowhide and antler-inspired pieces, she revealed in an exclusive interview with House Digest. There's one popular interior design trend for kitchens, however, that the wife and husband team intentionally avoid both in their own personal designs as well as in clients' kitchens showcased on their new HGTV show.
All-white kitchens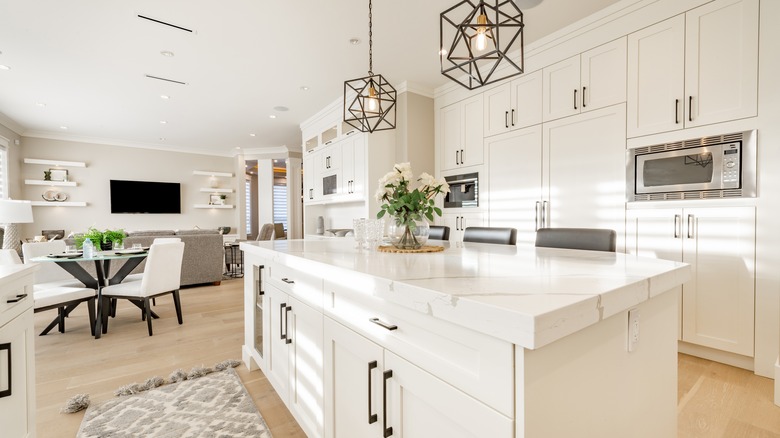 Sheila Say/Shutterstock
Designer Chelsea DeBoer has one no-go when it comes to kitchen design, she revealed in an interview with HGTV — all-white kitchens. It's not so much that she can't stand them. She told the outlet, "I like a white kitchen, but I try to do something different because everyone does white kitchens." For that very reason, she and her husband have steered away from white kitchen renovations on "Down Home Fab." Eye-catching hardware, houseplants, and fun furniture are more up her alley.
This much can be seen in Chelsea and Cole's own home kitchen. An Instagram post from January 2022 shows the DeBoer kitchen, which has a farmhouse, Southwest-style influence. There's certainly a little white to be seen in the sink basin, dishwasher, countertops, and brick backsplash — but it's nowhere near all-white. The cabinets are navy, the island countertops are wood, and the hardware is gold, as are the light fixtures. DeBoer's down home design advice is clearly reflected in her own home. She and Cole do note that one kitchen on "Down Home Fab" is all-white, but that they would rather "think outside the box."