The Most Popular White Paint That Sherwin Williams Can't Keep On Shelves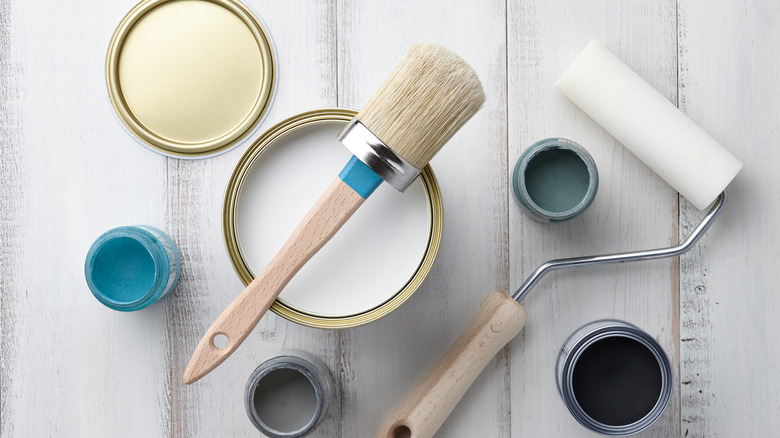 kobeza/Shutterstock
If you like painting with white, Sherwin Williams has an enticingly timeless shade that has many customers mesmerized. Whether it's used to freshen up walls, furniture, or trim, Greek Villa (SW 7551) is a warm, off-white hue that resembles the faint glow of a late afternoon in Greece. This slightly sunny tint excels with brilliance when it meets the natural light. With its convivial, neutral quality, Greek Villa has become one of the top paint colors among consumers.
Is Greek Villa right for you? A soft white paint with subtle beige and yellow undertones, you can use the welcoming shade throughout your home inside and out. From cabinetry to borders and accents, the Greece-inspired shade is versatile. Areas to explore with the bright yet cozy hue could be your bedroom, living room, or kitchen, among other spaces. You might use it to accompany other subdued yet refined colors like navy blue, eucalyptus green, or a misty gray. On the other hand, you could keep things light and airy by incorporating cream, ivory, or white paint shades. Like a Santorini villa at dusk, there are endless reasons to seek out this popular Sherwin Williams paint color before it's gone.
How customers are using Greek Villa
With a fresh, clean vibe, Sherwin Williams' Greek Villa creates a classic setting for almost any room. While the graceful paint color may transport you to a luxurious villa in Greece, its adaptability and strength are also viable. Available for interior or exterior application, the creamy paint contains a high LRV (light reflective value) of 84, which presents its ability to reflect great amounts of light while showcasing its quality and vigor.
Where might you apply Greek Villa? Depending on your style, the elegant shade shines in a variety of interior design styles. The walls of the sun-filled living and dining areas pictured above are touched by the radiance of Greek Villa for an essence of warmth and tranquility throughout. For a lighthearted air, incorporate it into your bedroom, bathroom, entryway, or kitchen for an entrancing ambiance. Additionally, encapsulate the aura of a seaside villa by adding it to your exterior walls. Light up your yard with path lights, spotlights, and lanterns to liven up the façade from twilight to daylight.
Complementing paint pairings
From light to dark, there are several coordinating paint colors to accompany your shade of Greek Villa. For a minimal contrast, choose a crisp shade like White Snow (9541), as its stark appearance will bring more attention to the off-white tone. For a light color pairing, you might choose a subtle hue like Limewash (9589), which incorporates equally delicate amounts of beige, brown, and gray. However, you'll achieve a greater contrast with a mid-tone selection with its more distinctive level of color. Additionally, you might explore muted versions of aqua, eucalyptus, or other grayish-green colors, which can add character to an accent wall or other space.
Establish a vivid scene by applying darker shades of navy blue, forest green, onyx, or brown. An alluring ocean blue hue is featured as an accent within the bathroom pictured above for a tranquil Mediterranean feel. The saturated color brings focus to the bathtub while the complementing walls are painted in Greek Villa. While many neutral and rich shades pair well with the warm, beige-toned paint, you might also consider the option of dusty pastels. Whether it's traditional or whimsy, you can energize a ceiling, staircase, or the backer board of a bookcase with a light pink, green, or yellow for an additional level of refresh.