The Best Spot In Your Garden To Plant Hydrangeas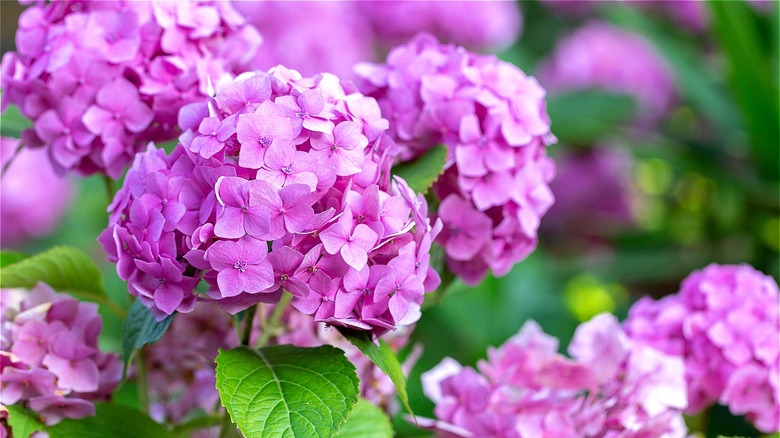 Ihor Hvozdetskyi/Shutterstock
Joyful and abundant, hydrangeas, or hortensia, are wonderful flowering plants to showcase in your garden. They often dance amidst white-picket fences or serve as privacy hedges within your landscape. With an array of flowerhead blooms, hydrangeas flourish in the warmth of summer and can blossom as early as spring and possibly into the fall. So, where's the best spot to plant them? Intended for zones 3 to 9, the captivating shrubs typically love the intensity of the morning sun, although require better shelter from its rays in the afternoon. When determining the best placement for your hydrangeas, you might consider a location with optimum levels of natural light and space.
Whether you have a small-scale urban setting or a spacious homestead, there's a variety of areas that are suitable for growing healthy hydrangeas. You might plant friendly bushes along garden pathways or highlight a perimeter. However, if your yard is more restricted, you can place them in a variety of pots and containers within a group or along borders and edges. Additionally, providing hydrangeas with comfortable, uncongested conditions will help promote their growth and longevity. With the right overall environment, you can create hydrangea heaven within your garden.
Hydrangeas like full, morning sun with shady afternoons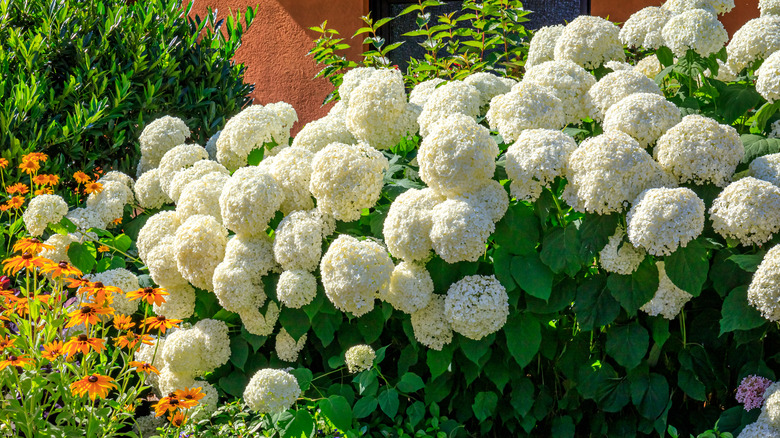 nnattalli/Shutterstock
Location is key when it comes to happy hydrangeas, and the best gardening spot will provide the plants with the right mix of sunshine and shade. For this, you might consider the north or south ends for ultimate sunlight. This layout will allow your hydrangeas to receive a substantial amount of sunshine without overdoing it. The east side, meanwhile, may offer the best balance of light to achieve bounteous shrubs, especially if you reside in more northern areas. Finally, the west side may not be the greatest option for hydrangea plants, as the enduring summer rays can deplete their energy.
This said, wherever they may meet the morning sun, be sure to let your hydrangeas recover with much-needed shade in the afternoon — after about six hours of light, the lofty blooms will need a break. Note, however, that with a difference in heat and humidity, southern areas may only require a few hours of sunshine following dawn. Ways to incorporate cool coverings for your hydrangeas could be by installing a pergola or trellis overhead or utilizing the natural elements of larger plants and trees. Additionally, you could assemble a shade cloth, which allows direct sunlight to enter from the sides while alleviating its warmth and brightness as the day goes on.
Give your hydrangeas room to breathe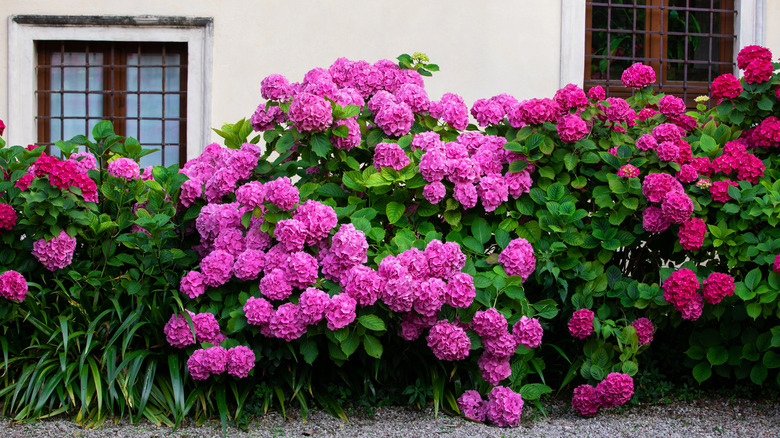 Vitalie Baciu/Shutterstock
Whether grown in garden pots or planted in the ground, hydrangeas don't like to be overcrowded. Spacing them out will give them good air circulation to develop effectively. Large clay pots or barrels are a nice way to display hydrangeas while keeping them at least 3 to 10 feet apart. This goes for those planted in the ground as well, depending on the variety of hydrangea.
Also, it's important you know your plant's anticipated maturity size, as the shrubs may extend to 12 feet wide. Looking lovely along a garden gate, hydrangeas can spread easily, although they may weaken and deteriorate if they're too cramped. If establishing a hedge line, you could space your shrubs about 3 to 5 feet apart, depending on how close you want them to touch. Consequently, if there's not enough airflow, they can suffer from spotting and various diseases.
With rich, well-drained soil, hydrangeas can grow comfortably in most areas. For placement near the house, barn, or shed, the best spot would be a couple of feet away from the structure. If you aim to keep them full, yet untouched, you could plant them out even further.