The Best Type Of Shower Curtain To Make Your Small Bathroom Feel Bigger, According To Joanna Gaines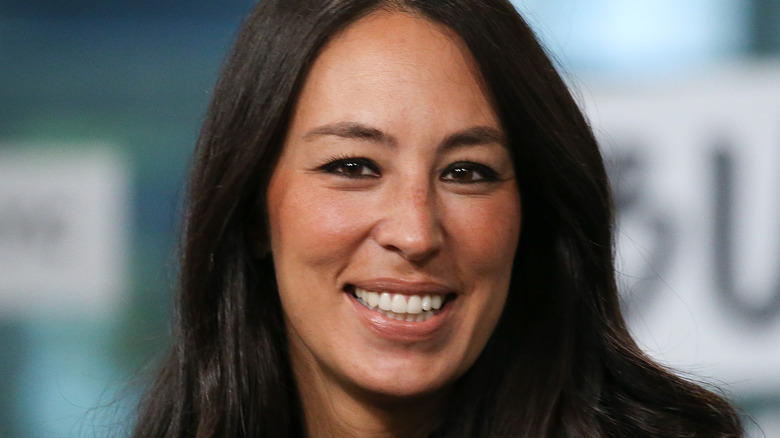 Rob Kim/Getty Images
Small bathrooms can pose some of the most daunting challenges when it comes to home decorating. Being one of the busiest rooms in the house, there's the task of finding a spot for everything you might need. If you can work some magic to make a bathroom seem more spacious while you're at it, that's a welcome bonus. Leave it to Joanna Gaines of HGTV's "Fixer Upper" to offer a solution in the form of a shower curtain. In a past episode of the show, she suggested picking one in a light color with some texture to make a small bathroom feel bigger.
The actual shower curtain Gaines used to make a 45 square-foot bathroom appear larger was a ruffled white one. Making a statement with the texture of the ruffles met one objective while selecting white fit in with her goal of keeping small spaces light and airy, as she mentions in the program. If you're not a fan of ruffles, look for a light-colored shower curtain with a texture or pattern that better suits your personality. This simple change is a great place to start when making a tiny bathroom not only seem bigger, but more livable. If you want to do even more, there are several other changes you can make to totally transform a small bathroom. 
Materials and colors that work best in small bathrooms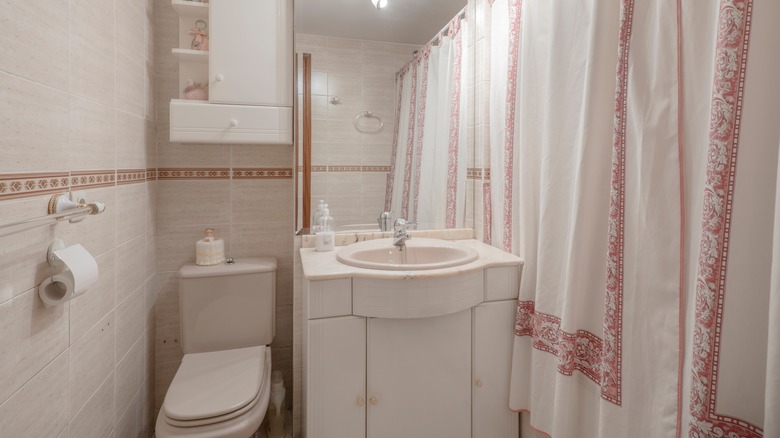 Toyakisphoto/Shutterstock
Color is key when it comes to redoing a small bathroom. Lighter colors, as Joanna Gaines advised on "Fixer Upper," work best in this scenario. That goes beyond your shower curtain choice to the materials you select for the floors, cabinetry, and countertops. For her tiny bathroom renovation project, Gaines selected a light-colored marble countertop and white tile for the flooring. For the grout, she chose a light gray that still imparted the airy feel she was looking for but also added a bit of contrast to the white tile.
Wall and cabinet colors should also be on the light side, according to Gaines, when redecorating small bathrooms. Consider painting cabinets classic white and sticking with wall colors that are also on the pale spectrum. Gaines went with pale green for the walls, but any lighter color can work from blues to pinks, to various shades of white, and grays. 
Other tips for making a small bathroom seem more spacious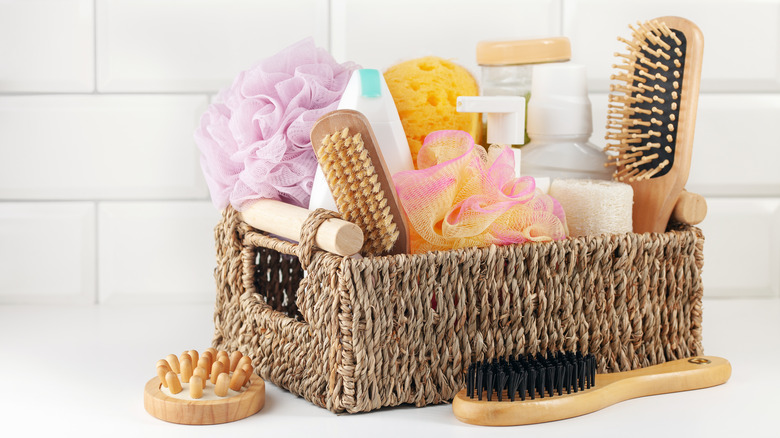 Murziknata/Getty Images
Reflecting light is one of the best ways to make a small room appear larger. If you don't have enough natural light streaming into your space, Joanna Gaines suggests adding another lighting fixture to the room. Her small room solution was adding an antique chandelier to accompany the existing lighting over the vanity. Creating other focal points for a small bathroom beyond the shower curtain can impart the illusion of more space, too. Adding a larger vanity mirror is one way to achieve this goal.
What else? Keeping the mess to a minimum is also important. Use jars and baskets to corral clutter that can easily crowd limited countertop space and make it seem smaller. Taking that idea a step further, Gaines attached a small basket to the wall above the commode to hold bathroom essentials that might otherwise be sitting on a countertop. If you don't have the time or budget to completely redo your small space, try making changes one by one starting with a new shower curtain. You can then add and subtract other elements that can help you achieve a light, bright, bigger-looking bathroom.