100 Day Dream Home Details The Inexpensive Way To Make Stucco Walls Look Like Brick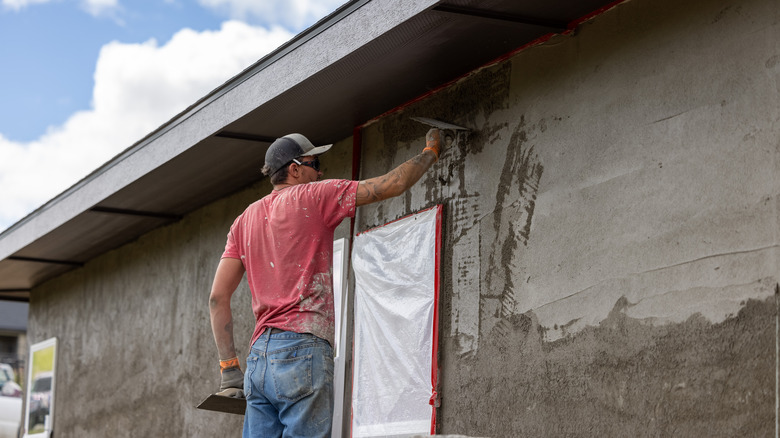 Bloomberg/Getty Images
If you've ever watched "100 Day Dream Home" on HGTV, you know the show is about creating beautiful spaces on an incredibly tight schedule of 100 days or even less. Because of this, the couple behind the builds, Brian and Mika Kleinschmidt, know a thing or two about reducing the amount of time, money, and effort spent on a project while still guaranteeing long-lasting and aesthetically-pleasing results. Their recently-shared hack — creating a fake brick look on your exteriors with the help of stucco — is no exception to this rule, and can help you achieve your ideal exterior much more efficiently and economically than installing real brick.
In Season 3, Episode 2 of the series, "Forever Farmhouse," Brian Kleinshmidt and his builders are tackling the siding on a large new build for a couple with six kids and another baby on the way. "We're putting stucco on the wall, like normal," he says. "We're gonna texturize a little bit, and then we're gonna score the grout lines, and we're gonna make brick appear out of stucco, almost like a magic trick."
The benefits of stucco brick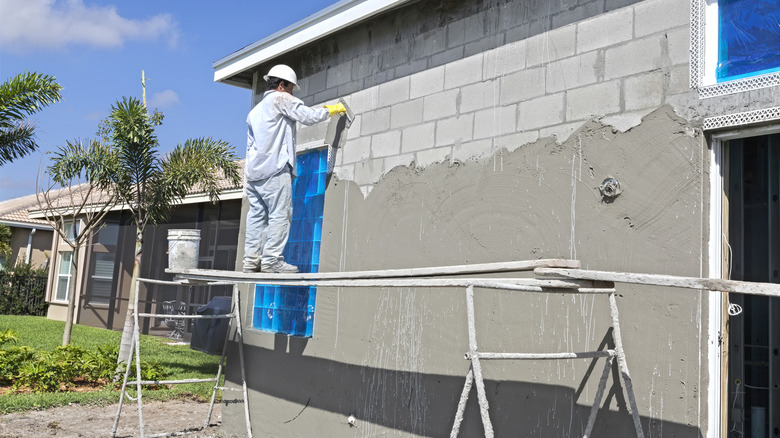 Jodijacobson/Getty Images
Stucco is a thin, spreadable, concrete-based material that can be used as an exterior coating in homes. It adds an extra layer of protection from the elements as well as some natural-looking texture to boost a home's curb appeal, but it can also provide some additional room to play around with pattern and texture. Because this material is so good at holding its form, you can choose to score this layer before it dries or leave it smooth depending on your desired final look, meaning you have the ability to create the appearance of brick without having to spend the time and money to individually lay them.
According to data from Fixr, stucco is significantly less expensive than brick siding. Stucco costs around $2,810 to $4,400 for a 1,000-square-foot house, while brick siding can clock in at over $10,000 for the same size build or renovation. This difference in cost is primarily because of the cost of materials, but installing stucco can also be quicker and requires less labor as well.
How to create stucco faux brick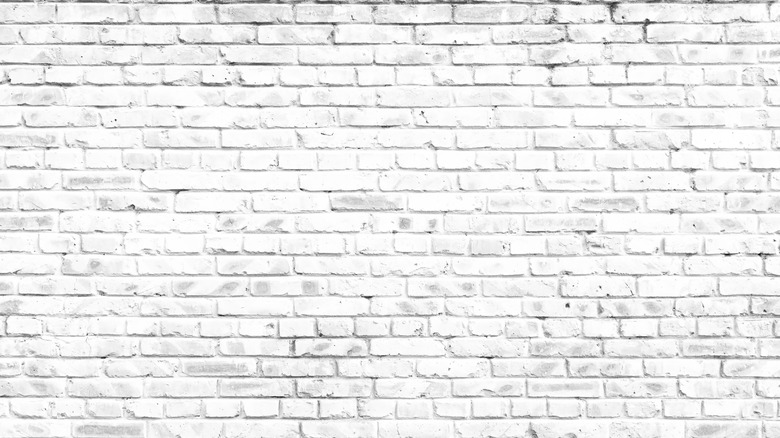 Paul shuang/Shutterstock
In the episode of "100 Day Dream Home," Brian Kleinshmidt lays down a thick layer of stucco on the exterior wall, then measures and scores a regular, brick-like pattern on the surface. This process does take a bit of skill, so you might have to factor in additional labor costs to guarantee a convincing final product, but it should still come out significantly less expensive than installing real brick.
Once this layer dries down, the team goes in to paint. Another major thing to keep in mind is that, when scoring stucco, everything will still remain the same color. That means that this hack is much better for creating the texture behind faux-painted brick than pulling off a classic red brick and contrasting grout look. If you want the appearance of raw brick, it's probably a better idea to go in with the real deal, but this is a fantastic way to add in texture without wasting money on real brick installation if you're just going to paint over everything anyway.