The Countertop A Real Estate Agent Advises Against In Your Kitchen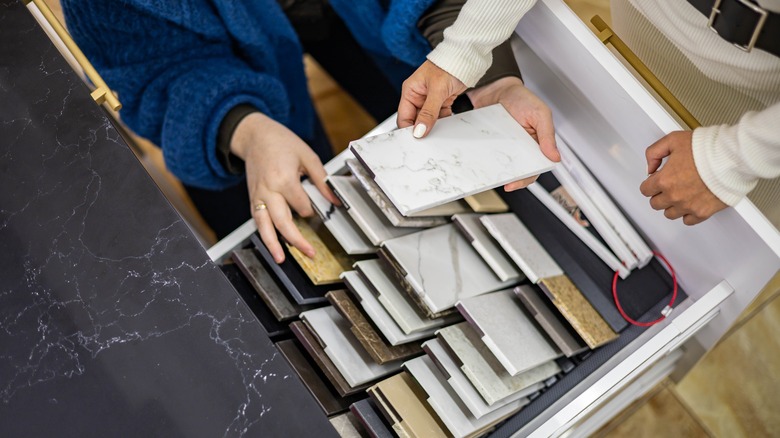 Kostikova Natalia/Shutterstock
Countertops, which are often a key choice in any remodel, can be one of the most important elements to consider, not only for your own use and enjoyment but with an eye toward possible resale down the line. Outdated countertops can be one of the things that strongly deter potential buyers, particularly if those countertops are any variety of granite. This popular stone was once a mainstay of modern kitchen design in the late 1990s and early 2000s, offering an array of earthy tans, browns, and grays that complemented warmer-toned kitchen paint colors and cabinetry. Maggie Richter, a real estate agent with Baird & Warner, tells Apartment Therapy, "The various granites that were hot in the early 2000s definitely date a home now."
Kitchen trends come and go over time, with today's hottest materials and finishes out of fashion tomorrow.  A few tried and true elements remain, such as the popularity of all-white cabinetry or stainless steel appliances, but other spots in your kitchen, like countertops, backsplashes, and flooring often cycle through trends at a much faster rate. While creating a kitchen that feels like the heart of the home may be rooted in personal aesthetics, real estate experts can give excellent advice when it comes to what may make your home extra enticing should you decide to sell it and move. 
Modern alternatives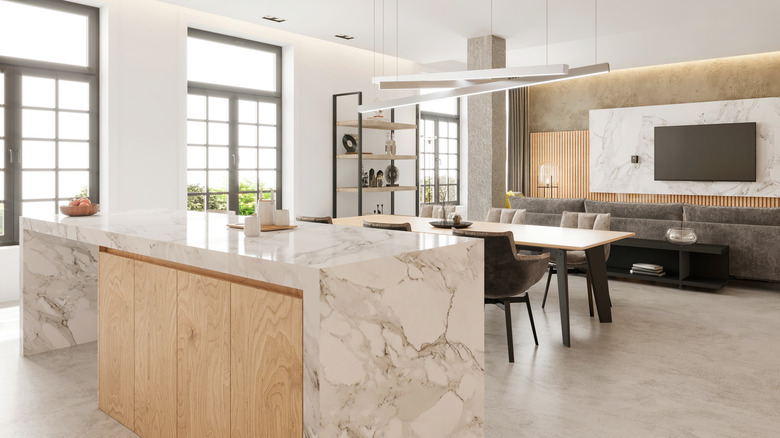 Experienceinteriors/Getty Images
While granite once reigned supreme, other stones have risen in the intervening decades to take its mantle, including concrete, quartz, marble, and wood. Quartz in particular, according to Maggie Richter, has risen exponentially in popularity, much in part due to high-profile designers like Joanna Gaines, who have a penchant for the paler tones of quartz that make spaces lighter and brighter overall. 
Both granite and other natural stones have long been popular materials for countertops, yet concrete counters have also risen in popularity, offering a more durable surface that is not subject to the scuffing and scratching that more natural materials often experience over time. And, while wood and butcher block counters held their place throughout the 20th century, a renewed love of classic woods has emerged once again, offering a softer and more natural look in line with farmhouse and cottage aesthetics. Marble, once thought of as colder and more austere, is everywhere today, particularly richly veined statement marble, which is cropping up everywhere in design circles. 
A small change makes big impact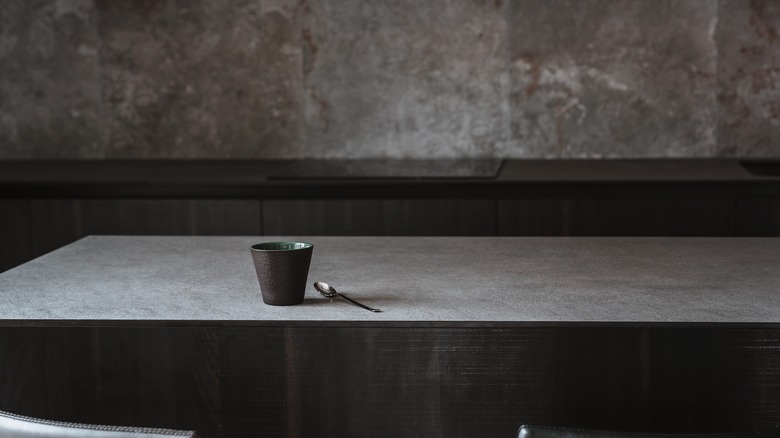 RasaBasa/Shutterstock
If you are remodeling, with reselling your home down the road in mind, replacing outdated granite countertops can be one excellent way to guarantee that buyers will find the kitchen up to date and less in need of costly renovation, which can impact how much they are willing to pay on the asking price. Even if you don't plan to sell right now, alternatives to granite can often be a quick high-impact way to completely transform your kitchen without changing anything else. This changeout works particularly well if you already have classics like white cabinets and stainless appliances in place. Still, if you're sold on granite as a material, opt for modern colors and lighter shades that more closely resemble marble.
If designing a new kitchen, avoid granite as a material for countertops in general. Better durability can be found in quartz and marble for only a slightly higher price tag, which can pay off big when you eventually sell. For a more inexpensive option, consider concrete, which is extremely durable and can be finished to look like more expensive natural stone.