Rules To Follow When Designing A New Kitchen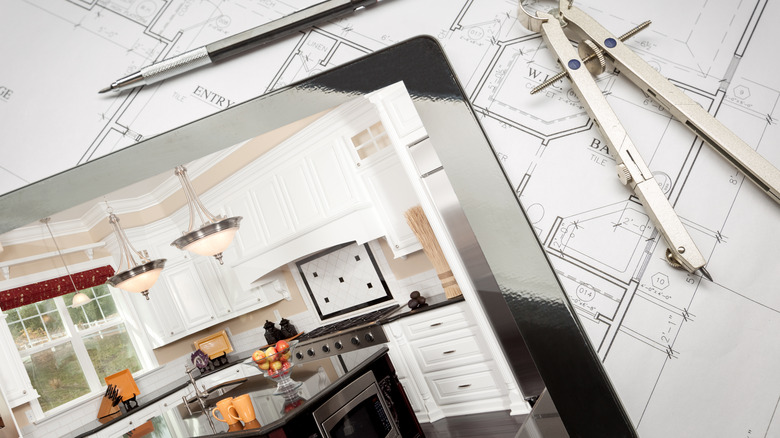 Andy Dean Photography/Shutterstock
Kitchen remodels are big-ticket renovations, and a lot hinges on their design. If you're planning a new kitchen, you have an incredible opportunity to tailor it minutely to your needs. That snazzy pull-out storage solution you saw on Pinterest? Now is the time to make it a reality. But the problem with all this potential is it can be paralyzing. You've got the chance to create the kitchen of your dreams, but where do you start? Before you press go on your project, there are some important rules to follow. 
Kitchens are incredibly hardworking spaces with a lot of different functionalities. Without careful planning, you could end up with appliance doors that open into each other, cabinet areas that are excruciatingly hard to access, and other equally aggravating design errors that will plague you for years to come. Thankfully, there are a few guidelines, rules, and tips you can implement to create the kitchen of your dreams. One that looks amazing, functions efficiently, matches your lifestyle, and makes kitchen tasks a breeze, rather than a chore.
Dream big and budget like a pro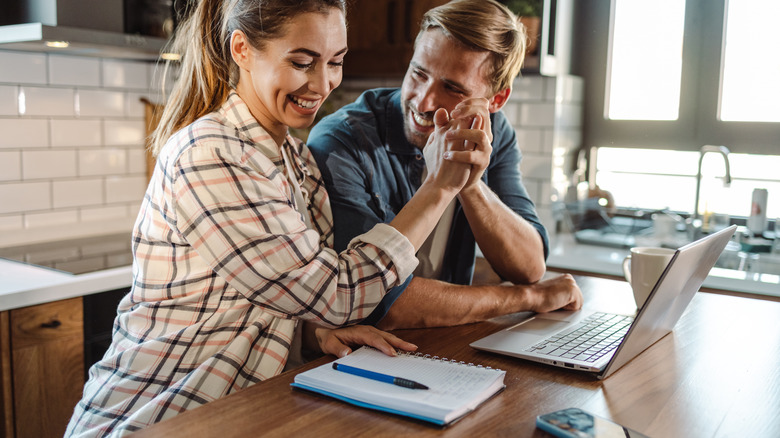 Maca And Naca/Getty Images
One of the biggest conundrums when designing a kitchen is balancing your budget with what you truly want. Remodeling or building a new kitchen isn't a cheap undertaking, and you need some financial guardrails in place to make sure you don't overspend. But this is also your chance to finally kit out your kitchen with the appliances, finishes, and storage solutions you've always wanted.
Start by listing all your needs, wants, and non-negotiable must-haves. Include everything, even more aspirational elements like that wine fridge, pot filler, etc. Then determine exactly what you can afford to spend on the project. If you're not sure how much you should be spending, 15% to 20% of your home value is a good starting point. It's also wise to reserve roughly 20% of your budget for unforeseen costs. 
Once you've got your feature list and your budget, start costing out individual elements and look for areas where you could save. For instance, you could consider repainting existing cabinets, going with prefabricated over custom, or keeping some elements of the layout so you don't have to rip out and reroute plumbing. Any money you are able to save means more capital for the features you're really hankering after. From here, divvy up your budget and decide what aspects of your list to prioritize, what to splurge on, and where to implement cost-effective design choices that will make your dollars work harder.
Increase functionality with a well-designed work triangle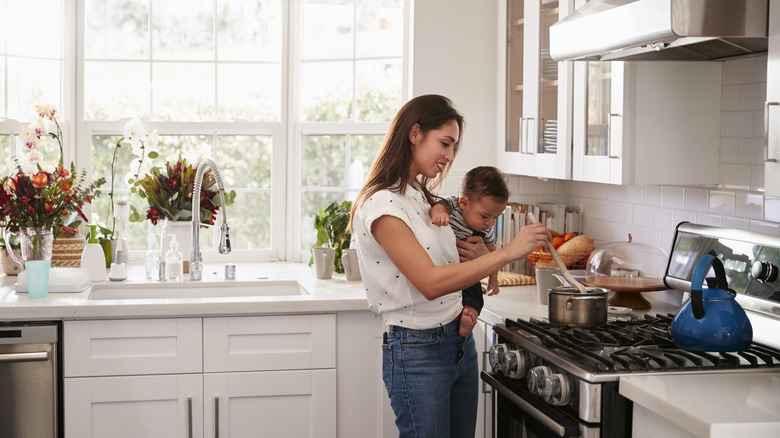 Monkeybusinessimages/Getty Images
The kitchen triangle is one of the oldest design rules. Originating in the 1940s, it started out as an architectural formula designed to curb building expenses. Since then, it's been widely adopted as a blueprint for making kitchen layouts more user-friendly. The classic kitchen work triangle consists of the refrigerator, stove, and sink. By placing these in a triangle, you'll reduce the number of steps you need to take when preparing meals. Instead of having to constantly scuttle up and down your kitchen, this will confine your movements mostly to one area. In an ideal world, the size of the triangle sides should be between 4 and 9 feet. There also shouldn't be anything blocking your path between the three points of the triangle. But keep in mind that you don't need to copy-and-paste this formula. 
Consider how it uniquely applies to your home. For instance, if you're installing an eye-level oven and plan to do a lot of baking, how will you factor it into your work triangle? Or maybe you're not a big cook, but you tend to use the microwave a lot. You may wish to locate the microwave in close proximity to the refrigerator. Also, the classic work triangle doesn't lend itself to all kitchens and all families, so don't stress if you can't make this formula work for your space. If the kitchen work triangle isn't going to cut it, task zones might be a more practical approach.
Divide your kitchen into task zones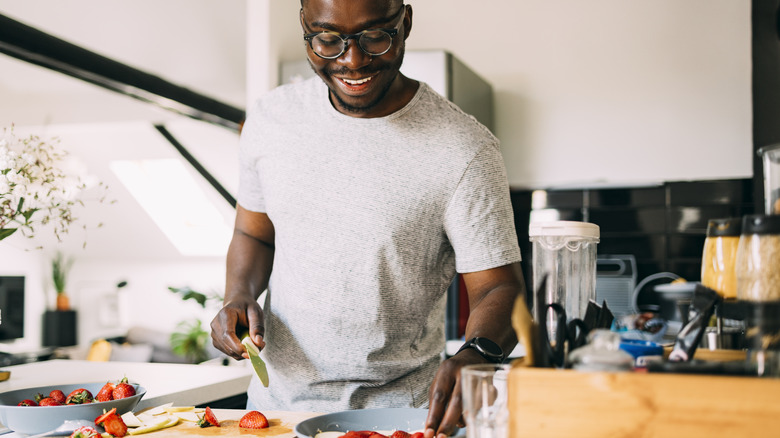 Freshsplash/Getty Images
A lot of things have changed since the 1940s, and how we use kitchens is one of them. Instead of just one person preparing a meal, multiple family members may be involved. Too many cooks getting in each other's way is a recipe for frustration, and the traditional work triangle doesn't always cater to the patterns of modern life.
Task zones can help maximize functionality and reduce traffic jams when multiple people are using the kitchen. They're also easy to tailor to your specific needs and lifestyle. Someone who does a lot of pastry making may benefit from a dedicated dough zone. Or if you're a java junky, you might want to set up a compact coffee bar area. Envision how you will work in the space. Where will you unpack the groceries, and what cabinets will they be going into? Can someone access the fridge or unpack the dishwasher without tripping up the cook?
If you're stuck for ideas, start by corralling things like coffee-making essentials and creating a breakfast zone. Storing plates in arm's reach of the dishwasher might be a good idea. Pots and pans should probably live close to the stovetop, as well as things like spices, oils, utensils, etc. If you're planning to build a pantry, see if there are any task zone opportunities you could take advantage of. Zones within the pantry, such as a cake-making area equipped with a mixer, can help cut down on clutter and keep the rest of the kitchen clear.
Don't cut corners on storage planning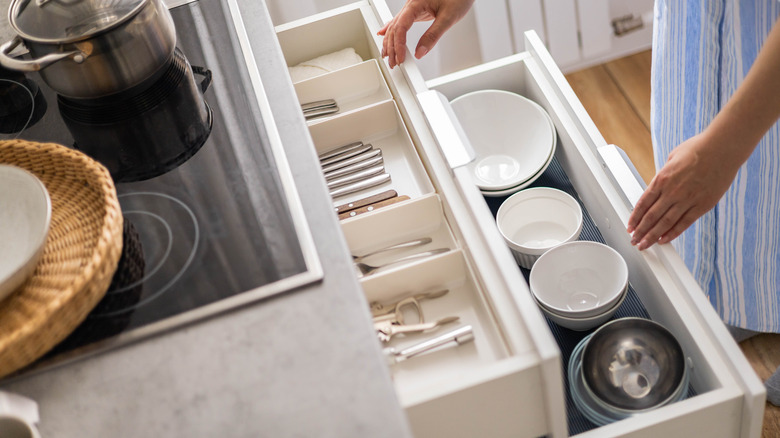 Kostikova Natalia/Shutterstock
The kitchen does some serious heavy lifting when it comes to storage. It has to house a lot of items, many of which you may need to access on a near-constant basis. Want to know the key to stellar kitchen storage? Savvy planning. Begin by analyzing and editing your kitchen items. Once you know what you want to store in your new kitchen, you can start mapping out how your space will hold everything. Now is the time to incorporate the organization solutions of your dreams that will turn your kitchen into the most functional workspace possible. Look into all the different options, such as drawers of different depths, pull-out spice racks, appliance garages, toe-kick drawers for sheet pans, clever pantry shelf ideas, slide-out trays, chopping boards, bins, etc.
If your storage needs are pretty big but your kitchen isn't, see if there are any clever ways you could squeeze more out of your space. For instance, building banquette seating or a kitchen window bench could create a cozy, multifunctional space while giving you an opportunity to incorporate large lockers for kitchen items you rarely use. If your cabinet uppers stop short of the ceiling, extend them all the way up. This will transform wasted space (that also acts as a dirt trap) into extra storage and increase the visual height of your kitchen. You can also leverage free-standing storage pieces for an eclectic touch.
Bigger is better when it comes to walkways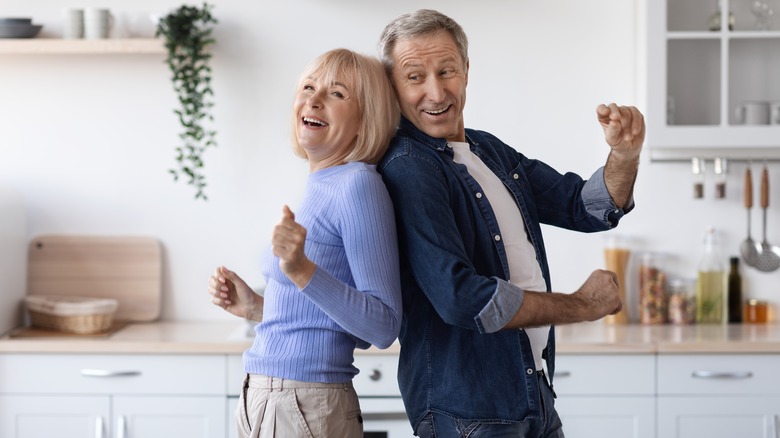 Prostock-studio/Shutterstock
If you're set on maximizing storage and kitchen features, you might be tempted to let cabinets and islands eat into walkway areas. But here's the thing: Cramped walkways are a complete vibe killer in the kitchen. When creating a kitchen layout, you'll want to leave at least 3.5 feet of clearance for movement between work surfaces. However, if you commonly have multiple people cooking at once, you may want to increase that width to 4 feet or more.
Are you working with a small space and worrying how you're going to fit everything in? If you're playing Tetris with a compact kitchen design, there are clever ways you can win back more floor area while still retaining countertop space and storage. For entry doors into small kitchens, hang doors to swing outwards instead of inwards where possible. Half-depth cabinets could increase the width of walkways while also offering more accessible storage. Deep cabinets are apt to get cluttered and untidy, as you're forced to scrabble around when hunting for items at the back. Half-depth cabinets are more streamlined and easier to keep organized, which allows you to make better use of the storage space. Leveraging every inch of cabinet space for things like pull-out trash and recycling bins could also help you score floor space by negating the need to have free-standing trashcans cluttering up walkways.
Don't let doors collide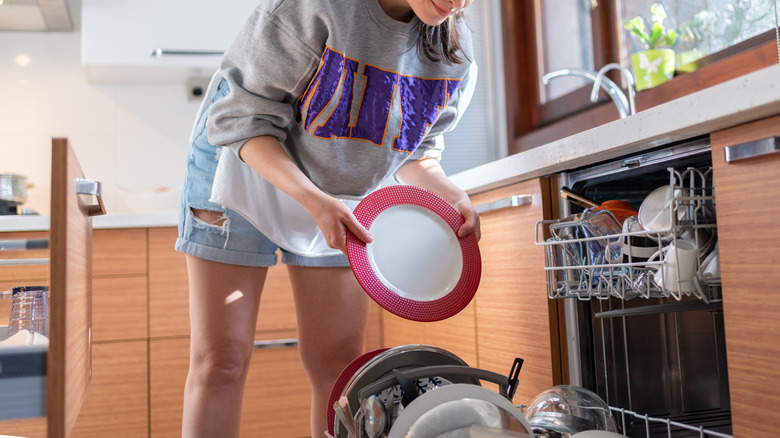 Aquaarts Studio/Getty Images
There's nothing to disrupt one's cool quite like colliding cupboard doors in the kitchen. If you've ever been in a kitchen where you can't open the pantry door while someone's loading the dishwasher, you know exactly what we're talking about. Unless you want a daily dose of frustration, cabinet and appliance doors should never block or interfere with each other. To avoid this, plan out what space doors will take up when they're open, and watch for ways in which they could disrupt the flow of the space. Be on the lookout for appliance doors that will hit each other from opposite sides of a walkway and cabinet handles that don't have enough clearance.
If you run into a situation where cabinet doors are going to cramp your walkways or collide, going bi-fold might help. Bi-fold doors can save the day in areas where a big door opening in the middle of a walkway will act as a blockade. Sliding doors and pocket doors are another option to consider, especially for pantries. If you have an area where just about any type of door is going to be an issue, you could also look into creating an open shelving moment or incorporating a feature that doesn't need doors, like a built-in wine rack.
Intentionally map out countertop real estate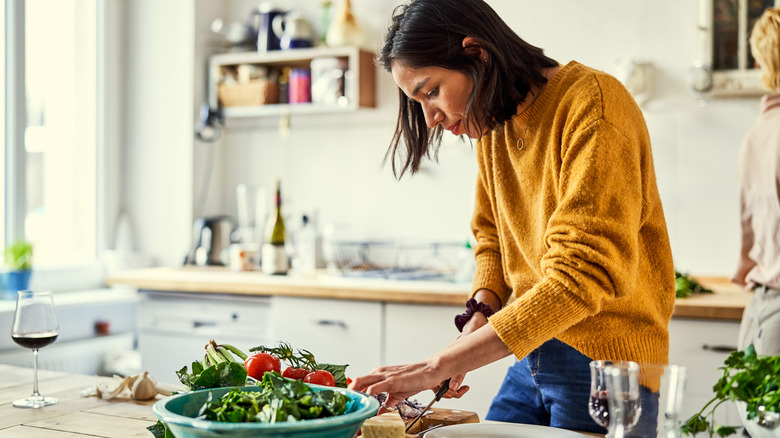 Shutterstock
Not enough counter space is the bane of any cook's existence. If you don't want to be left balancing baking pans on the cooktop and piling dirty dishes into teetering towers, you mustn't sell yourself short on countertop real estate. The National Kitchen & Bath Association recommends that the total length of your countertop areas should tally up to at least 13 feet. Unfortunately, this isn't possible in every kitchen. If there's no way you're going to fit in the recommended countertop acreage, look into space-saving solutions like pull-out cutting boards, sink covers, or even hidden induction cooktops, which sit underneath countertops, freeing up the surface to do double-duty as both a prep station and range.
Besides having enough total counter space, you should also plan "landing zones" next to key areas, such as your sink, stove, refrigerator, and other appliances. Have you ever had a microwave that was marooned in a wall of cabinets, multiple feet away from a work surface? Not fun. Or a fridge that was infuriatingly far from any counter areas? If you're not a fan of juggling items in your arms while packing the refrigerator—you need an adjacent landing zone.
Also, try to create a good span of uninterrupted counter space. Even if your total countertop area is technically enough, if a feature like your sink is breaking up a key prep area, this can reduce functionality. Prep areas should be at least 3 feet long and should ideally have a sink to one side. 
Don't skimp on seating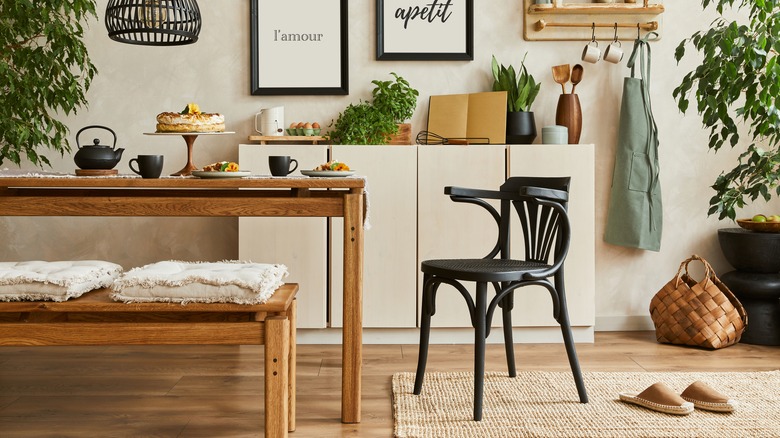 Followtheflow/Shutterstock
There isn't an official rule that says you have to incorporate seating into your kitchen, but it's becoming an essential part of modern kitchen design. If your kitchen's going to do double duty as an unofficial workspace and social area, you definitely need some seats. Bar stools are a great option if you're planning an island or a peninsula, and you can chicly achieve the eat-in kitchen look with a narrow bar-style counter underneath a window.
You may also want to look into lower seating options, such as breakfast nook ideas or a built-in bench (bonus points if it has storage underneath). If you're struggling to find room for these types of features, freestanding furniture on the edge of the kitchen area can work in open-plan spaces. Or, maybe you could fit in a fold-down table where friends can sit, kids can do homework, or the cook could make lists.
Plan multiple sources of lighting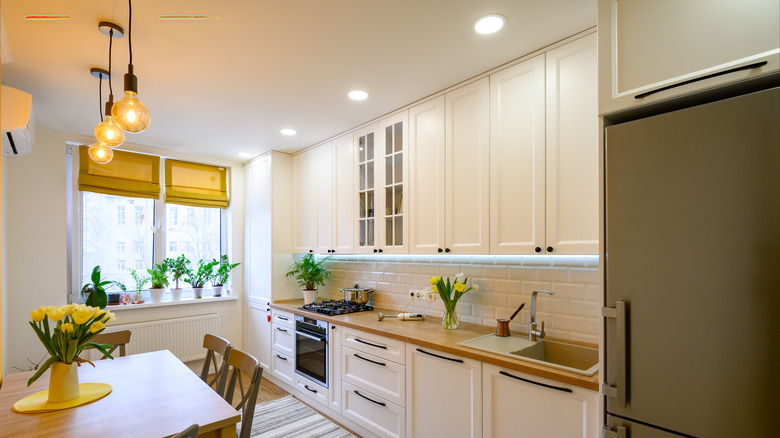 Serghei Starus/Shutterstock
Lighting is a crucial part of kitchen design, both for functionality and aesthetics. A good kitchen lighting layout will make tricky cooking tasks easier and safer. It can also highlight design elements and help set the mood. If you want to (literally) show your kitchen off in the best light, start by creating a layered lighting plan that includes task, feature, and ambient lighting. Ambient lights in kitchens often take the form of recessed cans. This spreads out the light so your body doesn't throw a shadow over work surfaces. If your kitchen is currently relying on one overhead light — and rerouting wiring to multiple can lights is going to get complicated — you could also consider track lights.
Pendant lights often double as both ambient and task lighting for kitchen islands. Under cabinet lights provide task lighting for counters and add atmosphere. You can also incorporate feature lighting by illuminating open shelving and glass-fronted cabinets. Dimmable overhead lights allow you to toggle your kitchen's mood from bright and ready for culinary action to cozy and intimate. Installing motion-sensor pantry lighting will ensure you never have to grapple around in the depths of dimly lit cupboards.
Less is not more when it comes to electrical outlets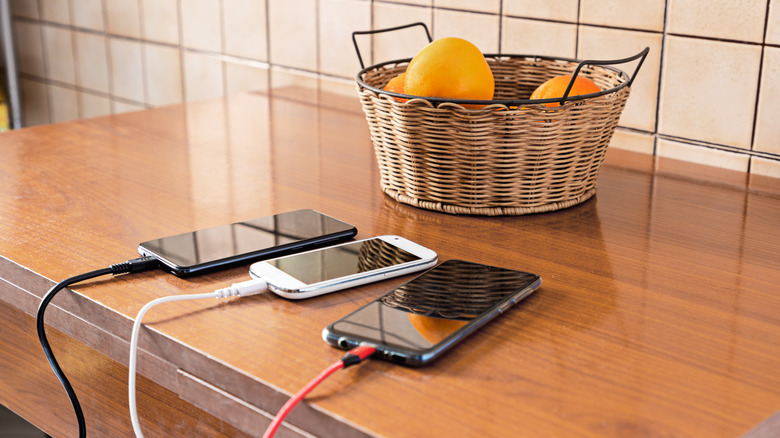 Marco Sanasi/Getty Images
Not having enough electrical outlets in a kitchen is arguably the second worst thing next to skimpy countertop space. Where your wall sockets are located is also critical. The placement of the outlets will determine where you can operate small appliances. Socket placement should mirror how you want to work in your space.
The National Electrical Code (NEC) stipulates that you need an outlet to be placed every 4 feet along any counters that are at least a foot deep. But feel free to exceed this guideline. Appliances aren't the only things that need outlets these days. If you want to be able to charge devices in your kitchen, plan an outlet for this. Or even better, look into integrated charging solutions, such as a device charging drawer that will help keep your counters clutter-free. If you're in the habit of working from your kitchen island, be sure to plan in an outlet for your laptop. 
Safety shouldn't be an afterthought
Paradise On Earth/Shutterstock
If there's one hard and fast rule when it comes to designing a kitchen, it's that safety comes first. It's not the sexiest part of a kitchen remodel, but it's a critical one. Make sure your kitchen is well-ventilated with correctly fitted smoke detectors and a fire extinguisher that's easily accessible, stored close to the exit, and away from the stove. Electrical outlets should be located at least 1 foot away from your sink. Do not hang curtains about your range top, a toaster, or any other kitchen appliance that generates heat. Ensure that countertop corners are slightly rounded and not overly sharp,.
Besides these basic rules, you can take things a step further by installing a safe cooktop, like an induction hob. This type of cooktop is great for homes with children or for those concerned about forgetting to turn the stove off. That's because not only does the cooktop have a child lock, but will also only work (and get hot) when there is a pan on it. And, if you've literally (and figuratively) burned your fingers using hot water at the sink, installing an anti-scald device on your faucets will prevent this from ever happening again.