Which Design Trends Are Still In & Which Are Out, According To HGTV's Christina Hall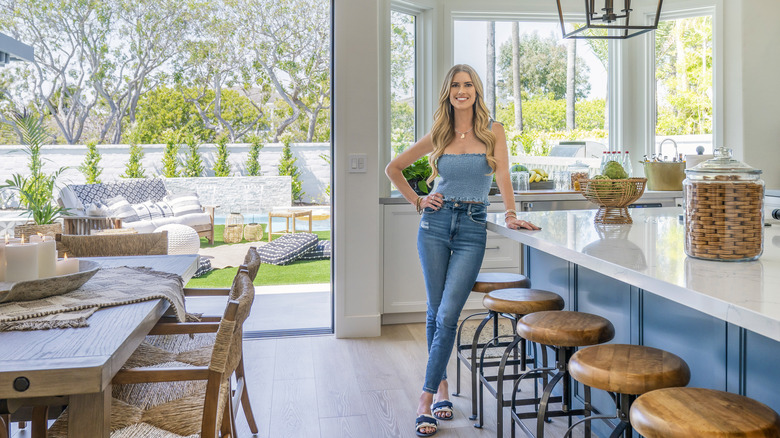 Allen Berezovsky/Getty Images
Christina Hall has been an HGTV audience favorite for over a decade, so she knows a thing or two about home design trends. Over the years, her style has remained stylish yet understated, opting for sleek, high-end finishes instead of flashy, over-the-top décor items. The spaces she styles are full of neutral colors and interesting textures that always look chic.
Since home design trends can be very subjective and can vary based on many variables, they can move in and out of style rather quickly. Hall doesn't always agree with what other designers declare as being "in" or "out" and sometimes uses trends that other experts would shy away from. Of course, you should design your home in a way that speaks to you. But if you're interested in staying up to date on the latest trends and what should be left behind, Hall's opinion is one you should trust.
In: Vintage décor and furniture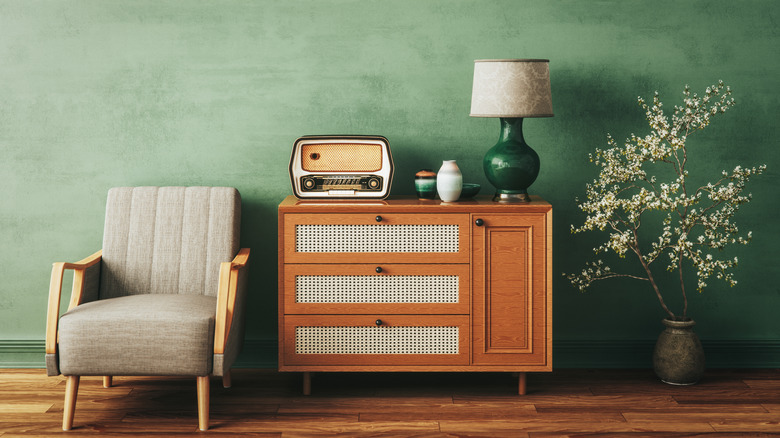 Imaginima/Getty Images
Hall is known for her contemporary, almost minimalistic style. So, it's a bit of a surprise to learn that she says vintage décor and furniture are in and likes to include them in spaces she designs to make them look more complete. The HGTV star loves well-made pieces of vintage furniture that could make a perfect addition to a space.
Incorporating vintage pieces into your home without making it look like your grandma's house can seem challenging. So, Hall uses these pieces sparingly as she did in Season 1, Episode 4 of "Christina in the Country."  Her client wanted some character to make her newly renovated kitchen feel more homey. Christina found a vintage grocery store sign and hung it above the dining area window. This small detail set the tone for the rest of the kitchen and made the area look complete. 
Another idea for adding vintage pieces to your home is to include a pair of antique chairs in your otherwise modern living room. The chairs will add interest to the room without it looking too old-fashioned. You could also find a unique chandelier or lamp that is functional while injecting charm into the space.
Out: Bold statement colors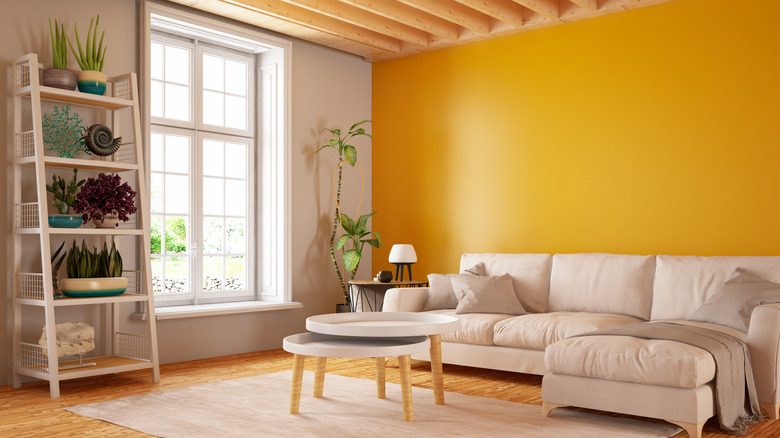 Asbe/Getty Images
Many of Hall's designs center around neutral hues, so it's no surprise she is not a huge fan of bold statement colors. Even though some designers have said using bright, vibrant colors throughout the home is very trendy at the moment, this is a design trend you won't see Christina Hall embrace. However, just because she stays away from loud color choices, that doesn't mean the spaces she designs are dull or lifeless.
Hall shows us that avoiding bold finishes doesn't have to be boring. Instead of using bright green for kitchen cabinets, Hall used a deep, foresty shade for a client on an episode of "Christina in the Country." The more muted hue still brings color into the area without it being over the top. Hall also has used other subdued tones like soft pinks and muted blues in her projects to add color without being too loud.
In: All-white kitchens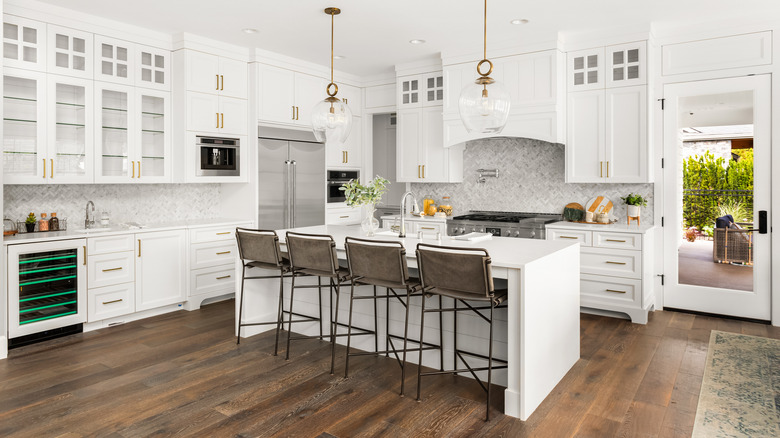 Hikesterson/Getty Images
The all-white kitchen has been the go-to trend for the last decade. Using the iconic shade for cabinets, backsplash, and granite or marble countertops makes the heart of the home look bright and clean. While some home designers have said it's time to let this trend go, Hall believes it will never go out of style. Many of the kitchens that she designs have primarily white finishes and the star's own Newport home's kitchen is bright, white, and airy.
Hall's designs show us that all-white kitchens can be versatile and serve as the perfect backdrop for other accents. Whether your space is farmhouse-style or something more modern, you can make the simplicity work since the neutral cabinetry and countertops won't clash with any other decorative features of the home. This means you could add colorful cut flowers in an eclectic oversized vase or rattan baskets to add character without making the space look too busy.
In: Open concept
Sheila Say/Shutterstock
The open-concept floorplan has been the most popular layout for the last two decades. Instead of having walls separating the kitchen, dining room, and living room, creating a dark, cave-like home, an open concept removes barriers and brings all these spaces together. This configuration gives the house a better flow while allowing family members to spend more time together. While some people say the open-concept home is past its prime, Hall says otherwise and thinks this trend is very much still in.
One issue that has been brought up about open-concept homes is that they can feel too industrial and don't allow people to have any time to themselves. To find the balance between open concept and privacy, Hall uses a couple of techniques to make the space feel cohesive while creating defined spaces. One is to repeat design elements throughout the space. That could look like using the same tile for your kitchen backsplash and on the fireplace surround in the living room. She has also been known to add partial walls or barriers like shelves to break up spaces while maintaining the open vibe.
Out: Dark wood cabinets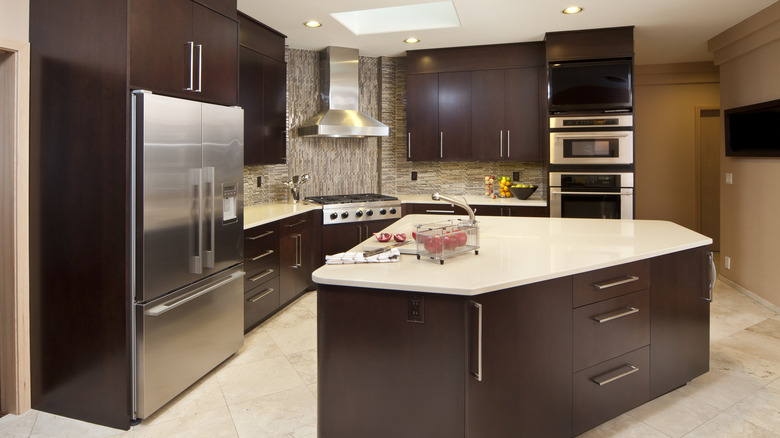 Chandlerphoto/Getty Images
If you've watched the early days of Hall's HGTV career, you may remember that she used to include a lot of dark wood in her designs to create a sophisticated look. Today, dark wood kitchen cabinets are still used by many designers and are often paired with light granite countertops. Though the space may look elegant, Hall thinks this trend is out and argues that the darkness makes the space look dated and uninviting.
Instead of using deeply-hued lumber which dominates the space, Hall likes to use lighter varieties. Her love of light wood was shown throughout season 3 of "Christina on the Coast" where she used the material for flooring, kitchen cabinets, bathroom storage, and interior doors. The paler wood brightens up and area and makes it seem larger. It also works with many different design styles and could create a beachy feel or be the focal point of a Scandinavian-style kitchen, both of which are on-trend.
In: Natural stone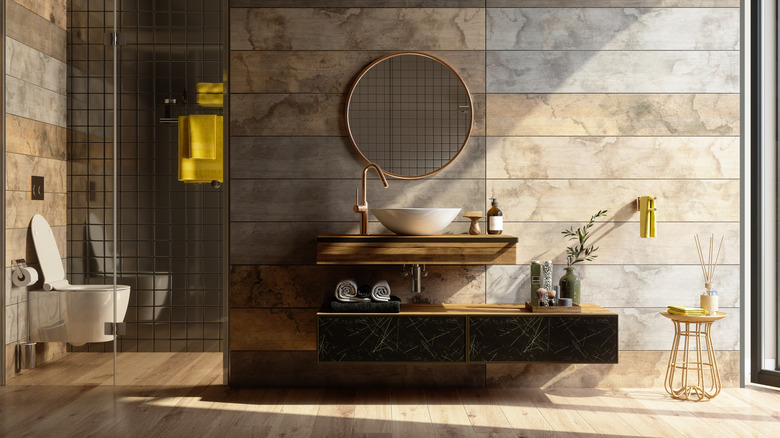 Onurdongel/Getty Images
Natural stone has been a staple in home trends for years. Materials like travertine, granite, and flagstone can warm up a space while also giving it texture. These stone options also have some serious staying power, and Hall says this trend is still in. The designer uses natural stone everywhere from backsplashes in the kitchen to countertops in the bathroom. She's even used it to decorate inside and outside of her own home. 
There's a good chance you already have natural stone somewhere in your home since granite, quartz, and marble are widely used for countertops. Flooring is also a great way to use the material since it is so durable. But if you're looking for a fun, new type of stone to use, think pink! Hall recently included rose quartz countertops in a bathroom remodel she designed. The muted hue made the bathroom both unique and warm. The on-trend pink design didn't stand out in a way that was too flashy or bright and it paired nicely with crystal lights and gold finishes.
Out: Continuous flooring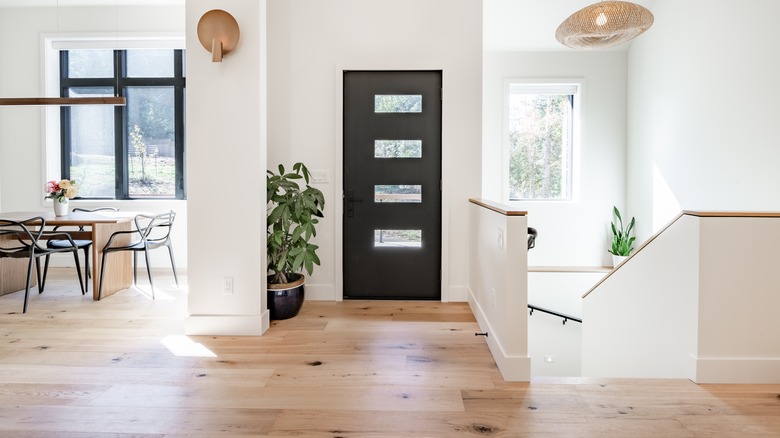 Sheila Say/Shutterstock
Continuous flooring is when a homeowner has the same flooring throughout their home. While some think this makes a home look more cohesive, Hall disagrees. According to the design star, the concept is unnecessary, even in an open-concept space where cohesion is key. The overrated flooring trend can also be more expensive since you may have to replace an entire home's flooring when one area gets worn down or damaged.
Flooring replacement can be a hassle since it causes such a disruption to your everyday life. To minimize the disturbance to your home, you could start to change out the flooring slowly. For example, you could start in the living room and choose a flooring that works well with the color scheme you have in place. Even when using different flooring, it's wise to use similar colors or materials that complement one another so you still have a nice flow between spaces.
Out: Tuscan Style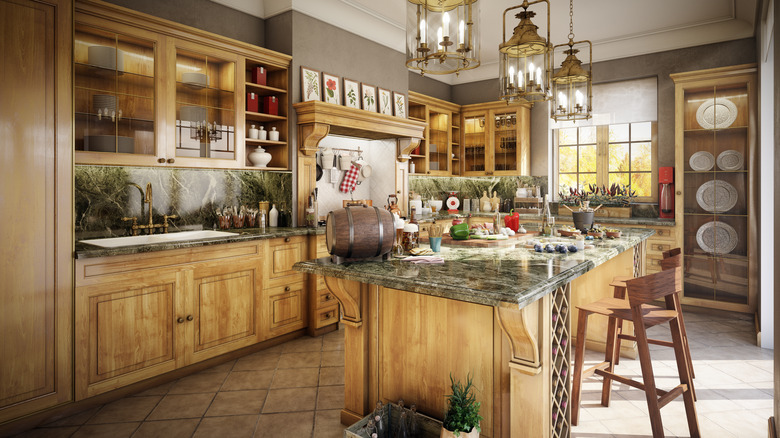 Bulgac/Getty Images
Tuscan-inspired designs were all the rage for years. However, as Hall told Realtor, that trend is out. Tuscan style, as the HGTV star explained, "travertine everywhere...I'm not super into that, all the browns, the heavy rugs, and all those things." Even though Hall used to incorporate this aesthetic into her client's homes, it was never one of her favorites. Plus, it can be more expensive than other trends due to the types of materials that make the trend. 
If you like the look of a Tuscan-style home but want to implement a more modern home decor trend, you could still use a similar color palette and some of the same materials but tone it down a bit. Instead of using all the heavy features the style is known for, Hall just uses the iconic warm, earthy colors. Then, she couples them with lighter and brighter accents to make a home look appealing without making it seem overdone.
In: Shiplap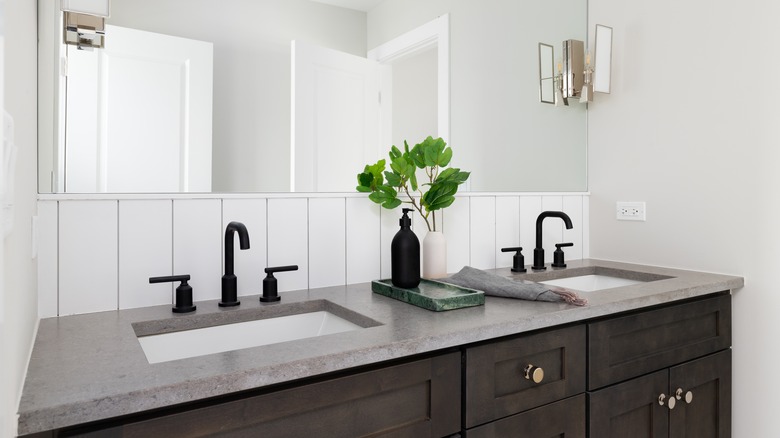 Joseph Hendrickson/Shutterstock
Shiplap has become a polarizing design trend. People either love it or are ready for it to be forgotten forever. As far as Hall is concerned, shiplap's not only on-trend, but it's timeless. The popular finish has become prominent in many styles of homes, particularly farmhouses and coastal. Hall explains that it adds texture to a space and can also make a space look modern. Yes, if done right, shiplap can look modern!
One misconception about shiplap is that it has to be white and hung horizontally. As the designer points out, that's not true. Shiplap can be any color! You can paint the wood panels black or green or even leave them exposed depending on the theme of the area you are remodeling. On a season 5 episode of "Christina on the Coast" episode titled "Vacation Vibes", Hall uses dark gray shiplap to create a stylish accent wall in the bedroom. For a more modern twist to the trend, hang the shiplap vertically which can visually heighten the walls and make your space look larger.