60 Laundry Room Ideas That Will Make You Think About A Remodel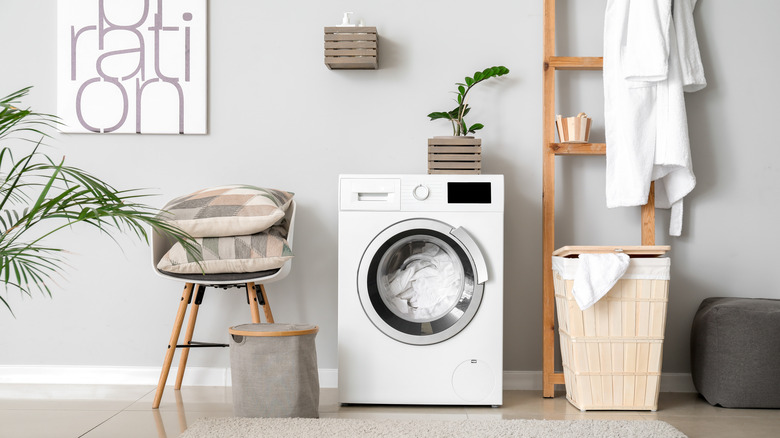 Pixel-Shot/Shutterstock
Let's face it; laundry day is an unavoidable task. No matter how much we want to avoid it, it's inevitable we'll have piles of dirty clothes and laundry baskets overflowing if we do. If you're anything like us, home is where we can be inspired — and once you are finished renovating your bathrooms and kitchens, it's time to consider reinvigorating your laundry room and transforming it into a place you actually want to spend all day washing, drying, and folding your endless mounds of clothes. "Secretly, I've always loved designing laundry rooms. For me they're such enjoyable and hard-working spaces to design, and when given proper time and thought, can really make a difference in the daily lives of our clients," said Irene Gunter, referring to her interior design consultancy, Gunter & Co, to Homes & Gardens.
If you're ready to get inspired by transforming your drab laundry room into something more beautiful, scroll down to check out 60 inspiring laundry rooms.
1. Narrow laundry room with cabinets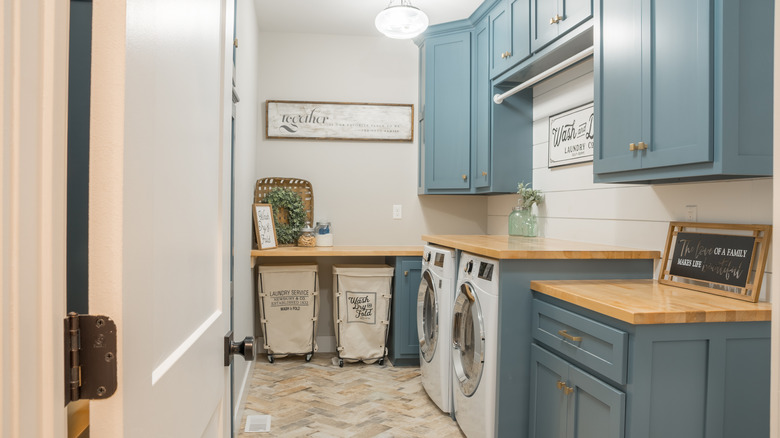 Carla Bullock/Shutterstock
If you have a narrow space for your laundry room, we suggest lining your wall with pretty blue cabinets for a functional room with plenty of counter space for folding your clothes.
2. Bright blue electric space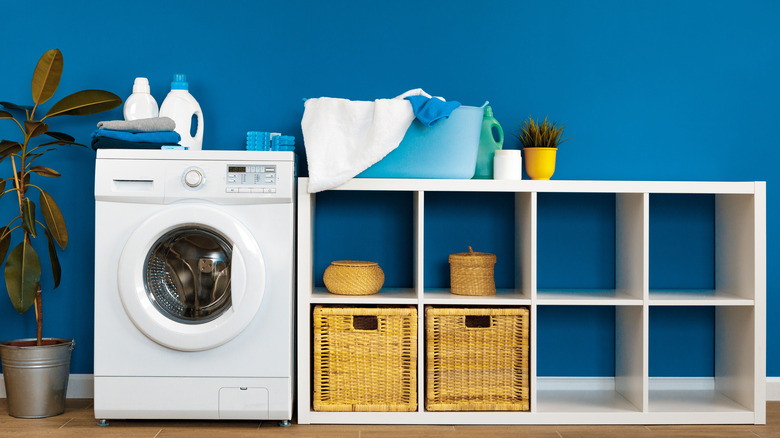 FabrikaSimf/Shutterstock
An electric blue laundry room can inspire you for a night of folding clothes and make this simple design stand out.
3. Warm woods and floating shelves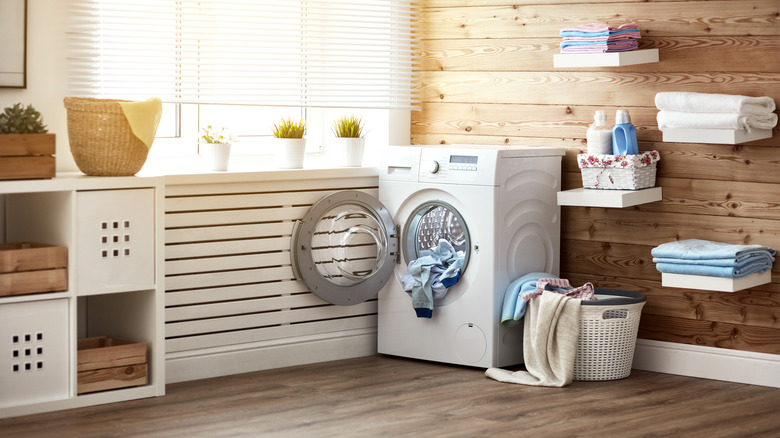 Evgeny Atamanenko/Shutterstock
Add the natural elements of warm wood, like an entire wall with small open shelving for your towels and laundry detergent that offers a brilliant space-saving option.
4. Bright space with wood accents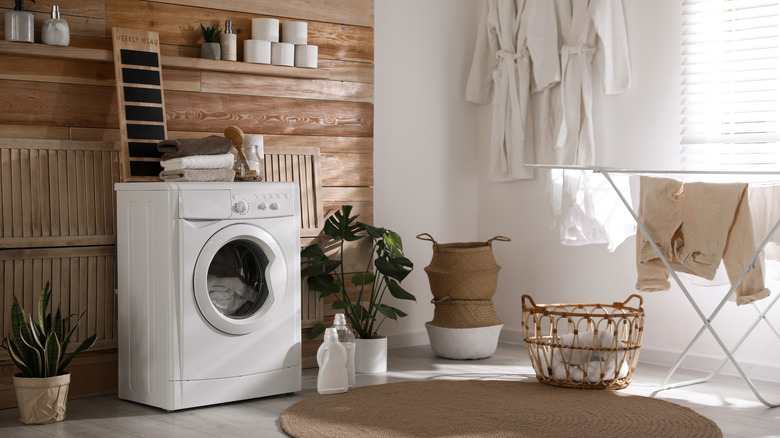 New Africa/Shutterstock
Let the light shine through with this airy laundry room. White walls and an accent wood wall bring interest to the room and break up the space.
5. A touch of unique accents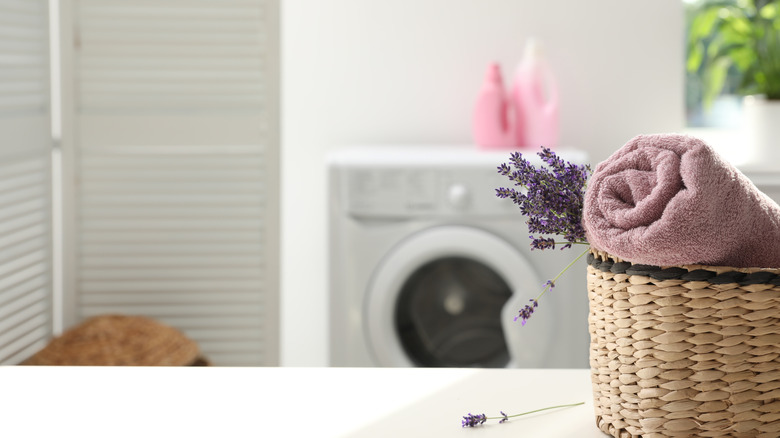 New Africa/Shutterstock
Lavender flowers that exude calming scents and a rolled towel (like those from a spa) are just the accents needed in an otherwise simple laundry room remodel.
6. A light pink wall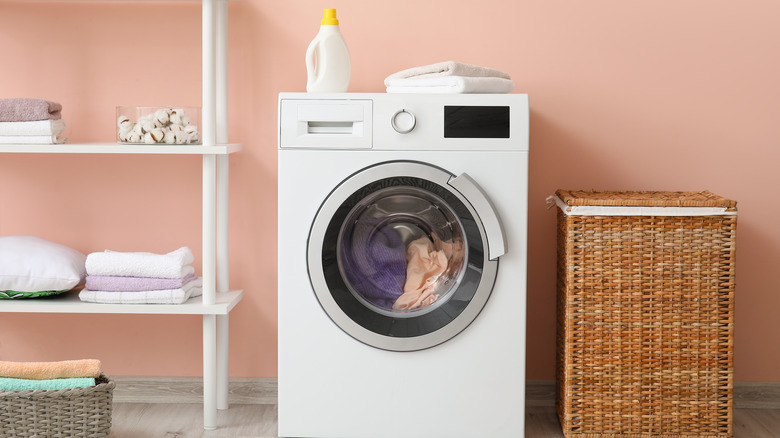 Pixel-Shot/Shutterstock
An otherwise simple laundry room bathed in a light, subtle dusty pink color such as blush can be incredibly soothing, according to HGTV.
7. A white-painted brick wall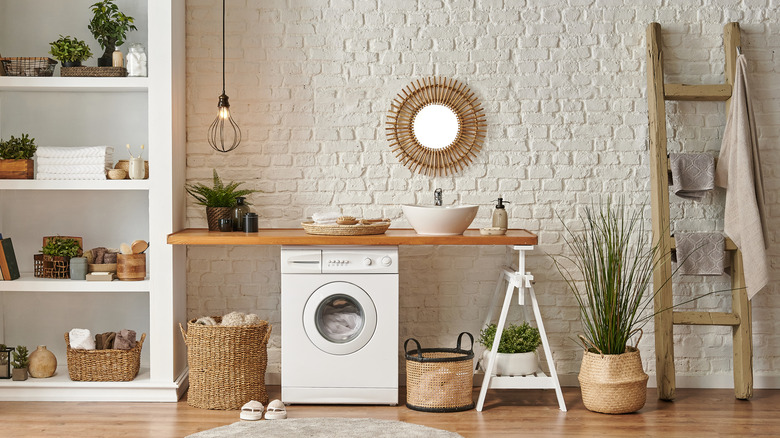 united photo studio/Shutterstock
If you have a brick wall in your laundry room, consider giving it a fresh paint job in white to brighten up the space.
8. Two-toned wood wall planks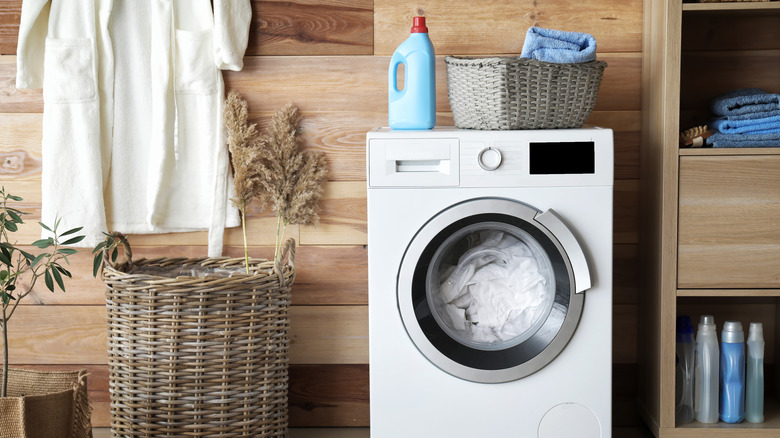 Pixel-Shot/Shutterstock
We suggest sourcing out lighter and darker woods in oversized planks for a unique look to your accent wall in the laundry room.
9. Simple light blue laundry room
Pixel-Shot/Shutterstock
This powdery blue laundry room is a serene setting to catch up on this mundane task. Livingetc suggests mixing your baby blue tones with black or dark gray to give it a modern edge.
10. Add a thin wall rack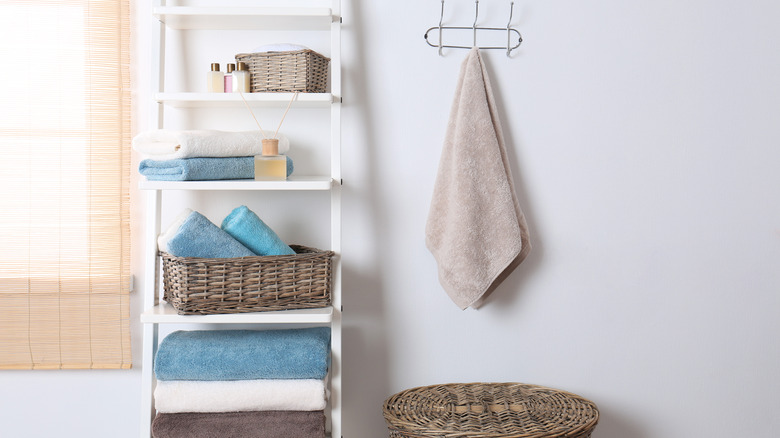 New Africa/Shutterstock
If you are an apartment dweller in a large city, a thin rack is an easy addition to ensure you have plenty of storage options.
11. Unique wood strip accents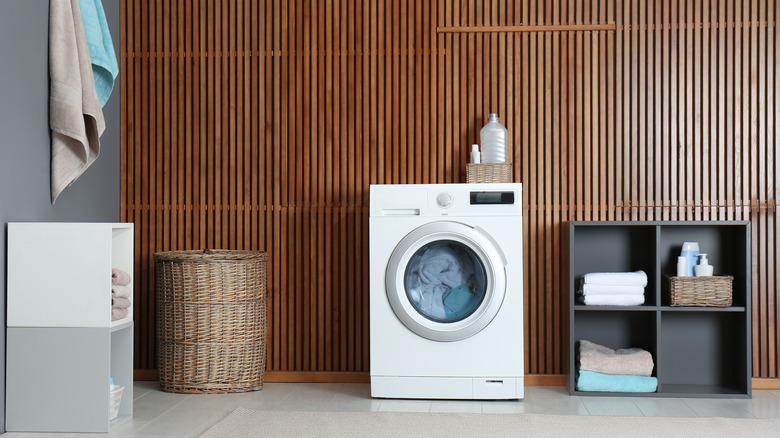 New Africa/Shutterstock
An accent wall with thin strips of wood can make any laundry room a crowd-pleaser, and it adds a unique flair to an otherwise dull space.
12. Patterned floor and white walls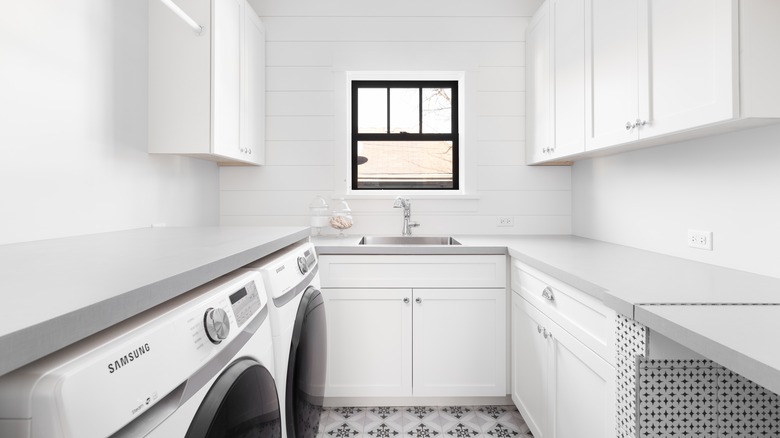 Hendrickson Photography/Shutterstock
This laundry room reno looks simply chic with all-white cabinets, patterned mosaic flooring, and a window trimmed in luxurious black.
13. Granite countertops and gray cabinets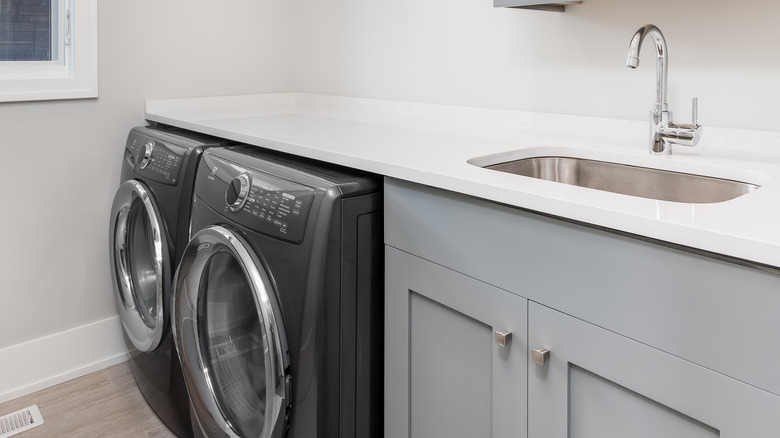 Hendrickson Photography/Shutterstock
According to Better Homes & Gardens, lighter gray cabinets are an excellent idea instead of darker tones if you have a smaller space. The white granite countertops, black Electrolux washer and dryer, and stainless steel faucet complete this laundry room space.
14. A multi-purpose laundry oasis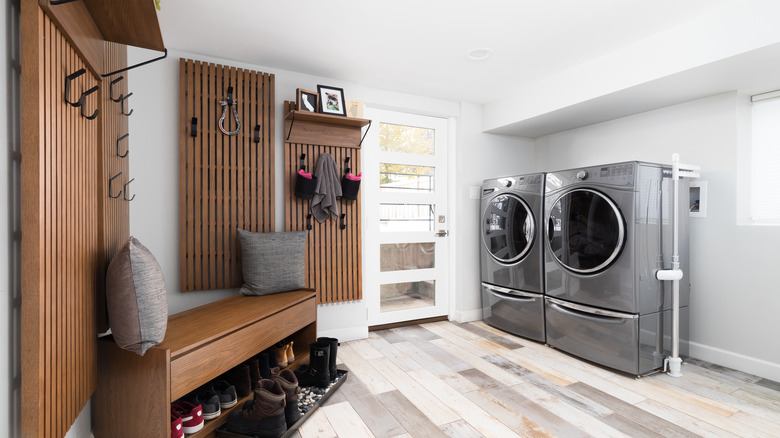 Hendrickson Photography/Shutterstock
We love how this renovation makes use of the space with a mudroom for the family's coats and shoes, as well as doubling as a laundry room with a Whirlpool washer and dryer. It's the ultimate area to tackle your dirty clothes.
15. Laundry room with extra storage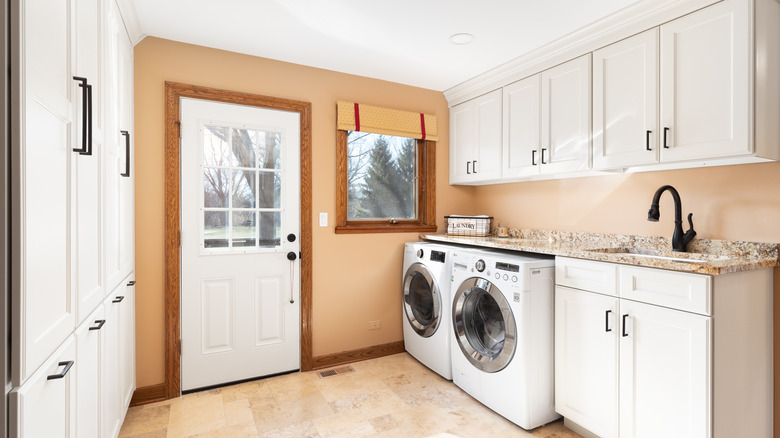 Hendrickson Photography/Shutterstock
This gorgeous laundry room with a light peach accent wall has a ton of storage space on both sides of the room with plenty of places to store away your laundry necessities.
16. Gorgeous built-ins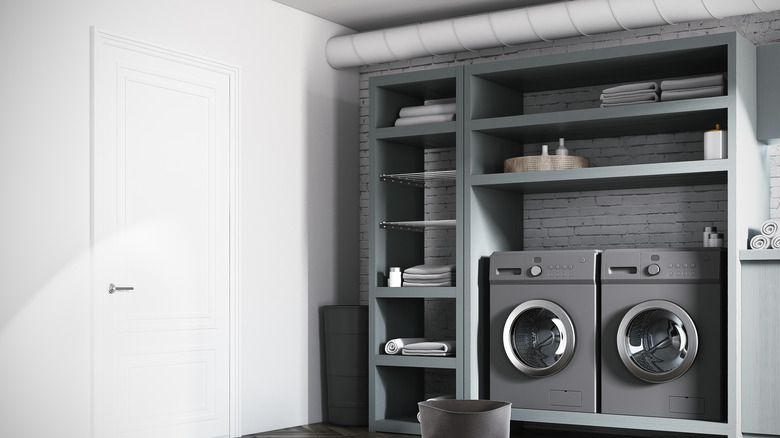 ImageFlow/Shutterstock
Enclose your washer and dryer with gray wooden consoles and shelves where all of your laundry essentials can be easily stocked.
17. A chic, tiny space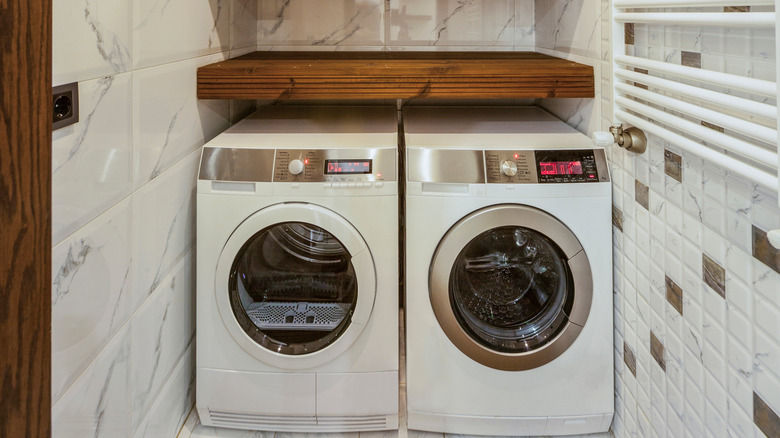 Tohid Hashemkhani/Shutterstock
You don't need much to create an elevated laundry nook in your home. We love the wooden shelves above the washer and dryer that really make use of every square inch of space for all of your laundry needs.
18. Large laundry with dark cabinets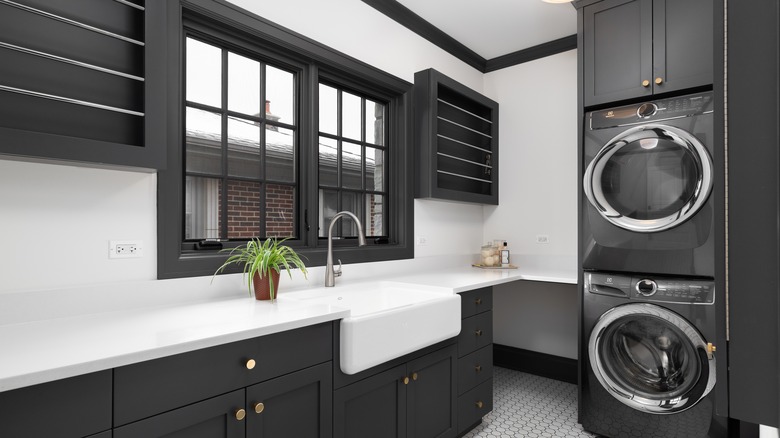 Hendrickson Photography/Shutterstock
Dark gray cabinets work well in this renovated laundry room with Electrolux appliances. We can't get enough of that farmhouse sink and marble countertops.
19. All white stunner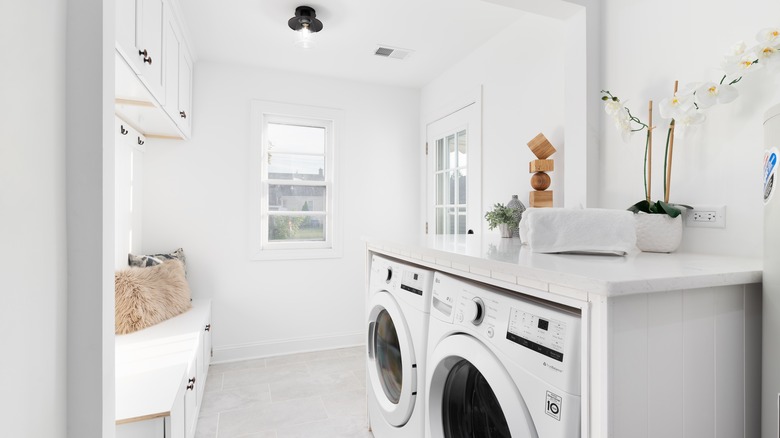 Hendrickson Photography/Shutterstock
If you're looking for inspiration as bright as your favorite white t-shirt, this modern renovation is perfect. It features a bench (an excellent spot for folding clothes), white cabinets for storage, and an easy-to-clean tiled floor.
20. Beautiful tiles in laundry room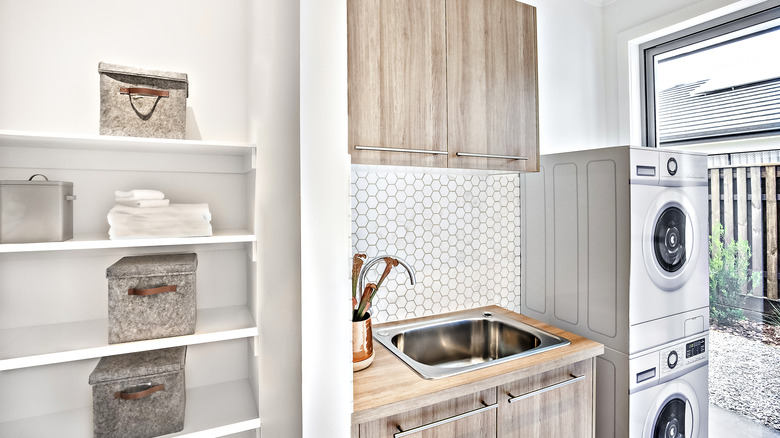 JR-stock/Shutterstock
Stacked washing machines and a gorgeous sink are picture-perfect in this laundry room, but we can't get enough of the vintage-style tiles. The shelf to store your towels is an ideal place to tackle your laundry.
21. Green with envy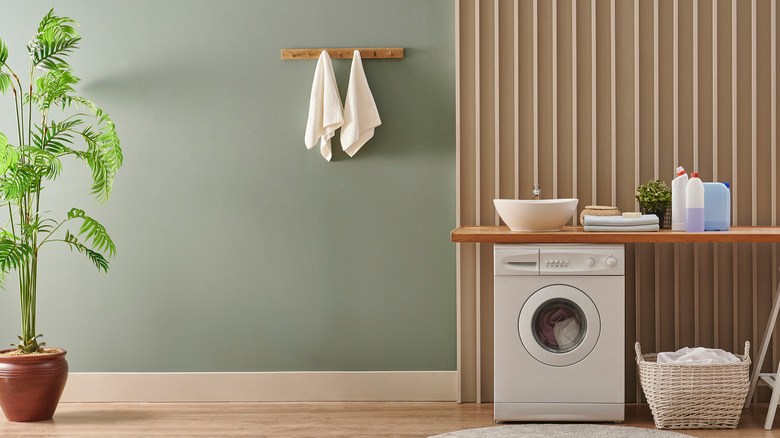 united photo studio/Shutterstock
Add a touch of green to your laundry room because, according to Better Homes & Gardens, it's a refreshing color that can energize you to complete even the most mundane of tasks.
22. Nooks for coats and shoes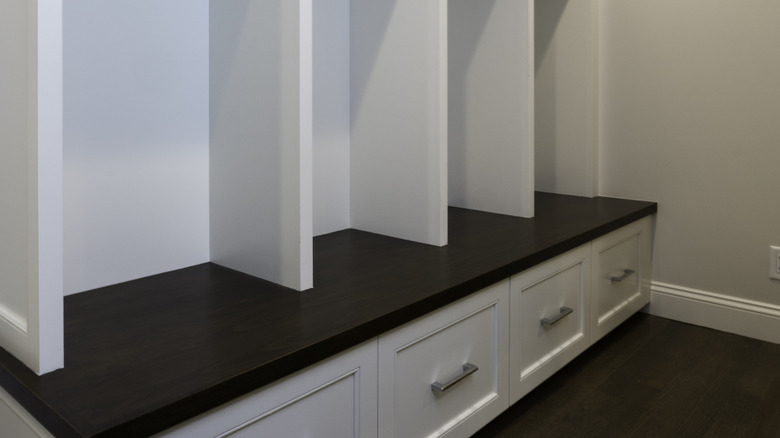 Krista Abel/Shutterstock
This mudroom doubling as a laundry room has beautiful white open shelving, which offers an ideal space for storing coats, shoes, and more!
23. Wooden cabinets and granite countertops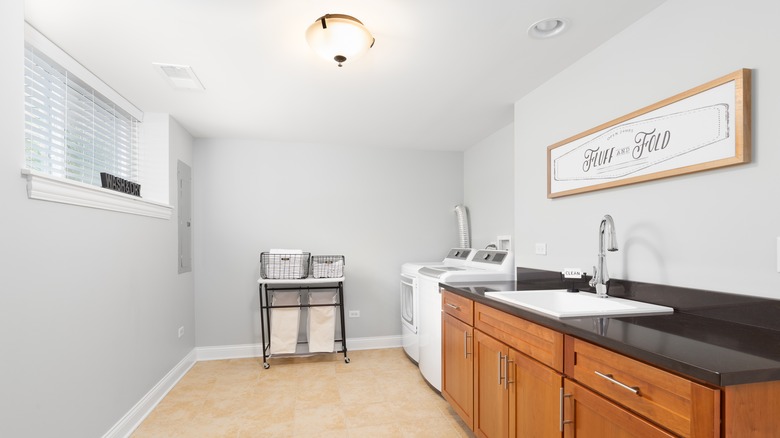 Hendrickson Photography/Shutterstock
This large laundry room is a simple space that packs a lot of punch with beautiful wooden cabinets and chic black granite countertops –- and the sweetest sign that says Fluff and Fold.
24. Lots of cabinets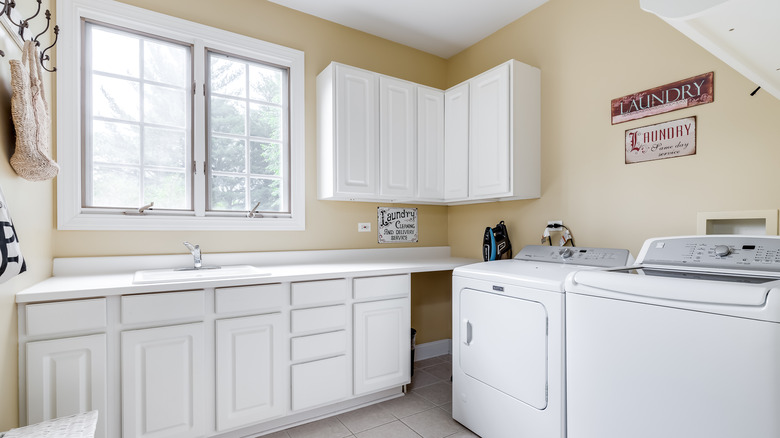 Hendrickson Photography/Shutterstock
We love that this simple laundry room has a significant amount of storage space, both high and low. The white cabinetry keeps the room looking crisp.
25. Chic glass door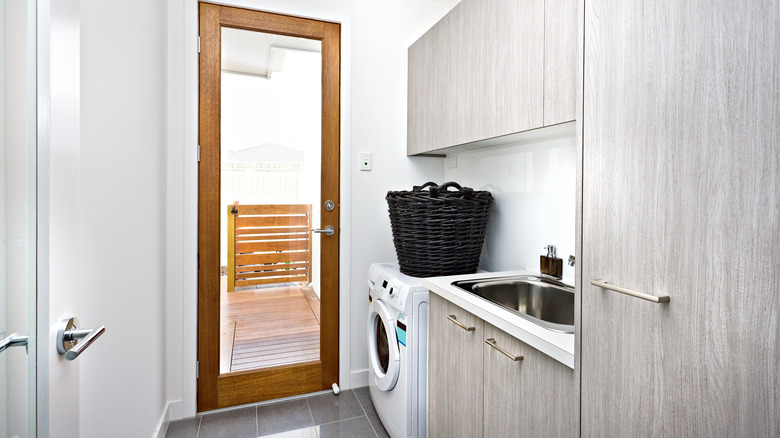 JR-stock/Shutterstock
If your laundry room is chic, like this one, you'll want to highlight it by installing a glass door that will give guests direct views of those gorgeous gray cupboards.
26. Highlight countertops with cabinet lighting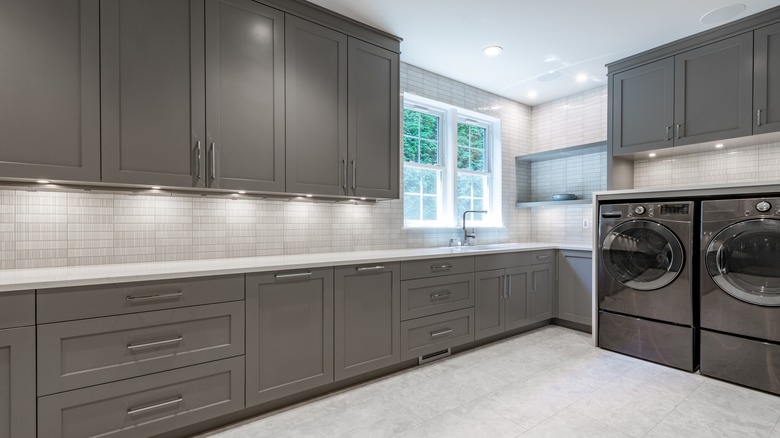 Sheila Say/Shutterstock
Consider adding under cabinet lighting to the cabinets of your laundry room. Not only does it look beautiful, but you'll be able to see all that you have to fold.
27. Several storage options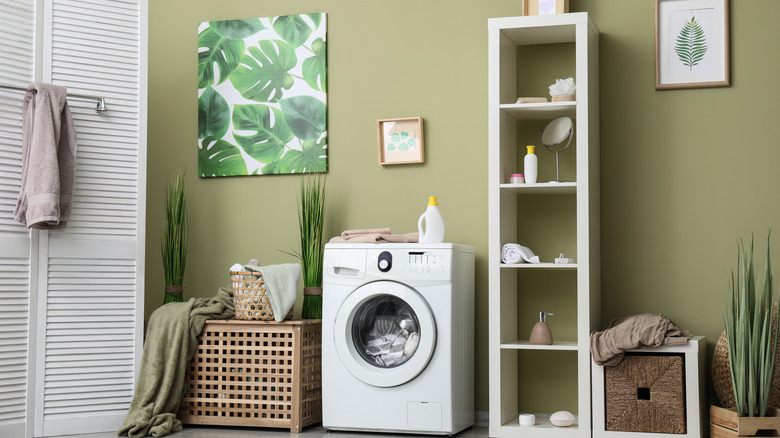 Pixel-Shot/Shutterstock
A vertical storage shelf, baskets, and wicker boxes are the perfect way to stylishly store everything your laundry room needs.
28. Add marble and gray cabinets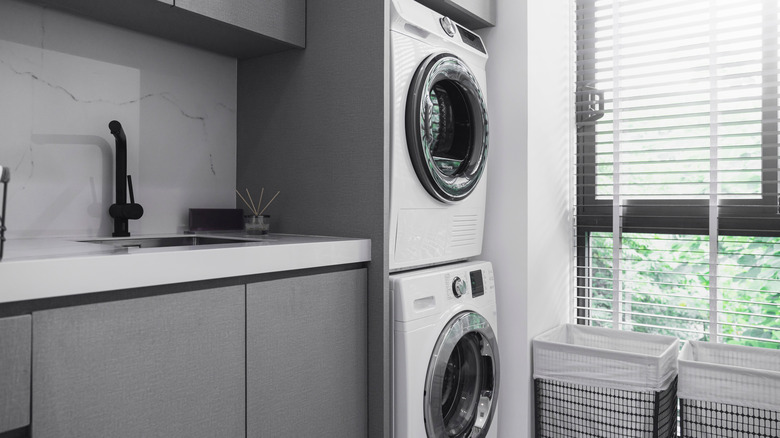 Whyframe/Shutterstock
Your kitchen and bathrooms aren't the only rooms that can be elegant. Consider adding a marble backsplash in your laundry room to add some sophisticated flair, along with chic gray cabinets.
29. An oversized closet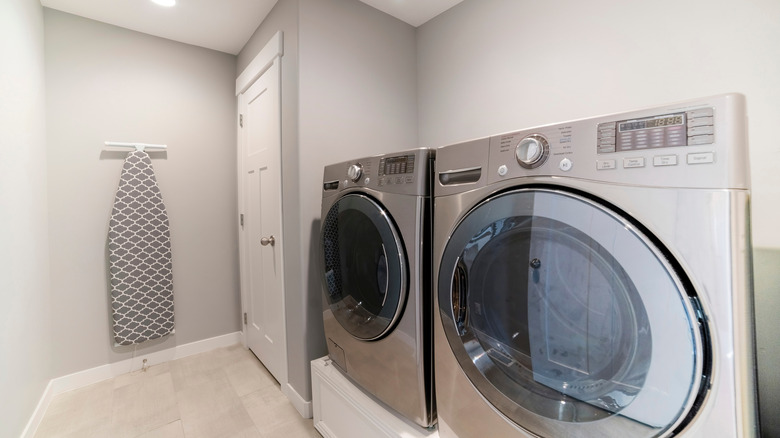 Jason Finn/Shutterstock
This light gray laundry room with a beautiful, modern washer and dryer is an inspiring space –- especially knowing all of your necessities can be hidden away in the large closet.
30. Sleek light wood floors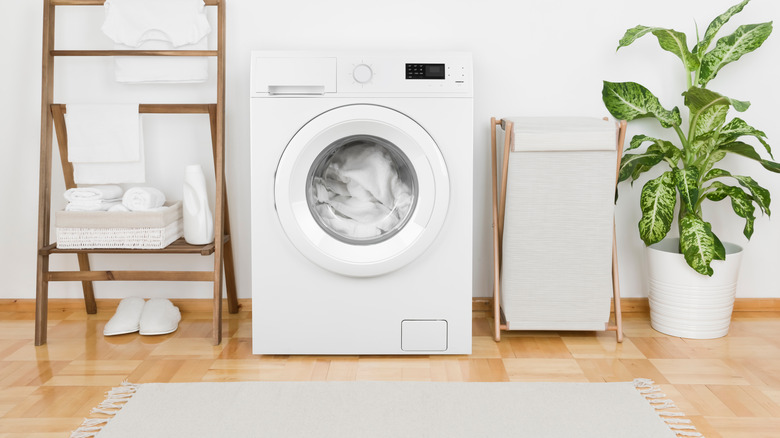 Didecs/Shutterstock
Add light wood floors to your laundry room and white walls for a simple upgrade that makes any space feel fresh.
31. Add some boho style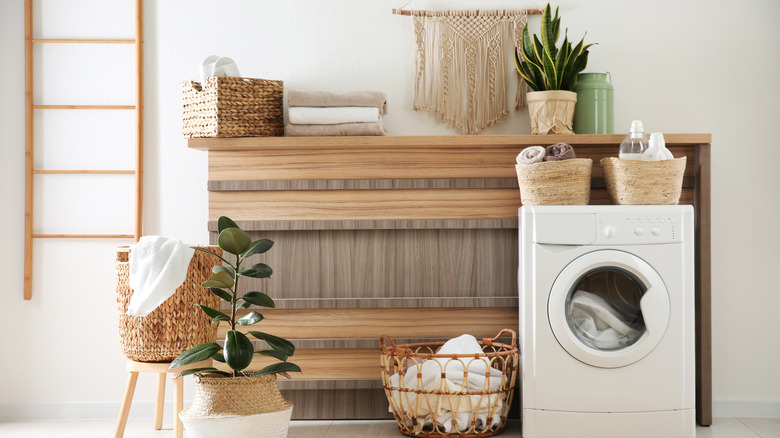 New Africa/Shutterstock
If you love a boho-chic look, then you must add these whimsical touches to your laundry room, like a macrame wall hanging and several rattan baskets that can double as storage.
32. Pretty floor-to-ceiling windows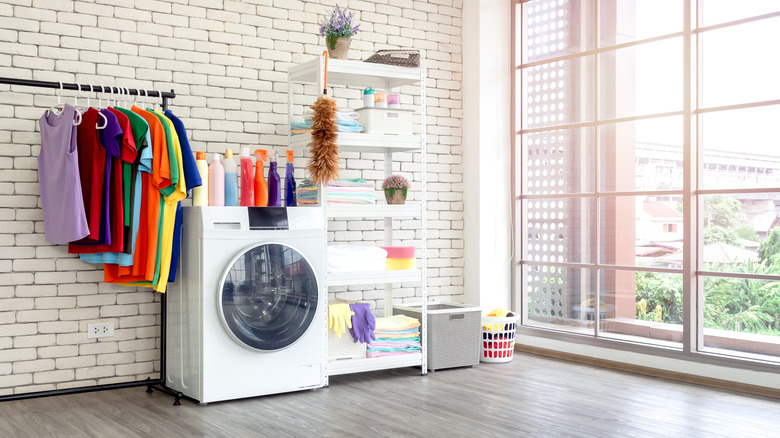 tete_escape/Shutterstock
We could get easily distracted by doing laundry if we had a room with a gorgeous floor-to-ceiling window to peer out of as we fold clothes.
33. Add a simple dresser
New Africa/Shutterstock
If you have a dresser you love, add it to your laundry room as it's great for storage and looks nice too.
34. An ombre painted wall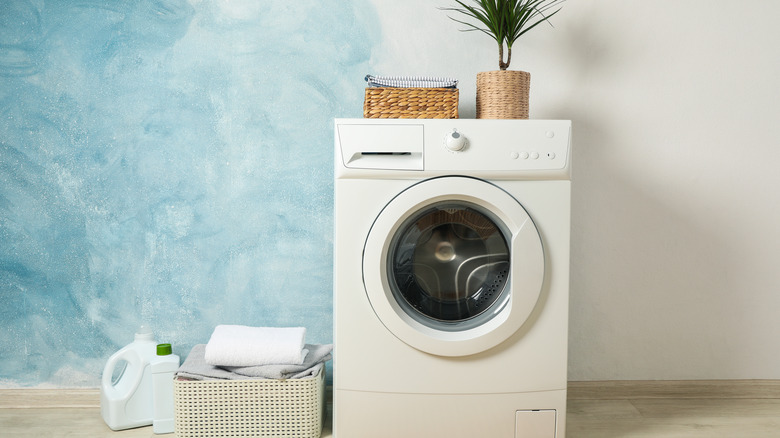 AtlasStudio/Shutterstock
Creativity doesn't just belong in other rooms of your home; bring it to your laundry room with ombre blue walls like this.
35. Have double the shelving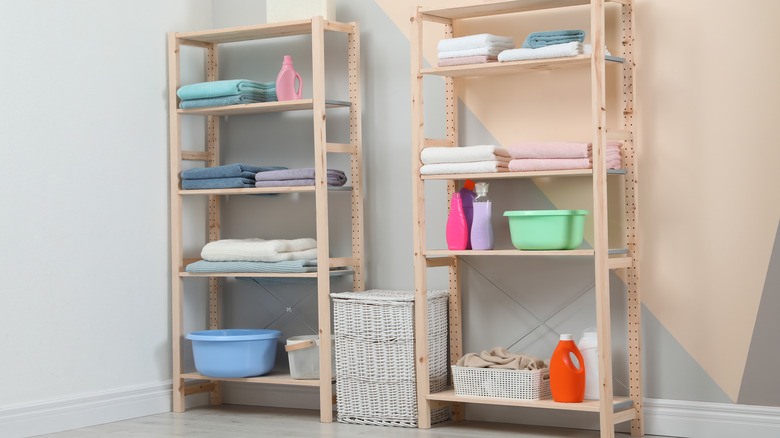 New Africa/Shutterstock
We love the wooden shelving units in a light tone added to this simple laundry room for double the storage space.
36. Don't forget the pretty handles
Jason Finn/Shutterstock
Just because it's your laundry room doesn't mean you should forget the details. The simple black toggle handles for the white cabinets elevate the design.
37. Bathroom laundry space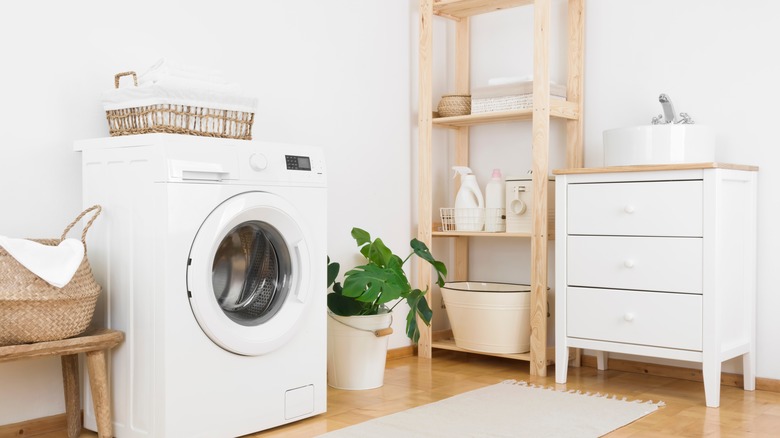 Didecs/Shutterstock
Sometimes you may not have room for an entire laundry room. We love how this corner laundry space is utilized. It's simple yet completely chic.
38. Glass block windows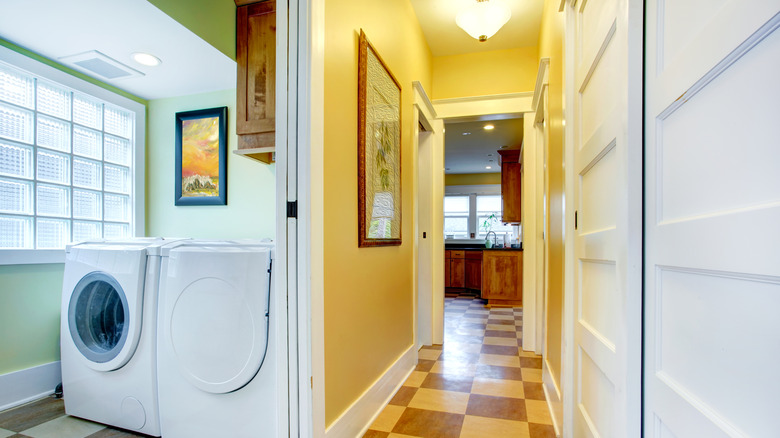 Artazum/Shutterstock
This gorgeous mint green laundry room lets in just the right amount of natural light with those glass block windows.
39. Hallway laundry space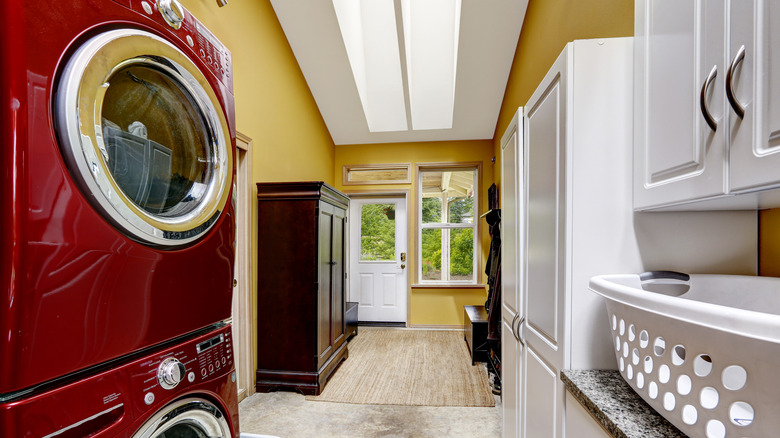 Artazum/Shutterstock
If you have a narrow hallway, consider purchasing a gorgeous upscale washer and dryer to make use of your space.
40. Closet laundry space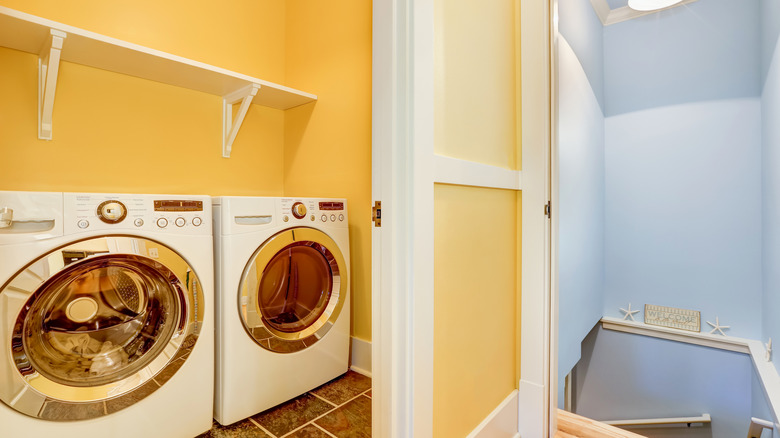 Artazum/Shutterstock
This bright yellow laundry space is a breath of fresh air that reaches out to your soul as soon as you open the closet door.
41. Add a simple shelf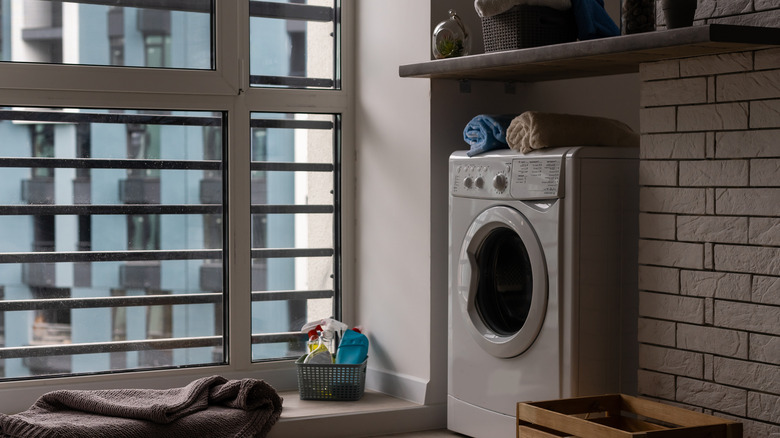 Andrew Angelov/Shutterstock
If space is limited and you require more storage space, add a simple wood shelf to put your laundry essentials up and out of the way.
42. A dreamy space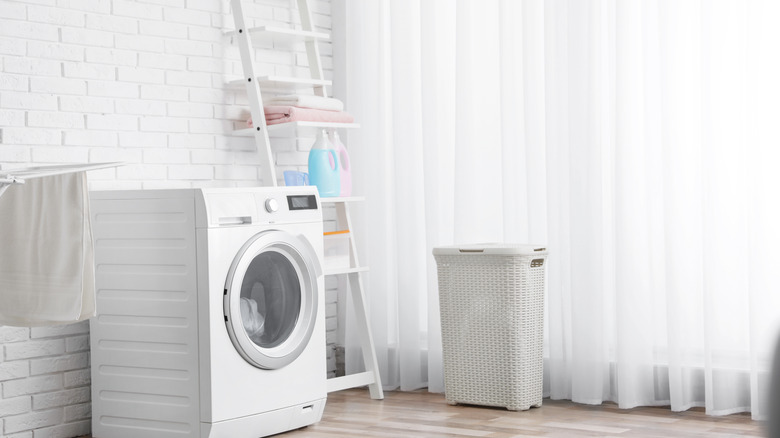 New Africa/Shutterstock
Add a touch of whimsy to your laundry space with ethereal drapery, white brick walls, and light floors for a calming area for folding clothes.
43. Add a bench
Wouldn't it be nice to have a bench like this when folding your clothes? There is a lot of space for keeping everything organized, too.
44. Laundry space next to kitchen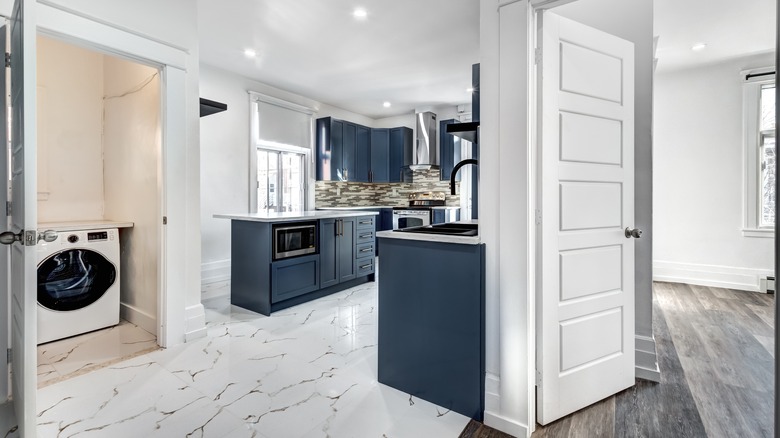 Anatoli Igolkin/Shutterstock
A gorgeous contemporary kitchen is a fantastic view from this small laundry space, but we could sit and stare at it all day.
45. A bathroom laundry space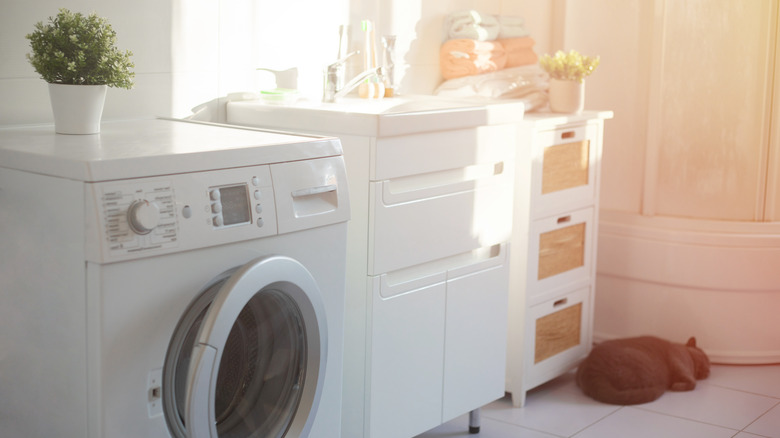 Olha Povozniuk/Shutterstock
This two-for-one room has everything you need to do laundry, and while that sleeping cat is adorable, this dual-set-up isn't too shabby.
46. Beautiful Kelly green paint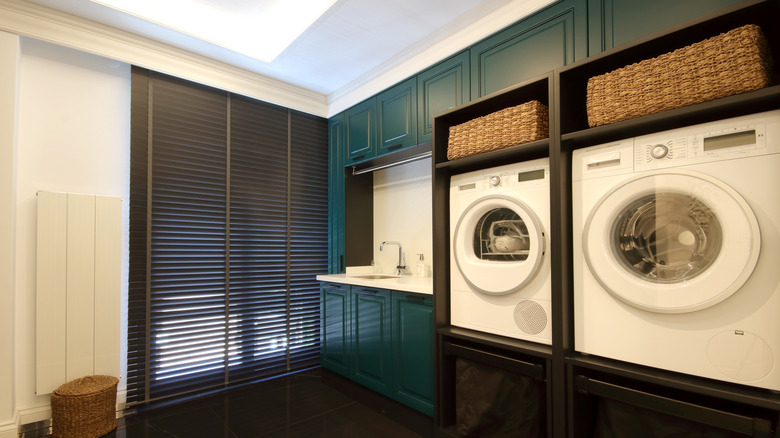 Arsel Ozgurdal/Shutterstock
Add a bit of shimmer and shine to your laundry room with this beautiful Kelly green paint color used for the cabinets. 
47. Granite countertops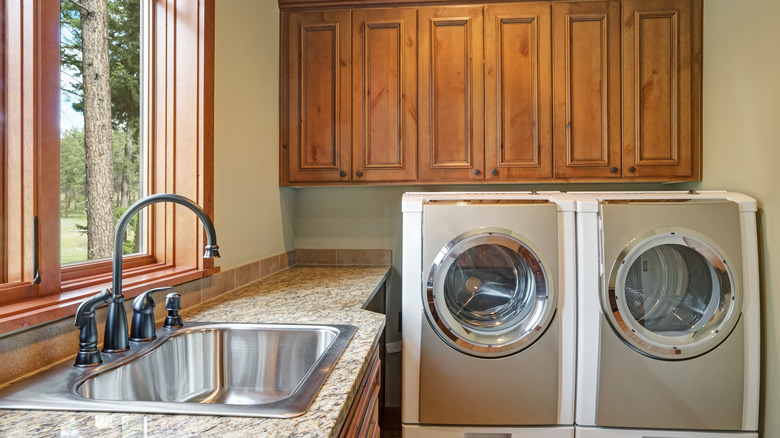 Artazum/Shutterstock
According to HomeLight, granite countertops are what people want most. While it's the most popular choice for kitchens, installing this type of countertop in your laundry room is an intelligent choice for increasing a home's value.
48. Sophisticated black walls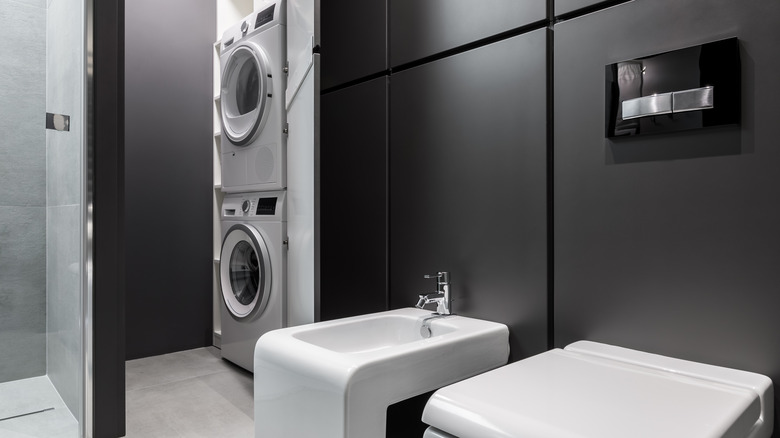 Dariusz Jarzabek/Shutterstock
According to The Spruce, black walls are bold and can be an incredibly timeless color for your walls. However, we must admit that this look adds a modern twist to your laundry room.
49. Brown cabinets that match woodwork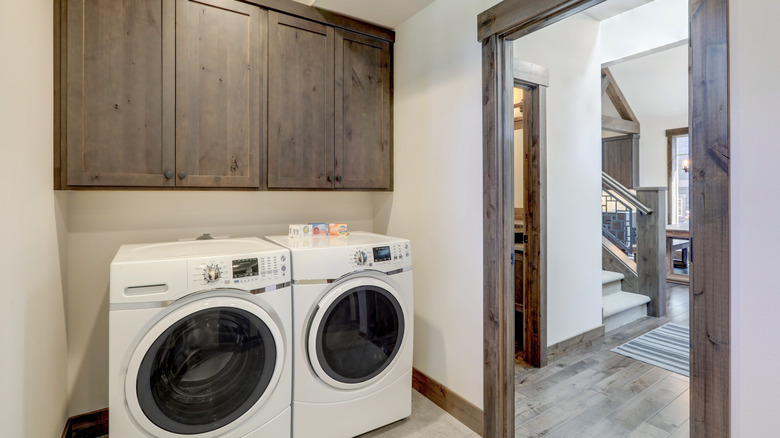 Artazum/Shutterstock
These farm-style brown cabinets are a lovely addition to your laundry room and match the rest of the woodwork in the house.
50. Subway tiles make a great addition
Steve Tritton/Shutterstock
Subway tile has been popular for over a hundred years, and according to Bob Vila, it's a classic addition to homes everywhere, so consider adding the traditional tile to your laundry room for extra style.
51. A modern teal remodel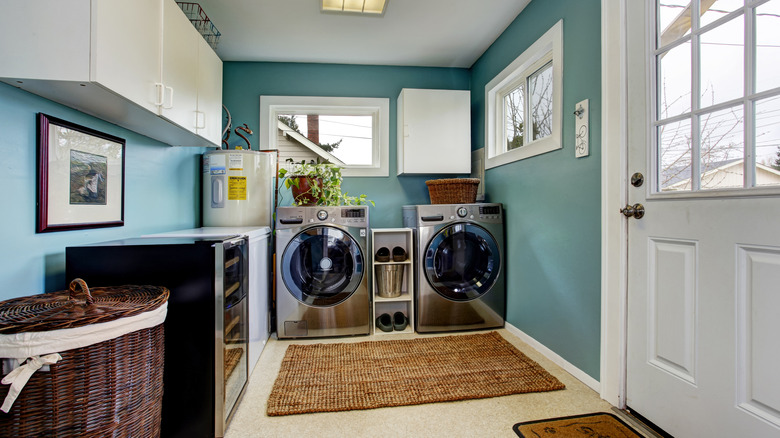 Artazum/Shutterstock
The modern, bright and airy teal space is full of inspiration. First, we love the color teal, and according to House Beautiful, it just so happens to be calming. Mix it with plenty of storage and modern stainless steel appliances, and we have the perfect room for laundry.
52. Bring in some Scandinavian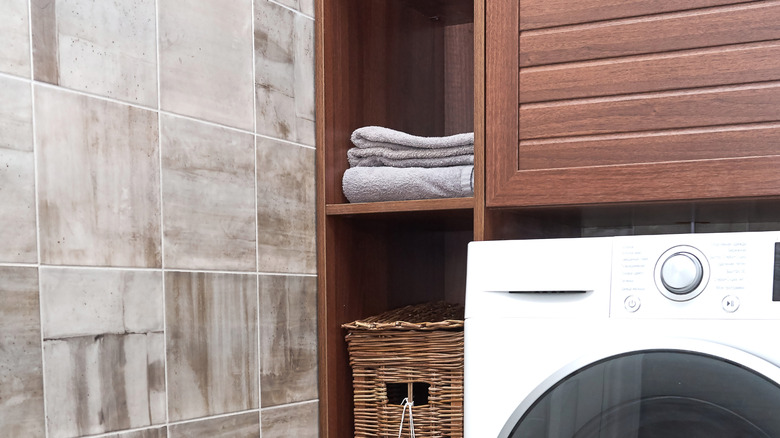 Alena Ogolikhina/Shutterstock
According to MyDomaine, the Scandinavian style is all about minimalism, seen here in this laundry room. The mix of textures from the shelving to the tiles makes this room an ideal choice.
53. Add a touch of pine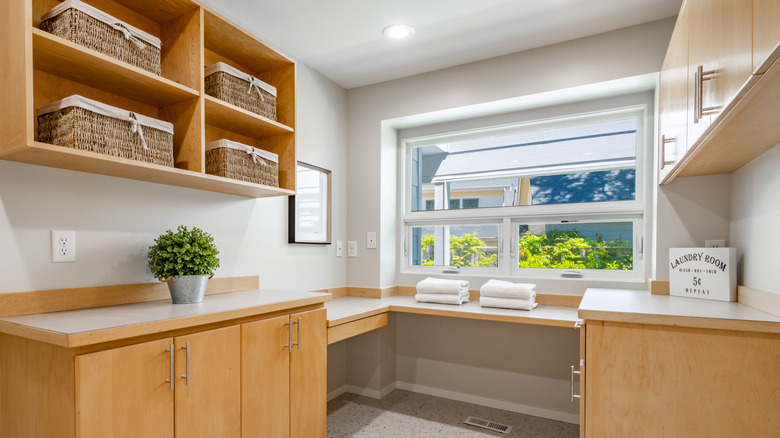 Sheila Say/Shutterstock
Pine cabinets are so classic and such an incredibly timeless look for any laundry room. This setup offers lots of space for folding and storage.
54. A kitchen and laundry combo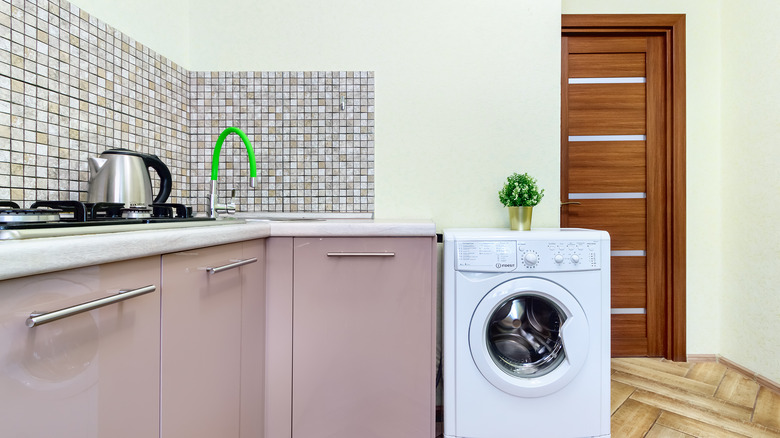 Alexey Slyusarenko/Shutterstock
In European apartments, it's pretty common to have a kitchen/laundry combo, and we love this option with pretty mauve cabinets and a tiled backsplash.
55. Gorgeous sliding farmhouse doors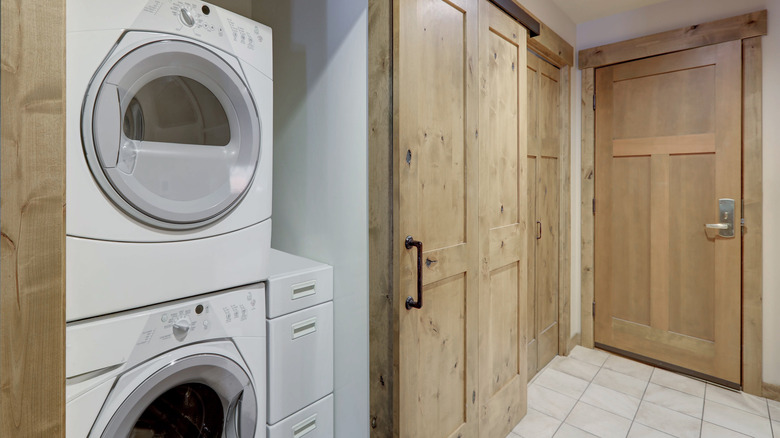 Artazum/Shutterstock
Our eyes can't help but gravitate to the gorgeous sliding doors in this simple laundry room with a stacked washer and dryer.
56. A modern laundry space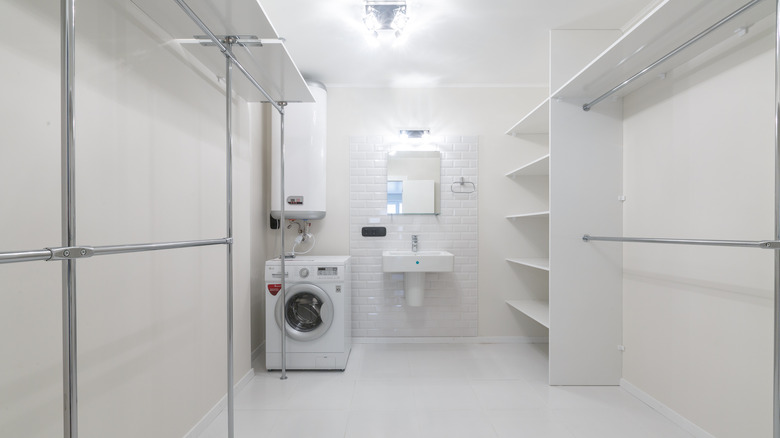 solepsizm/Shutterstock
This spacious room has an enormous walk-in closet, so having a washing machine nearby couldn't be more convenient. Plus, there's a sink to get ready at, so this room is all-encompassing.
57. Add natural elements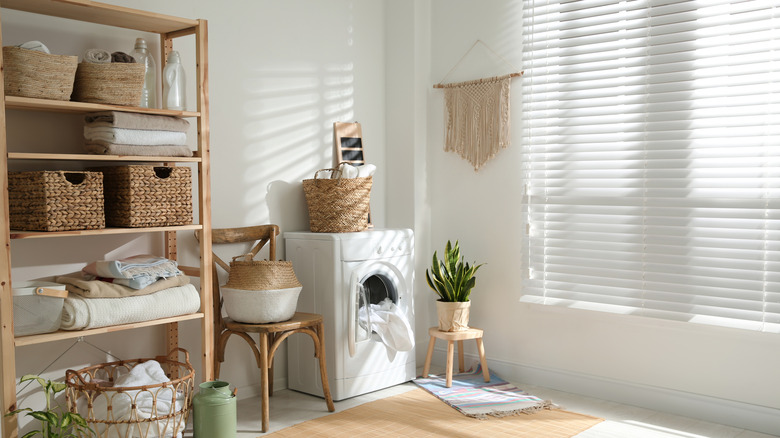 New Africa/Shutterstock
The bright space with a ton of natural light has various natural elements brought into the room. Add different styles of baskets and even plants to your laundry room.
58. Pretty white cabinets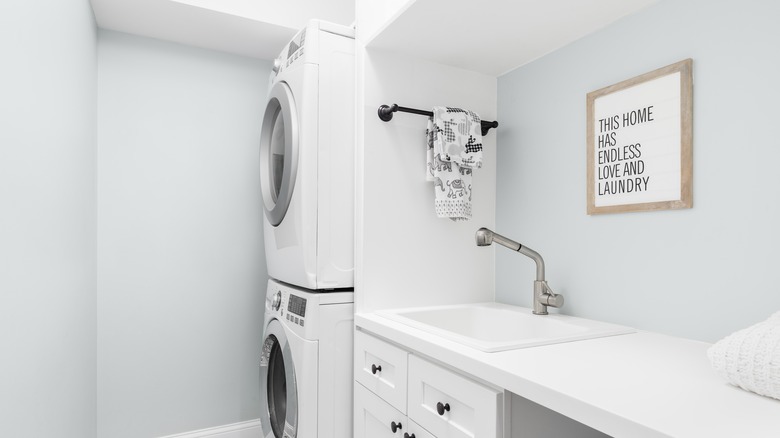 Hendrickson Photography/Shutterstock
The clean white countertops and cabinets make this room feel fresh, and matching white walls give this room a crisp and clean look that will hopefully inspire you to keep your laundry clean.
59. A beautiful marble backsplash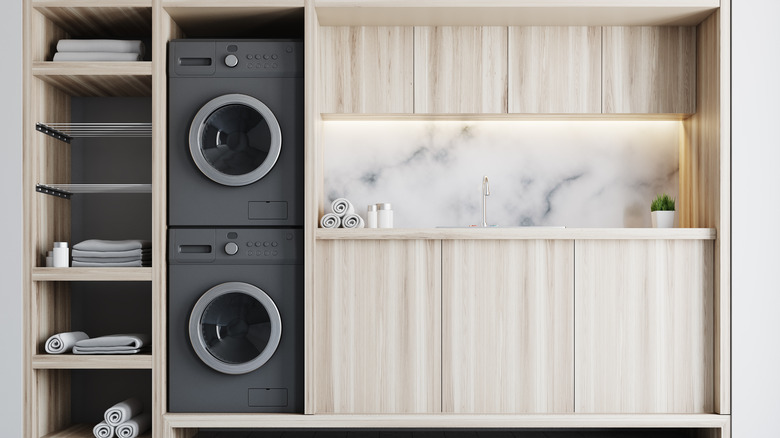 ImageFlow/Shutterstock
This modern laundry room is tidy and packs a ton of upscale punch into the space, namely that gorgeous marble slab as the backsplash.
60. Don't forget the accessories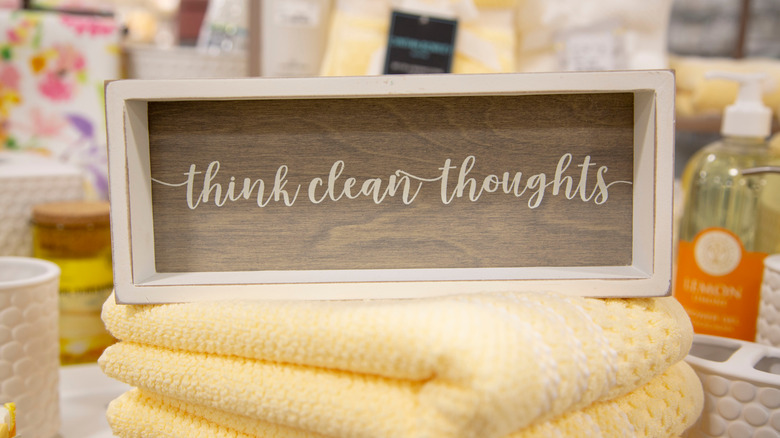 Audrey Saracco/Shutterstock
Add this cute "think clean thoughts" signage to any laundry room for a terrific addition to the space. It's motivation meets style.