How To Decorate A Daybed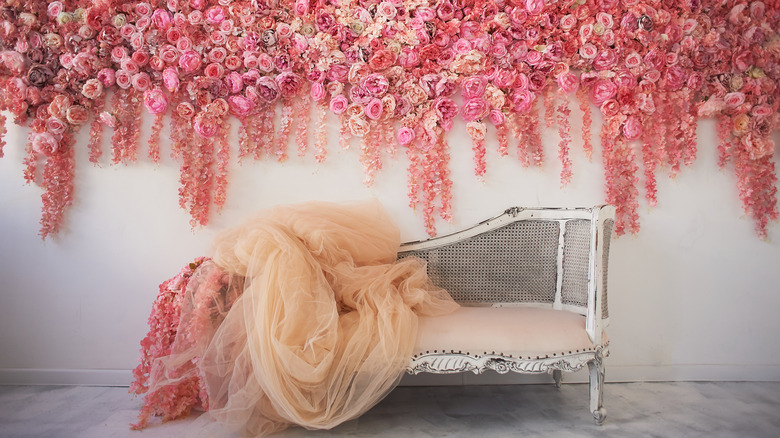 Galina F/Shutterstock
While comfy couches are a living room staple, they are certainly not the only way to incorporate seating in your home. In fact, couches tend to work best in the center of a room, which makes it difficult to create a corner or window seating area. This is where daybeds come in! Per Wayfair, a daybed is a versatile piece of furniture that acts as both a bed and a sofa. While daybeds are traditionally about the size of a twin bed, they can also be used as a reading nook or window seat.
In addition to providing you with an extra sleeping spot, many daybeds also feature drawers, making them perfect for small spaces that require extra storage. While the quality of your daybed definitely matters, how you decorate it is just as important. That being said, the following daybed decorating tips and tricks will help you take full advantage of this multifunctional piece of furniture.
Add eye-catching throw pillows
Olga Miltsova/Shutterstock
If you want to create a cozy and inviting daybed, throw pillows are an absolute must. These soft and fluffy accessories really transform a space and prevent it from looking boring or plain. Plus, they instantly add a pop of color to a base palette of neutral tones. According to MyDomaine, mixing and matching throw pillow prints adds visual interest and elevates the entire space. Prints like chevrons, florals, and stripes are all good options. In addition to catching one's attention, combining patterns highlights design elements like natural hardwood floors or clean white walls.
Target is a great resource for finding unique throw pillows in different sizes and styles. If you want to add depth and dimension to your daybed, arrange your throw pillows on top of one another. Start by placing larger pillows at the back of the daybed before working your way up to the front with smaller pillows.
Create a monochromatic theme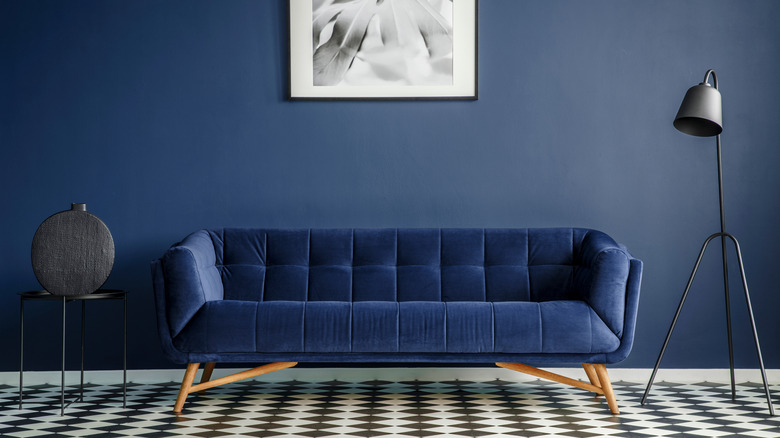 Photographee.eu/Shutterstock
While you can certainly opt for vibrant shades of pink and green when styling a monochromatic daybed, neutral colors result in a more professional-looking space. From beige to taupe, neutral tones create a calming atmosphere that allows you to feel at ease. Per House Beautiful, it's important to remember that neutral tones don't need to be warm. In fact, using cooler earthy tones like light gray adds elegance to your space.
Most importantly, neutral color palettes are timeless. Even if you switch around furniture or accessories, you'll always have a solid base to work with (via MyDomaine). If you are wanting to keep things simple, stick to lots of beiges and browns. You can always spruce up a simple color palette by decorating with plants and vibrant greenery around your setup. As noted by designer Doug Meyer, "The number one tip I'd give someone creating a monochromatic space is texture" (via Architectural Digest).
Layer several different blankets for a cozy effect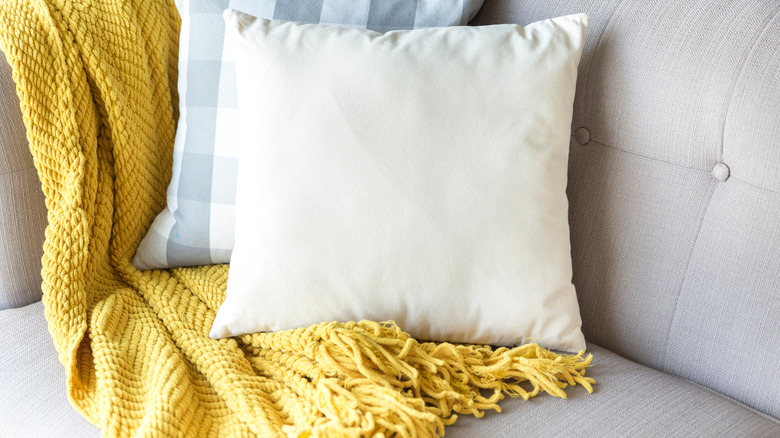 Eastmanka/Shutterstock
According to Style By Emily Henderson, throw blankets are an absolute must for creating a cozy seating area. However, before you start browsing blanket options, you should know which colors you want on your daybed. A neutral foundation gives you more opportunity to play with blanket patterns and vibrant colors. If you already plan to use pillows and other accessories with wild patterns, it's probably better to look for neutral throw blankets.
In addition to the style and design of your throw blankets, comfort should be a top priority. If you plan on layering multiple blankets, select throws with different materials for more depth and dimension on your daybed. For something simple and classic, stick with a chunky white blanket such as this one from CB2. It is soft, elegant, and versatile enough to complement a variety of daybed colors and styles.
Surround your daybed with plants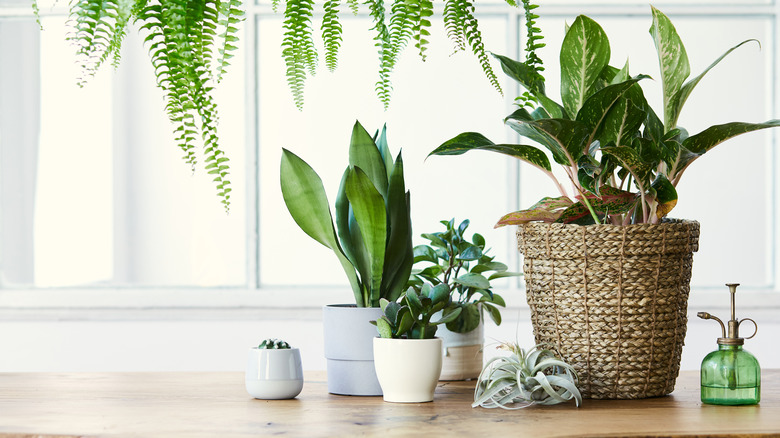 Followtheflow/Shutterstock
Vibrant greenery, whether real or fake, adds a stunning touch to any space. According to Better Homes and Gardens, decorating your home with real plants offers a variety of health benefits such as increased oxygen and cleaner air. They can also assist with mental health by alleviating stress and increasing productivity. Basically, using house plants is a fool-proof way to bring the outdoors inside and create a more inviting and warm environment.
From succulents on your window sill to banana plants in the corner, there are plenty of creative ways you can adorn your setup with plants (via The Spruce). For example, you can frame your daybed with plants to create a peaceful and serene jungle-inspired scene. If you don't want to take on the responsibility of keeping plants alive, invest in some faux plants such as this Fiddle Leaf Fig Plant from West Elm.
Place an ottoman in front of your daybed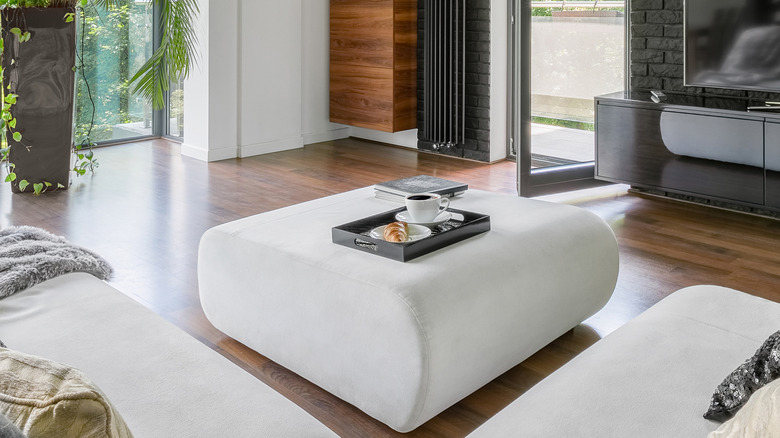 Dariusz Jarzabek/Shutterstock
If you want to switch things up, consider adding an ottoman in front of your daybed instead of a traditional coffee table. Per Club Furniture, colored ottomans are a wonderful, multi-functional accent piece for any room. Ottomans are also known for being timeless, meaning you won't have to worry about them going out of style.
While you can certainly leave your ottoman free of decoration and use it strictly as a footrest or stool, adding a tray on top gives you a designated spot for magazines, TV remotes, other essentials. This rectangular tray from West Elm is available in silver, white, and gold, allowing you to choose a color that matches your space. You can also place decorative candles, books, or succulents on top of your ottoman. Or, use it to hold drinks and snacks while curling up with a good book on your daybed.
Set a small round coffee table in front of your daybed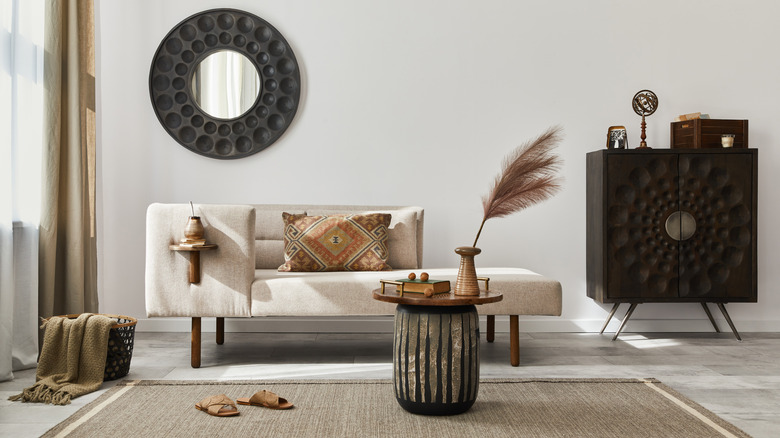 Followtheflow/Shutterstock
Whether putting your feet up or resting a tray of drinks, coffee tables are an absolute must in every living room. According to Star Living, coffee tables are great, functional pieces that can also help express your personal style. While rectangular shapes are more common, round coffee tables feature a unique, modern aesthetic. If you have a rectangular daybed, place a round coffee in front to create a cool contrast.
From glass to marble, round coffee tables come in a wide variety of different materials and styles (via Curated Interior). However, when placing a coffee table in front of your daybed, make sure the table does not overwhelm the bed. Ideally, your round coffee table will be on the smaller side. If putting a table in the center of the room takes up too much space, place it on the side or end of your daybed.
Use art behind your daybed for a stylish scene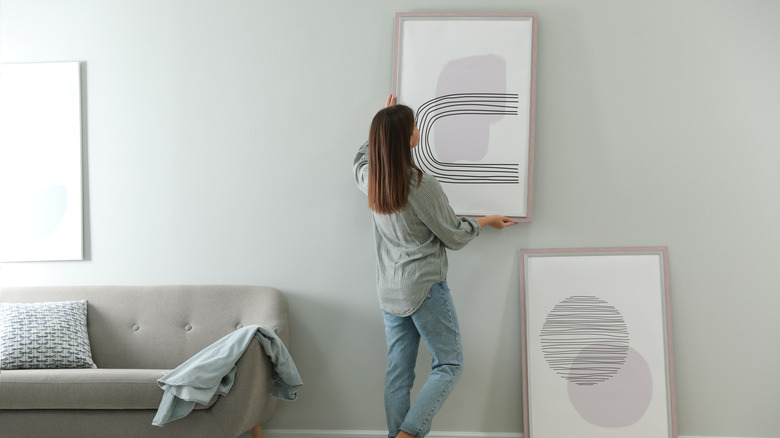 New Africa/Shutterstock
Whether you prefer cohesive gallery walls or larger statement pieces, wall art is an absolute must when creating a cozy daybed oasis. Per Better Living, the art that you hang on your walls plays a big role in setting the mood. Before nailing a piece into your wall, think long and hard about how it influence the atmosphere of the room. If you prefer modern pieces, stick to larger statement paintings or prints like this one from Minted.
If you want a more elegant and sophisticated atmosphere, create a gallery wall with antique paintings. During an interview with Stylist, interior designer Sonia Pash said, "Antique oil paintings are a great flourish, and they don't need to be crazy expensive. You can find lovely pieces by lesser-known artists in smaller auction houses or antique shops that should suit your budget." Best of all, filling your walls with antique paintings and artwork means that you can get creative and let loose, rather than stressing over how to perfectly match colors and styles.
Add some nice lighting with a floor lamp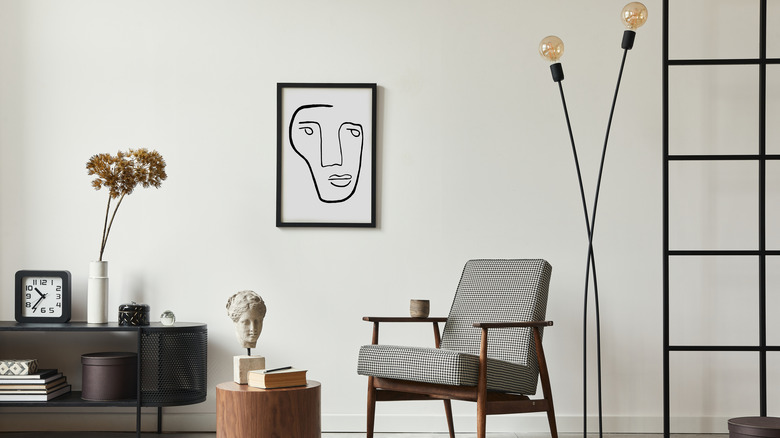 Followtheflow/Shutterstock
Lighting is a crucial element in any part of the home. If you plan on placing your daybed in a corner or area with little light, it is essential to add a lighting source. While you can add a small side table and place a table lamp on top, floor lamps are typically more sophisticated. However, it is important to consider every aspect of the lamp before adding it to your home. From the stand to the shade, each element of the floor lamp matters.
During an interview with Amanda's House of Elegance, designer Shannon Petrie said, "If you're going for a modern or contemporary look, think simple and streamlined when selecting lamps. Slim bases and drum-shaped shades can add height and drama to a space without overpowering its other decor." Additionally, remember to be mindful of lamp size when sprucing up your setup with a floor lamp.
Choose eye-catching and cozy bedding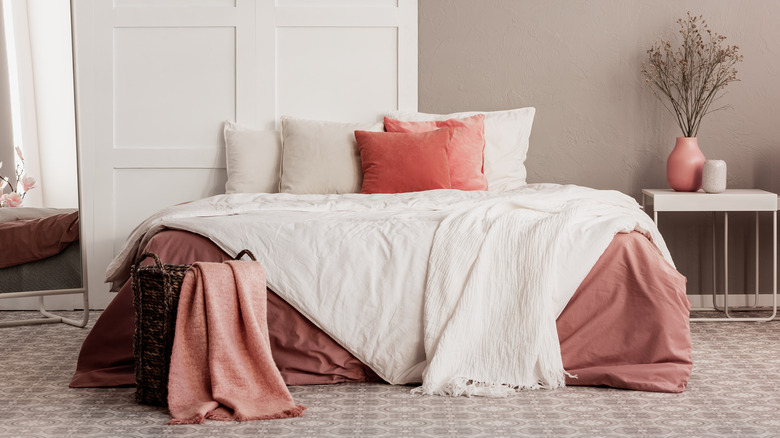 Photographee.eu/Shutterstock
While the bedding on your daybed is perhaps not as important as the bed linens on your actual bed, it still plays a big role in determining the overall style and design aesthetic. If you are planning on decorating with vibrantly colored throw pillows and blankets, stick with neutral or white bedding. According to Daryn Mae, white bedding instantly makes a space feel more clean and organized. On the other hand, busier bedding often causes a room to appear cluttered or messy.
Since daybeds have a specific shape and size, you'll definitely want to find bedding that properly fits. While you might be able to use sheets or a duvet cover intended for a twin bed, Target has plenty of daybed-specific options worth exploring. There's also a vast selection of bedding on Wayfair, Casper, and Brooklinen. If you still can't find what you're looking for online, check out local stores.
Balance out your daybed with a cool rug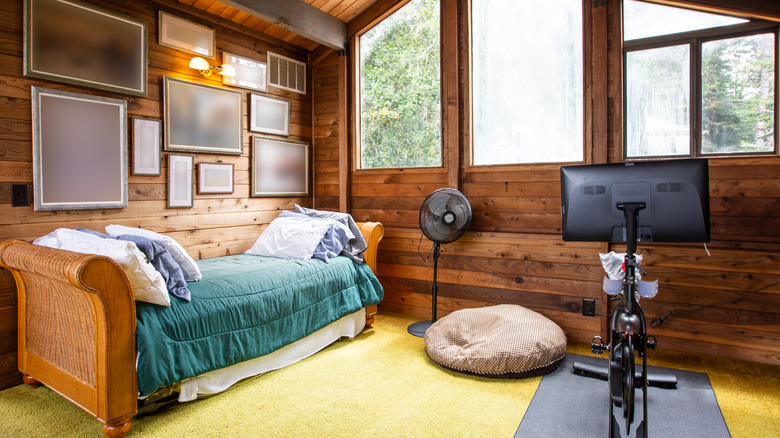 Pretty Colors/Shutterstock
While sitting down with Martha Stewart, professional designer Nancy Fire said, "Evoking the coziness that's so important today is not just about pillows and throws, you want to think of it from the floor up." In addition to providing cushion and comfort under your feet, rugs also do a great job at making a space feel comfortable and lived in.
To take your rug game to the next level, layer rugs under and around your daybed. Before you start planning out the layering process, first take a good look at the room and decide on what rug style is going to work best. For example, if you have a lot of art or decor on the walls, consider decorating with one solid rug and one patterned rug. However, if your walls are more on the minimalist side, two patterned rugs are a good way to go.
Install shelves behind your daybed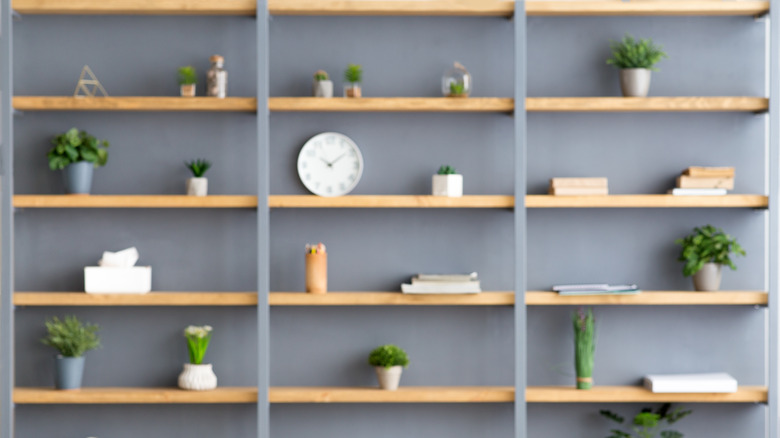 Prostock-studio/Shutterstock
Installing shelves behind your daybed is a great way to incorporate a variety of different accessories and accents. Per Family Handyman, hanging up shelves is a fairly easy DIY project that you can complete without the help of a professional. When hanging your shelves, remember to ensure that the placement is centered and level before drilling any holes in your walls.
While there are many types of shelves to choose from, take the rest of your room into account when shopping or browsing styles online. For example, if you have gold-framed paintings or gold light fixtures in the room, it's probably not a good idea to hang up silver shelves. For a more bohemian look, take a look at these amazing Takara Live-Edge Shelves from Anthropologie. They will add an earthy touch to your space and can hold everything from succulents to small family photos.
Surround your day bed with meditation cushions for a bohemian setup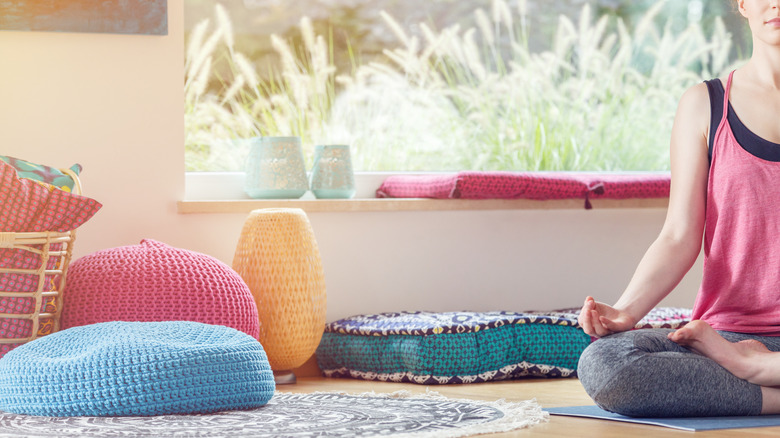 Photographee.eu/Shutterstock
Decorating with meditation cushions is a lovely way to create a cozy and relaxed sitting area for you and your guests. While it is definitely unconventional, this type of seating arrangement can lead to intimate and comfortable conversations. According to Medical News Today, meditation cushions tend to be firmer than regular cushions, leading to more support and better posture.
When it comes to choosing your meditation cushions, go for options with cool designs or fun colors. While there are many plain and functional cushions out there, it's best to avoid these styles when decorating your daybed. These velvet floor pillows are not only soft and shiny, but they are also available in six different colors, allowing you to mix and match. These MAXYOYO meditation pillows are another cool option. The colorful, bohemian design is sure to add dimension to your seating area.
Hang a canopy above your daybed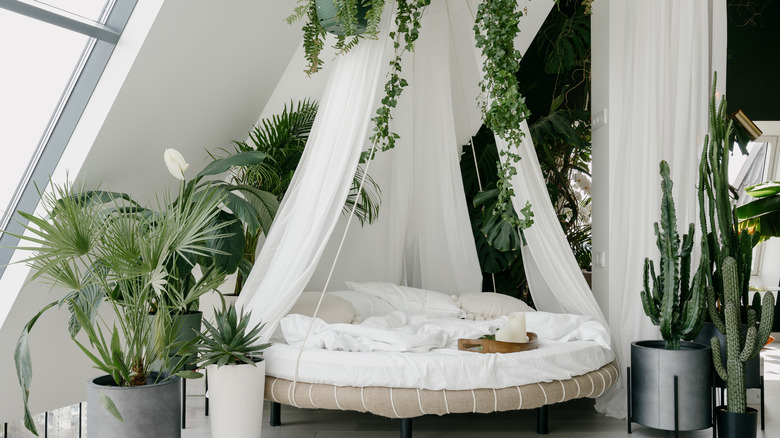 brizmaker/Shutterstock
While canopies are a common element of bedroom decor, these luxurious hangings add an ethereal touch to any room in the house. Per Architecture and Design, a bed canopy makes a room feel more lavish and romantic. Even though it might seem like a chore to hang up a canopy, the process is actually rather simple. You'll just need to drill a hole in your ceiling and install a hook. Then, simply hang your canopy from the hook, and ... voila!
When installing your hook, ensure that it is centered over your daybed to prevent the canopy from looking crooked. Though some canopies might look a bit juvenile or immature, the Tessie Canopy from Urban Outfitters is a modern and bohemian choice. This canopy is perfect for creating a cozy corner for reading and lounging. If you prefer something more traditional or classic, go with the Esmerelda Bed Canopy.
Adorn your wall with twinkle lights for an enchanting setup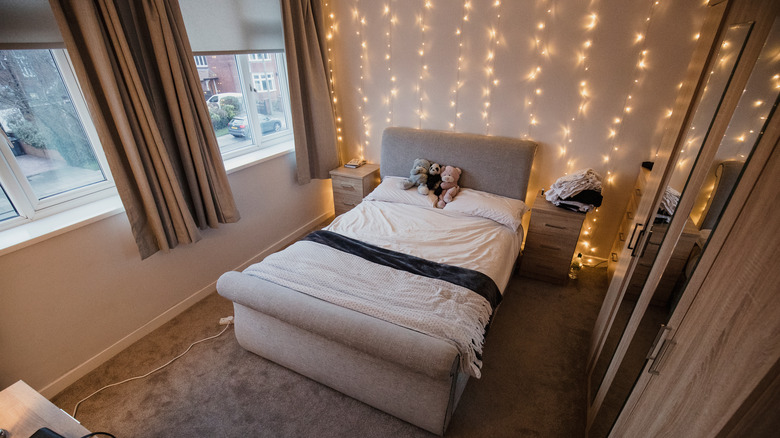 DGLimages/Shutterstock
Looking to add a bit of magic to your daybed? According to The Spruce, string lights are an ideal way to create a soft and enchanting ambiance. Whether you are looking to illuminate the wall behind your daybed or frame an adjacent window, there are several different ways to add flair with twinkle lights.
While string lights that plug into the wall are more convenient and typically last longer, battery-operated string lights provide more flexibility in terms of placement. These gold twinkle lights from Crate & Barrel require batteries, but they have a timer feature to shut off lights automatically. The gold coloring adds a nice shine while the delicate bulbs provide the perfect soft glow. If you want a more dramatic backdrop for your daybed, go with something like these Extra Long Copper Firefly String Lights from Urban Outfitters.