Here's Where You Can Visit The House From Roseanne
As a concept, fan tourism describes an ongoing phenomenon. Fan tourism happens when art and literature fans plan and participate in travel to locations connected with the books, TV shows, and films with which they find resonance. The Conversation explored this dynamic and showed how fan tourism translates to real people and real spaces. The not-for-profit news source covering global issues documented an interesting international example: Across the pond, 350,000 people visited Northern Ireland each year in connection with the hit HBO show "Game of Thrones." It stands to reason that the influx of creatively inspired visitors brought economic, cultural, and other resources through people from all over the world who chose to visit the European island. Likewise, visitors also benefited from seeing the scenic Irish sights. 
In general, waves of fan tourism allow both fans and spectators to not only link their imaginations with their preferred media selections, but also to make way for digital trails about their experiences in different locations. It is pretty common to hashtag, tweet, Facebook, Snapchat or otherwise share with social media where one enjoys going. For some people, fan tourism trips are solo inspiration experiences. For other people, fan tourism trips are group endeavors undertaken with family members or friends. As House Digest has explored at length, domestic audiences regularly visit a variety of artistically significant sites, too. Fans stop by the former sets of "Steel Magnolias," "Stepmom," the 1990s sitcom classic "Boy Meets World" and many, many more locations. 
Roseanne fans can head to Indiana for inspiration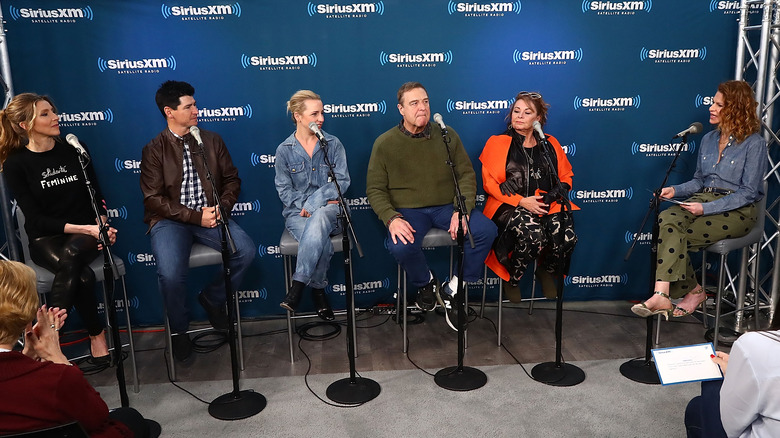 Astrid Stawiarz/Getty Images
Another fan tourism destination is the Indiana house made famous in "Roseanne." The home itself is a four-bedroom, two-bathroom structure with about 2,000 square feet of living space, making it roughly the average size of a family home in the United States. About a decade ago, the home was listed for $129,000, as House Beautiful reported. Because the property is a private residence, visitors are encouraged to be respectful of the owners and their personal space. 
As a sitcom, "Roseanne" launched in 1988, like IMDb reported. Further, the "Roseanne" cast, crew, and creators experienced numerous seasons of commercial success. The sitcom ran for an impressive 10 seasons and remained favored by broad audiences for a variety of reasons. For certain viewers, they delighted in seeing a working-class American family convey their everyday lived experiences on screen. As a similar point, even the show's episode titles communicated in a common sense manner. For example, Season 1, Episode 1 is titled "Life and Stuff." For other viewers and fans, the sitcom's inspirational capacity existed too, given the fact that the show not only bore the name of a woman, Roseanne Barr, but also the fact that she co-created the sitcom with Matt Williams (via IMDb). Barr's "Roseanne" co-stars include John Goodman and Laurie Metcalf.