Mistakes Everyone Makes When Shopping At The Container Store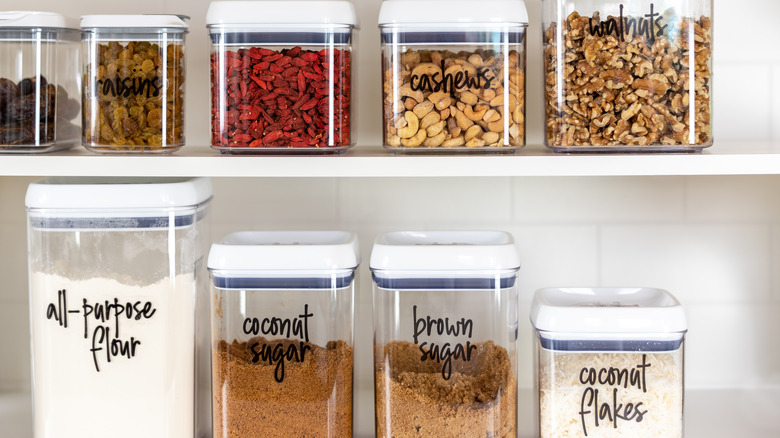 Kristen Prahl/Shutterstock
"Contain Yourself" is a great motto for a store that likes to go all out. According to ABC News, The Container Store is so popular and well run because of a unique business concept: Putting employees' needs over the needs of customers. "We call it 'air of excitement.' If you walk into a ... retail store and everybody there is excited to be there, you can kind of sense that three steps in the door," CEO Kip Tindell told the network.
Part of the reason the employees are excited about the store is that they know the value of the products. This starts with putting them through a rigorous 240 hours of training, which, if you think about it in terms of eight-hour shifts, is 30 full days of just product training. Compare that to the 12 hours that other retail employees receive, and it's easier to understand why shopping at The Container Store feels elevated over so many other retail experiences.
"We put the employee before the customer, even. And if you take care of your employee better than anybody else, they'll take care of the customer better than anybody else," Tindell shared. However, even if the employees are set on ensuring you have a great time while in the store, there are still plenty of mistakes that most shoppers tend to make while there. We've rounded up the most common ones and the ways to avoid making them yourself.
Not decluttering beforehand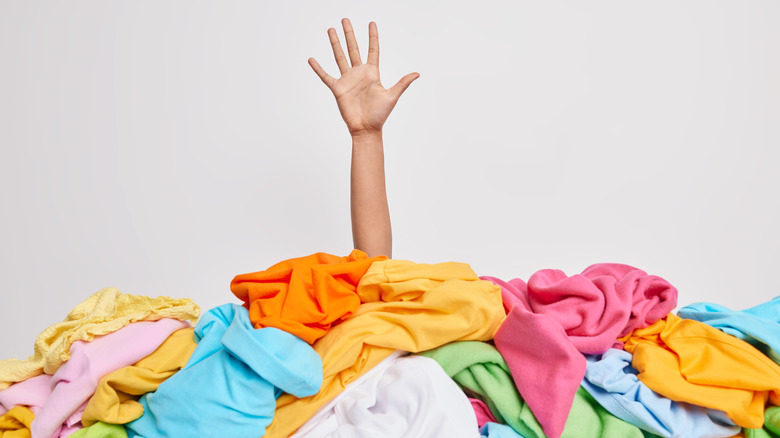 Cast Of Thousands/Shutterstock
One of the first mistakes people make when going for a shopping spree at The Container Store is forgetting to declutter the area they plan to organize before making the trip. It's important to do this because if you don't clean up beforehand, you might end up buying things to organize the stuff you'll just throw away. According to One Kings Lane, the Marie Kondo method of organizing your home is the easiest to stick to.
One of the main reasons for this is that the method helps you declutter entire categories of your house at once, instead of just rooms. For example, your closet might be a mess, but if you set out to simply declutter your bedroom closet, you'll miss out on the piles of shoes in the guest room, or the abandoned winter coats in the hallway. So, it's best to tackle entire categories at once, so you have a better idea of the overall inventory that you are working with when you go into the store to purchase things to keep everything in order.
Not thinking about a budget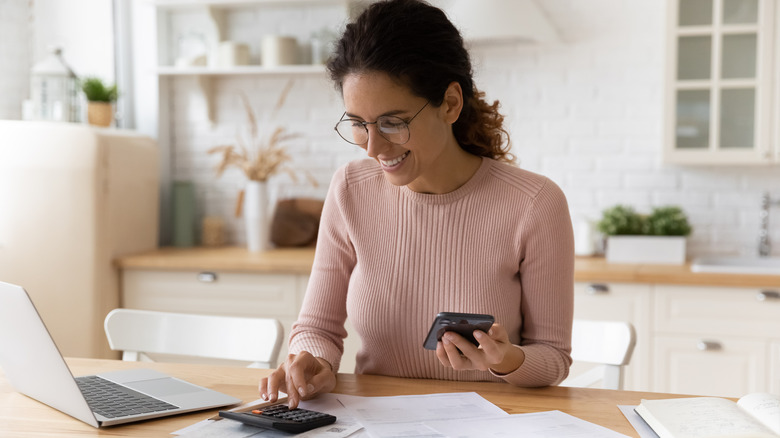 Fizkes/Shutterstock
For all of us who love to organize, walking into The Container Store without a budget is just ASKING to take out a second mortgage on our houses. Seriously, you have to be so careful because every single thing inside the store is amazing and probably would look so great in your house. So you really have to pace yourself. Professional Staging has a few helpful tips when setting a decorating budget for your home.
The first tip is to make a wish list and then work your way backward. If you write down every little thing you would like to organize and the products needed to do so, it's easier to pare down a physical list than the one you are just holding in your mind. Once you have that down, you can prioritize the list by both the function and price of each item. This way, you're not telling yourself you can never get the bathroom drawer organizers; you're just being realistic that you can't afford them until after the holidays.
Thinking you have to buy something every time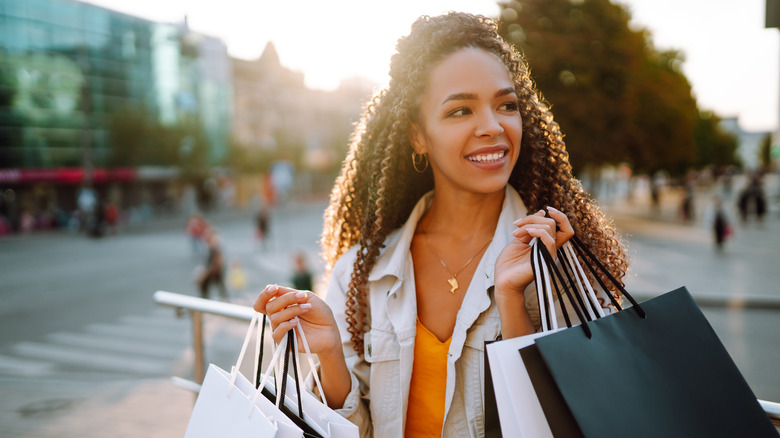 Maxbelchenko/Shutterstock
Yes, The Container Store is an organizer's number one destination for all things household, but it's also just a great place to browse for ideas. You don't have to visit the shop just for something specific each time. But only browse The Container Store for fun if you have immense self-control because, trust us, it's really easy to go inside to take a look and walk out with a $250 credit card charge.
According to One Green Planet, if you are itching to shake things up, you can use the store to inspire and change your organizing style without purchasing anything. For example, in most of our homes, there are broken pieces of furniture that we have intended to repair for months, or even art tucked away in the bedroom closet that hasn't been looked at in years. We might have baskets that we could use to organize our entryway table in the garage or forgotten bowls in a cabinet somewhere. Occasionally, a trip to The Container Store can jog our memories into thinking, "Oh, I think I have something like this I can use at home."
Not making a list for shopping
Iryna Imago/Shutterstock
So, you've cleaned out your kitchen drawers and pantry and are finally ready to visit The Container Store in person to pick up some items. But only amatuer shoppers show up thinking they can browse and find everything they need. This is a surefire way to buy things that don't fit, are the wrong color, or don't actually have a use in your space. So, when you go in, make sure to bring a list of items you'd like to help you stay on task. Or, you can order online to double-check your space in real time before purchasing anything.
According to The Nest, planning ahead is the number one way to stay on task and, more importantly, on budget when shopping. If there is anything a little bit outside your budget, then plan ahead and save up for it. This way, you can have the organized home of your dreams without putting yourself in debt to achieve it.
Blowing off the free design services
When shopping at The Container Store, you don't have to be responsible for all your design choices. The store offers free in-home and virtual design consultations, helping you pin down what would be most efficient in your space. According to its website, you can select an appointment time that works best for you using the store's online portal. From there, you can download the measurement guide to get started on the best way to measure your space for your consultation.
Once you have your measurements, you'll get paired with a designer to figure out which of the four closest design systems that The Container Store offers will work best for your current and future needs. This option is a great idea if you feel a little overwhelmed by the design process or want a professional second opinion to confirm your great ideas. And yes, it is all free.
Buying something to fix a problem you don't have
The Container Store has a solution for everything ... even parts of your home that aren't cluttered. Yes, we get it. Even though your closet is clutter-free and organized, an aesthetically pleasing shoe organizer caught your eye, and you're tempted to get it. While things might seem new and exciting when shopping, we realize we don't need them when we get home.
According to Ramsey Solutions, one of the best ways to stop impulse buying is to focus on the main reasons we do it in the first place. When it comes to The Container Store, it's hard to resist the allure of the slick, Swedish marketing. Everything seems clean, organized, and symmetrical, and we want our homes to look like that, too. It pulls on our need for self-improvement, tempting us to buy more than we planned. To avoid this, give yourself a 24-hour cooling-off period before purchasing. Take a photo of the item, and think about it for a full day. If you still want it a day later, you can permit yourself to buy it. But the chances are high you'll no longer need it.
Forgetting about the annual Elfa sale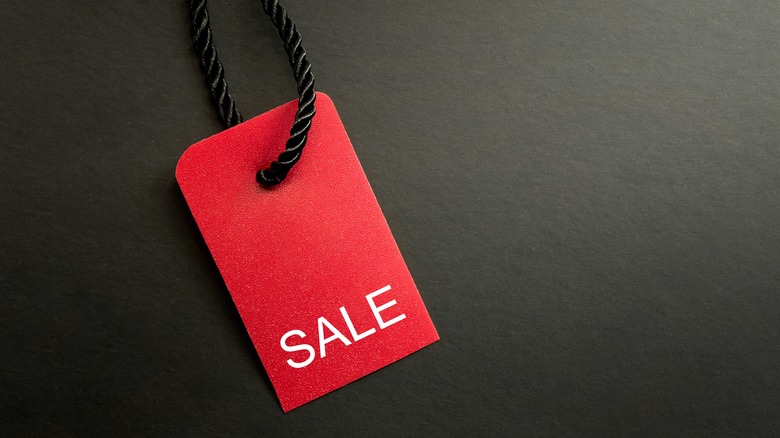 Elena Yakusheva/Shutterstock
If anything, The Container Store is very predictable with its sale schedule. So, if you are trying to get your home nice and organized, you don't have to blow through your budget if you plan a little bit. According to DealNews, the annual Elfa sale starts around Christmas and lasts through February. Elfa is the store's in-house product brand, which features shelving units, drawers, and even desks. During the annual sale, you can save up to 30% off not only the Elfa products themselves, but also the installation services, essentially doubling the savings.
In addition to this annual sale, The Container Store typically participates in Black Friday. So, if you can't wait until Christmas for savings, you can get started a little early. Finally, the store does have other pop-up sales throughout the year called Customer Favorites and Closet Essentials sales. So, before buying anything, be sure to pause, just in case a big sale is coming up.
Forgetting to measure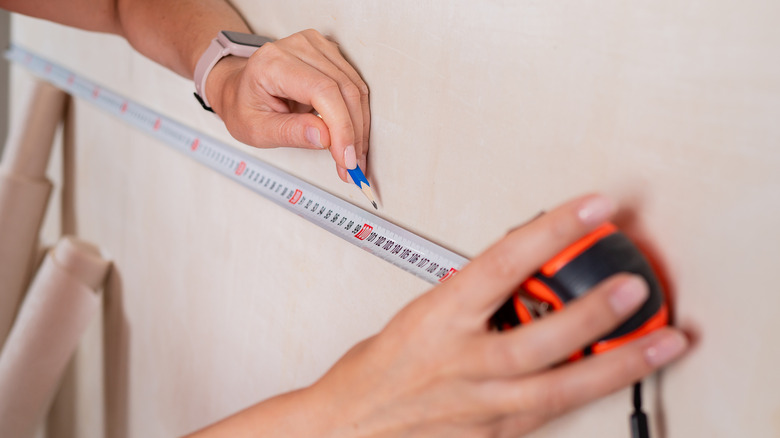 Dmitriy Utlanov/Shutterstock
You really need to know the general dimensions of the area you're organizing before buying any containers. This way, you don't get home with a carload of bins that don't actually fit in the space you had them in mind for. According to Vevano Home, the best way to start measuring is to sketch a rough outline of the room on a blank piece of paper. Be sure to mark where the doors and windows are and other immovable components like lightswitches and power outlets. Then, once you've measured the space, you can annotate your drawing and bring a mini-model of the room with you to the store.
If you only have a list of measurements, it's hard to visualize what you're creating, increasing the risk for mistakes. It's also a good idea to take a few photos of the space you're trying to organize. This way, if you're ever in doubt about whether something will work in the space, you will have an easier time deciding because you can see it rather than just recall it.
Buying large containers that will accumulate more junk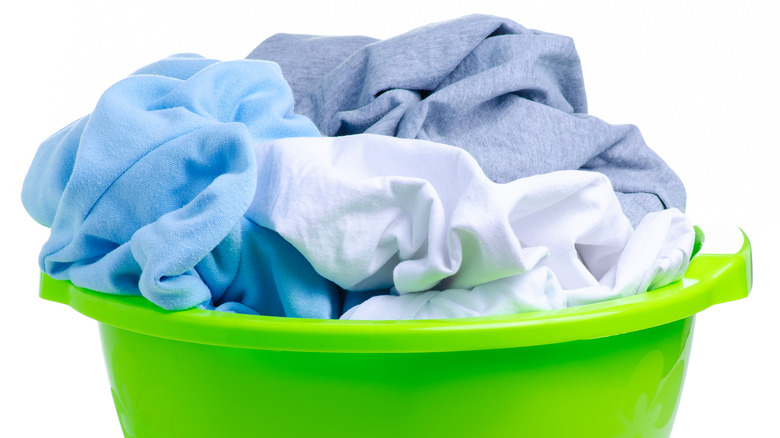 Kabardins photo/Shutterstock
When we purchase items to use when organizing our homes, it's important to consider the scale of these items in relation to the things we are trying to organize. It's similar to getting a storage unit to hold overflow items from your home. If you purchase a too large unit, you might start to think, "Hey, I have all this space, so I might as well fill it." Next thing you know, the storage unit you rented to help overflow items is also full.
In the same way, you must purchase the correct size organizers to ensure they don't get too messy. According to organizing expert Rachel Rosenthal, investing in usable organizing products is important. There's a major emphasis on the "usable" part. If the bins are too large, they might not fit in your space, and you'll just end up throwing junk into them instead of keeping things tidy.
Not joining the Organized Insider rewards program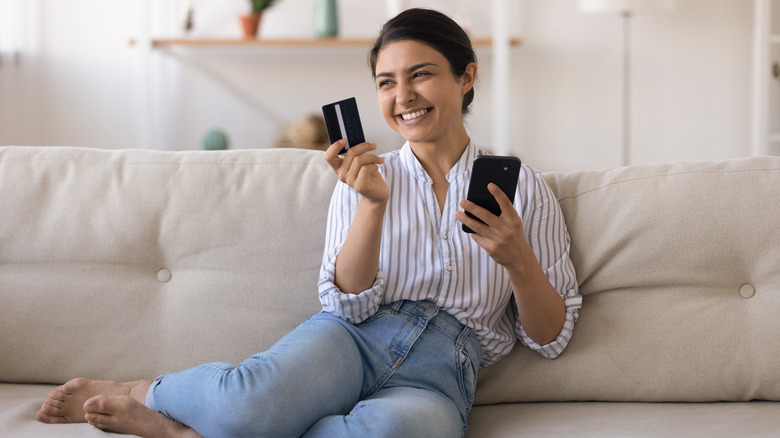 Fizkes/Shutterstock
If you shop at The Container Store more than twice a year, you are missing out on some great rewards if you choose not to join the Organized Insider perks program. According to The Container Store, the program has three tiers based on how much you spend. The first is "Enthusiast," which you qualify for if you spend up to $299. This comes with perks like a 15% birthday discount, as well as other bonus savings like another 15% off a random order of your choosing.
From there, things increase to "Experienced," with an annual spend of up to $999, and "Expert," which is for people who spend over $1,000. For each tier increase, the birthday and random order savings (known as Insider Savings Day) increase by 5%. In addition, when you level up, you unlock a special one-time discount on your order. Finally, you can return things with ease as the store keeps a log of your purchases for you, so you never have to bring in a receipt.
Thinking you need to shop in-store all the time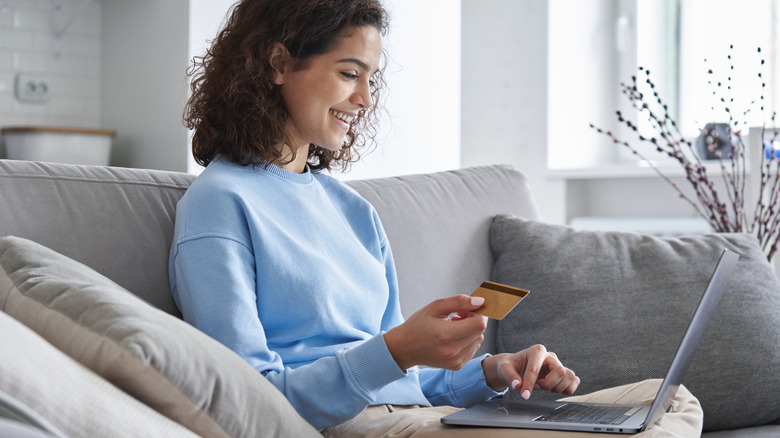 Insta_photos/Shutterstock
Because of the sights, smells, and overall tactical experience of shopping at The Container Store, most of us prefer to place our orders in person. It's like visiting the other Swedish home goods store, IKEA. It's as much a shopping trip as it is a social event. But, exclusively shopping in person at The Container Store is actually a mistake because you can miss out on exclusive sales.
For example, according to the store's website, you can shop exclusive clearance events online that aren't available in-store. Not only that, but if there is more than one location in your area, you can easily bounce between stores to see which location has what clearance items left in stock to save yourself the trip (and some extra cash). In addition, you might be able to access exclusive items that are not available in store, and are just sitting at the commissary waiting to be liquidated (via The Balance).
Not using the store's in-house installation service
Even if you have an expert eye for the kind of shelving systems that might work in your space, you might not be as gifted on the installation side. Or, maybe you are, but you have a busy schedule and just don't see yourself setting aside a Saturday to put everything up. One of the biggest mistakes The Container Store shoppers tend to make is forgetting that the store has an affordable in-home installation service. 
According to The Container Store, you only have to remove your personal items from your closet and then put them back in again at the end. The installation crew will remove up to two rods and shelves per wall, so you don't have to worry about any of the actual construction prep. In addition, The Container Store is lead paint safe, and all technicians are certified in practicing safety measures. Best of all, most closets are done in less than a day, and the workers leave your home as you left it.
Purchasing an item with just one solution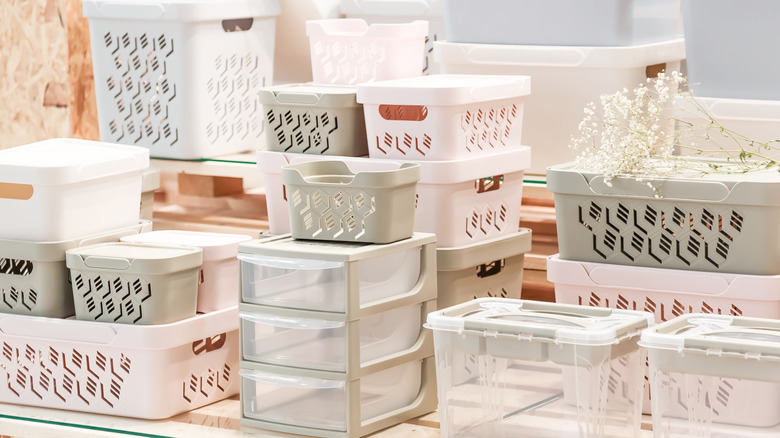 Evgrafova Svetlana/Shutterstock
A big mistake some shoppers at The Container Store make is purchasing items with just one job. Because of this, if you ever need to rearrange or get rid of a few items, the things you bought to help keep things tidy could lose their purpose and just become part of the mess. So, to avoid this, the key is to invest in pieces that serve more than one purpose.
According to Get Organized HQ, smaller bins with labels are ideal because they are stackable and reusable. Because of their petite size, they'll fit in most locations throughout your home. This means that if you originally had the item in your crafting room and moved on from that hobby, you'll be able to repurpose your containers in your kitchen without worrying about changing them around too much. If you buy too many custom-built containers when shopping at the store, you could be setting yourself up for more clutter in the future.
Thinking it just sells containers
Sure, with a name like The Container Store, you might think that it only really sells things like boxes and bins, but you can purchase an array of home decor and travel items there. According to the store's website, it has an entire travel section filled with things to make your next getaway that much easier. You can purchase TSA-approved travel containers for liquids and medications, comfort essentials like headphones and eye masks, and even entire luggage sets, just in case.
In addition, The Container Store seems to understand that everything should have a place, even when you're in the middle of using it. Because of this, you can purchase various mats to dry your dishes, mats to store your knives when cooking, baking mats to make creating your favorite cookies even easier, and even floor mats to keep things tidy (via The Container Store).