Renovations That Won't Increase The Value Of Your House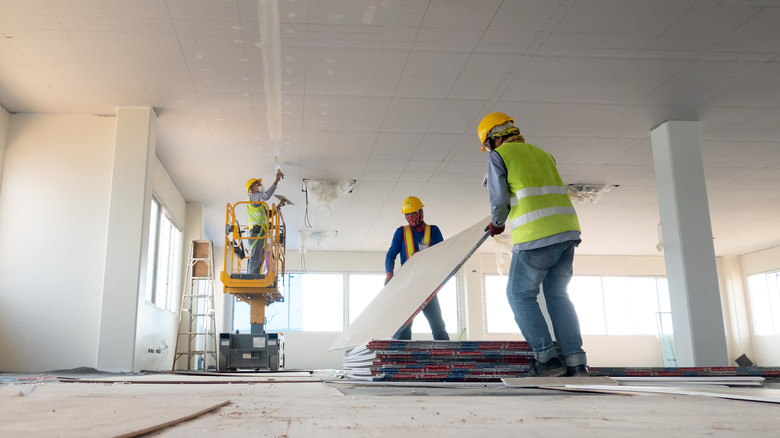 Bannafarsai_Stock/Shutterstock
A home is more than just a structure that gives you security and a place to lay your head after a long day at work. It is an investment that plays an important role in the family's future. Therefore, it is only natural for you to be in the constant pursuit of home improvement not only for comfort but also to increase the resale value of your home. Today, there is too much misleading information that is making every homeowner rush to do home renovations all in an effort to get an extra buck out of their homes during resell. 
Bloomberg notes that the cost of renovations is on the rise, and therefore, you ought to be very careful not to plunge into an expensive home improvement that will not yield a desirable return on investment when you need to sell your home. We get it — with the number of home renovation and improvement ideas on the internet, it can be difficult to sieve through the garbage and invest in a worthy renovation project. We did a little digging and have listed a few home renovations that are not worth the time, effort, and money.
Building a swimming pool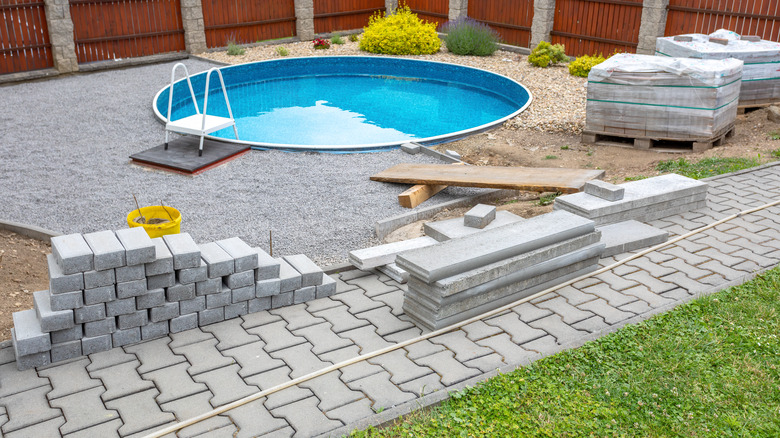 Artush/Shutterstock
It is quite understandable to imagine how a swimming pool in the backyard can be the reason for a buyer to choose your home over the competition. Think about it, who wouldn't want to kick back and relax with a glass of wine in the pool? While this might seem appealing, the cost implications of installing and maintaining a swimming pool make it more of a liability than an asset. 
According to LawnStarter, the cost of installing an in-ground pool ranges between $32,408 and $60,873, not to mention the maintenance cost and minor repairs that range between $3,000 and $5,000 annually. For this reason, installing a pool is less desirable to prospective buyers, and homeowners only recover about 43% of their investment, per the National Association of Realtors. Relative to the initial cost of this renovation, it will be difficult to make a financial case for why you need a pool if a good return on investment is anything to go by.
Master suite upgrade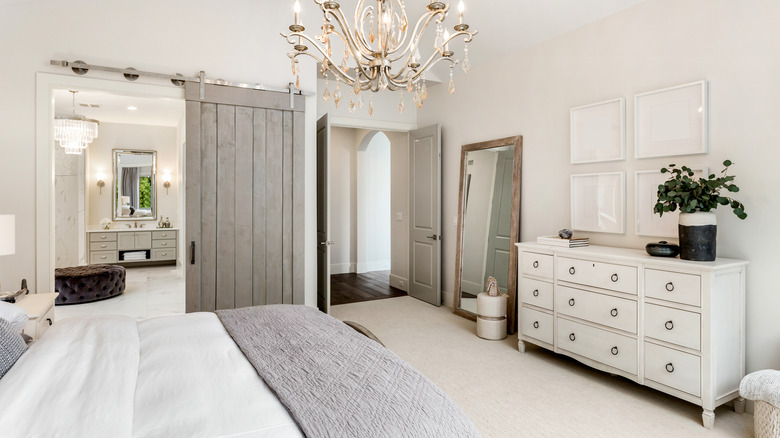 Breadmaker/Shutterstock
A new lavish master suite with luxuries such as a walk-in closet might make a good selling point for a home when reselling. However, it is worth mentioning that improving the master suite at the expense of other important living spaces in your home might not be a wise investment move after all. Reducing a three-bedroom house to a two-bedroom all in the name of improving the master suite will hurt your home's resale value. You should also know that a major master suite upgrade featuring a private kitchen, new French doors, and a fireplace comes with a hefty price tag of about $125,000. 
The National Association of Realtors' 2019 report mentions that you will only recover about 50% of your initial investment after resale. Alternatively, consider less costly bedroom upgrades that promise a better ROI. One rule of thumb you should always go by is that the more bedrooms, the better your house value regardless of what the master suite looks like.
Wall-to-wall carpet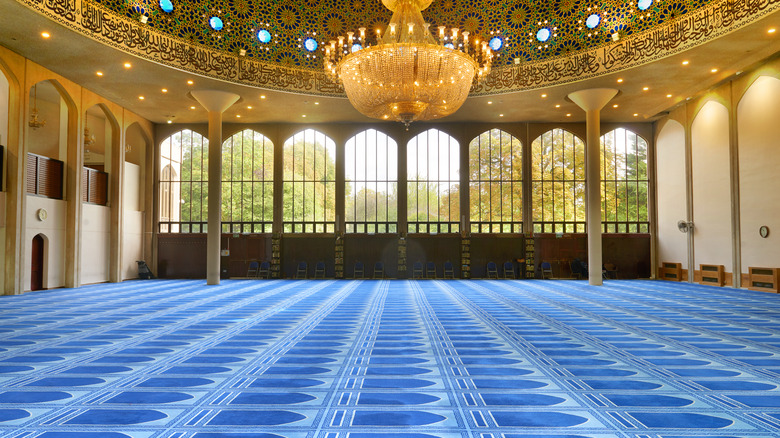 Peter Dazeley/Getty Images
A soft, cozy walking surface at home has been a good selling point in the past. However, things are different nowadays — fluffy carpets are no longer as desirable to prospective home buyers because of the increased risk of harboring allergens. A 2018 study in the International Journal of Environmental Research and Public Health mentions that carpets easily compromise indoor air quality and could have adverse health risks as well. Although wall-to-wall floor carpeting might not be as expensive as other home renovations, it is among the least recommended upgrades since it is likely to hurt the value of your home and you might also end up not recovering your initial cost of investment. 
If you need to upgrade the floors of your home, there are better alternatives that not only have a good return on investment but will also increase the value of your home. Wood floors are a great choice that promises a return on investment of up to 107% as detailed by the National Association of Realtors.
High-end upgrades in midrange homes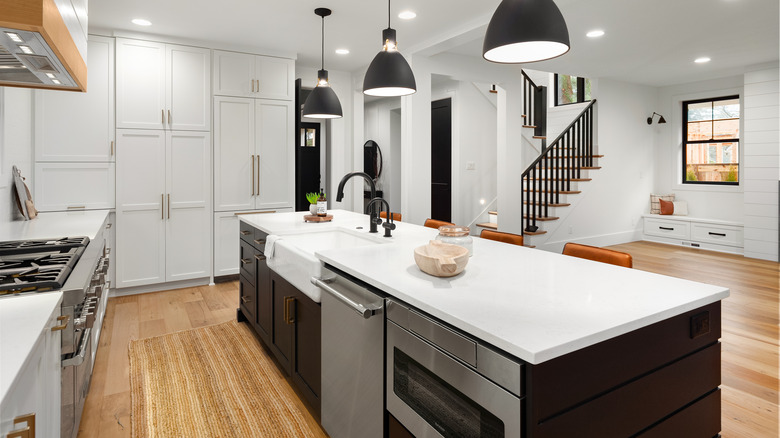 Breadmaker/Shutterstock
Let's face it, a few high-end upgrades whether in terms of appliances or a few renovations around your home will not do much for your home's value. To get the most out of home upgrades, you need to keep everything consistent, from the type of home to the quality of upgrades and renovations across the board. Luxury homes stand a greater chance of benefiting from high-end renovations, which are often consistent for every room in the house. The logic behind inconsistent upgrades not translating well as far as ROI is concerned is that the renovation feels incomplete. 
A home with a luxurious entryway design but older interior home décor looks like a work in progress, which is not appealing to many home buyers. You will need to bring the rest of the house to an equal standard if you are to get a good deal out of your current renovation standards. Also, luxury doesn't always mean a better ROI. Remodeling Magazine's 2020 Cost vs. Value Report notes that while a luxurious kitchen upgrade recoups up to 53.9%, a midrange upgrade promises an ROI of about 77.6%.
Too much building for your neighborhood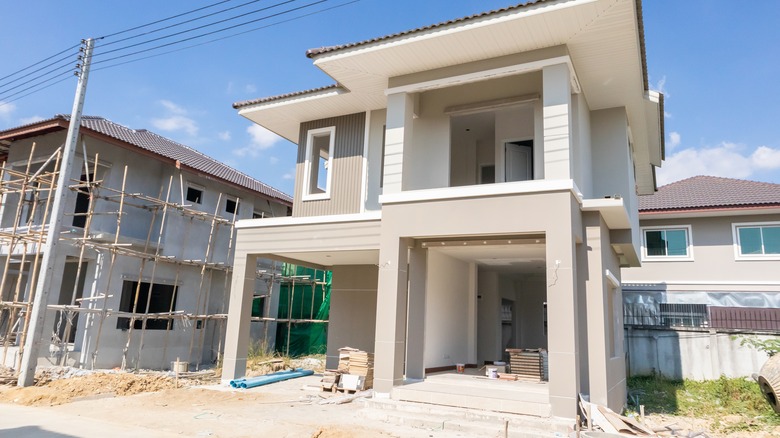 Kwangmoozaa/Shutterstock
A home addition is another popular home renovation idea that could easily play in favor of or against your future prospects of getting a higher value for your home. One common mistake that many homeowners fall victim to is overbuilding a house without giving consideration to the neighborhood and homes around them. Before plunging into an expensive home addition, such as adding several stories to your home, consider the type of houses in your particular neighborhood and whether the addition will add significant value when reselling. 
According to The Real Estate Appraisal Group, the cost of similar houses in a neighborhood often has a difference of between 10% and 15%. So, regardless of the cost of your home addition, it is highly unlikely that the value of your home will increase more than the mentioned percentages. Simply put, prospective home buyers will not be willing to pay more than the average cost of housing in a given neighborhood.
Converting a bedroom to an office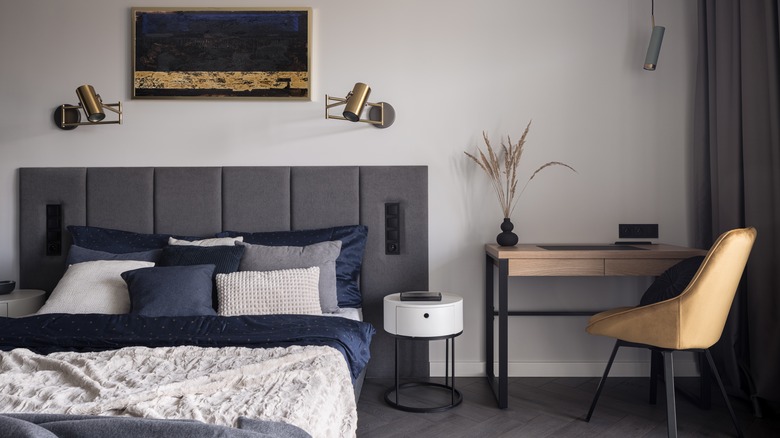 Dariusz Jarzabek/Shutterstock
In today's world of remote work, it might be tempting to take an unused bedroom or guest room and convert it into an office space. Removing the closet, installing custom built-ins, and adding French doors might give you the workspace of your dreams. However, it could also ding your home's value and marketability. Keep in mind that while you might be gaining an office, you'll be losing a bedroom from your floor plan. This could make or break your sales potential, especially with home buyers looking for a specific number of bedrooms. It can also decrease your property's value as you lose a sleeping space.
Instead, consider repurposing an office in a way that maintains its usability as a bedroom. Retain the closet space and even consider a Murphy bed for guests to sleep on. Or, install a small drop-down desk and add a chair to a current bedroom set up to create a multifunctional space. If you are still married to the idea of permanent office space, consider other areas of the home like your dining room. Angi founder and CMO Angie Hicks tells Proud Green Home, "The formal dining room might have once been a must-have, but it's rapidly becoming the most repurposed room in the house." With only 8% of homeowners rarely using the space, you'll likely retain your value by converting it to a home office while keeping your extra bedroom intact.
Expensive landscaping and hardscaping overhauls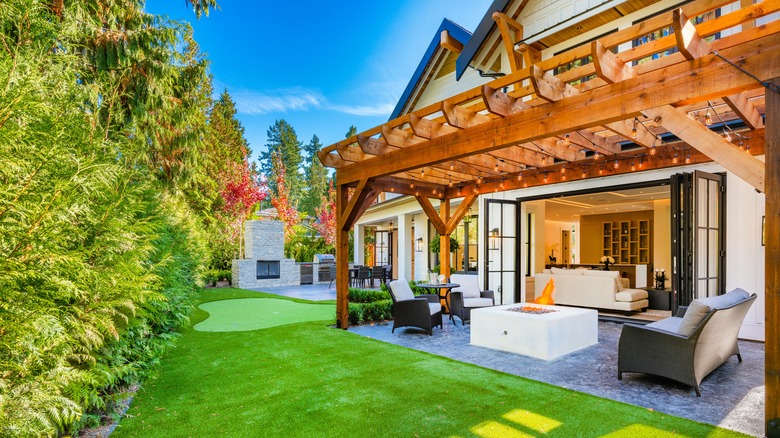 Sheila Say/Shutterstock
Creating a big garden and grand hardscaping structures can create a stunning backyard oasis. However, spending too much on your landscaping and hardscaping can mean you'll never see a full return on your investment. American Society of Landscape Architects (ASLA) recommends keeping your landscaping budget to around 10% to 20% of your home's value.
Buyers love a good, clean, manicured lawn and neat flower beds. However, many buyers also want to put their own stamp on their new yard and make it their own. Investing in a mature, flowering tree may boost curb appeal. However, prospective buyers might balk at the high-maintenance upkeep and foliage clean-up. This also means that a new expensive pergola or costly paver patio might not be the best investment project. In fact, Tonya Bruin, owner of To Do Done handyman service, tells Supermoney, "The average return on investment from a hardscaping project is around 20 to 30%." So, sticking to consistent maintenance and basic landscaping will likely be your best bet.
Converting your garage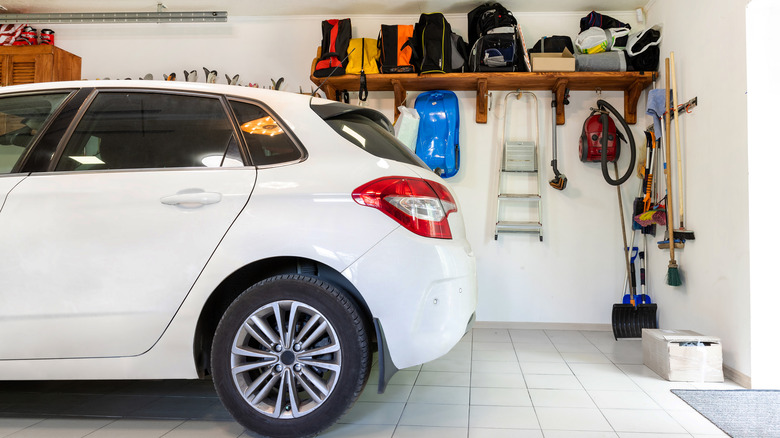 Gorloff-KV/Shutterstock
Adding a bedroom or living space can boost your home's value, so many homeowners are tempted to utilize their garage area and convert it into a liveable space. However, that comes at a cost. According to a Realtor survey, 30% of buyers rate the garage as one of the most important features of a property, marking it as more important than a renovated kitchen or a modern open floor plan. This means that eliminating yours could significantly reduce your pool of buyers.
Then, there's the cost associated with converting your garage. According to Angi, the costs to convert a garage can range from $5,709 to $23,910, depending on the permit prices in your state and how elaborate your plans are. There's a potential for an 80% return on investment for garage conversions rather than fully recouping costs. Plus, you are eliminating the enclosed parking area, meaning that you could deter prospective buyers.
Adding solar panels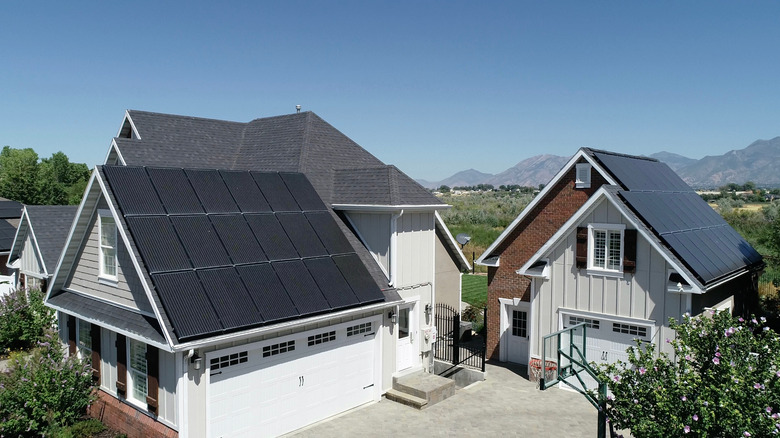 Solar Goat/Shutterstock
Going green by adding solar panels to your home is a great way to offset energy costs in the future. However, it's likely not going to add value to your property. According to the Center for Sustainable Energy, a typical residential solar system will run buyers about $15,000 to $25,000 on average. Then, it takes about six to nine years for the solar panels to recoup their costs by offsetting utility bills.
As far as your property value is concerned, you could see a slight increase in value of about 4.1% (via Zillow). On a median-priced home, that equates to about $9,274. Compared with the significant installation costs and the time it takes to offset energy costs, this makes it a poor short-term investment. However, if you plan to live in your home for years to come, going solar can be beneficial for reducing your footprint in the long run.
Custom basement projects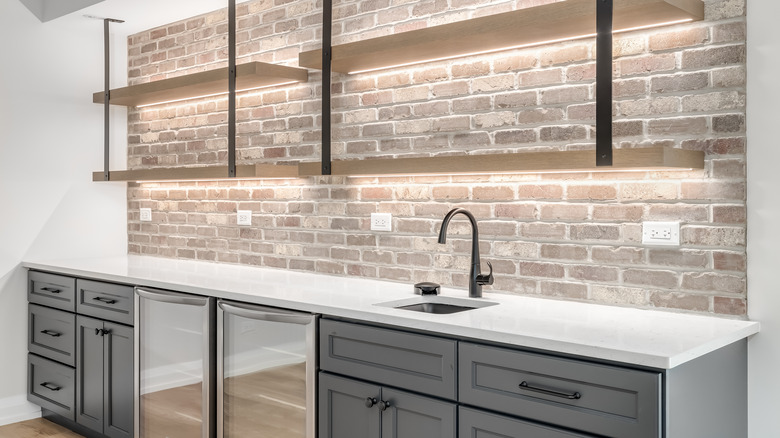 Hendrickson Photography/Shutterstock
Finishing your basement into a customized space can be an awesome way to personalize your home. However, it's a costly undertaking. According to HomeAdvisor, the average basement remodel costs between $12,194 and $33,309. Plus, adding additional features can significantly increase the costs. Adding a bathroom will tack on another $8,000 to $15,000, while a wet bar installation can add anywhere from $500 to $22,500.
If you plan to sell your home, you can expect to see around 70% of those costs recouped (via Remodeling). However, this factor can vary greatly depending on the region where your property is located. This could change if you use specific customizations like a wine cellar or sauna instead of a neutral basement area. Then, you'll have to find the right buyer willing to pay the premium to recoup your investment. Instead, create a flexible space so buyers can envision living in the home and can make the basement their own.
Trendy high-end bathroom remodel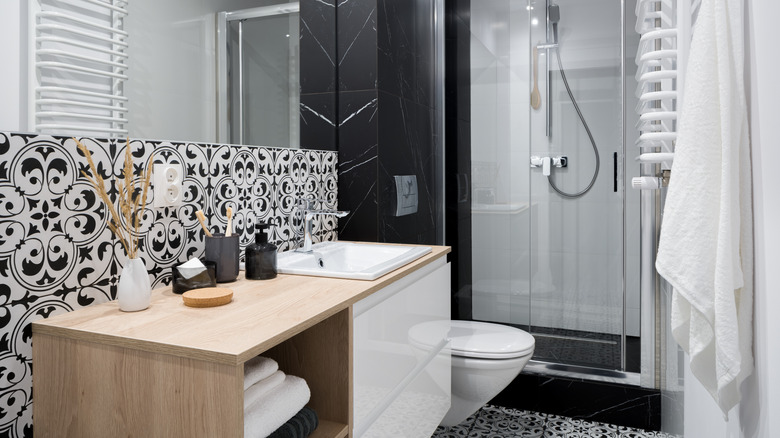 Dariusz Jarzabek/Shutterstock
An on-trend bathroom remodeling project with premium finishes may feel like a smart move. However, you likely won't see a full return on your costs. Bathroom renovations can be pricey, and in some regions, you might see as low as a 58.8% return on your investment, as per Zillow. Plus, as Remodeling points out, those high-end finishes likely won't pay off. Upscale bathroom remodels only recoup an average of 51% of the remodeling costs.
Permanent bathroom details like graphic tiles or trendy faucets and light fixtures can also be a downfall for resale. If the potential buyer doesn't like them, it will take significant time, energy, and money to replace them. You also want to avoid high-tech gadgets that might look impressive initially but might turn off investors. This includes things like smart showers, mirrors, and toilets. "Every time we walked past the bathroom during a showing, the toilet came to life and scared the daylights out of us," broker Lauren Cangiano told Realtor. "The lid would open and close, and lights started flashing. I'm guessing it was set in such a way that someone could find the toilet in the dark. The zinger was when my client dropped something in the bathroom and water started squirting up out of the toilet. I think she activated the bidet setting!"
Adding a sunroom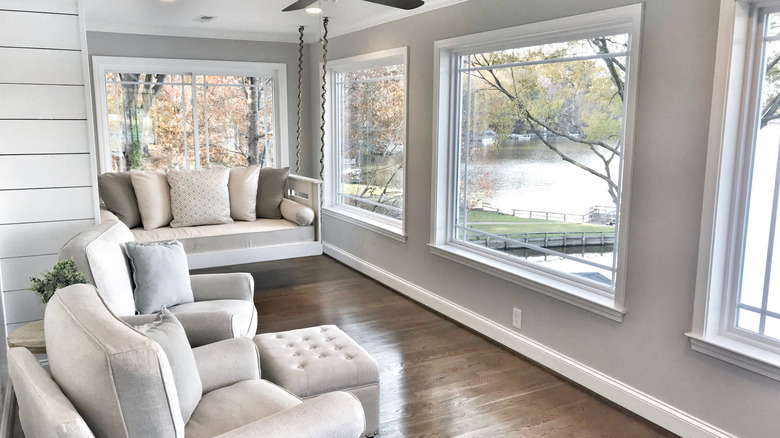 ocwarfford/Shutterstock
If you live in a climate where a sunroom allows you to enjoy more of nature, it can be a tempting project. However, it's also a costly one. As Remodeling reports, a sunroom can cost well over $70,000. However, the average value increase in property value is less than $40,000, making it a poor way to boost your resale price.
Plus, buyers might be turned off by the increase in property taxes and homeowners insurance that come with a sunroom. They might enjoy the look of it, but not enough to be shelling out thousands of extra dollars a year. And, as MasterClass points out, a four-season sunroom can cause an increase in energy costs by putting more strain on the HVAC system. So, if you'd like to add a sunroom, do it to enjoy the great outdoors, not as an investment in your property's value.