Is Macrame Decor Coming Back In Style?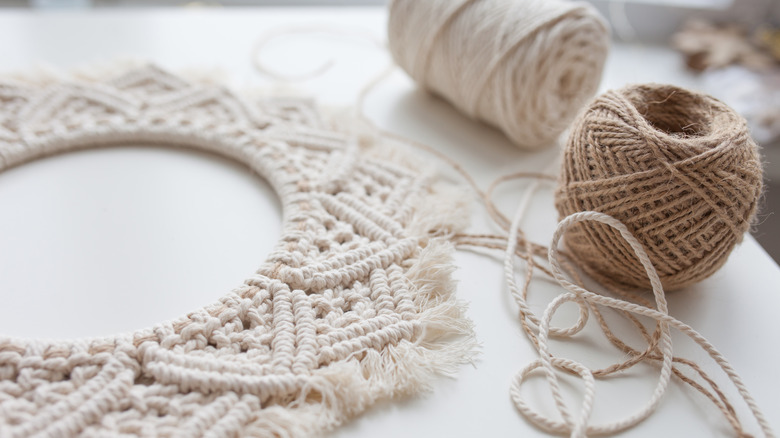 Liudmila Fadzeyeva/Shutterstock
Traditionally associated with the 1960s and 1970s bohemian movement, macramé is a textile art form of knotting and hitching that is thought to have originated in the 13th century, possibly beginning with Arab weavers, says Ancient Earth Designs. This craft has resurfaced, ebbing and flowing in popularity over centuries. It became wildly popular in Victorian times and has again made a fashionable comeback in the 2020s, even turning heads on runways.
In macramé, cotton cords, yarn, hemp, or jute, are twisted and tied in a variety of knots to create intricate patterns that are defined by Merriam Webster as fringe or coarse lace. About 50 years ago, the macramé trend reached legendary status with items such as hand-knotted tablecloths, plant hangers, purses, and ornate owls. Now, the twisted yarn craze is back, but this time with a more modern boho twist. Its heavily textured style has inspired designers, artists, and craftspeople to recreate this woven art, making it better suited to today's homes and bohemian clothing styles.
Macrame trends for the home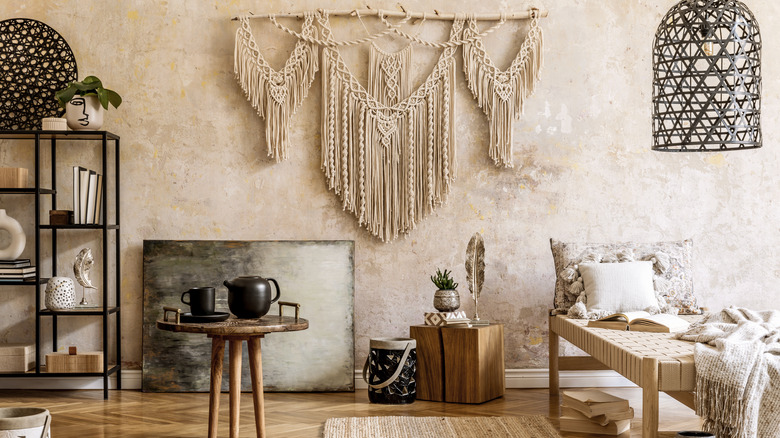 Followtheflow/Shutterstock
This new shabby chic style of macramé lends well to a trendy, relaxed decor. From custom throw pillows to majestic feather wall hangings, and knotted doorway garlands to fringy plant skirts, the fun is endless. Homes to Love features delightful traditional applications of macramé to new, unexpected ones that are colorful and use bolder crafting materials. Common decor items include textured wall art, knotted-woven table runners, and boho-elegant plant suspenders. The website includes a macramé chair, which is a nontraditional approach to the art but is spot on for modern trends.
Creating macramé decor can be as easy or as complex as you want it to be. There are countless tutorial videos on YouTube for free. And if you don't want to make one yourself, you can find plenty for sale online that are made by individual crafters and niche retailers. Even large retailers like Wayfair and Walmart have a selection of macramé items for the home.
Macrame trends for the body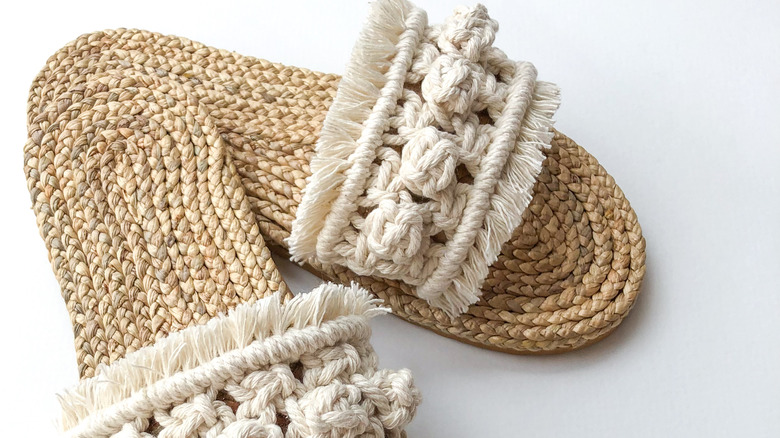 Tangerinesky/Shutterstock
A bohemian fashion style is relaxed, unconventional, and expressive. It's also known as boho chic, or boho, and is related to a loose-fitting, hippie-style fashion that mixes natural fabrics in neutrals and warm shades with funky, retro patterns. It favors a hint of 70s flair with statement pieces and accessories such as macramé handbags, shawls, dresses, and jewelry. Harper's Bazaar coins 2022 as the year of borrowed trends, including macramé, which graced runways with models dressed in revamped 1990s boho chic styles complete with macramé pouches and accessories.
To build your collection of macramé items, Morning Chores lists easy beginner projects from watch bands made of colorful knotted threads to simple jewelry. Boho style retailer, Taika says to care for your macramé items gently by spot washing any stains in cold water and allowing them to dry air dry. If the knots become loose over time, carefully tighten them. Proper care now can help your macramé clothes and accessories survive until the next macramé trend hits.