25 Kid-Approved Bunk Bed Ideas That Will Add Space And Style To Your Home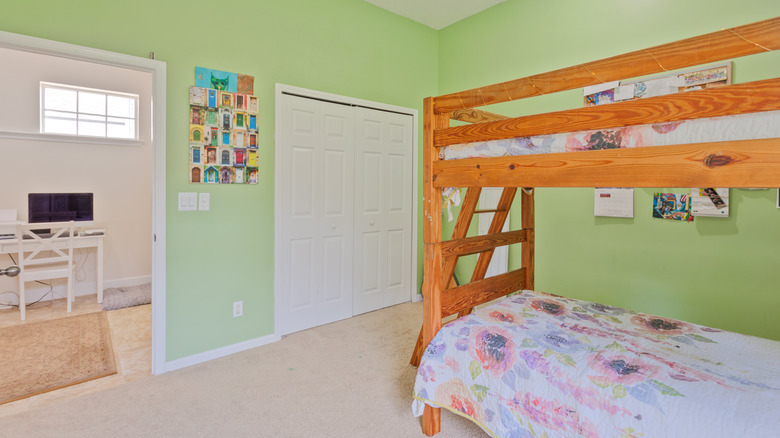 Pipas Imagery/Shutterstock
A child's bedroom is a very personal space; it's where they go to get alone time and enjoy a restful night of sleep, but most of all, it's where they can create a space that is completely theirs.
According to The Strategist, bunk beds are an excellent way to maximize the space in a room if you have multiple children. These space-saving beds come in several different styles that your kids will love ... your only issue may be them fighting over who gets the top bunk! But age matters! The American Academy of Pediatrics (AAP) explains to Cubby at Home that kids shouldn't sleep on the top bed until they turn six.
While you and your children decide on a decor aesthetic — there are rooms that help a child learn (we love that!), outer-space-inspired decor, and bedrooms catering to the dinosaur-obsessed – check out these 25 kid-approved bunk bed ideas to add style and space to your kid's room!
1. Bunk bed built-ins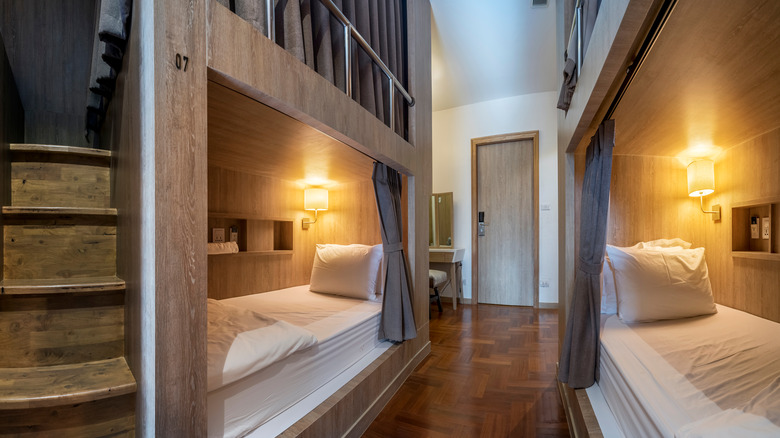 worradirek/Shutterstock
These bunk beds are incredibly luxurious since they are made of wood and have a light installed, which would be perfect for late-night reading. It is a great way to fit four kids in one room without sacrificing style.
2. A simple style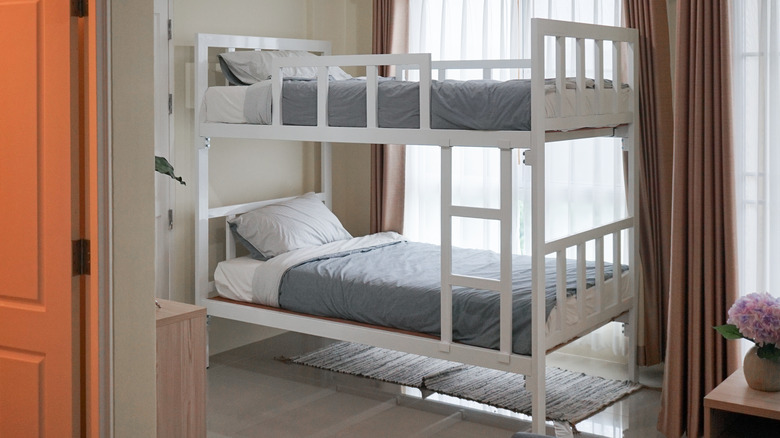 enchanted_fairy/Shutterstock
These white bunk beds are an effortless design that would work in just about any room. They look great with gray bedding, or you could go all out with a theme your kids love!
3. Naturally cool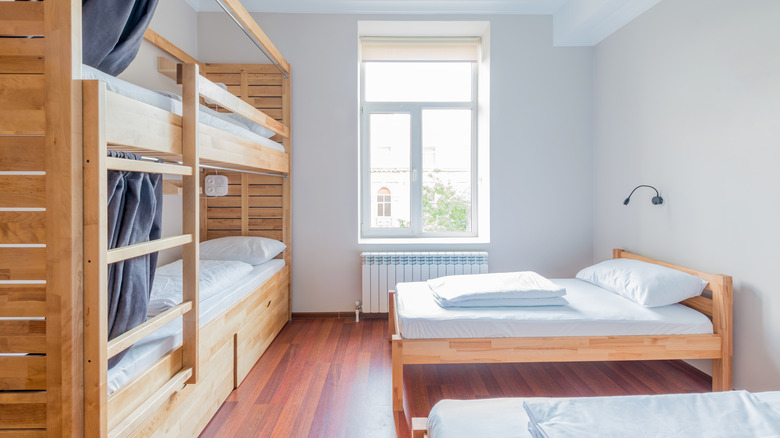 Elnur/Shutterstock
These bunk beds are made of natural light wood, which looks gorgeous in this well-lit bedroom. The light baby blue walls provide a great backdrop for many different themes.
4. Two-toned bunks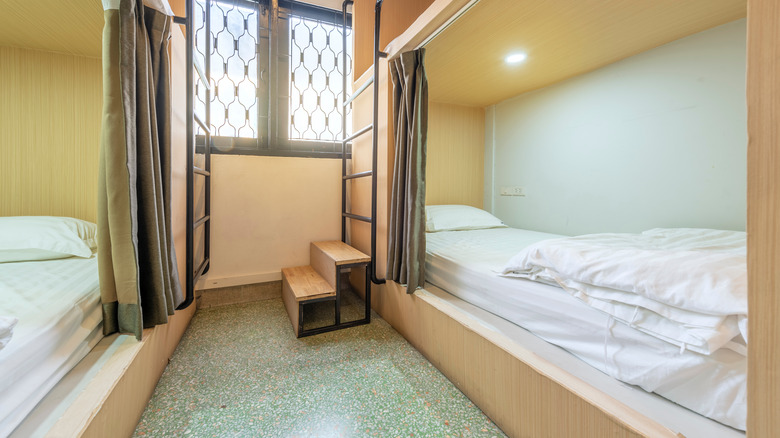 worradirek/Shutterstock
It's never a bad idea to play with interior paint color. These built-in bunk beds are made of wood and are gorgeous on their own, but there's some creativity happening when it comes to paint. The homeowner opted for light green walls and a mustard ceiling.
5. An immaculate custom bed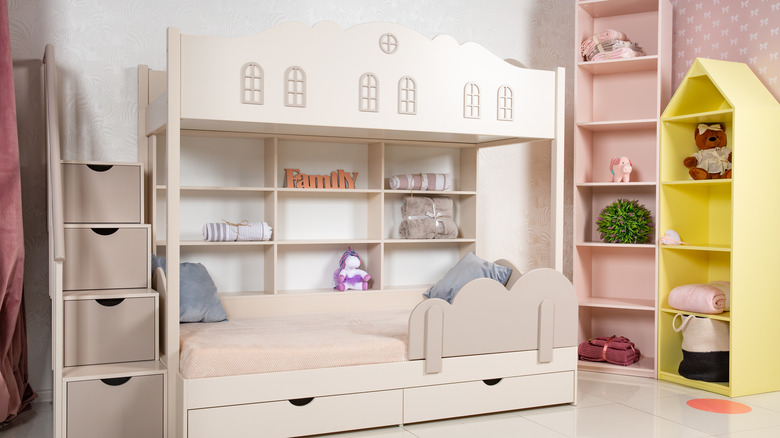 Sherbak_photo/Shutterstock
This unique bunk bed would be a dream come true for any child! There's even shelving between bunks for your children to display their favorite items. Two separate shelves in pink and yellow allow each kid a place for their own items.
6. Make it pop with purple walls
Scott-lee/Shutterstock
This gorgeous bedroom is made to be super stylish. It has purple walls, which really make the white bunk beds stand out. Plus, what kid wouldn't love a tipi in their room?
7. A black and white stunner
Ruben M Ramos/Shutterstock
This room looks quite dynamic with black and white walls, a green lamp with white polka dots, and of course, a tipi. It's easy to see how a room with a basic white bunk bed can look extra stylish.
8. A classic wood bunk bed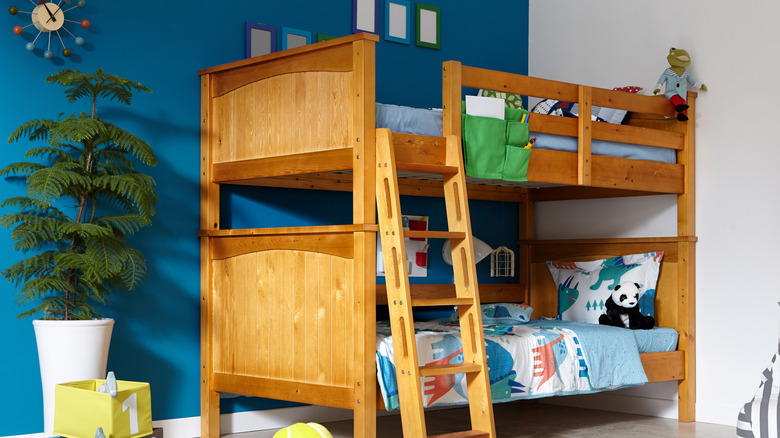 Scott-lee/Shutterstock
This bunk bed style is definitely classic, featuring traditional wood. A blue wall and dino sheets would be the route for children looking for a dinosaur-themed room.
9. A bunk bed with a little house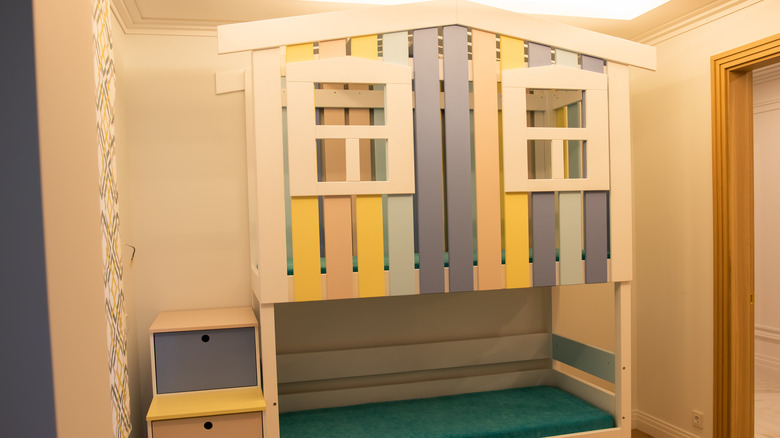 Vitalii1/Shutterstock
This DIY bunk bed is one of the coolest designs we've seen. All you need are a few planks of wood to create a tiny abode that shields the top bunk and gives the room a unique aesthetic. The house was painted in several colors, including white, yellow, pink, and gray, but you could choose your child's favorite color.
10. House goals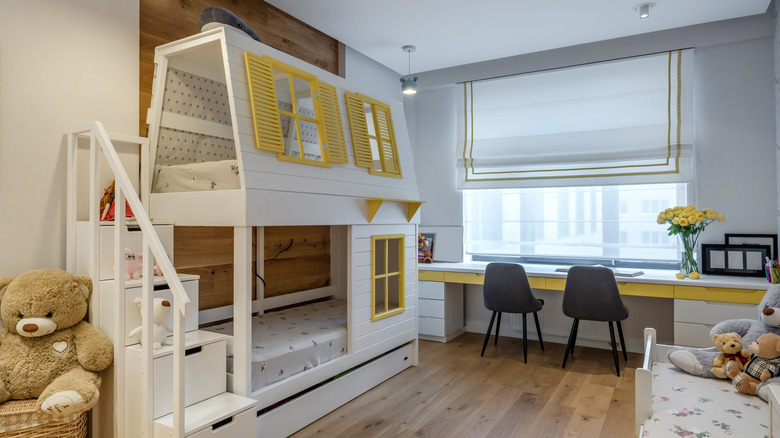 jantsarik/Shutterstock
Another creative bunk bed features a small house frame with pretty yellow shutters. Yellow details are seen throughout the space, including trim on the desk and, of course, some fresh flowers. The bottom bunk even has a window with yellow trim, so no detail is left unnoticed here.
11. Light wood bunks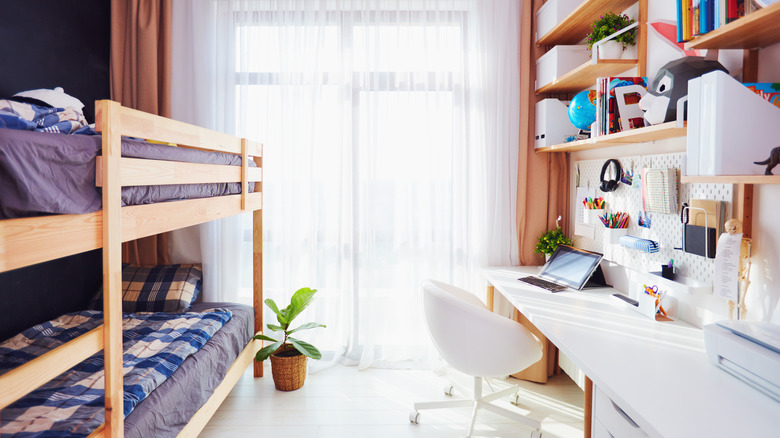 Olesia Bilkei/Shutterstock
These bunk beds made of light wood are a natural choice and look great with the correlating wood shelving. The desk is large enough for two siblings to get homework done, and these bunk beds make it possible for a room as functional as this one.
12. Go for a sophisticated look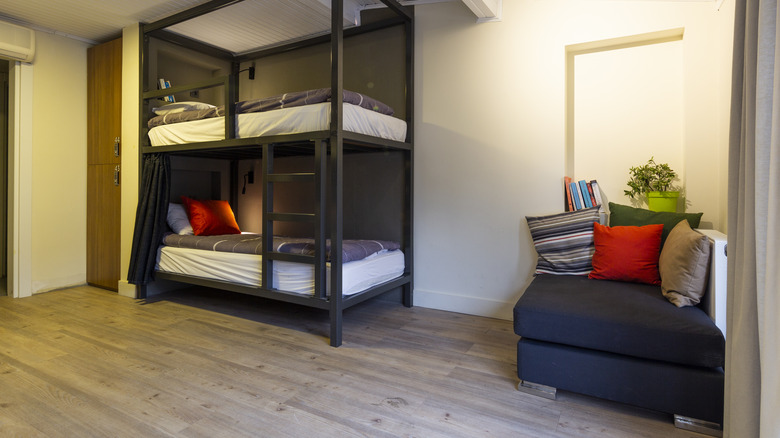 Alpay Erdem/Shutterstock
This sophisticated bedroom looks like it would be ideal for older kids. The bunk beds are painted dark gray, and the homeowners stick to a chic color palette of dark gray, white, and red.
13. Total luxury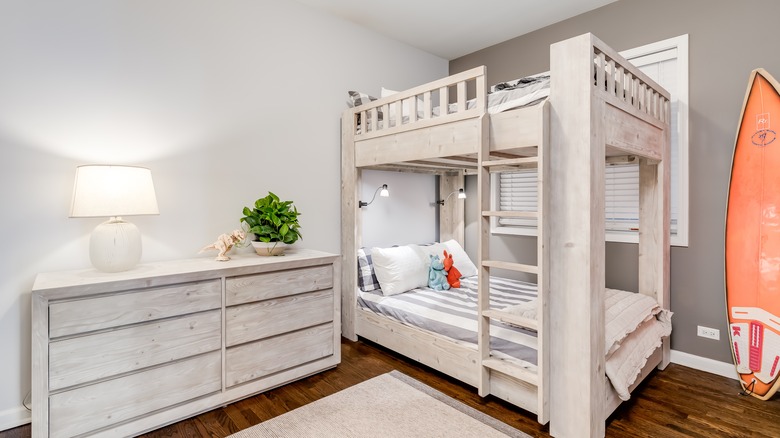 Hendrickson Photography/Shutterstock
This light whitewood is ultra-luxurious and coordinates with the dresser perfectly. The natural colors are completely soothing and are seen on the walls too. The only pop of color is the surfboard in a bright, eye-popping hue.
14. Blues clues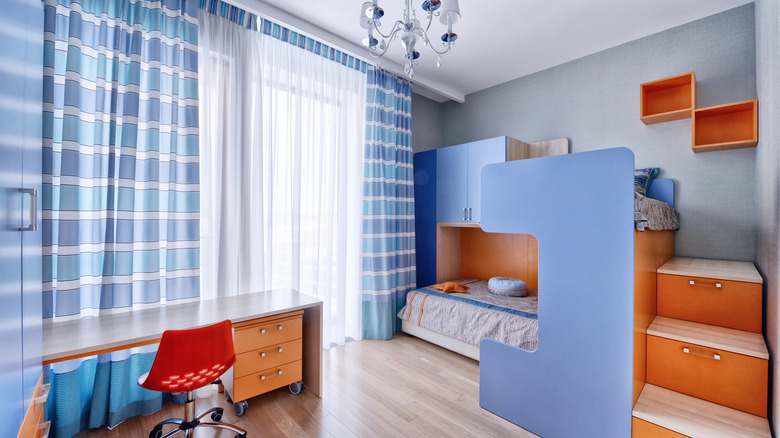 Vadim Ovchinnikov/Shutterstock
This creative room has unique blue bunk beds that have an interesting shape. It's safe to say that they are the room's focal point — and happen to look good with pops of orange on the stairs.
15. Clean lines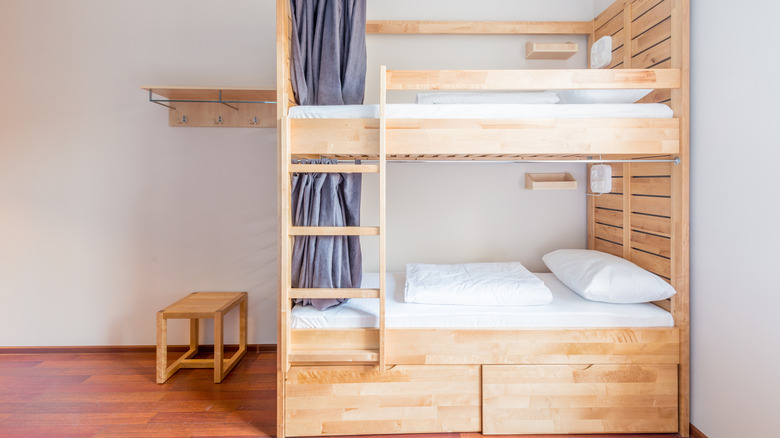 Elnur/Shutterstock
A pretty, light wood is always a good idea, and we love how clean the lines are when it comes to the construction of this bunk bed! All it needs is simple white bedding to look pulled together and a curtain to shield out the sun.
16. Built-in bunks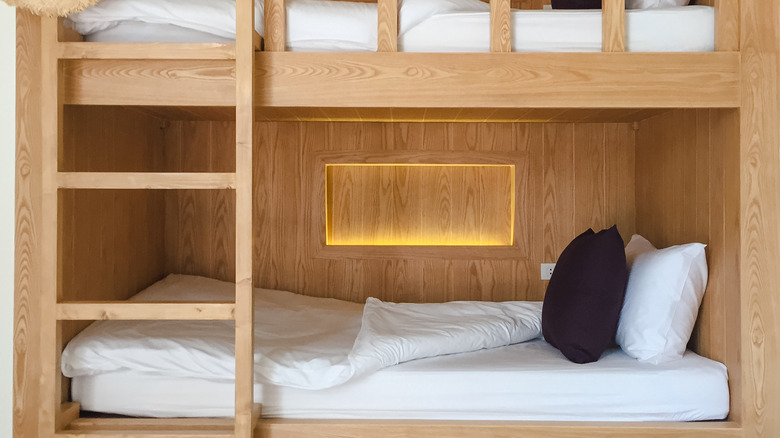 Tirachard Kumtanom/Shutterstock
These snazzy bunks remind us of a swanky hotel we stayed at in NYC with similar space-saving beds. We love the luxe wood and the gorgeous lights that illuminate when all of the lights are out.
17. Go larger on the bottom bunk
Artazum/Shutterstock
If you have children that are different ages, this bed situation is ideal. The lower bunk is a queen bed that is ideal for an older child, while the top bunk is a twin, which works for the younger sibling.
18. Get creative with placement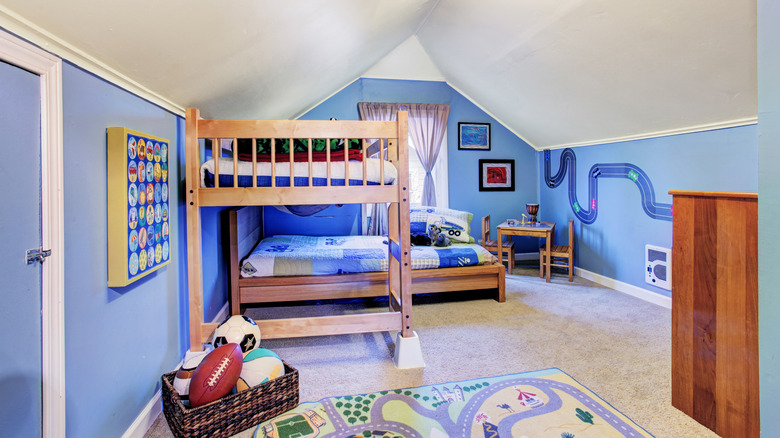 Artazum/Shutterstock
This attic space is almost too perfect for a bunk bed scenario. It slides in right under the eaves, plus the bottom bunk isn't positioned right underneath, so you can get creative!
19. A unique shape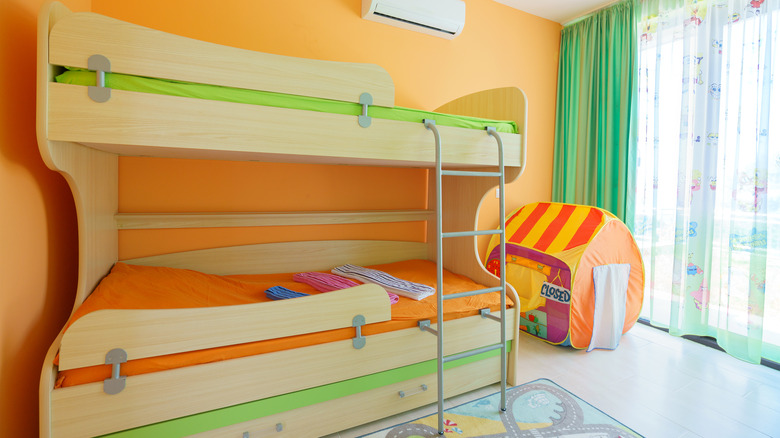 Natalya Volchenkova/Shutterstock
This bunk bed style is unique, with a totally different style than the norm. We love the splashes of bright orange and green for a room that pops.
20. So simple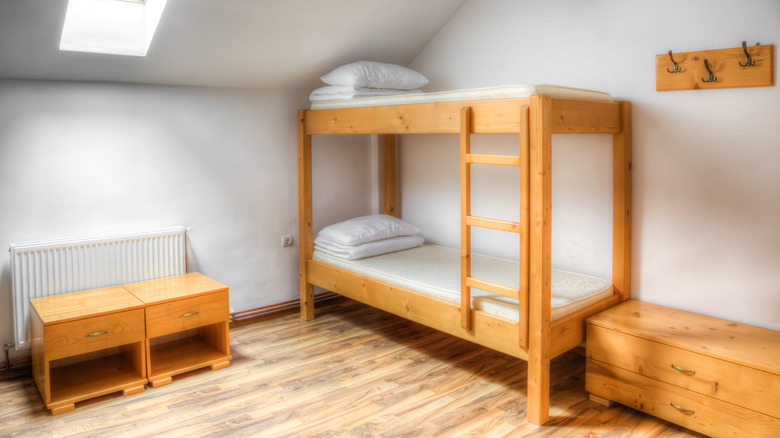 Radu Razvan/Shutterstock
This bunk is streamlined with thin wood planks in a medium tone, which looks excellent when paired with simple bedding; although, we suggest going with a bright color to make the room more interesting! 
21. Another creative option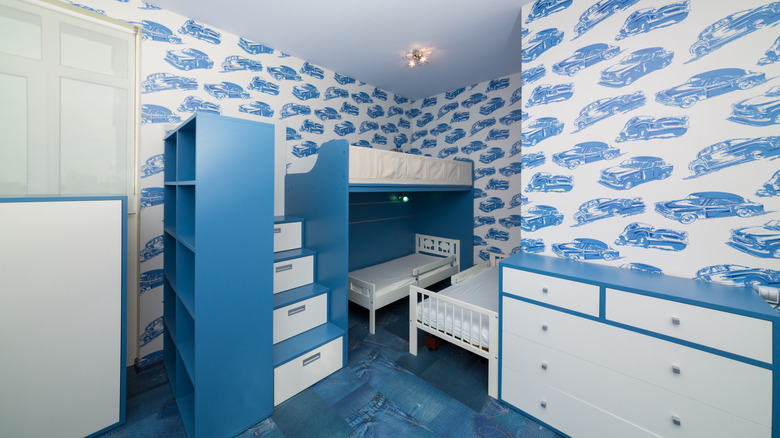 Pavel L Photo and Video/Shutterstock
This boxy blue bed can fit a twin mattress on the top bunk and a smaller bed inserted underneath, certainly making it a unique style. Next to the stairs is a convenient bookshelf that is ideal for late-night reading.
22. A sweet wooden bunk bed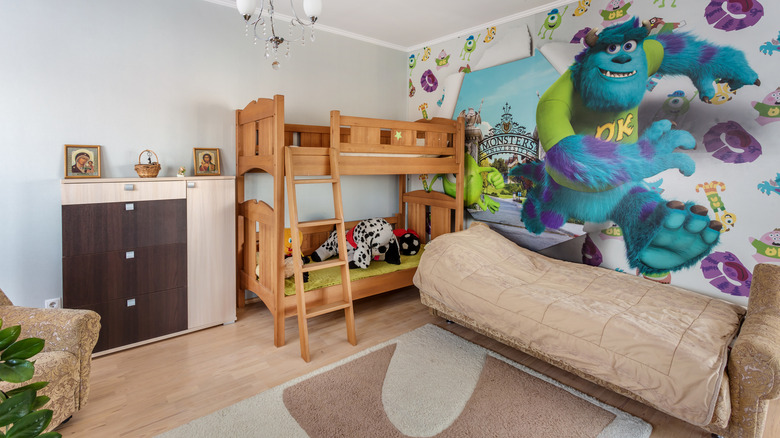 jantsarik/Shutterstock
This wooden option in the corner of the room might not be the first thing you see. After we took our eyes off the massive Monsters, Inc. wallpaper that any kid would love, we couldn't help but fall in love with the sweet detailing of this bed.
23. Get creative by adding a sofa!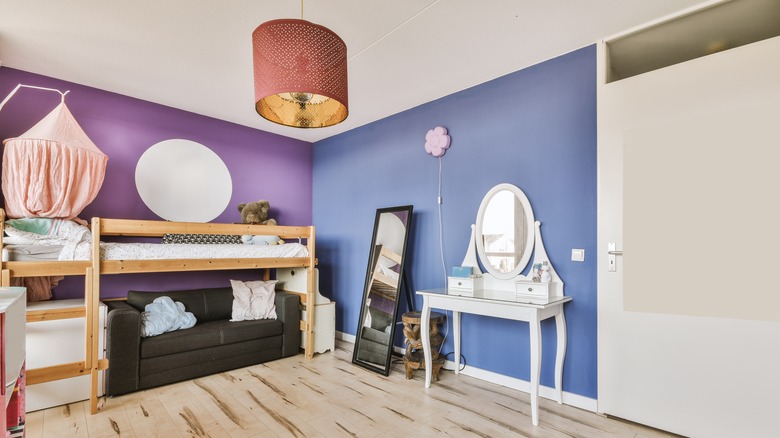 Procreators/Shutterstock
Now here's a brilliant idea! Instead of having a bed for the bottom bunk, these parents swapped it for a comfortable sofa. Intelligent parents, indeed! We could see ourselves taking a midday nap here when the kids are off at school.
24. A modern living situation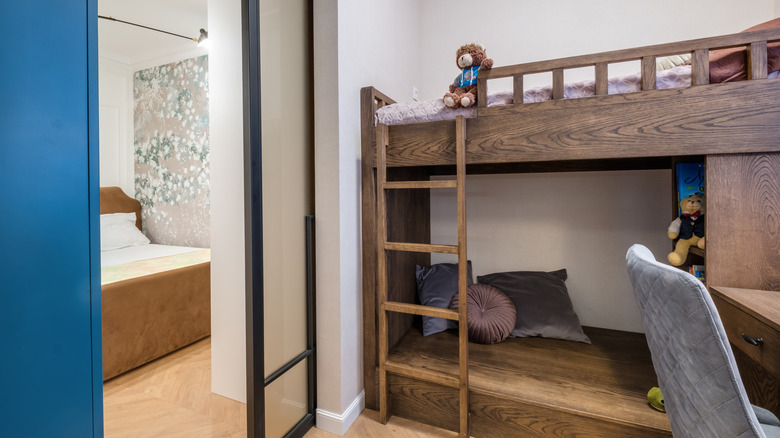 jantsarik/Shutterstock
This Jack and Jill bedroom is a brilliant option for parents of really young children. The bunk bed is a rich mahogany wood that looks refined, and we love that the homeowners don't have a mattress on the bottom, making it the perfect space for a child to play with their toys. If a bed is needed, it's easy to add the mattress!
25. A small yet chic room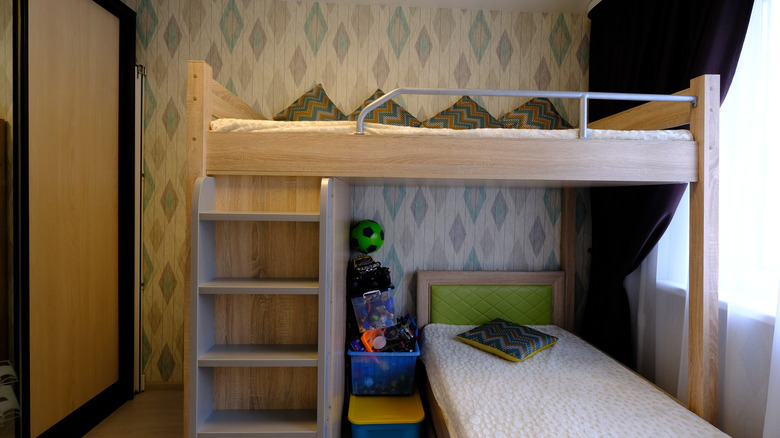 AleksSafronov/Shutterstock
This room may be tiny, but it doesn't lack style. It features a bunk bed, a creatively positioned lower bunk, and a unique wallpaper pattern that we can't stop obsessing over.