The Best Ways To Store And Organize Your Hats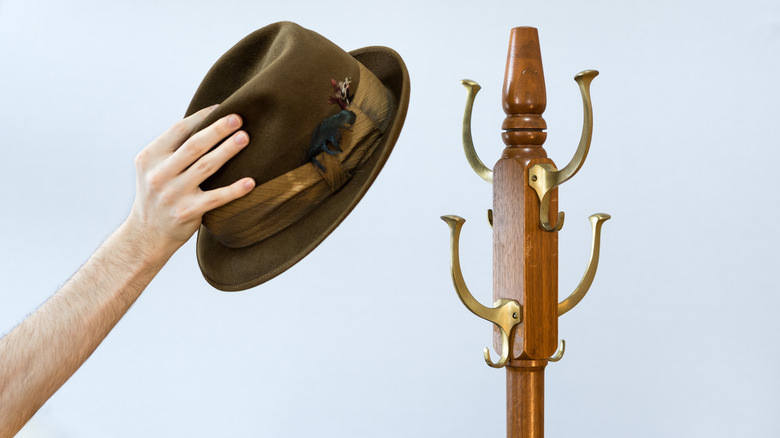 Jordan Feeg/Shutterstock
We may receive a commission on purchases made from links.
Having a dedicated place to store your outerwear is always a good idea, and shoe racks, coat racks, and umbrella holders are found in almost every mudroom. But what about hats? Hats are worn year round no matter the season, for both formal and informal occasions, and should be given the same storage and organization dedication given to shoes, jackets, and coats.
The reason they may be so neglected in the world of home organization is due to how awkward they are to store. Sock hats are too flimsy and awkward to display, whereas structured hats like those with a wide brim or fedoras take up a lot of space and can't easily be stored in storage bins without causing damage. With so many variables, it can seem easiest to just shove them all in a dark corner or let them stay scattered around your house. But, as Hats Unlimited points out, they can easily get crushed when improperly stored. Don't give up hope just yet as there are ways to properly store and organize your hat collection.
Repurpose a shoe organizer
Your closet space is truly invaluable, allowing you to discreetly store any number of clothing and accessory items in one dedicated area. A common storage item found in lots of closets are hanging shoe racks, whether it's a large sleeve with multiple pockets, like this one from Home Depot, or small fabric cubbies, like this one from Amazon.
These racks don't just have to store shoes, though. The Organized Mom made clever use of hanging shoe racks to put away multiple hats. They specifically used this storage solution for baseball hats, which can be easily stacked in cubbies or tucked neatly into shoe pockets. You can store any number of hat types in these cubbies and pockets, though, as long as you buy one large enough. This method is perfect for being able to see all of your hats at a glance while keeping them neatly tucked away and organized.
Show them off on wall hooks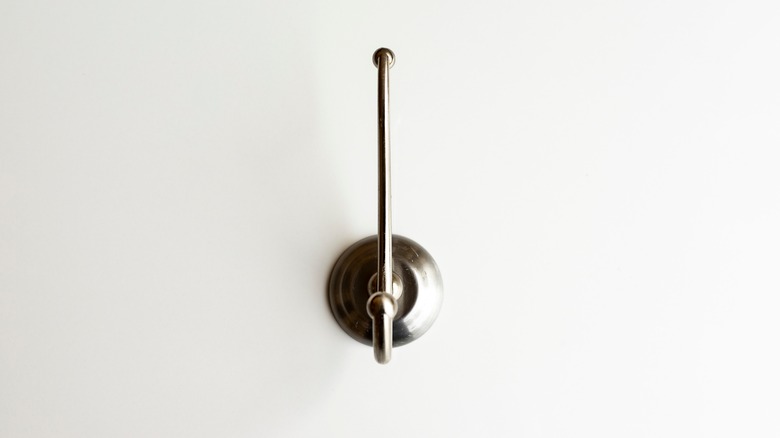 Bilalstock/Shutterstock
On the other hand, if you want to show off your hat collection while simultaneously keeping it organized, consider hanging your hats on the walls, almost like decorative pieces. Tenth Street Hats explains that a great way to do this is to store them on individual hooks. While one large rack with multiple hooks works, wide-brimmed hats will start to overlap and crowd one another.
You can start simple and discreet with Command Strips or other similar adhesive hooks, simply hooking the hat on. This works best for lighter-weight and softer hats like beanies, bucket hats, or baseball hats. If you want a more distinguished look, though, go for some stand-out hooks that will accentuate your hat collection. Just take care that the hooks aren't sharp and that the tips are wide and round, which will keep your hats from bending or warping. Hang them out of the path of direct sun, which can also cause damage.