What Is A Lanai?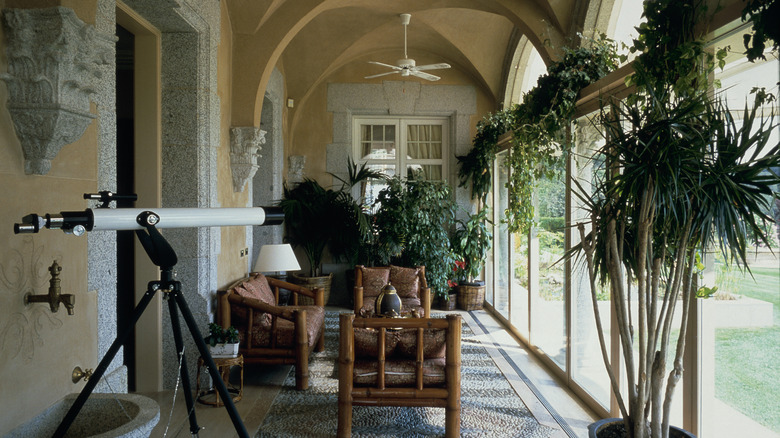 Construction Photography/avalon/Getty Images
Ah, the lanai. Its mere mention calls to mind lingering afternoons, tropical breezes, and Mai Tais from the outdoor tiki bar. For southerners, the lanai is as much a quality of life essential as the front porch is for New Englanders, and as indispensable as a patio to southwestern homemakers. Each one provides a much-needed refuge to recharge, reflect, and relax. But since their functions are so similar, they're often confused for one another.
St. Louis Magazine provides a handy guide to the differences. You can think of a lanai as an extended porch at the rear of the home. However, porches are more often enclosed, while lanais tend to simply have roofs. Otherwise, at least one wall opens to the elements to take every advantage of breezes coming in off the ocean. Porches can be covered areas at the front or back of a house. On the other hand, patios most often have uncovered paved floors that open to the yard out back. You'll see patios alongside grills, picnic tables, and hot tubs.
There are also similarities — and obviously differences — between lanais and verandas, especially since verandas typically wrap around the building and can be located on a second floor or higher. But perhaps the most important distinction is that lanais are not just for the end of a workday or reading the Sunday morning paper. The lanai aspires to be your outdoor den.
Lanai furnishings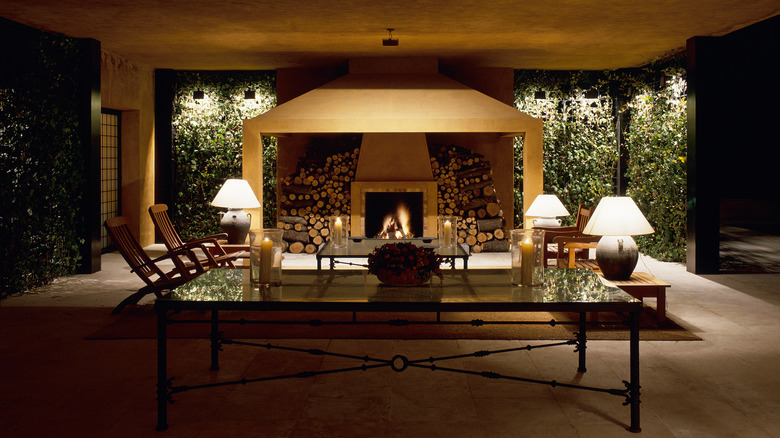 Construction Photography/avalon/Getty Images
With its open floor plan and room for tiki torches, lanais are particularly popular in tropical climates — most especially in Florida and any of the southern states that border the Gulf of Mexico or the Pacific. Because humidity is typically an issue, ceiling fans are brought into play to keep those offshore breezes circulating.
The home experts at My San Antonio (which, it should be noted, is over 100 miles from the nearest beach), suggest a lanai as a viable alternative to a patio. Because the Texas summer heat can be so oppressive, the roof offered by a lanai provides soothing shelter from the midday sun. It's also true that, while lanais are open to the air on three sides (the fourth being the entrance to the home), they're sometimes outfitted with removable window panes or screens to keep insects and pests at bay.
More than the patio or porch, the lanai is thought to be a combination of indoor and outdoor living; a transitional space, if you will. Lanais offer children a sheltered play space in the summer, and can be a perfect spot to meditate or eat dinner. Space heaters are a popular addition to keep a lanai in service nearly year-round in moderate climes.
Lanai value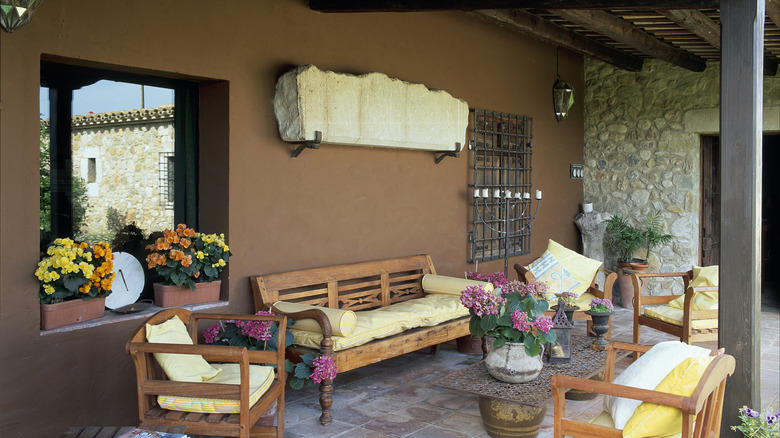 Construction Photography/avalon/Getty Images
Ask the experts at Take A Yard, and they'll tell you there are numerous good reasons to add a lanai to your residence if it didn't come with one already installed. Adding a lanai incorporates next-level luxury for both relaxing and entertaining guests, and improves curb appeal. Lanais also raise the value of your property by comfortably extending the living space outdoors, especially if you're anywhere near the water, says the Lanai Guys.
In addition, a lanai will frame the best view you have from your home while affording you more privacy. Rain and wind will have less access to your furnishings when they're protected by a lanai (although the places where lanais are most popular are also the most hurricane-endangered).
Unlike adding a completely enclosed and electrically wired sunroom, which can cost upwards of $40,000 (via Forbes), a lanai is a much less costly investment. Per the contractors at Clever Patio, you can expect to pay between $1,200 and $3,000 for a lanai. That breaks down to roughly $6 to $8 per square foot — all dependent on where you live, what size you want, and what materials you'd like to use.