Unnecessary Home Maintenance Projects You Don't Actually Have To Do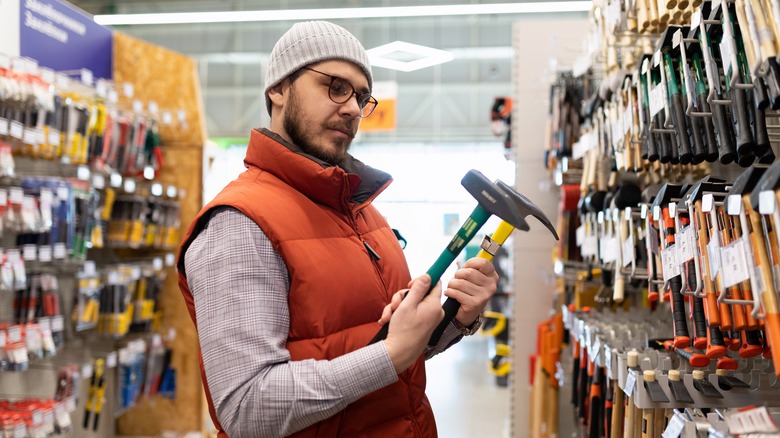 Jasen Wright/Shutterstock
As we all fumble through the rat race, trying to save more, buy more, stay trendy, and still make time for ourselves, it can be too easy to get sucked into the idea of DIY home maintenance projects. Coworkers, friends, and social media seem to be saying we should all be doing more, especially when it comes to one of the most frequented and expensive aspects of our lives, our homes. Whether you already own or you're paying off a mortgage, a home is a large investment and the last thing we want is for it to lose its value. Not to mention, the average person spends a large amount of time in their home, especially since the pandemic. We want to keep our homes nice, up-to-date, and functional.
The urge to repaint, swap out all of the hardware in your kitchen, improve, or merely switch things up in your home can be a temptation that's difficult to say no to. The hard truth is that there are an endless number of home projects to choose from, but more than a few just aren't worth the time and money. A few could actually decrease the value of your home or cause damage, and some are simply expensive, time-consuming, and yield few results. The next time a long weekend rolls around and you get the sudden urge to hit Home Depot or start demolishing walls, keep this list of home maintenance projects to skip in mind.
Planting annual plants in your yard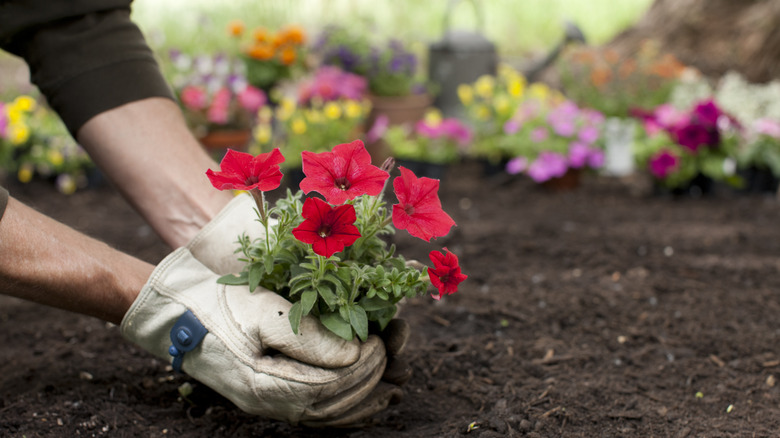 Liliboas/Getty Images
As the weather turns warmer and the world around you starts to bloom, it's tempting to fill your own yard and space with fresh greenery and colorful flowers. A little extra curb appeal and the mood-boosting effects of flowers are enough to send homeowners out in droves to the local nursery. Unfortunately, planting flowers from seeds is a lot of work and requires time and effort that doesn't always pay off. It's simply easier to buy flowers that have already been established. However, even just a few potted plants or a single tray of flowers can rack up a hefty bill.
Instead of filling your yard with gorgeous but temporary flowers that will need to be replaced every year, choose a plant that will regrow every year and thrive over time. Scan the shelves for perennial flowers, rather than annual, and you'll be thanking yourself next year when all you need to do is a little weeding and perhaps fertilizing to fill your yard with color.
For a natural, wildflower appearance, plant shasta daisies, which grow tall and produce white and yellow flowers, or black-eyed susans, which bloom in vibrant yellow shades. These plants are low maintenance and will brighten up your yard in an instant. For a bolder, brighter flower, consider planting daylilies or peonies along your walkways and around your porch. These will satisfy your green thumb without creating a costly, tiresome project every year.
Updating your lighting fixtures and other hardware too frequently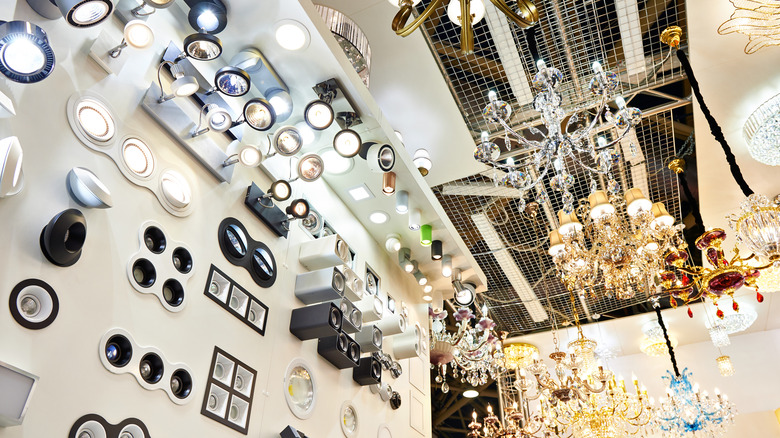 Sergeyryzhov/Getty Images
The best rule of thumb when it comes to lighting is function over what's trending. Do not sacrifice good lighting for fads that are always changing from one extreme to the next. From recess lighting to oddly-shaped hanging pendants, there's always something new on the horizon, but being functional is the most important checkmark for a well-lit room.
For example, a few years ago, fluorescent bulbs, table lamps, and sconces were all the rave, but just a couple of short years since, they've become outdated. Recessed lighting used to be considered modern and chic, but can actually appear a little harsh and unflattering. When it comes to lighting, consider simple styles that do not attract too much attention but keep your space well-lit, depending on how you're going to use that room. If you're really feeling the pressure to make updates, focus on table lamps and other flexible changes that aren't permanent. One idea is to swap out your light bulbs for a softer color or more modern style, rather than messing with complicated electrical work.
Hand-washing your curtains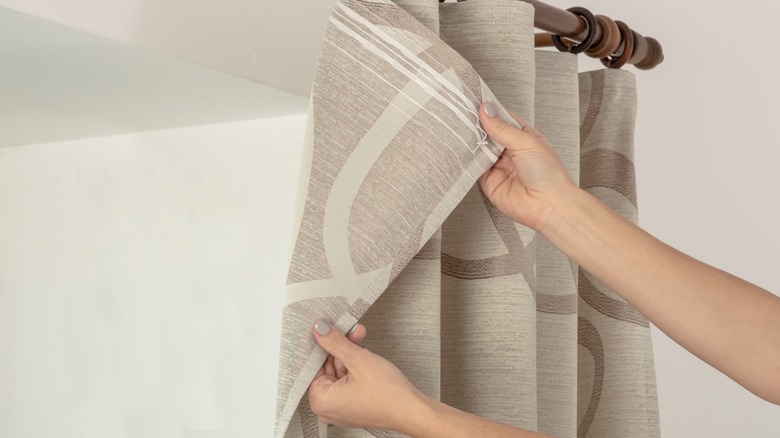 irynagrush/Shutterstock
Curtains are typically low-traffic areas that often go untouched for long periods of time. Although some opt to handwash their curtains a few times a year, they may not really need a deep clean unless you've noticed an obvious spill or stain. Most homeowners will be happy to hear that removing the curtains from their rods and handwashing them can likely be skipped until absolutely necessary.
You may not be considering the type of fabric when you're purchasing curtains, but many require handwashing only. This means you'll not only need to soak them, but also ring them out and allow them to hang dry after washing. A project such as this will take time, and if you have a lot of windows, that's a large pile of curtains to wash. Instead, work these simple hacks into your regular cleaning routine, such as dusting and vacuuming to keep your curtains looking new without handwashing them.
A wide vacuum attachment with bristles is a great way to remove dust from your curtains. For example, a handheld vacuum, such as Shark Cordless Handheld Vacuum WV200UK with the right attachment, can make quick work of cleaning your curtains. Work from top to bottom and move slowly to avoid pulling the fabric down. Completing this task twice a month should keep your fabric looking fresh and new. In between vacuuming, you can use a Swiffer Duster around the rod and tops of your curtains to prevent dust build-up. Simply shaking out your curtains and applying a fabric freshener can also cut back on dust and odors as well. Work this last step into your weekly cleaning routine and you can forget about hand-washing your curtains.
Paying for professional carpet cleaners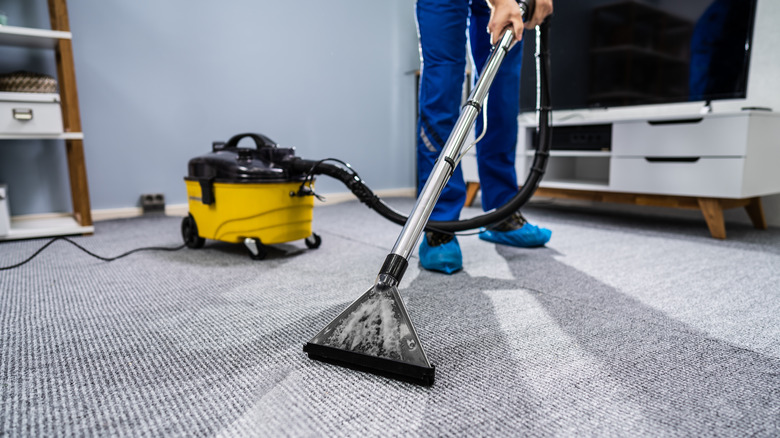 Andrey_Popov/Shutterstock
Your carpets can be high-traffic areas in your home, which means stains, spills, and other debris can collect and deteriorate the appearance. Carpeting is also a big contributor to bacteria and dust collecting throughout your home. In fact, it's believed that just a single square inch of certain carpets can hold thousands upon thousands of traces of bacteria. Everything from pollen, dead skin cells, and mold can gather in the fabric. A dingy carpet can give your house a less-than-clean feeling; however, that doesn't mean you need to rush to hire a professional carpet cleaner once to twice a year. There are plenty of tricks and products that can keep your carpets fresh without making it a major project.
Simply vacuuming and spot cleaning on a very regular basis can put off the need for a professional, but you'll also want to remember to shampoo carpets and deodorize them semi-regularly as well. For example, sprinkling baking soda over tough stains or heavily used areas can help remove stains, odors, and bacteria. Allow the baking soda to sit for ten minutes and then vacuum it up. This is a simple trick that can refresh your carpets without hiring a professional. You can also spray a mixture of water and a few drops of essential oils over your carpet to eliminate smells. Practicing these cleaning hacks frequently can go a long way.
When the time comes for a deep clean, there are several products that are affordable and worth investing in. The TurboClean™ PowerBrush Pet Carpet Cleaner will clean your carpets as well as any professional can. In addition, for just under one hundred dollars, the Hoover PowerDash Pet Compact Carpet Cleaner, Shampooer Machine, Lightweight, FH50700 will also do an excellent job of lifting tough stains and refreshing your carpet. Depending on the state of the carpet, you can save this home project for every couple of years, or you can just do it yourself.
Washing your windows in the summertime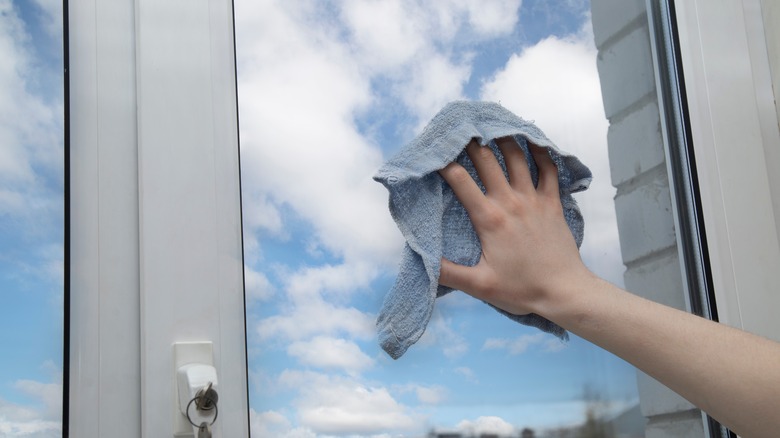 Potashev Aleksandr/Shutterstock
When the pollen starts flying, you might start looking at your windows and think it's time to give them a good scrub on the outside along with the inside. Dust and dirt on windows can leave your rooms feeling a bit hazy, but don't be fooled. Unless there's real mud or dirt splattered across your exterior glass, you can skip this home project in the warmer months. Scrubbing brushes, the dreaded squeegee, window cleaner, step stools, and unsteady ladders are all meant to be easy, but it can be next to impossible to get a streak-free clean when the sun is blazing. Most cleaners will dry before you even have the chance to wipe them away, which will leave you feeling frustrated and your windows looking worse for wear.
The hassle of cleaning your exterior windows, especially if you have a second or third floor, is just not on the priority list when the sun shines and the weather is warm. Instead, consider simply rinsing the windows with a garden hose or purchasing a handy window cleaner spray to make the job easier. For approximately ten dollars, check out The Blue Bottle Outdoor Sprayer by Windex. You simply attach the spray bottle to the end of your hose, aim, and rinse. The hose does all the work and you won't have to risk ladders or step stools. This is a far easier method that takes just a few minutes and achieves perfectly clean windows if you work on a cloudy day and move quickly.
Choosing bold patterns and excessively bright colors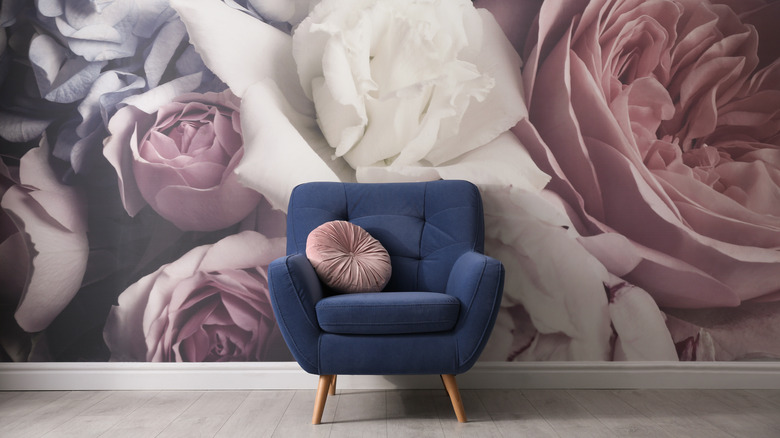 New Africa/Shutterstock
Over the past few years, we've all spent a bit more time indoors and at home. During that time, some might've looked around their kitchen, bathrooms, and more and found some areas that called for improvements or simply a little sprucing up. Whether you're putting in a new kitchen backsplash, a layer of exciting wallpaper, or some new tiles in the bathroom, you might want to avoid going too extreme with your updates. Excessively bright colors and extra bold patterns can feel fun and exciting at the moment, but sadly, fads and trends sometimes change faster than we can apply them in our homes and they quickly become outdated. Not to mention, these bold choices can also make styling the room or making further updates down the line excessively difficult.
You might absolutely adore mandala-patterned tiles that come in the colors of the rainbow, but they can be difficult to match or fall outside of your future renter's or buyer's scope of taste. Rather than laying down hot pink tiles or layering on a layer of lime green paint, consider more temporary decor options if you want to go bold.
You can liven up your bedroom or living room decor with products such as peel-and-stick wallpaper that goes on easily and can always be removed. Love vs Design offers exciting, cheerful designs that you don't have to commit to forever. Other companies also offer removable backsplashes or static cling glass coverings for showers and windows. These products allow you to be bold without making permanent, costly changes.
Adding another layer of paint to your walls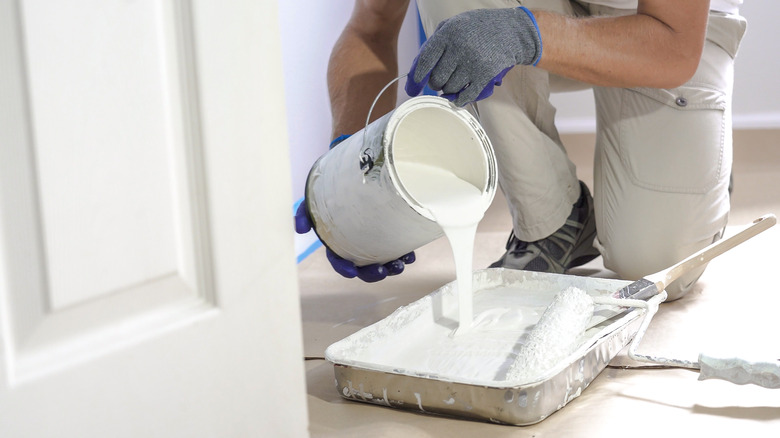 RightFramePhotoVideo/Shutterstock
Freshening up your space does not have to involve gallons of paint, a drop cloth, and tedious hours of taping over your trim. Although a new layer of paint can certainly brighten up a room, it's not something that you have to do every year. This is a project that takes a lot of time and money, but the good news is that there are a few things you can do to put it off for a bit. Clearing away cobwebs, dusting your baseboards, and cleaning your walls from top to bottom can make a big difference in a room.
The walls in your home might not seem like they're dirty at first glance, but a little scrubbing and a few touch-ups can make all the difference in the appearance of your space. Your walls might feel overwhelming, like a lot of space to cover, but a microfiber mop with a long, extendable handle will make the job much simpler. Add a cap full of fabric softener to a bucket of warm water, and this trick can even cut back on the dust that accumulates in corners. The difference in your newly cleaned walls will surprise you and you can stash those paint brushes away until next year.
Skip power washing every season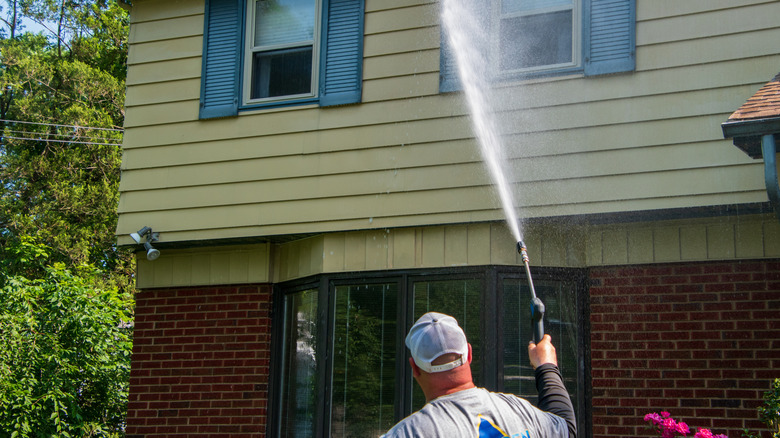 Alan Budman/Shutterstock
Just as the snow clears and the grass starts to turn green, power washers are pulled from their dusty corners and put to use around neighborhoods all over. The urge to blast away dirt and grime is powerful when you know how satisfying a good pressure wash can be. However, it's really not necessary to do this every year and similar results can be achieved with a regular hose if you work smart. Whether your siding is looking a little dull or your deck could use a spruce-up, you can skip the power washer and try these hacks instead. In fact, the intense blast of a pressure washer can actually accelerate the deterioration of certain surfaces if you are doing it too frequently.
The next time you notice a stain on your deck or stairs, consider pulling out a bristle brush and tackling the area with some minor scrubbing. You can even apply a gentle deck cleaner that's wood safe or use some vinegar to help cut through the grime. From there, you can rinse away the debris and skip the power washing until completely necessary. As for your siding, shingles, and other areas around the house, brush away the dirt with a broom at the beginning of the season or after a storm and rinse it with your garden hose. Frequent, low-key maintenance can put off big jobs for quite a while.
Raking leaves and disposing of them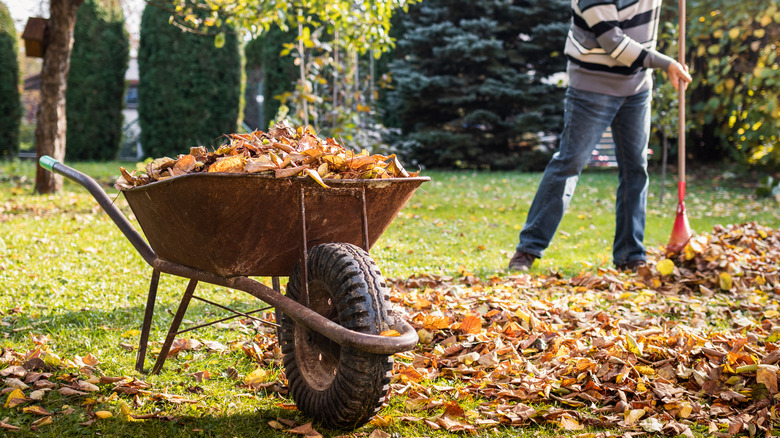 encierro/Shutterstock
Fall foliage is gorgeous to look at until the leaves start dropping and the task of raking, bagging, and removing them starts to loom. Some homeowners and landscapers alike are meticulous when it comes to plucking every stray leaf from their lawn to keep it orderly and manicured. However, the job is time-consuming and more than a bit frustrating. In reality, you don't have to be so meticulous when it comes to the leaves. In fact, leaving them in your yard is great for the soil. As leaves break down, they are an excellent source of carbon and nitrogen and can bring your grass back even thicker and greener next year.
However, depending on how many trees you have in your yard, it could become a sea of leaves that stays wet and can smother the grass. If the leaves are troublesome, you can consider doing one sweep with a rake after the majority of the leaves have fallen. Or a more thorough method is to continue running your lawn mower after the grass stops growing. You can gradually mulch the leaves and let them scatter throughout your yard, add them to your compost, or you can easily dispose of them if you're using a mulch bag. Using a mower to mulch the leaves should only be done on very dry days, and you may need to sharpen your mower blades afterward.
Installing blinds and other window treatments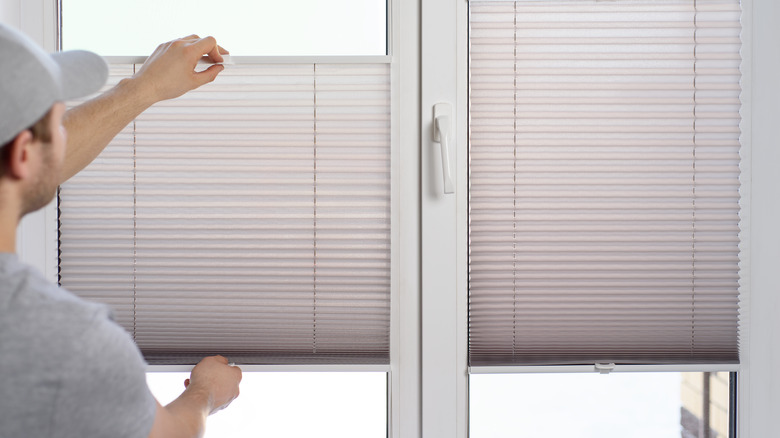 Penyushkina/Shutterstock
Blinds can be expensive and tiresome to install. Instead, consider using static cling window covers to create shade, privacy, and a finished look for your house. Traditional horizontal blinds provide privacy and shade, but they are a pain to install correctly. This project requires complicated hardware and careful measurements. Not to mention they are nearly impossible to keep clean and dust-free. 
This is one of the projects that sounds great, but there are more than a few ways to achieve the same results without all of the hassle. Static cling window film allows you to be creative with fun designs and patterns, but you simply peel them away when it's time to rent or sell. This method is cheaper and more flexible. You can also use a simple tension rod and spruce up a space with curtains for another temporary solution that will save you time and money.
Updating with dark, modern-looking floors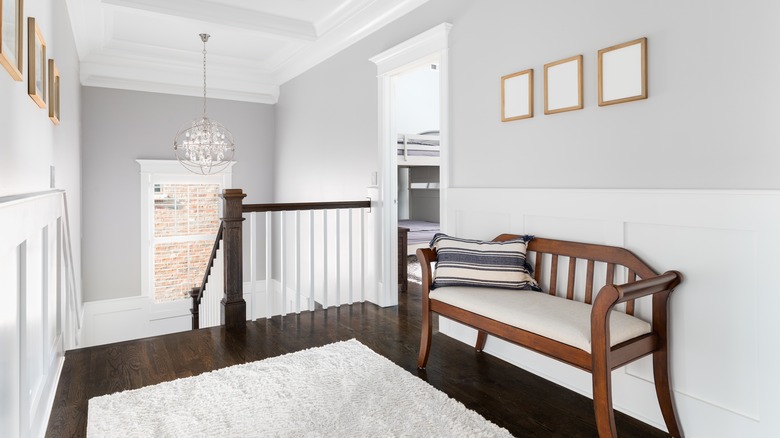 Hendrickson Photography/Shutterstock
Plenty of styles and design ideas call for dark, neutral flooring that creates a nice contrast or the perfect backdrop for minimalist decor. This might help create a modern, chic look in your home but the dark floors, tiles, or even countertops will reveal every spec of dust and dirt that accumulates. The daily task of keeping them clean and spotless can drive anyone crazy, especially if you're short on time.
Ignore the temptation to keep up with trends and choose a lighter shade or color that will do a much better job of hiding small amounts of dirt and dust. A neutral, yet functional update with Aphrodite Click Lock – Vinyl Flooring from BuildDirect resembles real wood, is easy to design around, and will give your home a quality feel without creating more home projects, such as daily vacuuming, dusting, or mopping.
Regrouting your tile when it just needs to be cleaned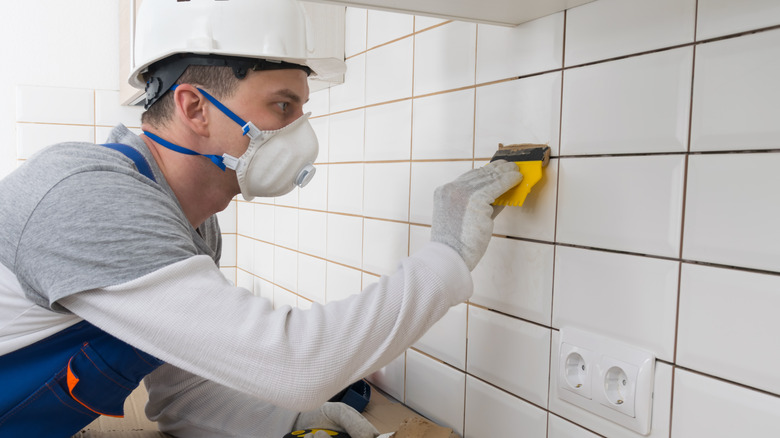 Aleksey Kurguzov/Shutterstock
The grout between your tile, whether it's in your kitchen, bathroom, or hallway, is usually where you'll notice the first signs of age and wear. As the grout becomes discolored, it can change the overall appearance of the tile and tempt you to want to replace the tile or at least regrout. Light-colored grout will show stains sooner than darker grout, but discoloration does not always signify the need for replacement. In fact, even grout that undergoes a lot of traffic or heavy use should still last anywhere from ten to twenty years. Replacing grout is not necessary until it starts to deteriorate, crack, or chip away. If your grout still feels smooth then you likely just need a good cleaning.
Thankfully, there are plenty of heavy-duty products that will clean your grout without much scrubbing, such as Hoover Renewal Tile and Grout Floor Cleaner, and grout brushes that have tough bristles. If you don't like to use chemicals in your home or simply want to save money, most grout will come clean if you scrub using a small bristle brush, or a toothbrush with a paste-like mixture of baking soda and dish soap.