Home Improvements You Can Do For Under $1000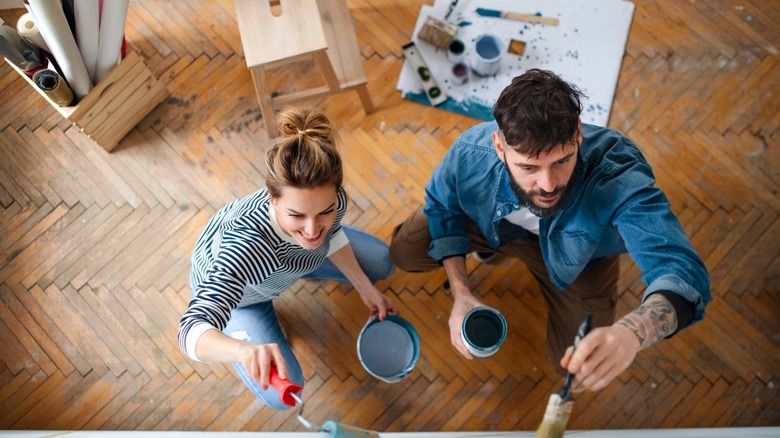 Ground Picture/Shutterstock
If you're looking to spruce up your home but don't have a big budget to work with, fear not. There are many home improvements you can do for under $1,000 that can make a big difference in the look and feel of your space. Whether you're looking to add some curb appeal to your home's exterior or update your interior decor, there are plenty of options to choose from.
If you're feeling handy and want to tackle a DIY, you can try increasing your home's curb appeal by planting flower beds or installing solar lighting. If your most pressing problems lie indoors, you can also roll up your sleeves and update your home with a fresh coat of paint. Painting a room or an accent wall can instantly transform the look of your space and give it a whole new vibe. However, a $1,000 budget doesn't mean you can only tackle DIY projects. You can do several updates with a professional that will keep you under four digits. So without further adieu, let's get started!
Add landscaping to increase curb appeal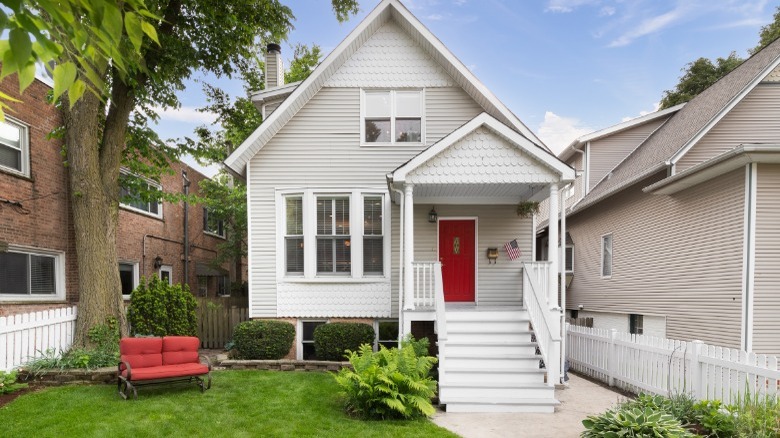 Hendrickson Photography/Shutterstock
For $1,000, there's quite a bit you can accomplish with landscaping to spruce up your home. The landscaping determines a huge amount of any home's curb appeal. This goes beyond just mowing the grass and trimming the hedges, although those things are a big part of it. With a budget of $1,000, you can start by buying some potted plants. Be sure to purchase plants of the correct scale to make a noticeable impact, but not so much that they overpower what's around them. Something with color is always a nice touch, and try to match or color-coordinate the planters, as well. Place them strategically along pathways and the entryway for an impressive aesthetic boost.
Another idea is to plant a flower bed along the front of the house. This is a terrific DIY project that can cost anywhere from $150 and up, depending on which flowers you choose and how big your flower bed is. This allows you to tailor the costs to your specific needs. Alternatively, you can also add things like solar landscape lights along the walkway, or put them around special features of your yard. You can get decent-quality solar fixtures for anywhere from $10 to $150 each. These are just a few simple ideas to get you started, so just remember you can never go wrong with projects that improve your home's curb appeal.
Paint a room or two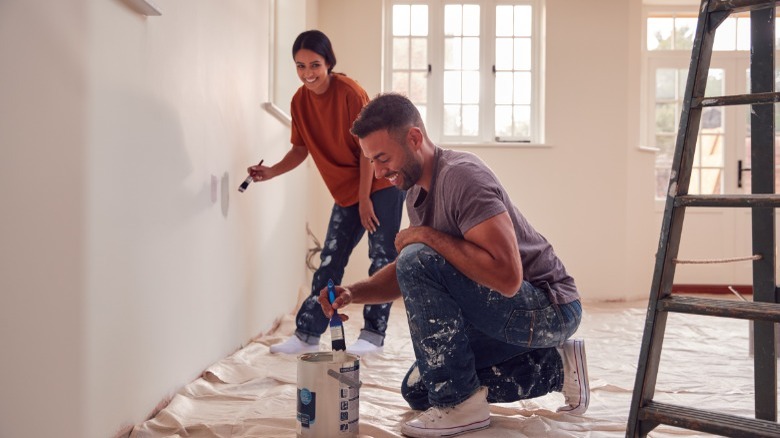 Monkey Business Images/Shutterstock
One of the most dramatic DIY home improvements you can do for under $1,000 is repaint some of the rooms. The average for each room will be between $100 and $300, or between $1 and $3 per square foot. A professional will charge you $2 to $6 per square foot, so you can see how much you'd save if you do it yourself. Plus, it's a completely doable project, even for beginners. You'll be rewarded for all your hard work with a fresh new space to create whatever vibe you wish. Last but not least, you don't even need any power tools.
What you will need is paint rollers, paint brushes (for trim), painter's tape, a paint tray and a roller tray, roller extenders, a stepladder, a plastic tarp to protect the floor, and old clothes to paint in! But that's not all, because it's important to prepare the room first. For that, you'll need a screwdriver to remove any screws from anything attached to the walls, including removing outlet covers. You might also need some sandpaper and caulking to create as clean and smooth a surface as possible to paint on. The better you prep the room before painting, the better the results will be. The paint itself will cost you anywhere from $20 to $55 per gallon, depending on the quality and brand, and people typically use two gallons for an average-size bedroom. The project takes about a weekend to complete for one room, including trim.
Install a new kitchen backsplash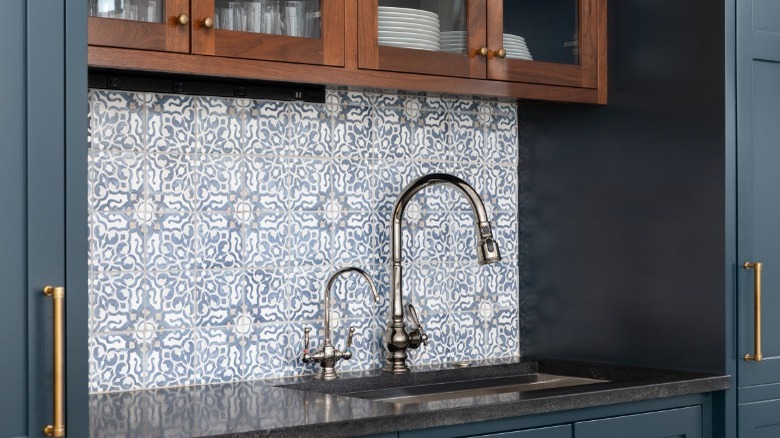 Hendrickson Photography/Shutterstock
Just about any kitchen project adds home value, and putting in a nice backsplash is one that can really elevate the space. This project can go over $1,000 with more expensive materials, but the average cost, including installation, is exactly that: $1,000. This breaks down to about $15 to $40 per square foot. Material is the factor that determines the variable in the cost, so if you're trying to stay under budget, ceramic is about the highest-end material to consider. 
The cabinets and countertops are next to consider when choosing your backsplash. You can't go wrong in choosing something simple like gray or white subway tile. Trending in so many homes today, it gives the space a classic, elegant look. Alternatively, you can try patterned or mosaic options if you want something more innovative that adds a statement. However, keep in mind most places charge significantly more for unusual layouts. Installing a kitchen backsplash can be a challenging DIY, but it can be done, depending on what material you use. But for peace of mind, hiring a pro will keep you within your $1,000 budget. 
Steam clean your carpets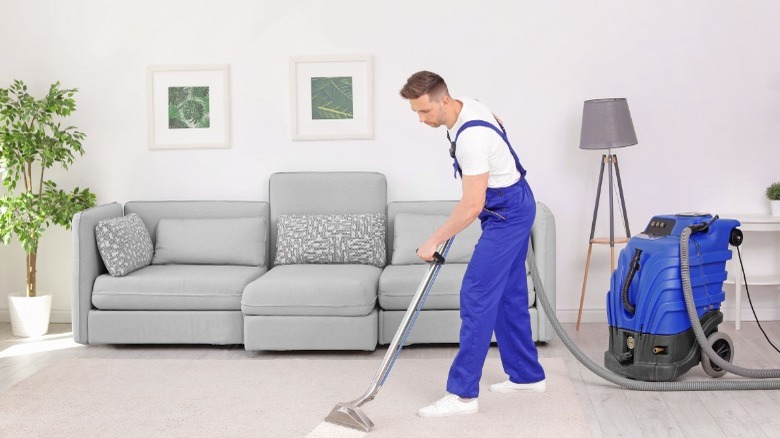 New Africa/Shutterstock
If you have carpeting in your house, cleaning it can really make a big difference. With this project, you will have multiple options on how to accomplish it for under $1,000. Your first option is to have them professionally cleaned for an average cost of $175 to $600 for the entire house. But know this: You can also purchase your own carpet cleaning machine for less, anywhere from $90 to $600. Last and least expensive, you can rent a machine for 24 hours between $30 and $90.
If you have kids, pets, or both, or you plan to have one or both in the near future, you should probably consider purchasing your own machine. After all, it doesn't take a genius to figure out that it costs about the same amount to have them professionally cleaned as it does to buy your own device. All it takes is using it once to pay for itself, and if you have an active household, you won't regret the purchase. However, if your budget just won't budge, or you really need to get more done with your $1,000, rent a machine and DIY. It's a terrific way to start your home improvement projects without spending too much money.
Add some curtains to your windows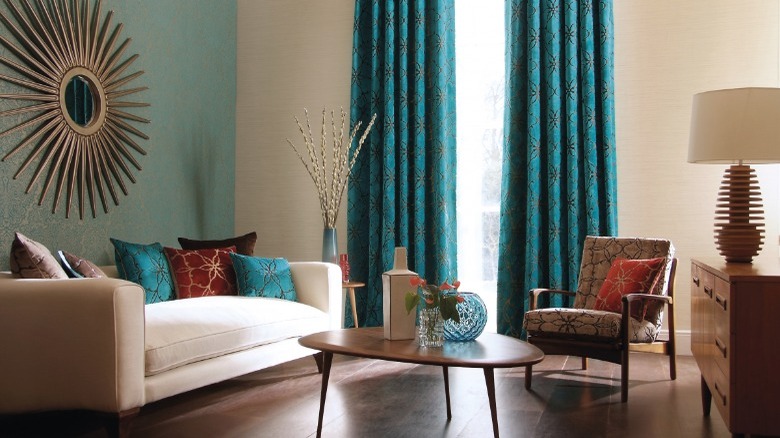 Onzeg/Getty
Even if you have other window treatments like blinds or shades, adding curtains to at least some windows adds warmth and charm. It also adds a layer of privacy between you and the prying eyes of strangers and nosy neighbors, and adds another layer of insulation between you and the weather outside. If you like the aesthetic appeal of curtains, this is a reasonable home improvement project you can do for under $1,000. The average cost is $50 to $600 per window, which includes the curtains, hardware, and installation. Of course, the wide variable lies in the material you choose and whether the curtains are ready-made or custom. Ready-made curtains alone will range anywhere from $20 to $250 per window. Custom curtains alone range from $60 to $400 per window. The curtain rod cost is typically between $1 and $25 per foot.
It's obvious that the only remaining blank is the cost of installation, which is the same regardless of what type of curtains you decide on. The average cost is $15 to $50 per window, or $35 to $100 per hour. Be sure you get an estimated cost before committing, especially since it's a project you can likely do yourself. There are an endless variety of types, folds, and materials to choose from, so it won't be difficult to find something you like no matter your home style. Curtains can really pull a room together and give it a finished look. 
Add crown molding to the living area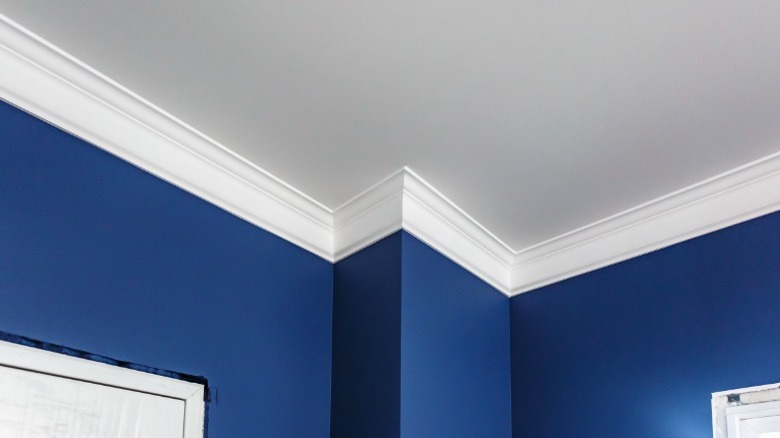 jantsarik/Shutterstock
Adding crown molding to your rooms will help make your home feel more sophisticated and architectural. It's added where your walls meet the ceiling, sort of like how baseboards trim the bottoms of the walls. It can also trim the tops of door frames and cabinets, and it comes in various styles and thicknesses. Homes with high ceilings especially benefit from crown molding, but the right type will elevate any space. It will cost you anywhere from $300 to $800 per room, or $4 to $15 per linear foot, including labor and materials. 
Crown molding is a project that typically can be done yourself, especially if you want to save on installation costs. Wood or MDF molding does take some basic knowledge of carpentry, while materials like PVC, polyurethane, and polyethylene are much easier to install. One of the big questions homeowners ask when attempting DIY crown molding is, how do you calculate how much to purchase? First, you'll need to measure the perimeter of the room. In general, adding 10% to 15% to that for mistakes and waste will be sufficient, but if the room has a lot of corners, add 20%. 
Replace or repaint the front door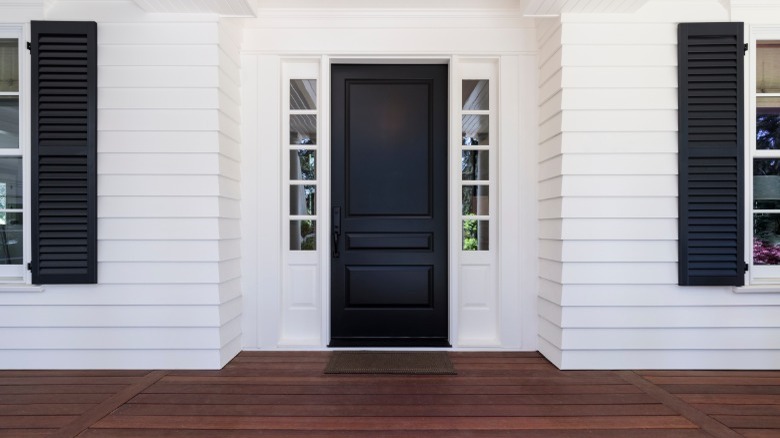 David Papazian/Shutterstock
Another big aspect of curb appeal is your home's front door. Replacing it or giving it a makeover can make a huge impact, and it is a worthy project to take on. Although it can cost more than $1,000 if you choose one of the more expensive models and/or materials, you can do pretty well for this amount. The average cost is $500 to $1,000, and that includes the installation. However, it can cost more for higher quality materials or for oversized or double doors. If you don't need to replace it or can't afford to get the door you want right now, you can have it repainted for an average cost of $100 to $225 for an exterior front door. Add a new doorknob and a nice door knocker to really make it stand out. You'll be amazed at the difference this simple improvement will make.
If you decide to paint the door, the paint will range from $15 to $60 per gallon, which should be enough for the job. If you DIY, this will be the majority of the entire cost, besides new hardware. To make your house look even more cohesive, you can paint the window frames the same color as the front door. Be sure to use an adhesive primer first, and for a wood door, choose an exterior paint with a semi-gloss finish. There are also paint and primer combinations. This simple upgrade-slash-makeover will give your home a brand-new look and feel.
Re-tile the bathroom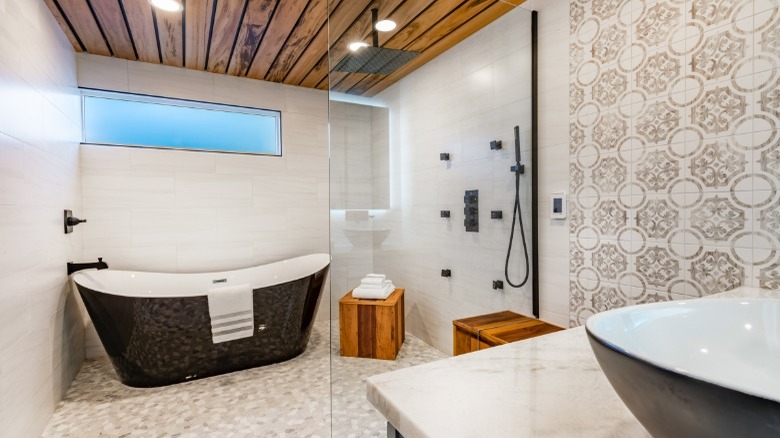 Sheila Say/Shutterstock
One exciting home improvement you can do for under $1,000 is re-tiling your bathroom floor. This can be accomplished for between $750 and $1,000 on average, for 50 square feet of ceramic tile, including installation. If you choose luxury vinyl, a material currently experiencing a surge in popularity, the same size area can be done for about $350, or $7 per square foot. Luxury vinyl tile is made to look like higher quality materials such as marble, sandstone, or exotic hardwoods. Keep in mind you won't be able to use anything more expensive than ceramic, and the estimate is for 50 square feet only. But if you have experience laying tile and the tools you'll need, you can DIY and save quite a bit. However, in general, this is probably a job for a professional contractor.
When choosing the bathroom tile color, be sure to match your sample with the vanity and walls. Subway tile is on trend, and it's a reliable pick for the bathroom. Basket Weave tile makes another popular and timeless choice. If you don't need to update the floor, why not tile the shower instead? This home improvement project has a price tag of between $450 and $1,000, or about $25 per square foot, and will make a dramatic impression. Plus, this is a spot where you can get creative and colorful with your tile. Just remember to get samples, so you can bring them into the space in person to make sure that exact color will work with the rest of your color scheme.
Install radiant heat flooring in the bathroom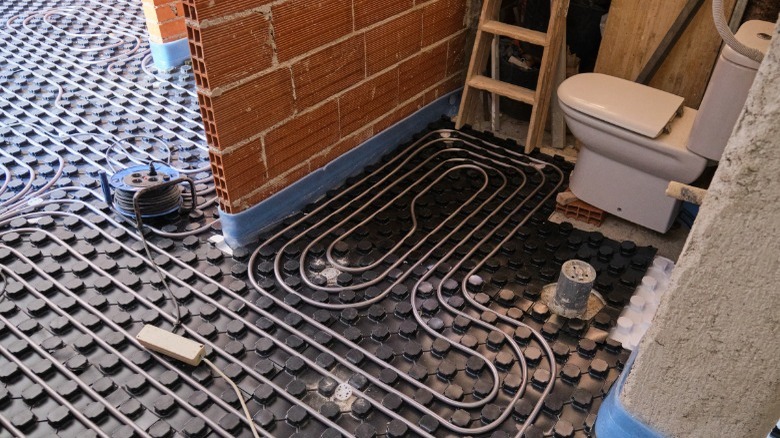 Ladanifer/Shutterstock
Do you hate walking into your bathroom to take showers on cold mornings? Tile is a luxurious material, but it can be a huge drawback if you live where it's cold during a big part of the year. You can have the luxury of radiant floor heating in the bathroom for an average cost of around $20 per square foot. Most types need to be installed with the help of an electrician, and that cost is included. The total cost for a small to medium-sized bathroom is estimated to be between $450 and $700, depending on your type of system. In fact, according to Zillow, radiant floor heating can increase home value by 2.1%, making this home improvement a worthwhile investment.
Electric floor heating is the most common type and costs between $8 and $15 per square foot to install. A hydronic system is an alternative option that costs less to operate but slightly more to install, and uses heated water. It costs between $6 and $20 per square foot. Another kind uses propane, and it will run from $6 to $18 per square foot. Geothermal is a form of hydronic heating, and it costs from $7 to $17 per square foot. Even solar-heated flooring is available, and costs range from $18 to $25 per square foot. There are also DIY electric radiant heated mats that plug in and could be used for smaller areas. The choice is yours, and the cost to run radiant floor heating once installed is about $1 to $5 a day.
Convert your existing cabinets to a DIY shaker style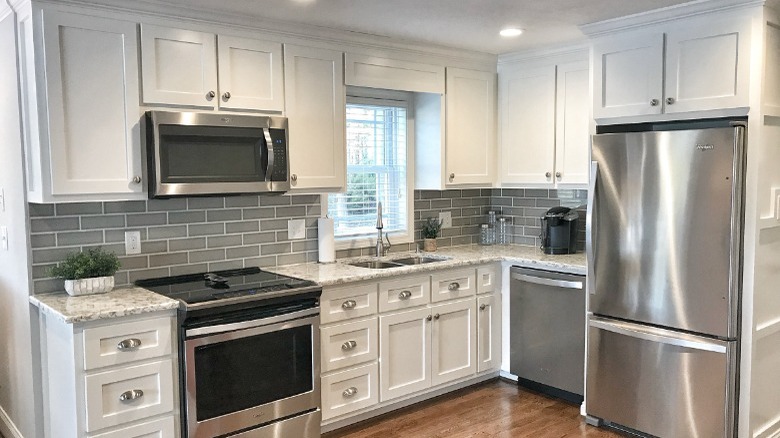 ocwarfford/Shutterstock
Shaker-style kitchen cabinets are all the rage, especially in farmhouses or rustic kitchens. According to Zillow, listings for homes with shaker-style cabinets sell for 1.7% higher. If you love the style but can't afford to buy new kitchen cabinets (which could set you back anywhere from $2,000 to $24,000,) why not take on the task of converting the ones you've got? As it turns out, this is a project you can DIY using your existing cabinets for just about $200. Even if you're only a beginner, this makes an ideal learning experience for other DIY home projects in the future.
You'll need a few power tools to complete this project, but don't worry; they'll come in handy again. For example, you'll need a table or circular saw, an electric sander, a nail gun, and a compressor. To make the frames for the cabinet doors, you'll be using 1/2" thick plywood or MDF cut into 2" strips. With some other basic supplies, paint, and time, you can create shaker-style cabinets for a perfect touch of farmhouse charm. This DIY is a particularly gratifying home improvement project you can do for under $1,000 to round off our list.