These Are The Most Timeless Bathroom Tile Colors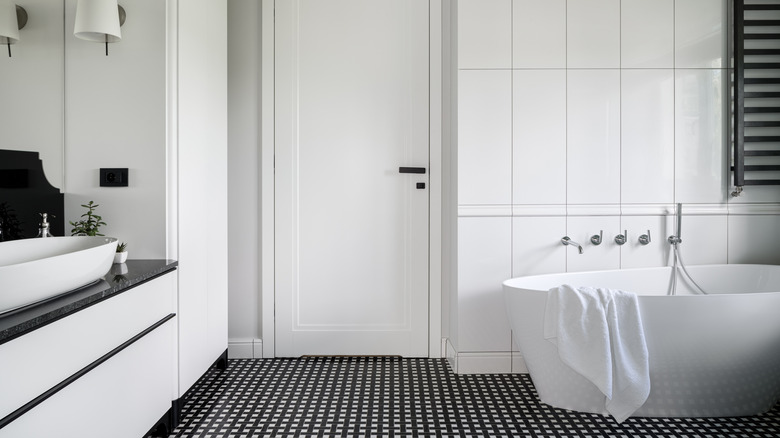 Dariusz Jarzabek/Shutterstock
Trends come and go, so how do you create a bathroom that feels stylish without needing constant updates? The color of your tile is often the first detail that people will notice — especially in a small room. It can mean the difference between a crowded, cluttered space or a serene spa-like atmosphere. Choose the right tile and the smallest room in your home could impress designers all over. Here's your guide to bathroom tile colors that are not too flashy — but far from boring — to create that ideal timeless look that won't need to be remodeled every few years.
If you choose the correct title for the amount of traffic the room gets, seal it when necessary, and maintain it properly, many tiles can easily last more than 50 years. Whether you're tiling a shower, the backsplash, your floors, or the walls, it's important to consider how the color will play out in a few years. With something this permanent, you'll want to carefully choose a tile that can adapt to modern trends and styles. Consider these color-based tips for selecting bathroom tiles that will never go out of style.
White tile is a classic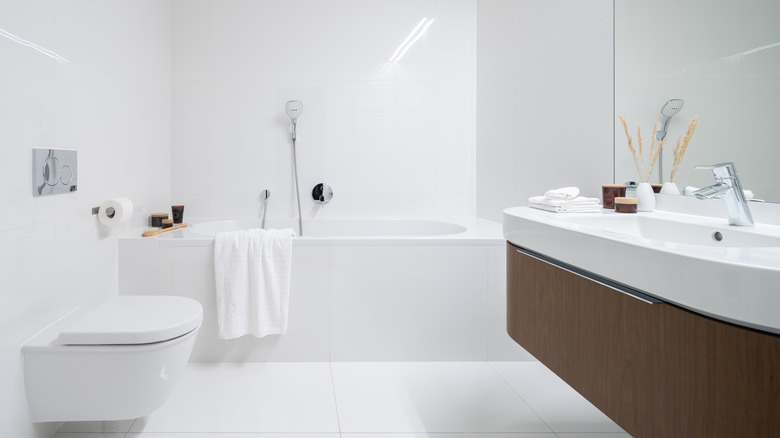 Dariusz Jarzabek/Shutterstock
White decor in general is bound to give any room in your house a fresh, clean, and open feel. White walls, floors, cabinets, and more are the perfect foundation for a lasting style because the color is the ultimate neutral and it's adaptable. Easily incorporate other styles against white tiles for a truly timeless look. This basic palette allows you to get creative with smaller details and accents. For example, with white bathroom tiles, you can go a little bolder with your fixtures, textiles, and hardware to add warmth and character. You can easily replace the smaller details as design trends change and avoid a large renovation or project.
White tiles can also brighten up a bathroom that doesn't have many windows. Often, bathrooms are the smallest room in the house with little to no natural light. This can leave your bathroom feeling dark, cramped, and maybe even a little depressing. Choosing a large white tile that the light will bounce off of will make the room appear more open. Although small white tiles are also attractive in a bathroom, save those for the shower or backsplash. For larger surfaces, choose a mid to large-sized white tile that will have fewer grout lines. Too many lines can make the room feel busy and cluttered.
The clean crisp look of white tiles became popular in the very early 1900s on the heels of the Victorian era and has remained a constant in bathroom decor since. Yet, this tile will always feel modern and minimalist to some degree. In addition, white tiles will practically sparkle when they're clean, giving your bathroom the refresh it might need. It's also safe to use stronger substances, such as bleach, on white tiles, meaning you don't have to worry about stains.
You can't go wrong with any shade of gray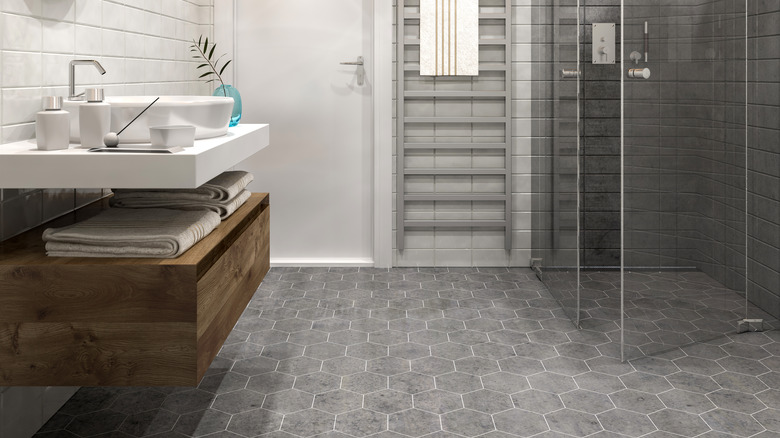 Nelleg/Getty Images
There are hundreds of different shades of gray to choose from. However, rest assured, almost any version of gray bathroom tiles will give the space an effortless, modern look, no matter what recent trends are circulating. Gray is an ideal compromise for those looking for a more open and bright feel that isn't as pristine as white tile. Gray bathrooms are cool and go with almost anything, meaning you can always pair it with the most modern shades and the room will still maintain a timeless foundation that remains firm throughout the years. Various shades of light and dark gray tiles pair perfectly with bolder colors, such as dusty pink, lime green, bright red, and yellow. However, it also works with most cooler shades as well as pastels, showings gray's true range. Gray has come into use multiple times throughout history, from Ancient Egyptian art to Chinese and Japanese designs to the Renaissance, and it will continue to find its place in interior design for many years to come. 
If you are aiming for that sleek, timeless look, consider glossy light gray tiles that will pair nicely with warmer tones and shades of white. A darker matte gray tile, on the other hand, will give your bathroom a modern look and is great for minimalist decor. Install a medium matte gray tile if you want to go bold with a gold faucet or if you plan to incorporate plants into your bathroom decor. The possibilities are endless with gray. Almost any gray shade will also work against most other floor types, such as vinyl wood or laminate, if you don't want to tile the floor, but prefer to focus more on the shower or backsplash.
Black accent tiles always hit the spot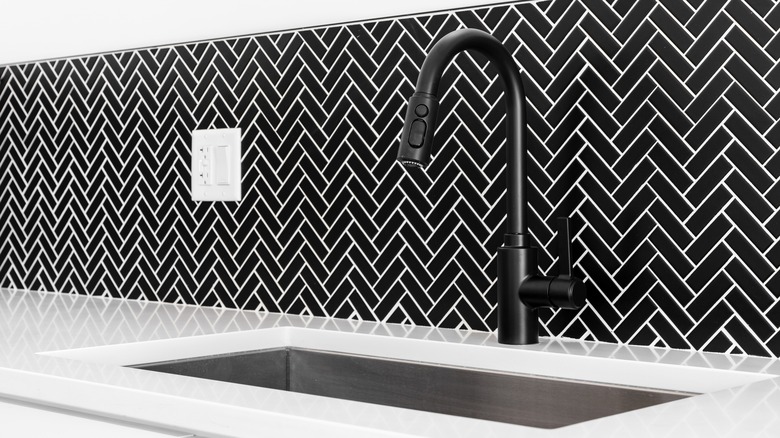 Hendrickson Photography/Shutterstock
Black might feel a little dark for a small bathroom, but some carefully placed accent tiles in this inky hue can create a finished, timeless look that will remain bold throughout the ages. Small portions of black draw on the darker shades that naturally appear throughout every room, giving it a well-rounded and complete look. Accent tiles in your bathroom are also an easy way to create depth in an otherwise boring room, a trick that has been used throughout the eras of interior design. This is especially useful in small square bathrooms that might otherwise feel a bit like a closet. If you create contrast between dark areas and light areas, the difference will draw the eye and give you more design opportunities.
For example, tiling the walls of your shower with medium-sized black tiles is the perfect way to divide the room up without making it feel too small. Or, try installing tile on just the floor of the shower to achieve the same goal. Tie the whole room together by using the same black tile in your shower for a backsplash around the sink. Avoid too many glossy tiles that can appear dated and opt for a more muted or matte look. Many other surfaces in the bathroom have that glossy finish, such as mirrors, stainless steel fixtures, and glass shower doors, so avoid overdoing the sleek look.
Black is neutral, meaning you can be more adventurous with your other decor. Choose a simple black tile for your floor if you want a really bold mirror or an extravagant lighting fixture over your vanity. Black also works well with white sinks and showers that have copper or gold hardware.
Green is great
Your bathroom doesn't have to include a luxurious jacuzzi or be large enough to house a massage chair in order to be grand. Smaller bathrooms with simple decor can also feel elegant, timeless, and relaxing by using a hint of natural green. The trend became popular in the mid-19th century, came back around in the Art Nouveau period, and continues to appear in modern design. With limited space, you don't want to overwhelm the room with excessive patterns or colors that attack your senses. Choose natural shades of green to create a calm, elegant atmosphere. 
Nothing says timeless or sophisticated decor like a soothing look that will breathe life into even the smallest of rooms. The trick for adding colored tiles is to choose a larger option. Small colored tiles are more likely to look outdated because using too many decorations to update the style will lead to a cluttered design. Choose a large green tile with fewer grout lines, this way you can incorporate more detailed shower curtains, rugs, and accents without overwhelming the space.
For a timeless look with green tiles, opt for more natural-looking greens. Choose a pale green that will go great with white without creating too harsh a contrast. A grayish green is also a way to subtly add color that will look amazing next to wood floors or a stone shower. Green is one of those colors that pair nicely with various light and dark shades. For example, a light green tile will look natural and refined against a dark gray stone or a black door. 
Blue can be timeless too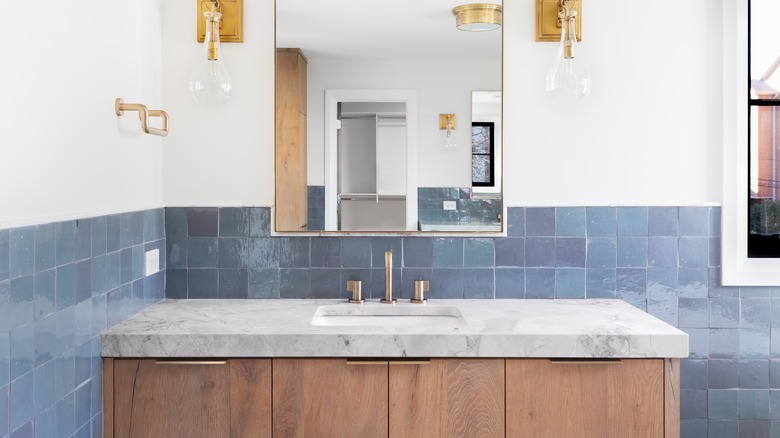 Hendrickson Photography/Shutterstock
If you are working toward an ageless, versatile decor in your bathroom that isn't going to go out of style anytime soon, you might be headed in the neutral direction. However, there are ways to incorporate a little color and still have the perfect base for your design. Elements of blue in bathrooms became popular in the 1920s and remained that way up to the '60s. For a timeless look, treat blue more as a neutral base. Blue is often added to other colors to make them cooler in tone, which means it will go with a ton of shades, making it nearly as neutral as beige or tan. This color can work as a solid foundation for your decor if styled properly, which means blue tile in the bathroom can be a timeless choice. 
Pair blue tiles with wooden accents, white walls, or metallic finishes to create a peaceful, yet bold look. As with other eye-catching colors, choose a medium-sized tile that is simple. Avoid extra glossy or very small shapes that will make the space feel cluttered.
Tan and beige are a neutral dream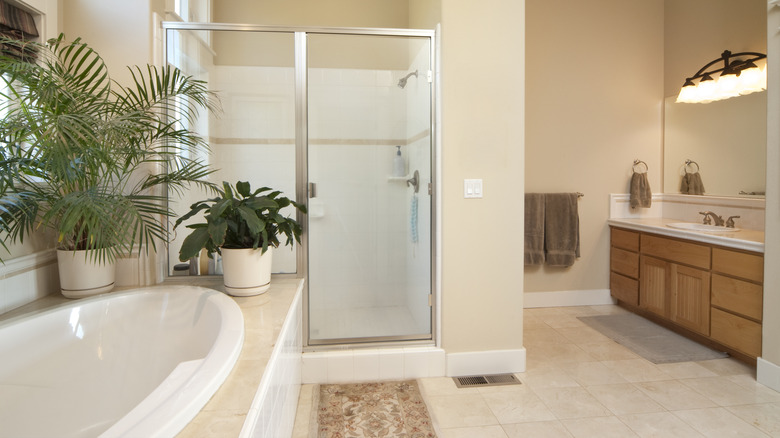 Chandlerphoto/Getty Images
Tan and beige are other neutral options that allow lots of creativity, but also provide a sense of warmth and comfort that has appeared in several styles over the years. First becoming popular in Colonial times, the stable look of beige became deeply ingrained in American homes. Throughout the early and mid-1900s, the simple color appeared in architecture, fashion, marketing, and more. The warmth that was associated with the color was also popular in the '70s, and the calmness of the shade came back around when minimalist, Scandinavian designs took over.  
A light tan tile can feel just as airy as white, but it will give the room a softer, less clinical feel. Beige is an excellent option if you're trying to achieve a look that draws on natural elements. Choose a multi-tone beige tile that resembles stone and pair it with warmer elements, such as a wood-framed mirror, a stone planter, or a bamboo shelf. If your bathroom is feeling closed-in and stuffy, lots of greenery and plants that thrive in high humidity will create a great color scheme. This option makes room for louder patterns, like a floral wallpaper or a bold-colored sink, but it also brings the other neutral tones together. An excellent modern option is to pair tan tiles with matte black fixtures. Updating your hardware with new trends is easier than tearing up tile.
Tan or beige tiles will also pair well with other marble, stone, and especially white tiles for an ageless appearance. The beige breaks up the white and can create depth in your space. You can even get more creative with the shapes of beige tiles, such as small tiles or hexagon-shaped tiles because light grout lines won't sharply contrast the tile color.
Black and white is the perfect combo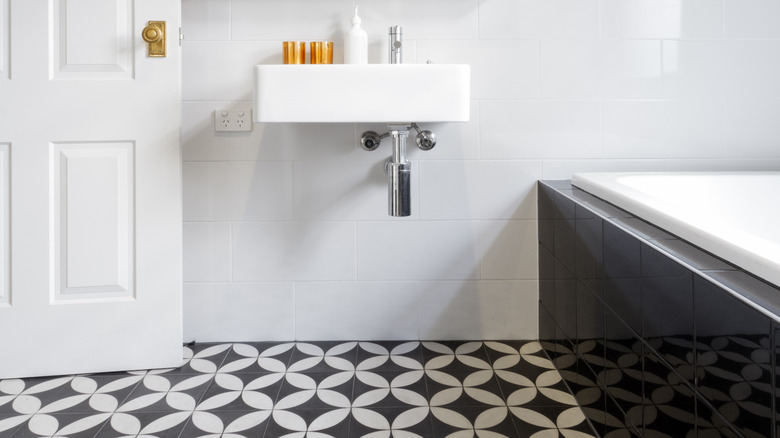 Jodiejohnson/Getty Images
The contrast between black and white is classic and exciting, especially in a lasting tile pattern. The black and white checkerboard look has been around for ages, dating back to the Victorian era. Interest in the style spiked again in the '20s and has appeared throughout interior design ever since. With a few modern tweaks, there are nearly endless options for black and white patterns and designs that will look high-end and give small rooms more depth.
Black and white tiles are an excellent choice because they are so readily available. Everything from intricate floral patterns to stripes, and repeating geometrical shapes are easy to find in this classic combo. You can stick to a traditional design with alternating black and white squares, or if you want a modern twist, try a 3D cube design with some gray shades thrown in. For a more delicate look, you can edge a white tile floor with a border of smaller black tiles, or go extra bold and mix and match various patterns in the same shades of black and white. Design the rest of your space around the tiles with either a simple wall color and basic stainless steel fixtures, or choose a rich color such as dark green or blue.
This combo frees up your space for design creativity — black and white go with everything. The white will reflect light and give the room a larger feel, while the dark will draw the eye and call on Art Deco themes. Overall, the combination has been found throughout designs all over the world and continues to come back around. It doesn't get more timeless than that.