8 Things You Should Avoid In A Small Bathroom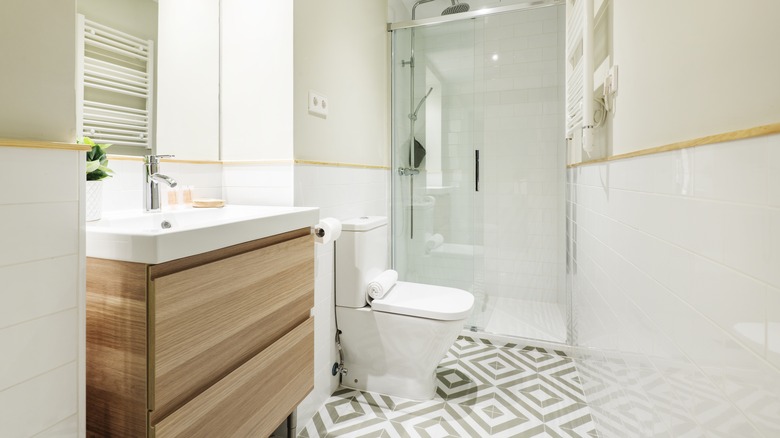 Toyakisphoto/Shutterstock
Whether you find yourself struggling when getting ready in the morning or are constantly tripping over clutter, a small bathroom can be one of the more annoying issues to deal with in a home. Sometimes, expanding a room just isn't possible due to budget or space reasons. An ideal way to make the most of a small bathroom is to consider the things you should absolutely avoid and go from there. Some examples of things you shouldn't do include not making use of natural light enhancers like mirrors, only sticking to white decor, and not adjusting your space to fit you.
Luckily, there are things you can do to solve the problem of a small bathroom without having to put on a hard hat. Even mini changes like installing floating shelves could make a huge difference. If you have a set amount to stick to, transforming a small bathroom on a budget doesn't have to be difficult. There are plenty of low-cost changes you can implement that will turn your tiny bathroom into a functional area you'll love to spend time in.
Only having one mirror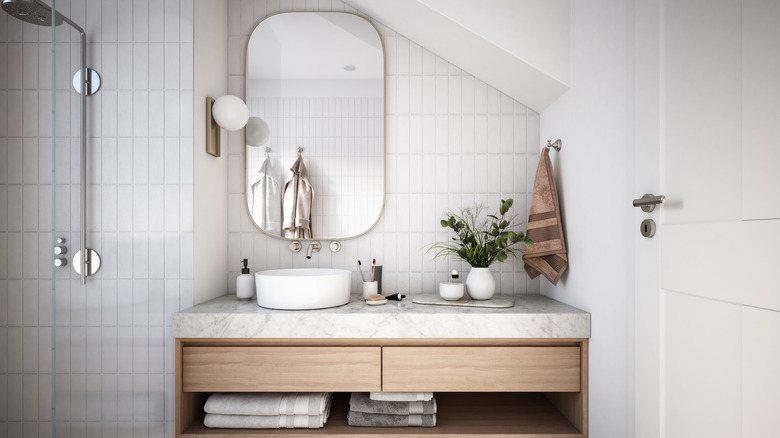 Creativastudio/Getty Images
Mirrors reflect light, which can in turn make a room appear larger. By neglecting to make use of this handy trick, you're missing out on what is essentially a clever way to make your bathroom appear much larger. The same goes for small mirrors, which may be useful for getting ready in the morning but won't help your bathroom to appear bigger. Instead, go for mirrors that are large but simple in design.
As recommended by interior designer Brie Sturton (via TikTok), putting more than one mirror in various parts of your bathroom will not only make it look bigger, but can actually even make it appear double its actual size. Most people put one mirror above their vanity, but mirrors in unexpected spaces like the ceiling can really elongate a room as well as bring character to a space. When it comes to the style, a frameless or minimalist mirror is best. Fussy frames will only serve to ruin the space-enhancing effect. Shape doesn't necessarily matter — square, rectangular, and oval are all fine as long as you stick to the oversized and understated rule.
Leaning on an all-white color scheme
White is often recommended as the go-to color for small bathrooms. However, not only are all-white bathrooms going out of style, but the singular color scheme could make your bathroom appear cool and sterile. Rather than going for a bright white look in the hopes it will make your space appear larger, branch out a little by opting for a non-neutral color. As interior designer Julia Dempster shared with Homes & Gardens, "A dark, moody color creates a nest-like effect and can add drama to a small space ... Instead of white, a dark hue like charcoal or black will give the space an intimate feel while simultaneously giving it an appearance of grandeur."
If dark colors are a step too far for you, some non-neutral colors to consider include blush pink or relaxing sea blue. Not afraid to go for something a bit darker? Deep blue or forest green will bring a fresh and relaxing atmosphere to a small space. You can also incorporate this tip elsewhere, for example with towels and a bath mat in a matching hue. Even bringing color in via accessories like a soap dispenser will add character to what might otherwise be a boring space.
Not having enough storage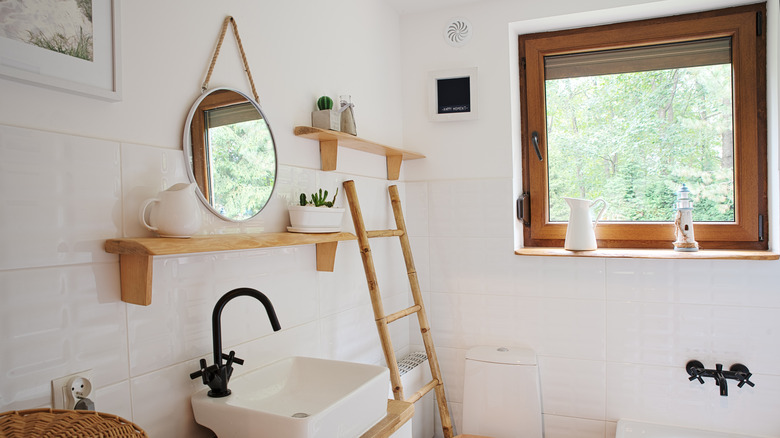 liloon/Shutterstock
Storage is key in every room, but especially a bathroom. Clutter will quickly reduce the amount of floor and counter space visible, which in turn can make your bathroom appear even smaller. Moreover, clutter can lead to disorganization, something you definitely don't want in any space. Don't just buy extra drawers, though. There's a way to incorporate storage for better organization, and it's called floating shelves.
The perfect solution if you don't have even an inch of floor space to space, incorporating floating shelves is also one of Nate Berkus' top tips for maximizing storage (via YouTube). Having shelves that are suspended doesn't necessarily mean they need to be overly high. A floating shelf in your shower or placed just above your sink will allow you to store necessary items like shampoo and toothpaste without taking up limited surface space. As well as floating shelves, consider buying dividers for the drawers and cabinets you do have for even better organization. The same goes for any area in your bathroom — once you start, you'll be able to see just how useful properly organized storage is for a small bathroom.
Not utilizing your vertical space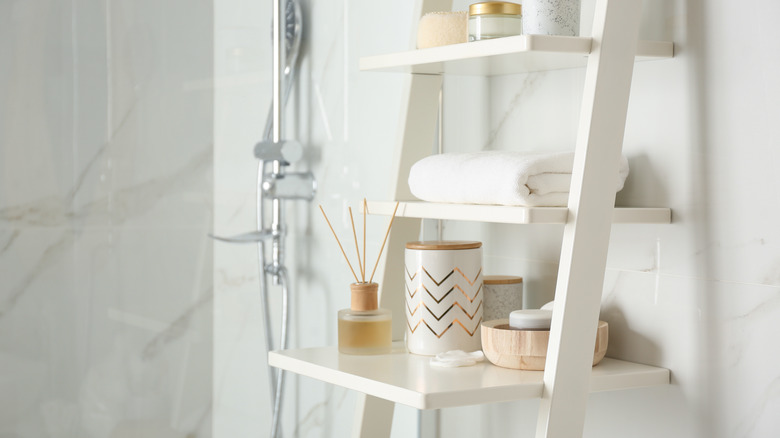 Liudmila Chernetska/Getty Images
In the same vein as not having enough practical storage, one of the worst things you can do in your small bathroom is forget about vertical space. Storage cabinets built horizontally instead of vertically will give you room to hide away clutter, but will also take up precious floor space. Instead, choose furniture items that are tall and narrow so you're maximizing floor space without taking up too much wall space.
While vertical cabinets are a good option, as mentioned above you can use floating cabinets and shelves to utilize vertical space, too. In a small bathroom, space is a luxury, and even just removing one furniture item from the floor will give you extra room to get ready in. Another bonus of vertical space is that it automatically means people will look up, essentially distracting them from the size of a space. This tip works especially well if you have higher ceilings, as the sky really is the limit when it comes to storage.
Not zoning your bathroom
Sometimes in a small bathroom it's difficult to put your furniture against more than one wall, leading to a cramped look that's not very aesthetically pleasing. It may be necessary for your toilet and sink to be right next to each other, but you can prevent the above from happening by incorporating zoning. If you haven't heard of zoning, it's a method that visually breaks up a space into different areas. For example, in a kitchen, the areas could be a study zone, cooking zone, and resting zone.
An easy way to do this is to use different wall textures and colors. For example, using a bright color near your sink and vanity mirror will help you to feel more cheerful while getting ready in the morning, whereas white behind the toilet will give a clean vibe. Don't be afraid to get bold – bright tiles on your shower wall will create a cool impact and visually break up this area from the rest of your small bathroom. If budget is an issue, you can zone using accessories. A rug in front of your sink will break up the floor space, and prints above a toilet will break up the wall space.
Not having side taps
Chances are, if you have a small bathroom, you have a small sink too. Small sinks are often on the slimmer side. Because of this, one of the things you should avoid is choosing regular forward-facing taps to go with your sink. Not only will forward taps reduce the surface area of your sink, but they will also cause major water splashback due to this reduced surface area.
To save yourself the hassle of cleaning up water every time you use the sink, install your taps at the side of your sink. This way, only the end of the spout rather than the taps will be over the basin, giving you more space and reducing splashback. Conveniently, side taps will additionally lend your sink a more streamlined look, an essential achievement in a room where space is a luxury. Alternatively, wall mount your taps so they don't intrude on your actual sink. Floating taps will also give your bathroom a cool and elegant look.
Only sticking to one material
You may have heard that sticking to one color or pattern is the way to go for a small bathroom, but you could actually be making a mistake by doing this. Choosing more than one color or print will work in your favor. Much like how utilizing vertical space draws the eye away naturally from a lack of space, mixing and matching varying prints can create a unique look that has the added bonus of making your bathroom appear less cramped.
If you're concerned too many prints in a small bathroom will be visually overwhelming, go for some in the same color or for colors that naturally mesh well together. Pastels and off-white/cream will create a cozy look, whereas warm beige and gray tones will create a subtle contrast. You don't have to stick to just light colors, either. As mentioned, dark colors will make a small space pop, and a unique tiled floor can be the difference between dull and chic. A lighter tiled floor paired with dark walls would look stunning without reducing the look of the floor space you have.
Adding items with no function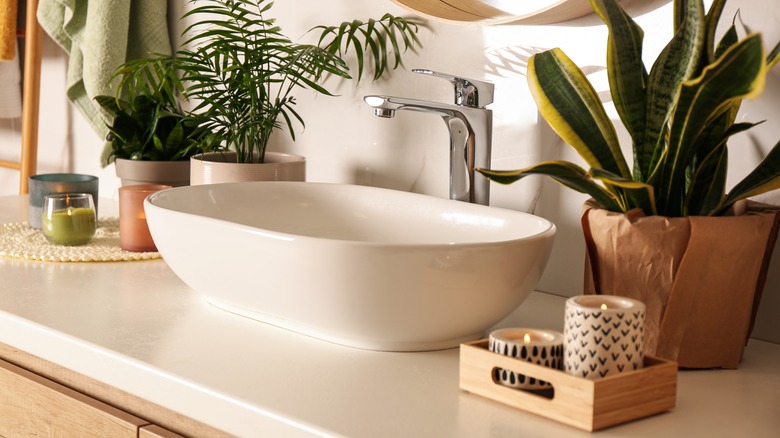 New Africa/Shutterstock
Last but certainly not least, try not to put items in your small bathroom that will only cause clutter. Certain items are unavoidable, but on the whole putting pretty trinkets, vases, or even candles on every free surface can actually do more harm than good by making your small bathroom appear cramped and unorganized. This doesn't mean you have to give up on putting beautiful things in your bathroom entirely, though. 
Speaking to MyDomaine, organizer Laura Cattano stated, "Decorative items don't have to be purely decorative. Use open storage for a display of functional items like beautiful towels. I love Japanese cotton or Turkish towels. They're soft, super absorbent, dry quickly, and take up very little room when folded." Use the vertical storage you have by adding a candle you really love on top of your floating cabinet, or take Cattano's advice and make your open storage into a display of sorts. Avoiding clutter doesn't mean getting rid of everything, just arranging it in a way that complements your space instead of overwhelming it.