Where Is Fixer To Fabulous Filmed?
HGTV has a slew of couples on their most famous shows. Let's see, there's Chip and Joanna Gaines (who have moved onto the Magnolia Network), Nate Berkus and Jeremiah Brent of "Nate and Jeremiah by Design" and "Nate & Jeremiah: Save My House," Ben and Erin Napier of "Home Town Takeover," and Dave and Jenny Marrs of "Fixer to Fabulous."
"Fixer to Fabulous" follows Dave and Jenny Marrs as they fix up properties, taking them from drab to fab. So who are Dave and Jenny Marrs? The couple — who have been together for 15 years — started dating in college and had success with a long-distance relationship as Jenny was from Florida and Dave was from Colorado.
Have you wondered where HGTV films "Fixer to Fabulous"? We found out where shows like "Flip or Flop" and "Love it or List It" are filmed, and why so many HGTV shows are filmed in Canada but keep scrolling to find out where "Fixer to Fabulous" is filmed!
Fixer to Fabulous calls this southern state home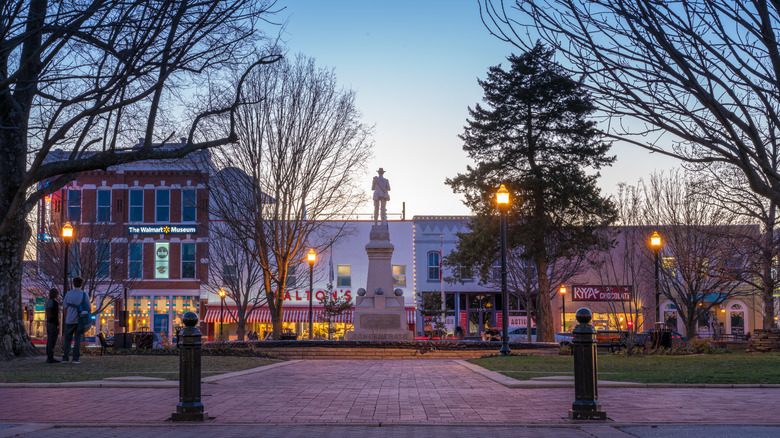 shuttersv/Shutterstock
Dave Marrs had a longing to build in Arkansas, which was having a development boom at the time, per House Beautiful. "[Jenny] graciously said she would try [living in Arkansas] for a couple of years. And I think, like a lot of people, you move here expecting to stay for a few years and then go back to Chicago, back to Florida, back to somewhere else [...] but that was 14 years ago," Dave told the Arkansas Democrat-Gazette. And, it's pretty incredible they stayed!
Like the Napiers of "Home Town Takeover," Dave and Jenny Marrs have really transformed Bentonville, Arkansas. Additionally, they had a desire to fix remarkable properties with plenty of history. "We always wanted to build that old-school, old-style home," Dave continued. "It was lucky timing — no one else was doing it yet, and it kind of grew. I would love to tell you that I saw it coming, but I didn't see it coming, or I would have bought ten times the property down there." If Bentonville, Arkansas, sounds familiar, it's because that is where it all began for Walmart in 1950. The draw was the same for the founders of Walmart ... small-town charm!