How To Color Match And Touch-Up Paint Already On Your Walls
Anna Mente/Shutterstock
Day-to-day living in a home inevitably leads to marks, dings, and chips on painted walls. This is especially true in areas where you come and go frequently, or where kids tend to play. Touch-up paint is almost inevitable to keep your haven looking its best. While it takes a little work, the good news is that you can get the freshen-up you're seeking — and keep the color you love — without having to repaint an entire room.
If you're lucky enough to have the original can hanging around in your garage or basement, the color may still be available where you originally purchased the paint. Keep in mind that paint colors can vary from batch to batch though, so the same brand of paint with the same color name may still look slightly different once it is on your wall.
When your color is no longer being manufactured, or your paint is too old to use, taking the can or a color chip back to the original source for a color match will usually yield a good result. This is true whether you purchased it at a home improvement center or a dedicated paint store. And even if you don't have the paint can, you can still match the color already on your walls.
Matching paint on your wall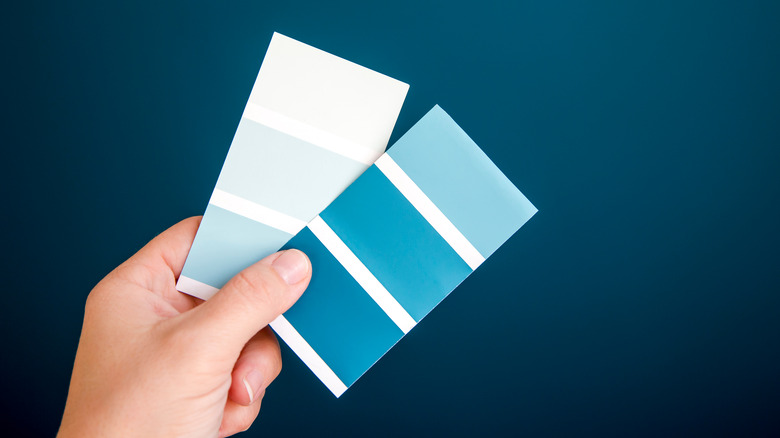 FotoHelin/Shutterstock
There are several different ways you can color match paint. Grabbing a handful of color swatches from the paint store or using a specialized phone app are both options. Most DIYers and experts agree that chipping a sample from the paint already on your walls is the best way to accomplish this task (via Bob Vila).
You'll need a tool like a sharp utility knife to get started. It's best to do this in an out of the way area where it won't be noticeable like near a baseboard, or better yet, behind a switch plate or outlet cover, rather than at eye level. Cut a section with the knife and then carefully pry the chip from the wall. Aim for a sample measuring no less than one inch square.
Take the chip to your favorite paint source where color matching is available. The staff there will use a spectrophotometer to duplicate the color as closely as possible. Going back for another batch can yield slight color variations, so be sure to purchase enough (if not a bit more) paint to cover the desired area. If you don't have spackle and a putty knife at home, pick them up while you're buying your paint. You'll need them if you couldn't obtain a paint chip behind a switch plate and to repair any other unsightly gouges you are trying to remedy with your paint touch-up.
Successfully painting touch-ups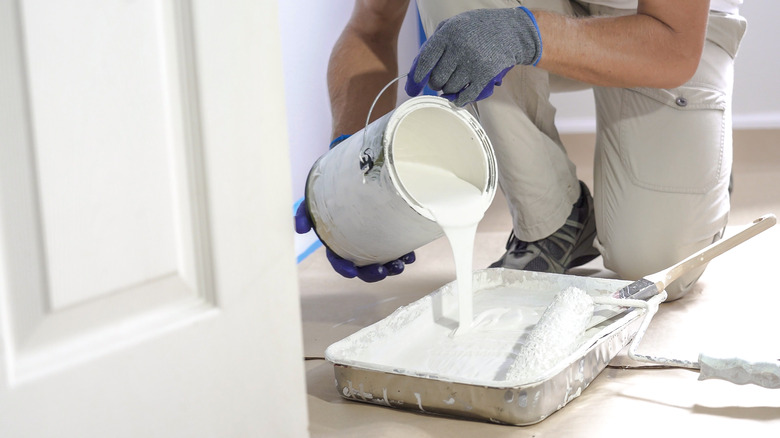 RightFramePhotoVideo/Shutterstock
Before you paint, clean the surface and then patch your sample chip area and any other areas that need minor repair using spackle and a putty knife to smooth it. Let the spackle dry completely. Once it is dry, you're ready to paint.
You can try painting only the spots that need a touch-up, but keep in mind that most color matches aren't 100 percent accurate. Even slight differences in color will result in obvious splotches after the paint dries. You shouldn't have to repaint the entire wall, but if you do, you'll need to prep with painter's tape so you can go all the way to the edges and from the ceiling to the baseboard. Even though the hue may be slightly different than the rest of the room, it should not be obvious with a good color match and an even coat of paint.
When the wall is completely dry, carefully remove the painter's tape and enjoy your home refresh.