Bobby Berk Says You Should Avoid This Sofa Style In A Small Living Room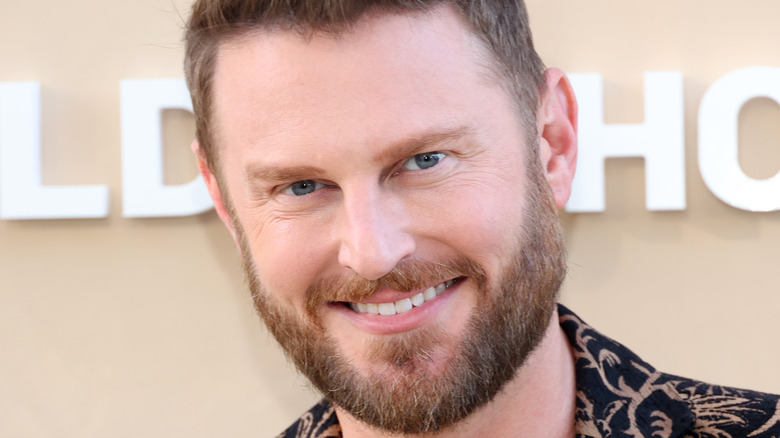 Monica Schipper/Getty Images
Whether you live in a quaint apartment in the city or an older home in the burbs, small spaces offer unique challenges when it comes to decorating. Do you have to sacrifice style to be comfy, or can you actually create a living room where you can kick back in small-but-chic contentment? Choosing the right sofa makes a world of difference, according to interior designer Bobby Berk, who stars in the Netflix reality series "Queer Eye." 
The key is to avoid oversized sofas — no matter how comfortable they may be. Instead, look for one you'll love sitting on, and fits the size of your space better. For instance, if you have low ceilings, Berk says to avoid a sofa with "a really tall back."
"A lot of people, when they go to buy a sofa, choose one that is only comfortable. Yes, you do want one that is comfortable, but you also want one that works with the scale of the room," Berk said in an interview with Homes & Gardens. That means selecting a sofa (or a love seat, if you have a really tiny space) that not only cushions your tush but doesn't overpower your room.
Looking for a few more ideas on how to make a small living room seem larger? There are several other things you can consider — including selecting the right accessories and repainting using the best colors for small spaces.
The best accessories for small living rooms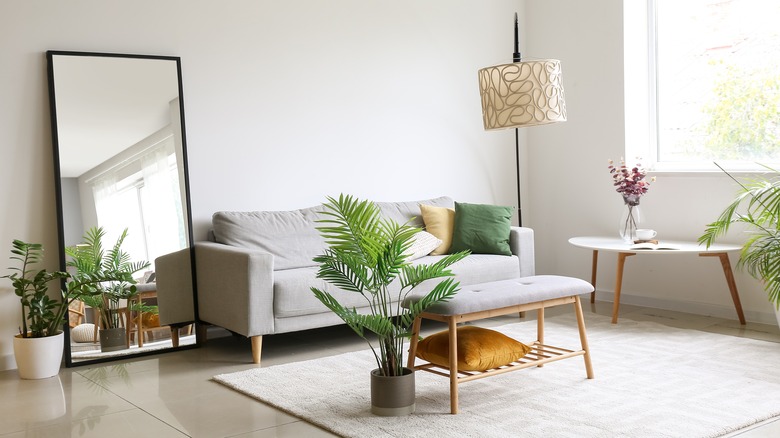 Pixel-Shot/Shutterstock
Beyond picking the perfectly scaled sofa, things like low ceilings and a lack of natural light can present additional hurdles in small living rooms. "Armless chairs and mirrors are a great way to make compact spaces feel better," suggests Bobby Berk (via Homes & Gardens). Incorporating mirrors can create an illusion of more space while reflecting light. Chairs free of arms set the stage for clean lines. The streamlined look helps to open an area up when square footage is tight.
Once you have the furniture basics in place, you can move on to accent tables. Look for pieces that are large enough to be functional without overwhelming your room. Think outside the box. For example, look for small benches that can not only hold a tray for serving snacks but can also be used as seating space when entertaining. Accent pillows, lighting, rugs, and plants can provide punches of color, texture, and life that are uniquely you while dressing up a small room.
Wall colors to use in small living rooms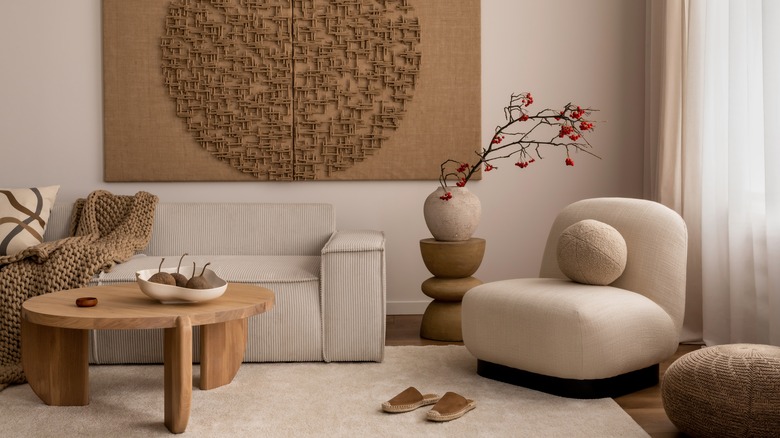 Followtheflow/Shutterstock
When repainting a small living area with a lack of space, be prepared to ask yourself how you feel about white. Contrary to popular belief, too much color on the walls can make a small room feel more claustrophobic. Bobby Berk, as he mentions in his House & Garden interview, ran into this problem when he was decorating his own parents' house. Repainting the walls white made a huge difference.
"When working with a smaller space, try to make all the walls the same color. Try to work with white. It makes things look bigger and brighter. Then, you bring in your personality through the colors in the rugs, pillows, and a little bit of wallpaper," he suggests.
Can't hang with stark white paint? Tray shades a bit deeper like cream, beige, or even greige. You don't have to go completely monotone, but mixing light colors on walls with furniture in complimentary tones can make your living room feel larger — while offering all the comforts of home.