How To Layer A Bed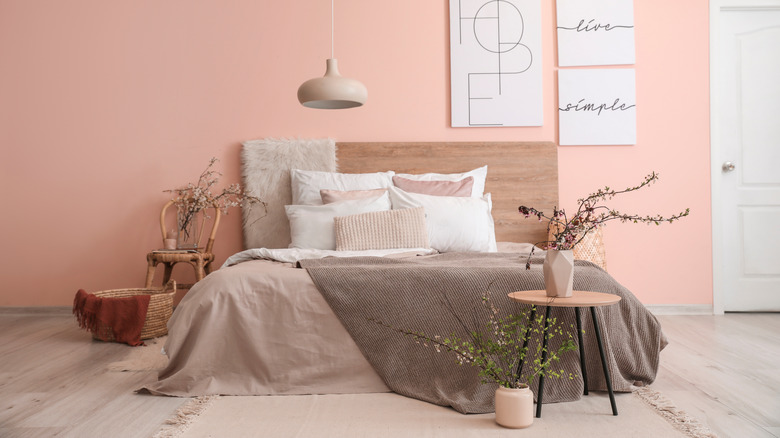 Pixel-Shot/Shutterstock
Decorating a bedroom is all about creating a comfortable space just for you. The style of bed you choose for your room is personal, but it still needs to blend into the living space. A bed frame will often be the centerpiece of the entire design, making the color, material, and shape essential characteristics to consider when selecting one for your space. According to Crate & Barrel, it's best to consider the size of your room and lifestyle preferences before finalizing a bed frame. These practical considerations are essential for adding additional accent chairs, settees, or benches to your room.
Once you choose the perfect frame, you can begin to focus on the best part — creating the cozy layers that will wrap you in comfort each night. It is time for you to pick out the perfect soft sheets, accent pillows, and blankets that make up the bed and go for a creative bedroom design. Along with decorating the space above your bed, room elements such as bed skirts, shams, and accent rugs will help elevate your decorative appearance and increase dimension. Here are decorating tips and tricks for layering a bed fit for any style.
Set the mood with color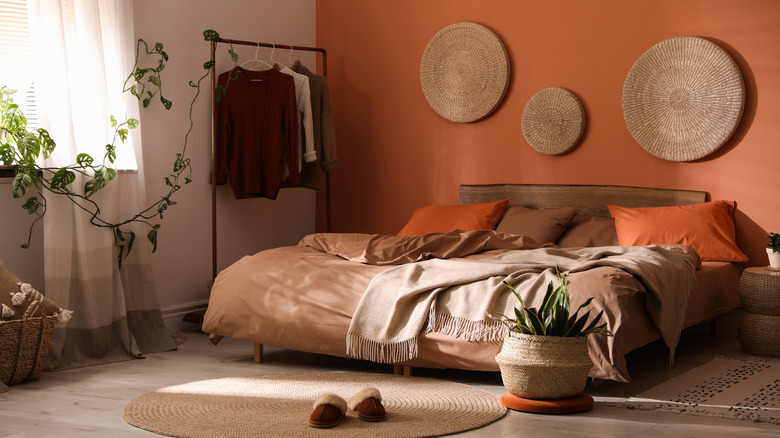 New Africa/Shutterstock
Make your bedroom a cozy spot you want to spend time by choosing an appealing color scheme. The bed is a natural focal point due to its size and placement in the room. These features make choosing a color palette essential since you ultimately want the bed to be visually cohesive with the rest of the room. For a successful look that pairs well in your space, aim to blend harmonizing shades amongst the bed linens and accents.
According to The Spruce, varying the shades of color and keeping patterns to a minimum are ways to achieve a pleasing look in your bedroom. No matter the color combination, whether it be blends of greens and pinks, blues and reds, grays and whites, navy blues with creams, or all neutrals, the goal is to blend pale and deep color tones to set the mood in your space.
Sheets set the foundation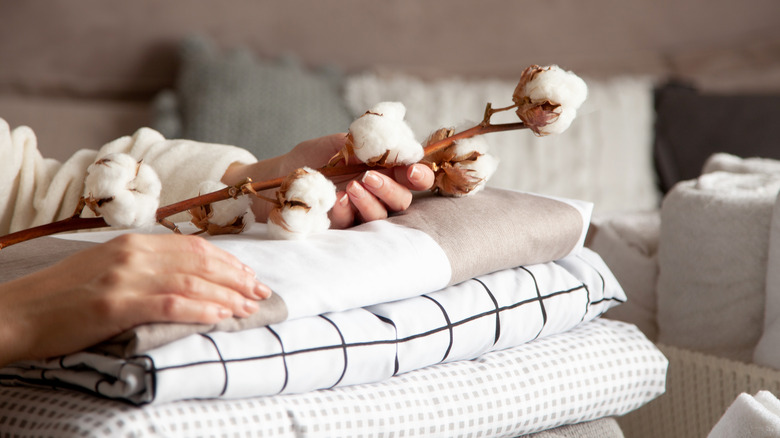 Kostikova Natalia/Shutterstock
The art of layering your sheets comes down to personal preference, but your bed sheets should ideally feel comfortable while looking good. The first layer on a bed is usually the fitted sheet. Hint: it has scrunchie sides. When placing the fitted sheet on the mattress, tug at it and secure it tightly as you do not want it moving around in your sleep. If you choose to use the flat sheet in your design, lay it upside down on the bed. When you fold the top portion over while making the bed, it should face right side up for the perfect layered look.
A good set of sheets is the foundation for a bed, not just in looks but comfort as well. According to Good Housekeeping, you should find bed sheets that are beautiful in appearance and high in thread count. Top-rated sheets range between 300 and 500 thread counts. Sheets also come in many fabric materials, leaving the choices near endless and up to your taste. Options range from jersey, silk, sateen, cotton, or percale, to mention a few. Cotton is typically the most popular choice for bedsheets (via HGTV). These materials differ in warmth and comfort, making the fabric preference different for every person.
Shams are for decoration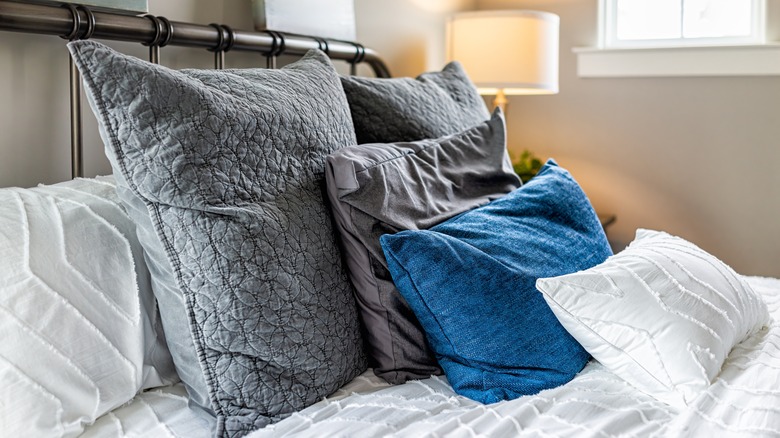 Kristi Blokhin/Shutterstock
Let's start by noting that shams are not the same as pillowcases. According to Kathy Kuo Home, these pillow coverings are purely for decorative purposes and can help give your bed a professional designer look. Now, let's learn how to use them to complete your bed to perfection. Shams, much like pillowcases, cover a pillow, protect it, and keep it looking fresh. The main difference is that they look prettier than pillowcases. Shams are a great option if you want to decorate a daybed.
Shams often feature details that ordinary pillowcases do not. For example, decorative bed shams can have floral designs, embroidered accents, striped or plaid prints, and geometric patterns. These pillow coverings are available in many colors suitable for all decorative preferences. You can sleep on shams, but that is not their intended purpose. Through the patterns and colors, choose pillow coverings to add visual texture to your space and transform your bed into a beautiful place fit. 
Attach a skirt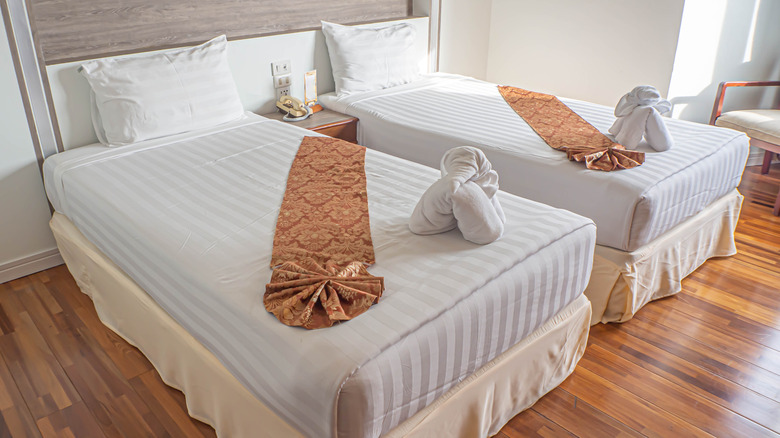 GracePhotos/Shutterstock
While covering a bed with a comforter or duvet is a simple and chic way to decorate the top half of your bed, don't forget to focus on the underside. The next decorative idea is for bed frames that could use some additional flare in the shape of an elegant bed skirt. According to Houzz, you should not disregard a bed skirt when decorating your bedroom. This bedding layer is decorative and purposeful. A bed skirt beneath the other linens helps keep all the fabric layers in their respective places.
You can dress up with your bed with skirts in different colors and styles. Some feature intricate details at the edges and eye-catching designs. While personal preference will determine the fabric you select, some of the most common materials for skirts include tulle, tailored, gathered, or box-pleated varieties. Be sure to find the right style and size for your bed. You want the skirt to drape over the edges and hover right above the floor.
Wrap the bed in a scarf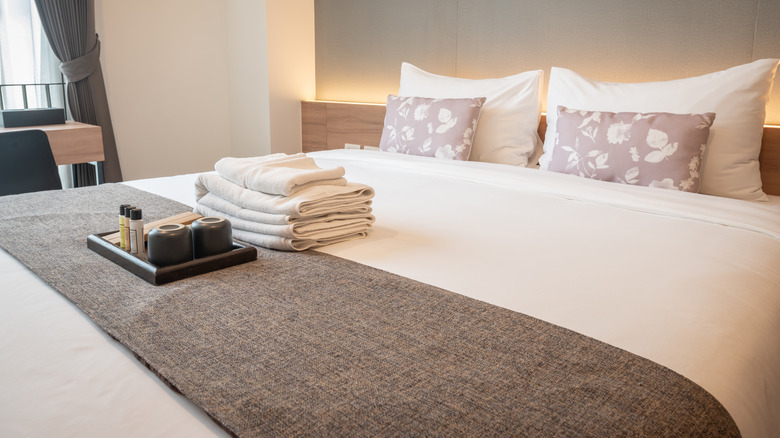 Boyloso/Shutterstock
Wondering what a bed scarf is? The chances are good that you have seen one of these before in a hotel room but didn't know the name. A bed scarf is a strip of fabric used to dress up a bed. It typically lies at the end of the bed or across the middle. This layer drapes off the sides or tucks under the bed. You can choose a size based on the style you want to create. However, according to InnStyle, you should layer the bed with a scarf that fits its size, whether you have a twin, queen, or king mattress.
Ideally, you want a bed scarf that can spread out across the entire length of your mattress regardless of whether you choose a draped or tucked look. After deciding on a placement, direct your attention to the small details and aesthetics. You can opt to keep your bed scarf neutral or add a lighter or darker tone that complements the existing bedding. Or, you can add one with a simple pattern to introduce movement to an otherwise solid bed.
Indulge in plush pillows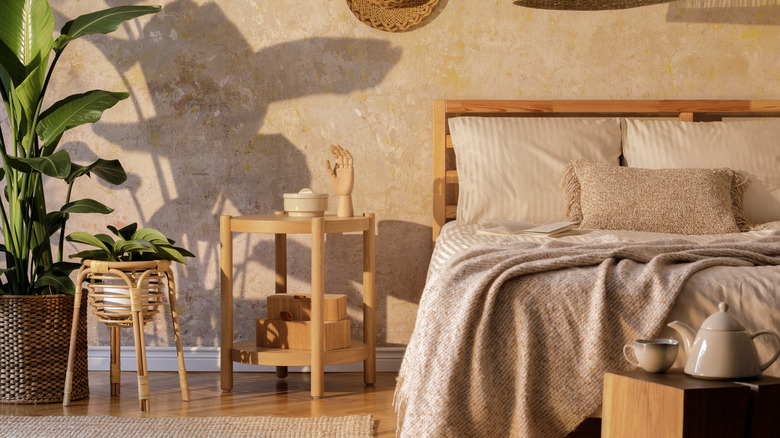 Followtheflow/Shutterstock
When choosing pillows for your bed, think about the bed frame in your room. This tip will allow you to create your dream pillow arrangement. According to Overstock, a bed with a headboard allows a decorator to maximize their pillow display. The board lets you prop up the pillows for a super luxurious look. If you don't have a headboard, stack your pillows for a comfortable and cozy vibe.
Investing in pillows for your bedroom decor makes it look comfortable and introduces a unique visual texture. A collection of different-sized pillows in varying patterns and shades will display your character and offer contrasting heights. Be sure to include pillows for both comfort and style. A crucial part of creating a pillow display is to consider your mattress size, as this measurement will give you a good idea of how many pillows you may need to fill the space appropriately.
Quilts and throws for warmth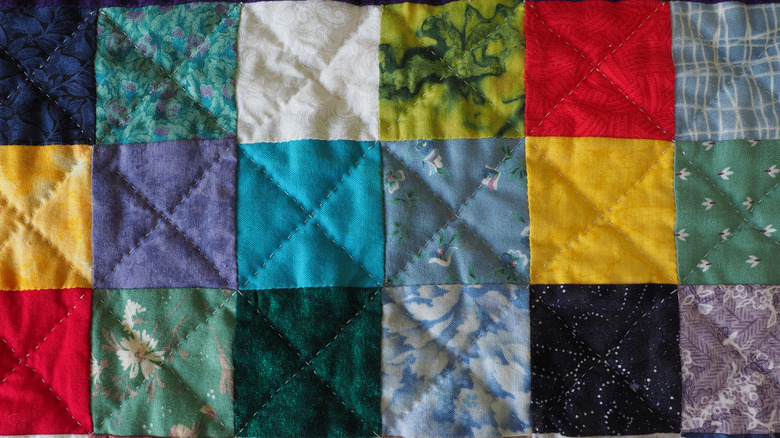 CreatewithClaudia/Shutterstock
Make your bed irresistibly cozy by adding a quilt or throw. According to One Kings Lane, quilts are bedroom essentials that have been around for hundreds of years. These blankets became particularly popular when European settlers arrived in America. Quilts introduce a playful spirit to the bedroom and are highly functional in the home space. They can be used as blankets for warmth, comforters, or layers at the foot of the bed for decorative purposes only.
Quilt or no quilt, a sophisticated throw blanket is an absolute must for your bedding. These ultra-soft layers create a bed you never want to leave. Blankets are the ultimate cozy love language and pack a punch of visual texture in a space. They instantly change the overall mood of a bed. You can choose to add one or 12 blankets, depending on how cozy you want to make your space.
Cover it with a coverlet
Photographee.eu/Shutterstock
If you are a sleeper who seeks options in their blankets but do not want to sacrifice style, consider adding a coverlet as one of your bed layers. Think of this piece of fabric as an extension to your bed. A coverlet is not a bedspread or comforter. Instead, it is a more versatile blanket that covers a bed. Basically, it is an oversized blanket.
A coverlet typically allows the bed skirt to peek through, hovering right above it. This piece can decorate your bed in multiple ways to achieve your desired look. As interior designer Caitlin Murray said to Elle Decor, "They can be folded up and look great at the end of the bed as an accent, whereas a bedspread is a little bigger, and you can't switch up the design that much." This lightweight layer can be placed between the duvet and the sheets or set over the comforter.
Comfortable comforters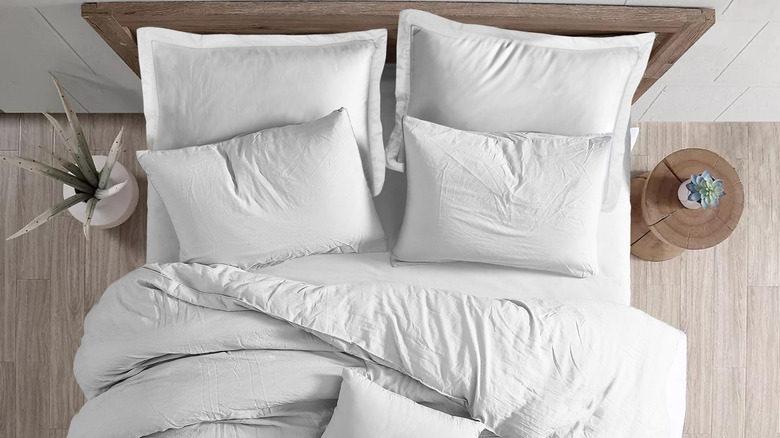 Vectormann/Shutterstock
An essential part of a bed's design is the top layer. This piece is usually a comforter. As its name suggests, choosing a comforter for your bed is more about comfort than style. According to Good Housekeeping, you will typically use this as a blanket on most nights. Fabric, texture, and care maintenance matter when selecting one for your space. How the comforter is insulated is often a general indicator of whether or not a specific one is for you.
Most comforters feature an alternative down material, duck feathers, or geese feathers. The feathers are preferable since they are of lighter consistency and provide breathable coverage. Coverage is important when choosing a down comforter as its 'fill' power will determine its comfort level. When selecting one for your bedroom, consider room temperature to help determine the right amount of fill coverage you need. The higher the fill power, the more warmth the blanket will provide.
Duvet covers add dimension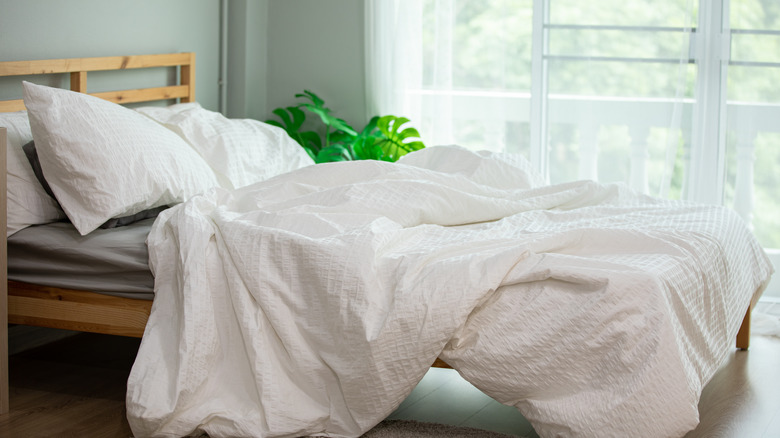 220 Selfmade Studio/Shutterstock
Comforters are a plush addition to any bed, but this covering has the power to transform your bed into a sophisticated statement piece. According to Studio McGee, you can use a duvet cover as the primary layer for a bed ensemble. Keep the duvet cover the same color as the rest of the bedding to stay cohesive, or mix it up by covering the comforter with a duvet cover in a fun pattern or bold contrasting color. Amp up your style and use a comforter as an insert for a duvet cover. Or, fold up a quilt or soft blanket and place it at the end of the bed.
Using duvet covers for bed layering is ideal if you desire a fresh, new look or want a seasonal update. This cover is versatile and instantly adds dimension when folded together with a quilt or sheet. To give your duvet cover a fuller look, stack two comforters together.
Style for the seasons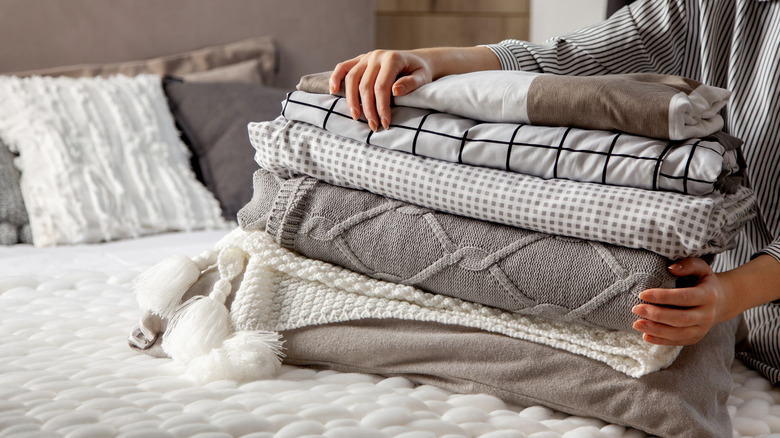 Kostikova Natalia/Shutterstock
Bed linens are an essential element of a room's appearance and comfort. According to House Beautiful, regularly swapping sheets will keep your look fresh and clean. Aim to change your bedding every two to three years. Fresh linens are a must, but not every fabric is suitable for use year-round. If your bed is too cold in the fall or winter months and too warm in the spring and summer, perhaps you should style your space for the seasons.
A material that works for one season may not necessarily be the best for another. The weather in your hometown will also help determine how you layer your bed. If it's the warmer part of the year for you, consider swapping out sheets for a breathable material like linen (via Vogue). If it is colder and your desire some extra warmth, add cozy throw blankets or a heavier comforter. You could even design accents like pillows with touches of the season's colors for the ultimate seasonal style.
Layer a rug on the floor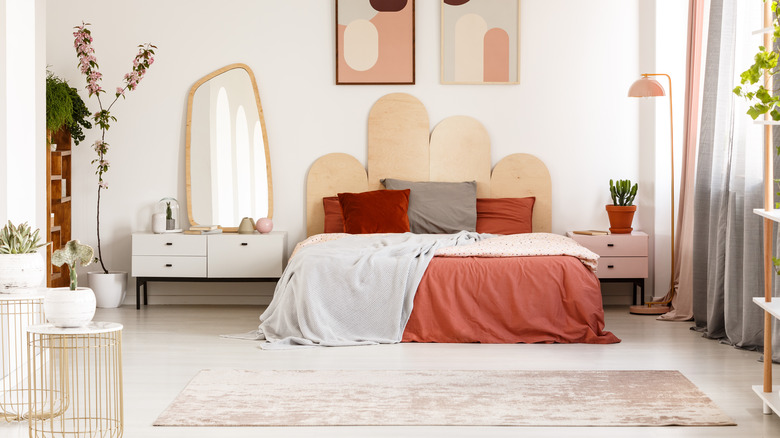 Photographee.eu/Shutterstock
While you may question what the floor has to do with a bed, adding a rug beneath a bed can instantly elevate your bedroom. Decorating with rugs can add visual interest to an area and helps break up a solid space. As interior designer Kati Curtis said to Martha Stewart, "The 'right' sized rug for your bedroom can really make or break the room." Try and choose a size that fits the floor area in your room. You should see the rug from either side of the bed and the front.
Layering an accent rug also helps frame a distinct section around the bed. The lines formed by simply rolling out a rug make the bed a prominent statement piece amongst other elements in the room. Who doesn't like feeling something soft on their feet when they step out of bed in the morning? This accent is fully transitional, and you can swap it out as your style updates.
Accessorize with a bed tray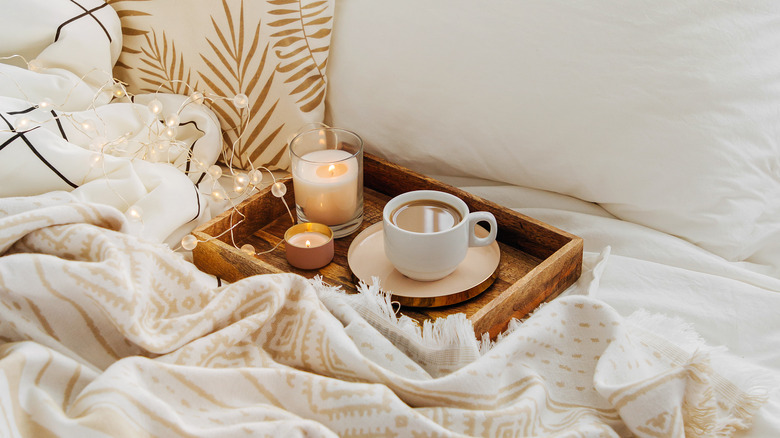 Igisheva Maria/Shutterstock
Consider this layer as the cherry on top of your bed sundae. A bed tray can add visual height variation in your space as it rests atop your bed linens. Layers on a bed tend to be flat and one-dimensional, allowing a bed tray to stand out and add dimension. According to HGTV, you can make your own tray from wood or purchase one to complement your space.
In addition to its decorative value, a bed tray is perfect for breakfast in bed, coffee in the morning, or as a temporary work desk. It ranks high on the functionality scale for home decor. Bed trays are also an ideal spot for little trinkets and smaller accents. You can add your own personal touches to the space by completing your bed tray with a favorite scented candle, jewelry box, framed photo, or vase of colorful flowers. 
End of the bed bench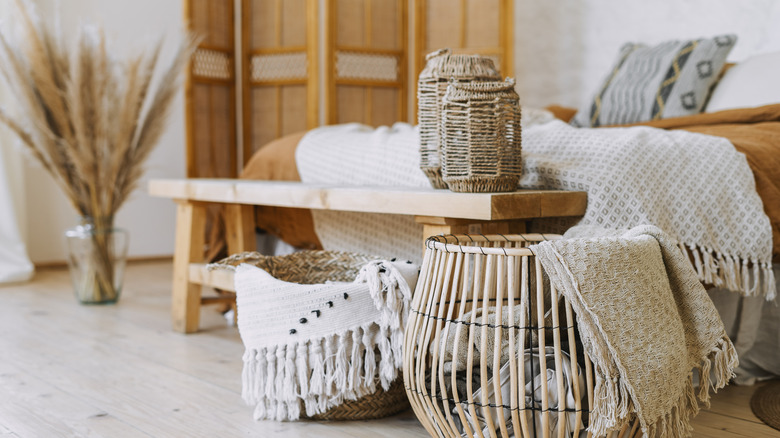 Brizmaker/Shutterstock
Once you've selected your linens and pillows for the bed, it might feel like something is missing. For the finishing touch, consider adding a bench at the foot of the bed. This structural addition pairs well with your bed and boosts functionality. The rectangular shape and variety of colors and styles make it an ideal accent piece for a bedroom. As designer Casey Harden said to New York Magazine, you should avoid matching the bench with your bed. "Contrasting the bench with the material of your bed to ensure that it adds visual interest — for example, if you have an upholstered bed, try a wood bench; alternately, a wood bed would pair well with a fabric bench."
If you have a light color bed frame such as beige or taupe, you may want to consider a darker bench such as brown, gray, or black, and vice versa if you have a darker bed frame. Adding a stool at the end of the bed means more storage space for throw blankets and extra pillows or additional seating if needed. Make the bedroom a place you never want to leave by layering your bed with beautiful elements.