HomeGoods Facts Only Huge Fans Know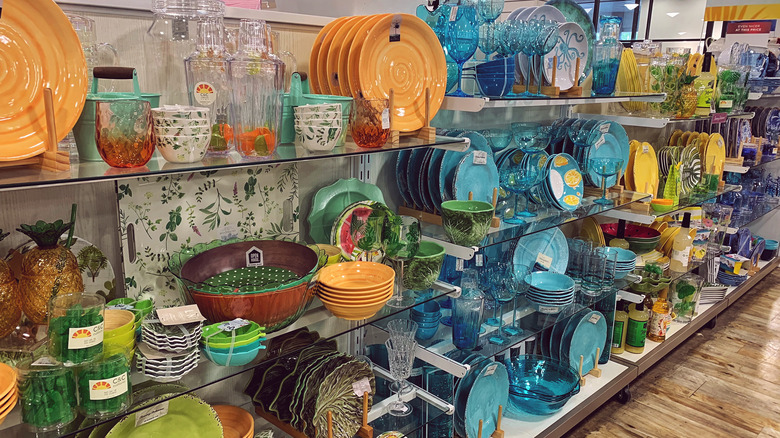 Anatoliy Tesouro/Shutterstock
From furniture and home decor to outdoors, kids, pets, and more, this is a one-stop shop for all your home and gift shopping. Name brands and discounted prices make this a holiday favorite and the perfect place to get inspired for your weekend project, according to HomeGoods. Add a little something to your bedroom, transform your home office with furniture, or completely redo your living room with decorative pillows, a plush rug, and a ton of throw blankets; all of it's possible at HomeGoods.
Whether it's the holiday season or just an average weekday, there are plenty of treasures to be found. In fact, browsing HomeGoods is a bit like treasure hunting itself — there seems to be a little bit of everything lining the shelves, but you may have to root around to find it. Small and large, layered and stacked, the items are unique, from around the world, and fun. HomeGoods may be your favorite go-to if you're in need of some retail therapy or a kitchen gadget, but have you ever considered what it is that makes this store so unique? Why do you want to buy everything, even things you don't need? How has it seemed to fit an entire mall into one store? How does it keep prices so low? Keep reading to find out all of HomeGoods' secrets: Why you can't run in and run out of your favorite store, and how to get the very best deals with a few secret shopping tricks.
What is HomeGoods?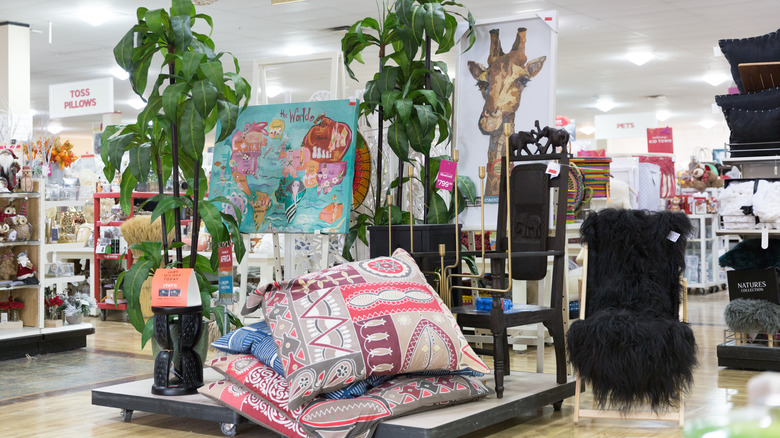 Helen89/Shutterstock
HomeGoods' name is quite literal — the store sells a range of goods for the home. It has a devoted client base for a few reasons: It has discounted prices on quality name-brand items and a wide range of products that often feel one-of-a-kind from around the world. The brick-and-mortar stores are laid out with eye-catching displays that prompt shoppers to think about redecorating. According to HomeGoods, each store has seasonal, furniture, lighting, rugs, kitchen and dining, wall art, bed and bath, and outdoor categories, offering a wide variety of home items.
Seasonal decorations and home items are also a specialty of the chain. HomeGoods aims to be your first stop if you're planning a holiday party with a huge guest list or just planning to update those dusty Christmas decorations in your attic. Shoppers are drawn to the store during the holidays because not only will they find great prices, but they will find quality pieces. Not to mention, it has almost everything you're looking for when it comes to decor and lifestyle, which makes your errands a little simpler. Why not decorate the whole house, stock up on kitchen necessities and healthy snacks, and grab that last-minute birthday card?
HomeGoods' history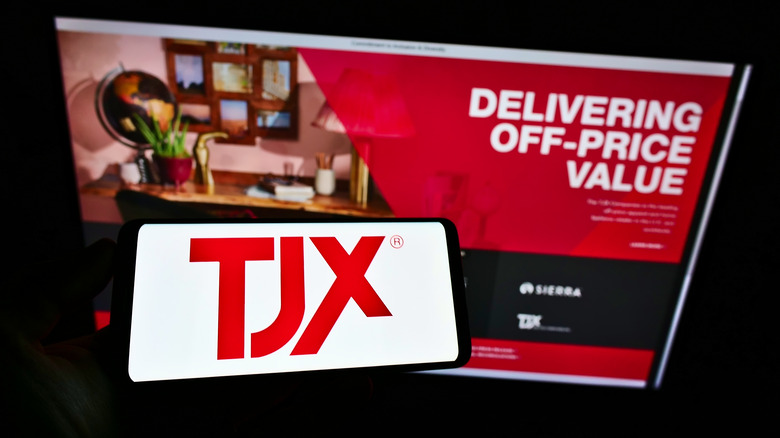 T. Schneider/Shutterstock
According to the brand's website, HomeGoods is part of the TJX conglomerate and was introduced in 1992 as a store that offered a collection of home fashion and decor items from around the world. The sister store to T.J.Maxx was a bigger and better version of its home section, and the idea worked like magic. The store's success was impressive and quickly became a favorite for those looking to decorate their homes in a stylish, luxury way without breaking the bank.
After witnessing the success of HomeGoods and other stores like it, the company then opened HomeSense in Canada in 2011, which was a very similar concept. HomeSense now has over 75 stores nationwide (via HomeSense). HomeGoods and other stores like it became favorites for home buyers, decorators, students moving into dorm rooms, and pretty much anyone else who wanted to spruce up their living space, office, or business. In 2015, HomeGoods opened its 500th store, clearing a milestone. It's hard to believe that in 2022 the store celebrated just its 30th anniversary, considering what a staple it is for many.
The company behind HomeGoods was founded in 1919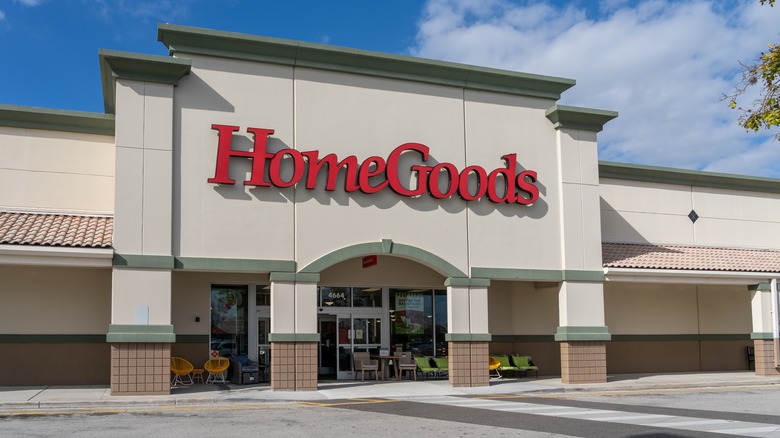 JHVEPhoto/Shutterstock
Before it became a household name, HomeGoods grew out of T.J.Maxx, a company that originally started as a hosiery business. It was the brainchild of Max and Morris Feldberg, two brothers with entrepreneurial blood running through their veins. They called the shop New England Trading Company, and gradually expanded through New England and the upper East Coast. Thirty years later, the family had widened the inventory to resemble what consumers could find in department stores but at discounted prices. They also rebranded it as the Zayre Corporation.
Zayre was not the only company that was playing this game. In the 1950s, Marshalls was another off-price retail chain that was sowing its oats in the same part of the country. The Melville Corporation purchased its 32 stores in 1976 for $40 million. Zayre executives took notice and recruited a Marshall's executive to help them launch The TJX Companies. Both chains still have decent-sized sections with home offerings, including linens, pots and pans, bird feeders, and gourmet foods like olive oil. HomeGoods was introduced in 1992.
What is TJX Companies, Inc.?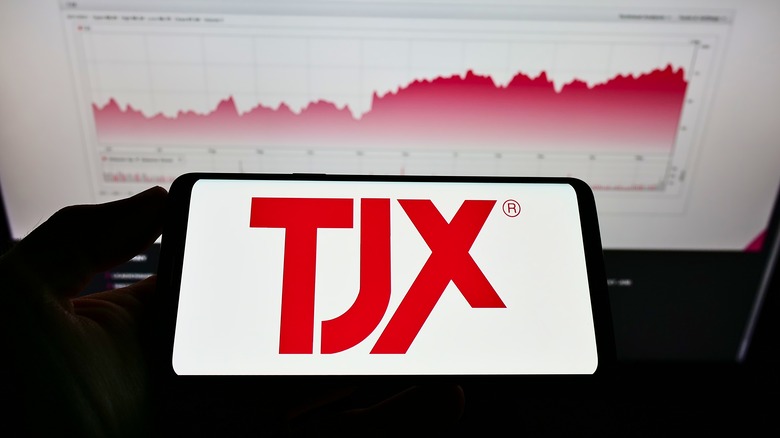 T. Schneider/Shutterstock
In 1976, Zayre Corporation tasked Bernard Cammarata with creating a new off-price chain that specialized in home decor and clothing, which would appeal to shoppers who loved quality decor and fashion items at more affordable prices, according to TJX Companies. He came up with T.J. Maxx, Hit or Miss, and Chadwick's of Boston, with T.J.Maxx becoming the breakout hit. It acquired Marshalls in 1995, which was its biggest competitor, and in 1998 it opened A.J. Wright. The company eventually ranked 75 in the 2022 Fortune 500 company listings and now runs four major divisions: Marmaxx, HomeGoods, TJX Canada, and TJX International. 
Growing over the years, the brands would expand over continents and countries, attracting buyers and vendors with the off-price model offering name-brand items for more affordable prices. TJX now runs approximately 4,700 discount retail stores (T.J.Maxx, HomeGoods, and Marshalls) across nine countries around the world.
Its CEO was named one of the most powerful women in the world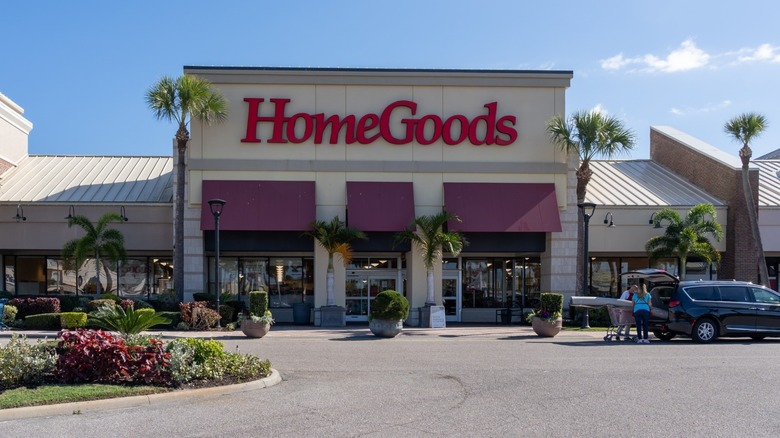 JHVEPhoto/Shutterstock
Carol Meyrowitz is the CEO of TJX and has received numerous accolades throughout her impressive career, including high rankings on lists of the world's most powerful and influential women. For three decades, Forbes has included her in its Top 100 list of powerful women in business, and Charged recently put her first in its list of the Most Influential Women in Retail. She has also turned up in CNN's list of the most powerful businesswomen.
CEO Meyrowitz started working for TJX in 1983, and it took her 18 years to climb up the ladder and become the company's Executive Vice President. In 2004, TJX added the word "senior" in front of her title; a year later, she became the president of TJX. Meyrowitz then assumed the position of Chief Executive Officer in 2007 and has managed to make a huge impact on the company's revenues and profits. When she became CEO, TJX's revenues were at a not-too-shabby $16 billion, and it is now hovering at $27 billion. The gains have nearly tripled during her CEO tenure, and she isn't slowing down anytime soon. Meyrowitz's net worth has been estimated at $117 million. 
The truth about off-price retailing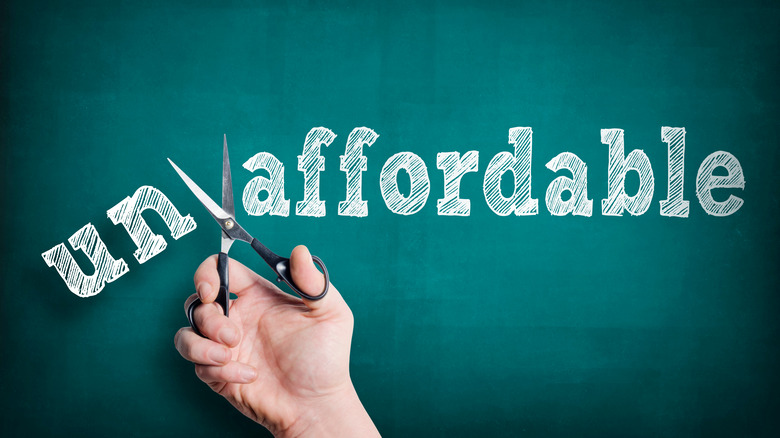 Natasa Adzic/Shutterstock
We know that HomeGoods and other TJX stores offer discounted or lower prices — the tags with "compare at" prices are a stroke of marketing genius — but why exactly are the prices so low? Are the items not authentic or damaged? The secret is off-price retailing. According to Inturn, off-price retailing is when stores sell branded or designer items at much lower prices because the brands have an excess of inventory that they cannot sell themselves. This excess inventory can occur when orders are canceled, there is overproduction or factory errors, or an excess of off-season items. Stores such as HomeGoods can then purchase the items at around 40% to 60% off the wholesale price, passing on the savings to the shopper.
There are several reasons why this pricing model works well for HomeGoods. Brand name and designer products are sold at a great value, and the inventory is constantly changing, which keeps buyers interested and always searching for more (via TJX Companies Inc). The buyers appreciate low prices that stay low, and this keeps them coming back for more and more. This also contributes to the surprise factor for shoppers. Certain items are not guaranteed, so you never really know what you will stumble upon.
The treasure hunt shopping experience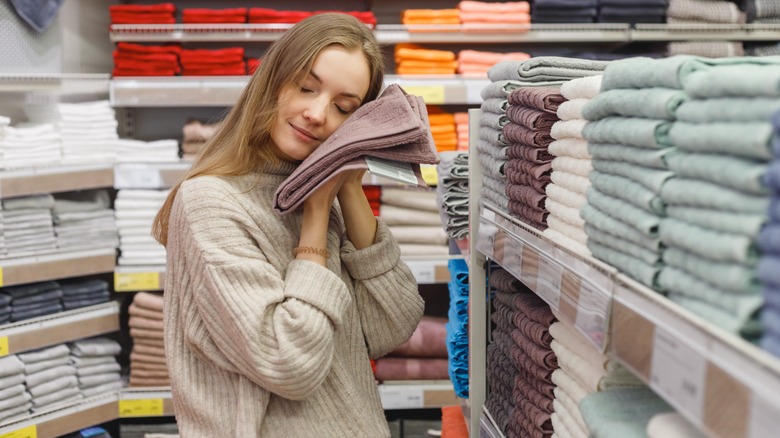 Vladeep/Shutterstock
The treasure hunting experience (not knowing what you're going to find) is all part of the thrill and allure of HomeGoods and other similar stores. Digging for great deals, a limited inventory, and an inventory that is constantly changing helps achieve this experience. What makes it all possible? The vendors. According to Harvard Business Review, the large number of SKU numbers in the store and the endless inventory is due to the 16,000+ vendors that supply HomeGoods from all over the world.
It's not about offering every style, size, or color of every item. HomeGoods and off-price retail are more about finding that one exclusive item or being lucky enough to score the best deal. This creates that "wow" factor, or that urgent need to buy it as soon as you find it. This model of success has grown in popularity over the years, and team members at TJX Companies Inc. continue to learn from it and improve the shopper's experience.
HomeGoods doesn't reveal the vendors they work with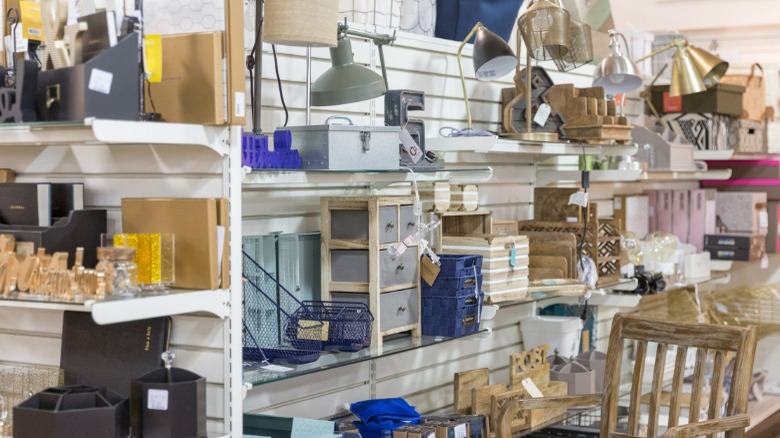 Helen89/Shutterstock
When it comes to selection, the only constant about HomeGoods stores is that their store inventories are constantly changing. While shopping, you might see Kate Spade dishes one week, and the next there is a Denby dinnerware set in its place. The only way to see which vendors it works with at any given time is to shop online or go into one of the stores.
HomeGoods buyers work with a variety of different vendors that have products in various price ranges. These employees are always looking for new deals, so while a great deal from your favorite kitchen utensils company might be found on March 31, it might have all been scooped up by savvy shoppers by April Fools' Day. HomeGoods has agreements with certain vendors that manufacture products for the chain, but the brand names are not shared on the HomeGoods website. All in all, these are effective strategies because shoppers can be surprised each time they visit the stores. The thrill of finding a designer-brand bath towel at a reduced price is invaluable, especially when it's unexpected. Carol Meyrowitz definitely knows what she's doing.
The HomeGoods blog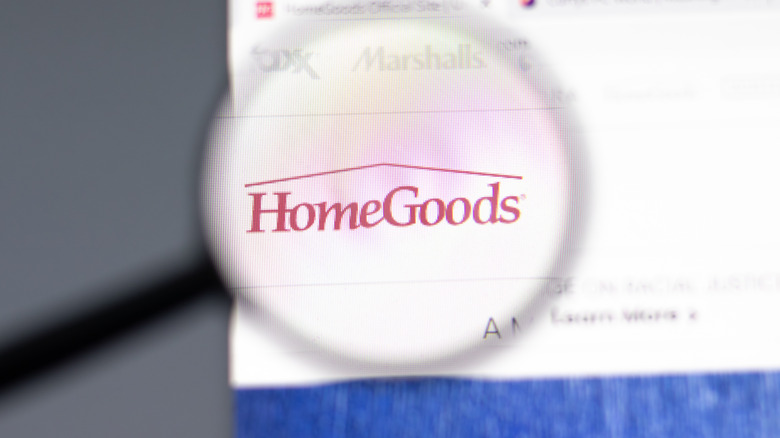 Postmodern Studio/Shutterstock
If shopping the many sections at HomeGoods inspires you to revamp your bedroom or upgrade your kitchen, you'll love the store's blog. Get decor inspiration, tricks on how to shop, and inside information about the current inventory on the site's blog, which is full of large cheerful photos that emulate the experience of visiting a store without leaving the comfort of your home. Plus, the blog is a great way for decorators, designers, and consumers to connect and share ideas, according to Retail Customer Experience. Just like the stores, the blog has a constant supply of fresh material to explore and get shoppers inspired.
There are just as many blog sections as there are shopping categories (via HomeGoods). A recent blog post was titled, "Décor ideas to make your dorm feel like a home away from home." This post is a collection of quotes, tips, and ideas from students at Historically Black Colleges and Universities who found great items at HomeGoods. Posts like this are common because they are fun to read and guide shoppers through their own experiences.
Another recent post was "Outdoor décor ideas for a warm weather refresh," a collection of helpful decorating tips to spruce up your patio. This step-by-step blog post helps readers think about their budgets, plan out color schemes, and zero in on patio styles to be better prepared when shopping for patio furniture in-store. How to accessorize a space, which greenery to use, and lighting tips are all covered to make this a quick and helpful read.
HomeGoods Idea Shop
The Idea Shop is much like a Pinterest board or a decorator's Instagram feed. According to HomeGoods, big, bright, beautiful colors and photos offer endless discovery and inspiration. Online shopping has only grown in popularity, especially since the COVID-19 pandemic, which began in 2019. Home deliveries, free returns, and two-day shipping have made shopping convenient, and it doesn't appear that the trend will die down any time soon. However, that doesn't mean some shoppers don't miss the in-store experience.
The Idea Shop is the perfect alternative for buyers who want to browse and get inspired by smart displays and colorful decor. It is divided into several easy-to-use sections, including by the room, which can then be organized by price, color, and more. Other helpful sections include items that are almost gone, wonders of the world, and best price collections. These will inspire you if you're unsure what you're looking for, or they can help you easily find what you're searching for. Another feature in the Idea Shop is the "explore the store" section, which allows shoppers to get a sneak peek of a real HomeGoods store with a 360-degree tour. That way, you can see if anything catches your interest before driving to the location. 
HomeGoods has an interactive app
The online experience doesn't stop at the Idea Shop. Like most businesses, HomeGoods has shifted to customer convenience and now offers an easy-to-use app for all your shopping needs. According to Apple, with the HomeGoods app, you can manage your TJX rewards credit card from anywhere, and shoppers can easily redeem and access rewards.
The app is also full of inspiring photos and decorating tips for buyers to get started on their new projects. HomeGoods also makes it simple and easy to save your favorite items and shop for similar items. Shoppers can snap photos, upload them, and share with friends for parties and other events, such as house warming, bridal showers, baby showers, and more. Another helpful element is that you can locate the closest store, save stores for future shopping, and search stores nearby with your phone or computer. It's also great for browsing the actual inventory in nearby stores and getting a sneak peak at the latest in-store arrivals, so you can easily be on top of the very best deals.
Who is the HomeGoods buyer?
2p2play/Shutterstock
HomeGoods is no accident. Everything that makes the company stand out is a well-orchestrated marketing tactic or just another part of a plan with an ultimate goal in mind. From the "compare at prices" on the tags to the snacks near the checkout line, there's a reason for everything. But all of these products are purposefully there to tempt a specific type of buyer. There is a formula to everything.
It's no surprise that TJX Companies Inc. has spent time and resources trying to determine exactly who the HomeGoods buyer is. According to TJX Companies Inc., the typical buyer or shopper at HomeGoods is a middle to upper-class woman between 25 to 54 years old that is fashion conscious on a budget. She shops in high-end department stores but likes to find a deal. That's why the treasure hunting aspect hooks her in so much, and why the "compare to" tags catch her interest. It shows they originally had a luxury price tag, but it was bumped down to a deal. Like every other business, HomeGoods wants to sell products to you and anyone else who will shell out a few dollars for a mug with some lemons on it or a decorative pillow. The first step of every sale is understanding who it is selling to.
HomeGoods competition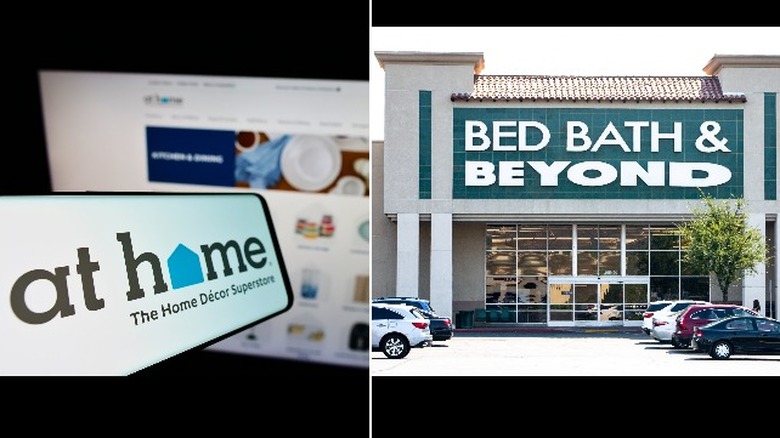 Wirestock Creators & Juan Llauro/Shutterstock
Considering the success of TJX Companies Inc., it is no surprise that similar stores are also gaining traction. According to Comparably, At Home, Bed Bath & Beyond, and T.J.Maxx are HomeGoods' main competitors, and a few even outrank HomeGoods. Although all these stores sell similar items, there are a few notable differences. First, At Home is typically a much larger store and is often compared to a Walmart or Costco based on the size and layout (via Insider). HomeGoods is known for its slightly scattered and often unorganized aisles, which go hand-in-hand with the treasure hunt experience. This is a fun adventure for some shoppers, although others will prefer the wider, more organized aisled of At Home.
Another difference between HomeGoods and a few competitors is the brand names. HomeGoods offers well-known name brands at a discounted price, whereas At Home and Bed Bath & Beyond offer their own brands and a more cohesive range of products. HomeGoods and T.J.Maxx are more of a collaboration of vendors, brands, styles, and products from around the world. The main difference between HomeGoods and its sister company, T.J. Maxx, is that T.J.Maxx has a clothing section, allowing shoppers to browse for fashion and homewares in one spot.
Tips and tricks for shopping at HomeGoods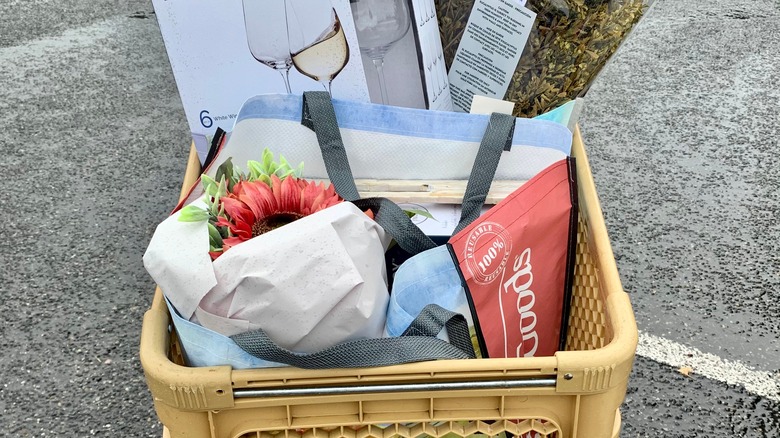 Jaclyn Vernace/Shutterstock
Wandering the aisles of HomeGoods, T.J.Maxx, or Marshalls can feel somewhat overwhelming for shoppers. The discount prices, the adorable decor, and the sheer number of products hidden in every nook and cranny can have your cart overflowing before you know it. Here are a few tricks if you want to shop smarter and uncover the best deals.
The first thing to remember is that weekends are, unfortunately, not the best time to shop, according to Livingly. HomeGoods gets deliveries every other night, which means that Wednesdays and other weekday mornings are the best shop times. The weekends are sure to draw a crowd of excited shoppers, and the last thing you want to do is fend off other buyers while trying to feel inspired!
Another trick is to sharpen your eye and dig deeper. There are a ton of hidden gems on shelves, and you just might find the perfect item if you aren't afraid to get low and really look. Don't forget to move fast. If you're planning to go home and think about that new chair or the chic picture frame and come back, then you might be disappointed. Inventory moves fast in this popular one-stop shop.
Keep an eye out for damaged or flawed items. Even if these items are already marked down, asking for a little extra doesn't hurt. These stores love to move products, so you'll find clearance racks and check-out lines jammed with last-minute items that stores want to clear out. Finally, make sure you understand HomeGoods' sticker system. Yellow means final clearance price, red means marked down price, and purple signifies a designer label. Keep your eyes sharp and happy shopping!
Customers couldn't shop HomeGoods online until 2021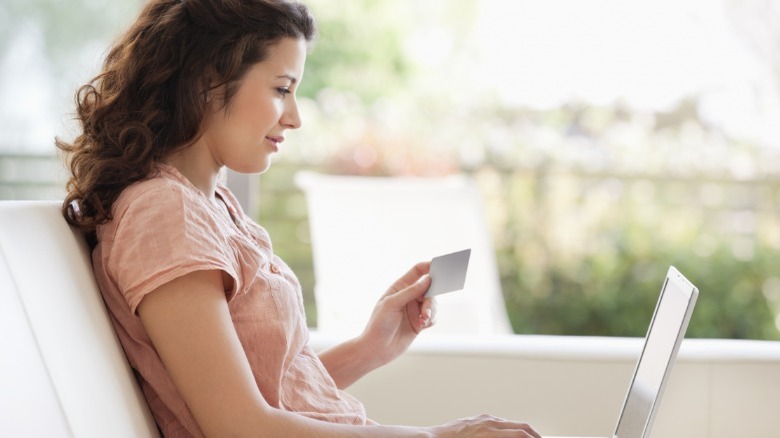 Sam Edwards/Getty
Do you remember when HomeGoods didn't offer online shopping? It seemed strange because T.J.Maxx and Marshall's offered e-commerce sites in 2013 and 2019, respectively. When the brand finally jumped onto the bandwagon in 2021, HomeGoods president John Ricciuti said that the company was excited to introduce the option and that customers were expected to enjoy the website as much as the brick-and-mortar stores.
So why did HomeGoods wait so long? Like other off-price retailers such as Burlington Coat Factory, the TJX Company claimed that online shopping didn't align with that treasure-hunting business model. And although TJX had to relent because of the competition, HomeGoods still didn't seem compatible with eCommerce because it sells heavier items like furniture, which are more expensive to ship. Shipping is only free at homegoods.com with a minimum purchase of $119, which hasn't changed since 2021. It might seem excessive to pay for shipping on a $25 door wreath, so many shoppers prefer to shop in the stores. Still, if you order something from the website and don't like it, you can return it to your local store if there's one nearby.