15 Colors That Will Turn Your Bathroom Into A Dark And Moody Oasis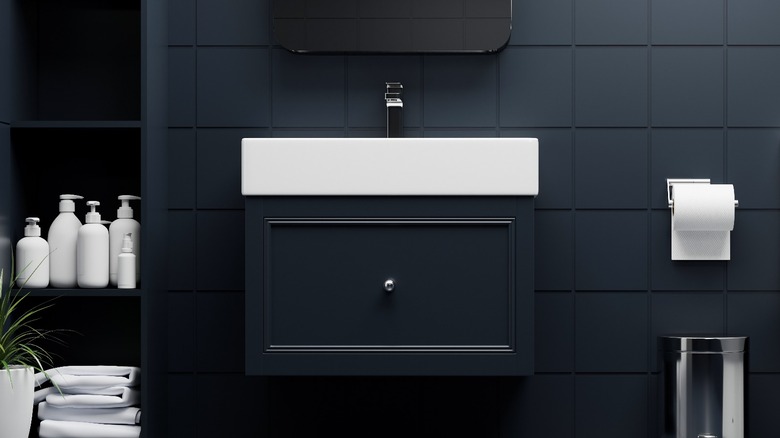 Bongkarnthanyakij/Getty Images
Interior design trends constantly fluctuate, and it can sometimes feel frustrating to stay on top of what's in style. A few years ago, almost everyone desired all-white kitchens, for example, and while they're still popular, darker colors are taking the stage.
Most have previously thought that using dark colors would make a room feel crowded or smaller than it actually is. Because of this, dark colors were avoided by many homeowners. Often, it's been the goal to create a brighter and more airy feel to a room with light shades of cream, huge windows, and open floor plans. However, now cozier and darker colors are on trend, with homeowners turning to them to create dramatic and moody aesthetics.
Even for the bathroom. But you don't have to commit to a full-black look to take on this trend. You can start by introducing darker colors through elements, like a dark tile in the shower or an emerald green accent wall or a deep gray bathtub. Below, we take a look at 15 bathrooms that opt for a darker aesthetic, making use of grays and deep blues as well as green, black, and even orange to great effect.
1. Dark tile accent wall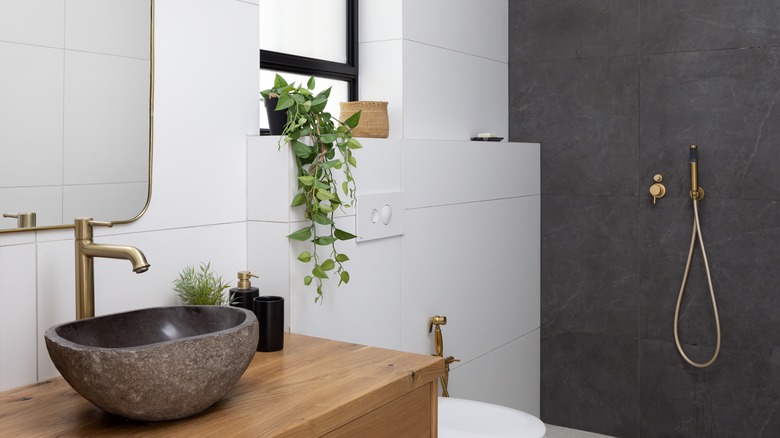 Shai.eps/Shutterstock
Committing to a completely black bathroom can feel intimidating and might not suit your personal aesthetic. But trying it out and bringing a small amount of the dark color drama to your space is easy with an accent tile wall. Then, match it with some wooden details to bring in some warmth.
2. Dark gray stone walls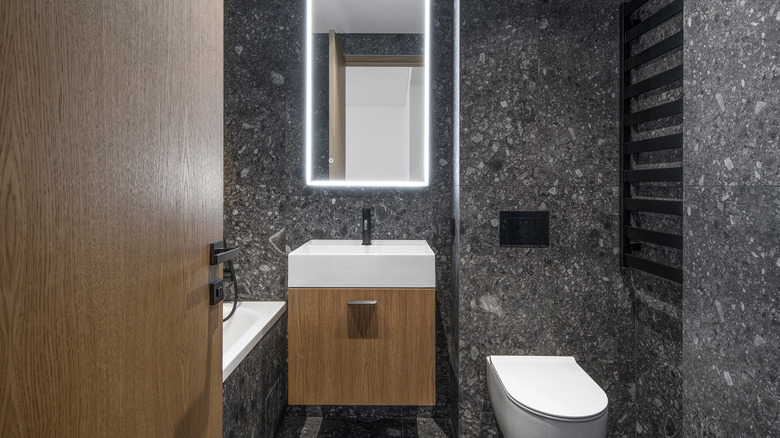 Jevgenija Zukova-cernova/Getty Images
At first glance this bathroom might look very dark, but in reality it is only the walls and hardware that are dark colors. The gray stone walls bring in details and depth while the wooden accents bring warmth. The white toilet, tub, and sink ensures the room isn't too dark, but it still provides a moody vibe.
3. Dark blue is here, too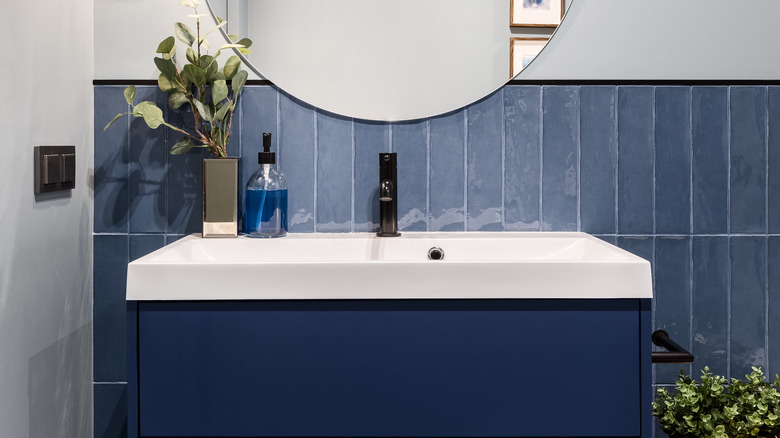 Dariusz Jarzabek/Shutterstock
Black and gray aren't the only dark colors available and this navy blue is stunning. While still dramatic, it's bright enough to keep the space light and suits the white sink and gray walls perfectly. 
4. Green textured walls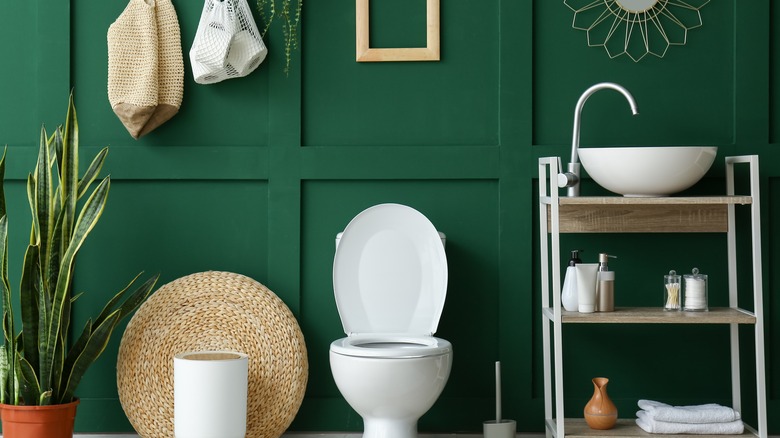 Pixel-Shot/Shutterstock
The only thing in this bathroom that's dark are the walls. Everything else is a light brown or white and that makes the dark green pop. The raised panels on the wall also add interest and depth to the design. 
5. Even dark pink can count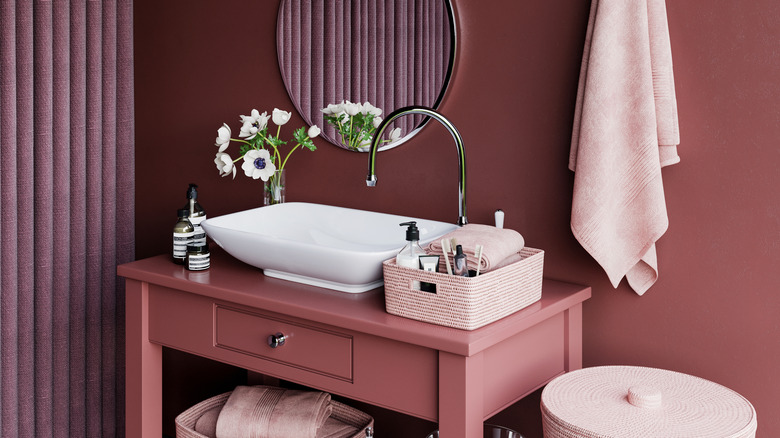 Miljan Andjelkovic/Shutterstock
It might not be the first thing you think of when considering a moody bathroom, but a deep pink can look sharp with the right accents. This dark pink wall color with soft pink vanity is perfect for those looking for a unique and cozy bathroom. 
6. Incorporate wallpaper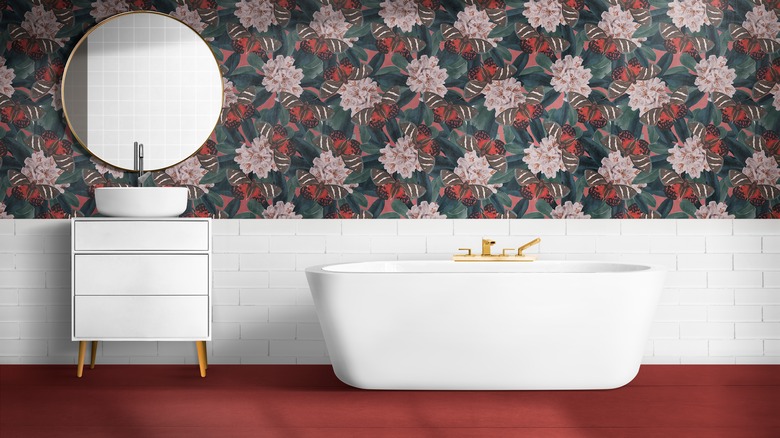 Rawpixel.com/Shutterstock
A red bathroom theme doesn't mean that every inch of the space needs to be red. Here, there is bold wallpaper with red details and deep red flooring to tie it together. The tile, tub, and vanity keep the space bright and allow you to explore a dark bathroom without committing to fully dark spaces.
7. Shiny black bathroom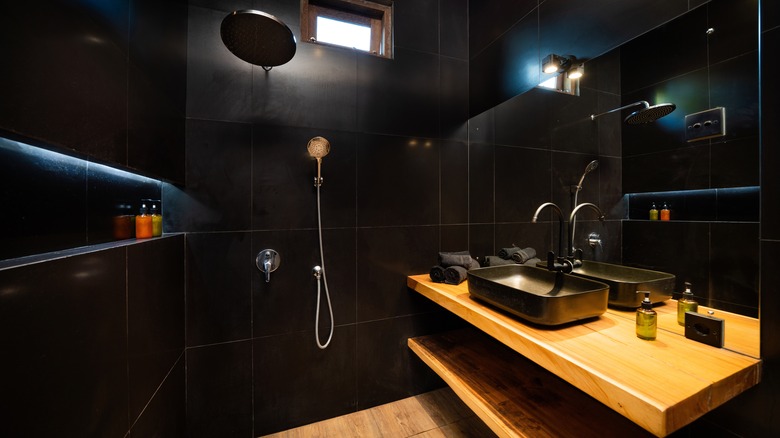 Sanatana/Shutterstock
Dive head first into the dark bathroom trend with this nearly fully black bathroom. The detailed lighting helps highlight different areas of the space, and the light wood vanity brings a pop of warmth.
8. A dark spin on teal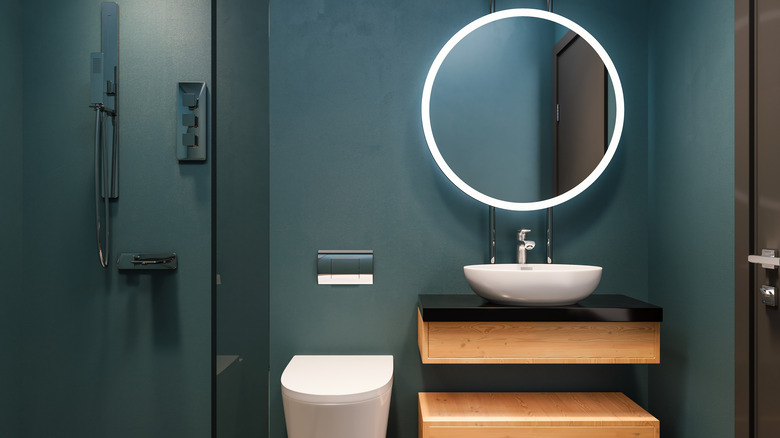 Snorkulencija/Getty Images
9. Earthy browns work as well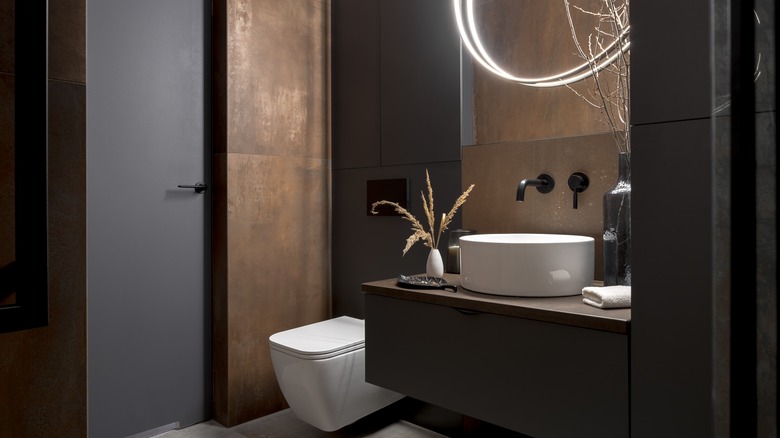 Dariusz Jarzabek/Shutterstock
Earth tones and bathrooms seem to mesh well. The zen feeling people want in a bathroom lends itself perfectly to dark greens and, in this case, a dark brown with black accents. You'll always start your day relaxed when you get ready in this bathroom.
10. Black bathrooms and plants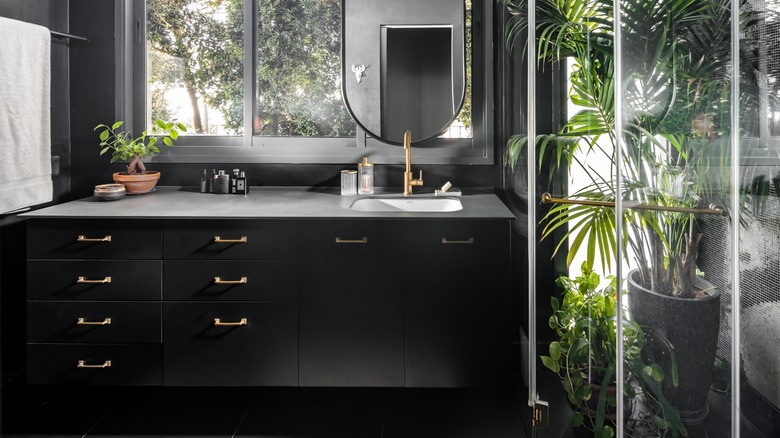 Shai.eps/Shutterstock
This bathroom features a black vanity, black walls, black floors, and dark gray countertops. The large windows and two huge plants bring light and life into the space while keeping with the moody aesthetic. With that amount of natural light, you don't have to worry about it being too dark. 
11. Green color and organic shapes
Rosshelen/Getty Images
Although the green isn't as dark as emerald, the combination of green walls, countertop, and tile with the dark fixtures make this bathroom a cozy and relaxing space. In addition, the organic shape of the mirror adds an elegant touch to a unique bathroom.
12. Midnight blue bathroom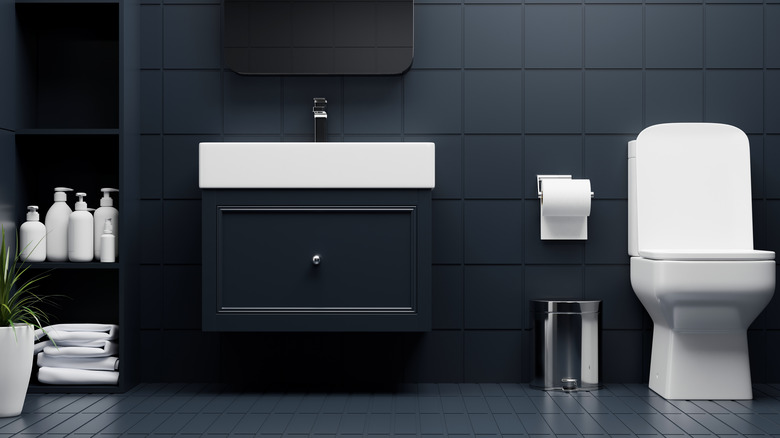 Bongkarnthanyakij/Getty Images
This very monochromatic bathroom features a midnight blue that's elegant and classy against the sharp white. The walls, floor, and cabinet all match and bring a calming style to the space. 
13. Black cabinets with white walls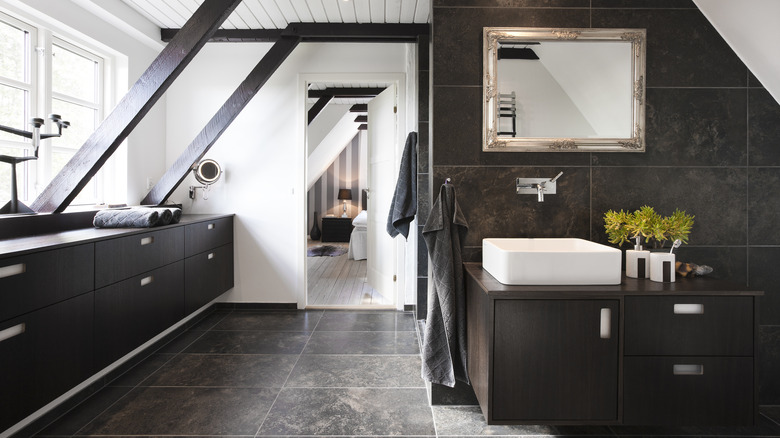 Jensbarslund/Getty Images
Almost everything in this bathroom is black or dark gray except the walls and the sink. The large windows flood the space with natural light and bounce off the white walls to ensure the dark colors don't make it too hard to see. 
14. Metallic hexagon details
Ivan Zaplatynskyi/Getty Images
The white tub in this bathroom stands out against the brown hexagon wall behind it. The metallic detailing reflects more light that pours in through the large window. 
15. Orange can be moody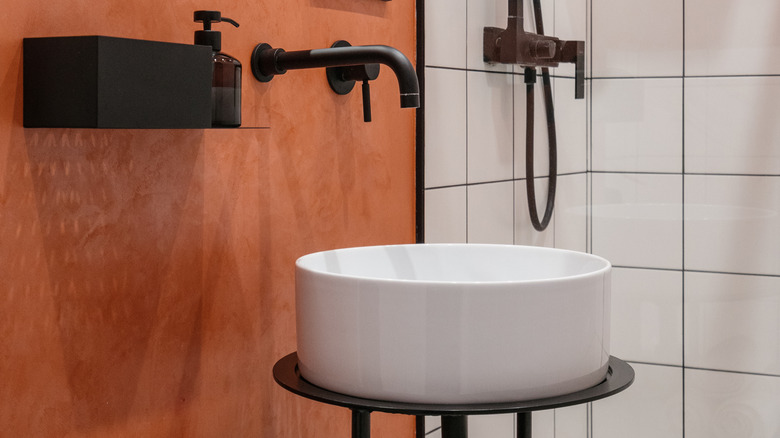 Brizmaker/Getty Images
Although orange isn't a very dark color, when combined with the matte black details in this bathroom you still get a very moody aesthetic. The texture of the burnt orange paint also makes it feel less bright.