The Best HomeGoods Hacks That Will Change How You DIY
Syda Productions/Shutterstock
HomeGoods has a cult following, and it's pretty easy to understand why. The store offers a massive array of home furnishing items — from furniture and decor to rugs and organization essentials — all at a discounted price. In addition to their bargain-happy price tags, HomeGoods is known for its continuously updated and replenished large inventory. This is the kind of store that you could go to multiple times a week, and always find something new. For these reasons, HomeGoods is an excellent place to source materials for a home DIY.
Whether you want to reupholster a piece of furniture, repaint a piece of decor, or repurpose a home essential in an entirely new way, you can probably find what you're looking for at HomeGoods — and for an unbeatable price. (Remember, as True Trae points out, the clearance section is your best friend.) Below we're sharing some expert HomeGoods hacks to make your DIY experience as smooth-sailing and money-saving as possible, as well as some awesome ideas to get you started on your next creative home project.
Ask for a discount if you see damages of any kind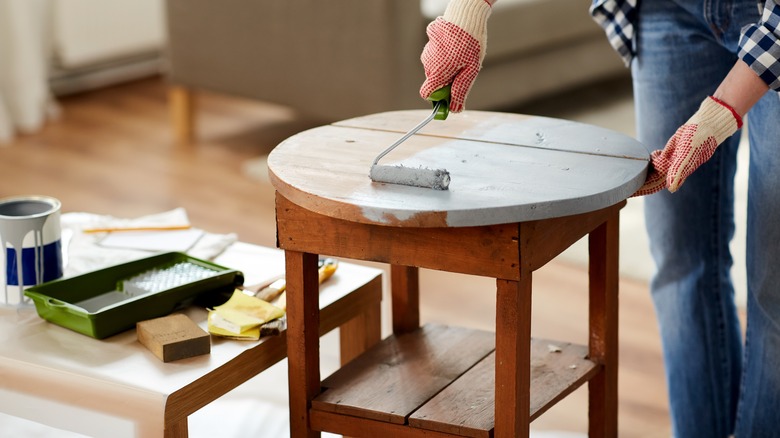 Syda Productions/Shutterstock
Just because the prices at HomeGoods are already low doesn't mean you can't be saving even more money. If you see any sort of damage — be it a scratch, nick, or tear — don't be shy to talk to an employee and ask for a discount. According to True Trae, HomeGoods typically offers anywhere from 10% to 20% off damaged items, which goes a long way when buying materials for your DIY. 
And even better, since you will be using the purchase as part of a DIY project, chances are you already have plans to repaint, refinish, or even cover it all together, so the damage won't even be an issue. With that in mind, damaged items could almost be your best friend. As True Trae also points out, the discounts are offered at a HomeGoods employee's discretion, so be sure to mind your manners and not get pushy.
Buy affordable blankets to reupholster old furniture
If you have a piece of furniture you want to reupholster, head to the blanket section at HomeGoods for fabric. No need to go to a fabric store for a soft and fuzzy material when you can pick up an inexpensive blanket instead. What's great is you don't even need to have expert sewing skills to do this DIY, and you don't need to sacrifice the furniture's current upholstery either (in the case that you want to return to it later). You'll basically just be creating a simple, fitted cover.
If you're interested in this DIY, check out Hermione Chantal's tutorial on YouTube. The only supplies she uses are scissors, pins, and a staple gun, and she transforms some purple-cushioned mid-century chairs into a trendy bouclé look. Keep this DIY in mind for any furniture you already have, or even if you see something you like at HomeGoods. That's what we call a one-stop shop.
Know it markdowns items every three months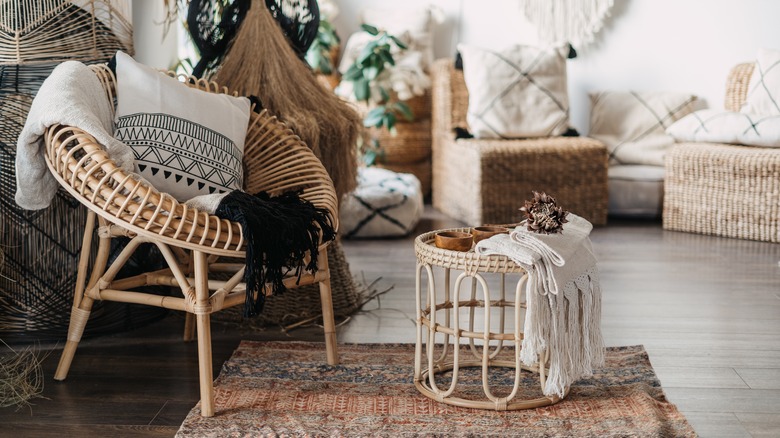 Brizmaker/Shutterstock
A great way to save money at HomeGoods is to pause before making a purchase — let us explain. Every three months, HomeGoods marks down unsold items. Of course, you run the risk that the item will sell before that, but maybe it's a risk you're willing to take. So, how do you know when the three-month mark will come? The key to that is understanding the price tag, which clearly marks the date when the object was put out on the floor or shelf.
TikTok user @nicolethefreespirit explains in one of her viral videos. The tag will have a month and year printed like "0222" to indicate February 2022. In the TikTok, she compares two of the exact same pillows, each of which was put out three months apart. Sure enough, the one put out in December 2021 had an additional red sticker with a lower price. Items get an even deeper discount three months later, so if an item hasn't sold after six months, it'll be marked down again. If you notice the item you're interested in has reached the three-month mark but doesn't have a red sticker, don't hesitate to bring it up to an employee.
Repurpose a rug as a tapestry
The key to a great HomeGoods DIY is thinking outside the box. Just because an item was created with a function in mind, doesn't mean it can't be used for something else entirely (similar to the idea of using a blanket to reupholster furniture). Next time you're at HomeGoods check out the clearance section for rugs to use as a tapestry. If you like the way the rug looks already, then great — but if you want to take it one step further, you can customize the rug with a little DIY action.
Tina Le on YouTube did precisely that. She purchased a rug from HomeGoods and used yarn and macrame to weave an additional design into it, complete with some fringe, using an expensive wall art piece from West Elm as her inspiration. If sewing isn't your thing, she also references a previous DIY video of hers in which she painted a rug instead.
Download the HomeGoods app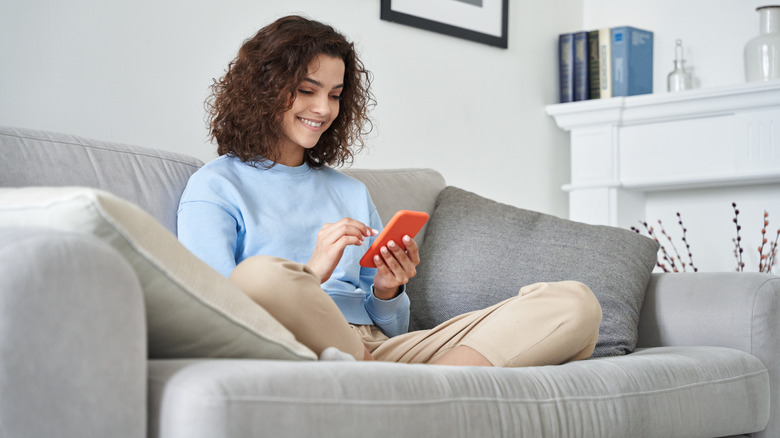 Insta_photos/Shutterstock
What's one more app on your phone? The HomeGoods app just makes sense for the avid HomeGoods shopper because it allows you to browse what it has in stock at your local store and what new arrivals are hitting the shelves. While you won't be able to see every single item available, you will get an idea of what's available and get you thinking about what you can craft. You can also save items to your "Favorites," which will help you stay organized as you plan your DIY. 
Speaking of DIYs, the app gives you access to blog posts, lookbooks, and ideas and tips organized by room, which are bound to provide you with some DIY inspiration. Even if you don't use the app, HomeGoods still has a blog available online. This post, for example, discusses tips for decorating small spaces ranging from an outdoor patio to your living room and bedroom.
Put items on hold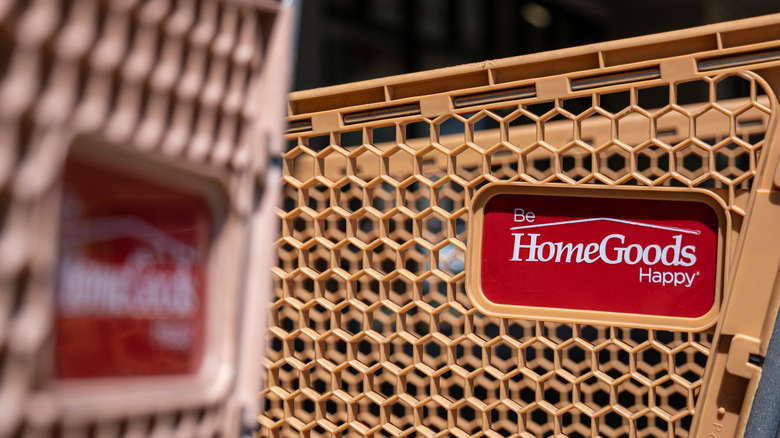 Bloomberg/Getty Images
Did you know you can put items on hold at HomeGoods? We strongly suggest using this to your advantage when sourcing for your next DIY. This is great when you spot something you like but want to shop around for a cheaper item before making a purchase. Putting it on hold ensures the HomeGoods item will be waiting for you if you choose to return to it. Or, as Motivationjob points out, if you're in the market for a large piece of furniture that won't fit in your car, you can purchase it and put it on hold until you find the appropriate mode of transportation.
With shoppers cycling in and out of HomeGoods daily, it's not worth risking an item you're eyeing being swooped up by someone else. Don't forget you can also call to put something on hold that you spot on the app.
Rework clearance canvases into DIY artwork
Another example of thinking outside the box for your HomeGoods-inspired DIY is reworking existing artwork into an art piece of your own creation. Head to the store's clearance section to pick up a canvas and use it as a base for your next art project. What's great about this approach is that many of these canvas pieces already come framed, so you won't have to go back out to buy one. Just think about how much money you'll save by sourcing your materials from HomeGoods rather than buying them individually.
Reworking the existing canvases into your own artwork is as simple as applying some fresh coats of paint. Tina Le used painter's tape to protect the frame before getting to work on covering the canvas with gesso, which is used as a base and similar to white acrylic paint. Then, she used regular acrylic paint to create an easy abstract design. Voila!
Look outside the art section for wall art
Continuing with the topic of sourcing HomeGoods items for DIY art, don't think you're limited to canvases when it comes to adorning your walls. Really anything can be wall art, so check out ALL sections of HomeGoods before you head out.
Need some examples to get you started? Check out Kris Jarrett's post on her blog Driven By Decor. There, she takes readers through the creation of a gallery wall in which she uses some unlikely objects as art, including a tree slice breadboard and even a lion head door knocker. What's great is that you can even take it one step further, and customize the specific pieces. For example, like the lion head door knocker but not the color or finish? Spray paint it to match the vibe you want. The same goes for the tree slice — add some coats of paint for a funky look. HomeGoods DIYs are all about getting creative.
Go to more than one store location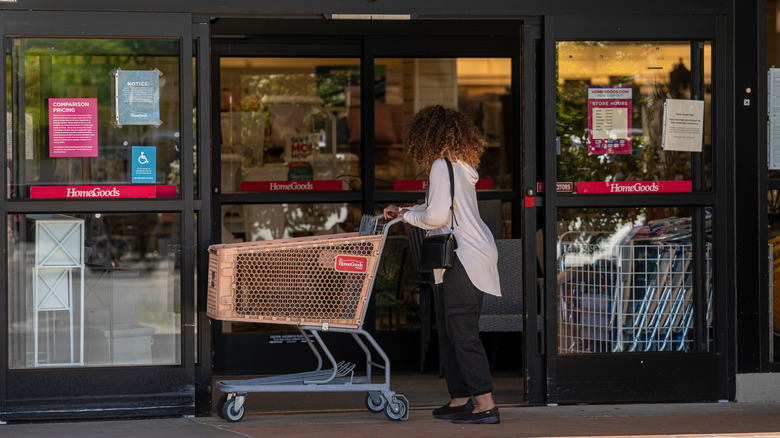 Bloomberg/Getty Images
Just because one HomeGoods store doesn't have what you're looking for doesn't mean another won't. If you're looking for a specific item, it's worth doing a second sweep at a different location — especially since you can always put what you found at the first store on hold in the meantime. Remember, changing your preferred store on the app is another way to glimpse at inventory elsewhere.
As with all chain stores, some locations are simply better than others. Check out House Beautiful's list of the best HomeGoods in your state, which was curated with the help of Yelp. These stores tend to not only have the highest star rating and most positive reviews, but are well organized and stocked, which we all know makes a big difference in a shopping experience. If you don't live near one of these praised locations, shop around various stores in your area, and we're sure you'll find exactly what you need.
Shop at the right times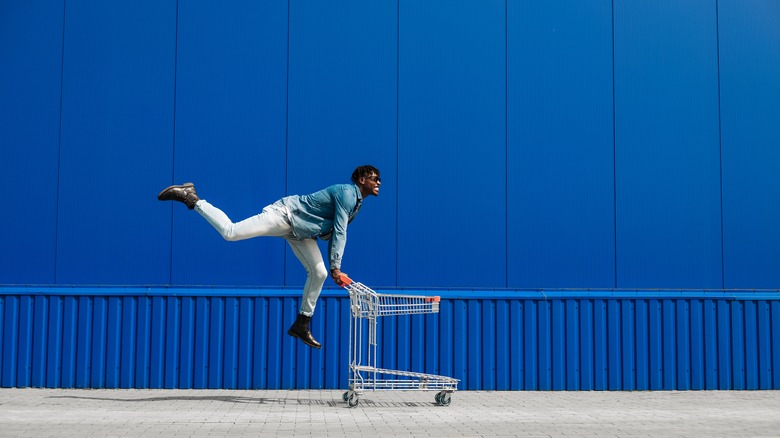 Shopping King Louie/Shutterstock
Be strategic about when you shop at HomeGoods to have the best selection for your DIY hunt. The goal is to go to the store when it's quieter and less busy, which provides a more enjoyable shopping experience and lets you have a better selection of items. In general, the weekends are probably the worst time to shop at HomeGoods, for the obvious reason that fewer people are working, and therefore are out and about shopping. If you want to go on the weekend, aim for the morning or later in the evening, as those are lower-traffic times.
HomeGoods PR manager Joanna Howarth told The Kitchn that the best days to shop are Tuesday through Friday since Mondays are usually spent reorganizing the store after the busy weekend hours. Even though Howarth mentions Tuesday through Friday, she said that even within those days, the earlier the week, the better.
Buy discount holiday items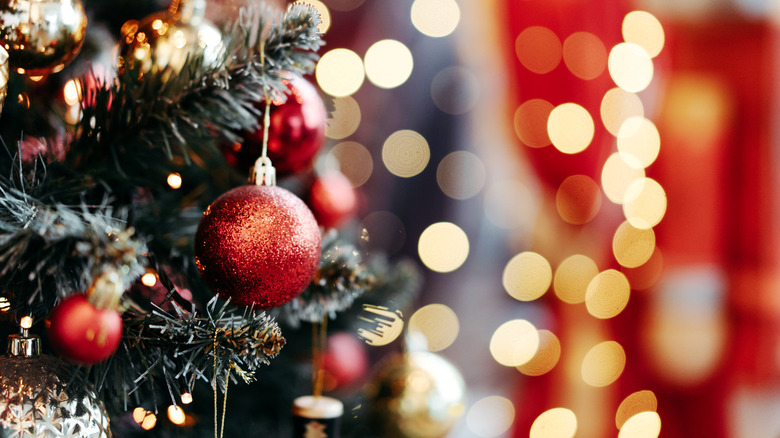 Ilona Kozhevnikova/Shutterstock
If you're doing a DIY, chances are you will repurpose an item anyway, so why not score it on a mega sale after a holiday? Once a holiday has passed, all things related to that festive time undergo huge markdowns, and as we've already learned, a few coats of paint can go a long way in completely changing the vibe of an item. There are also things you can deconstruct, like taking apart a wreath to use the foliage for an entirely new craft.
Though it may be an entire year in advance, if you know you have a Halloween or Christmas DIY you want to try, use these discount items to get a head start on it and have it all ready to go for next year. You can also DIY one holiday's decor to make it appropriate for the next, such as transforming fall decor into winter decor. For example, Home Depot suggests spray painting gourds and using a red blanket or sweater to recover a pillow.
Paint any pot or vase to get the look you want
A little paint goes a long way with a HomeGoods DIY. In fact, paint is practically your best friend. Pretty much any pot or vase purchased at HomeGoods can be transformed into the style you want, no matter what it looks like, when you pluck it from the store. All you need to do is find the shape and size you like, then head to your local craft store to pick up the paint required to bring your vision to life.
Check out this great example from Brandy Jackson on YouTube. She buys a turquoise-colored clay pot that she quickly spray paints a matte stone color, completely changing the vibe. It's truly one of the easiest DIYs you can do. We also love this one from Stephanie Macedo, who uses paint to make stone, concrete-looking vases from classic glass vases. The key to creating the textured look is mixing baking soda with the paint.
Know your store's restocking days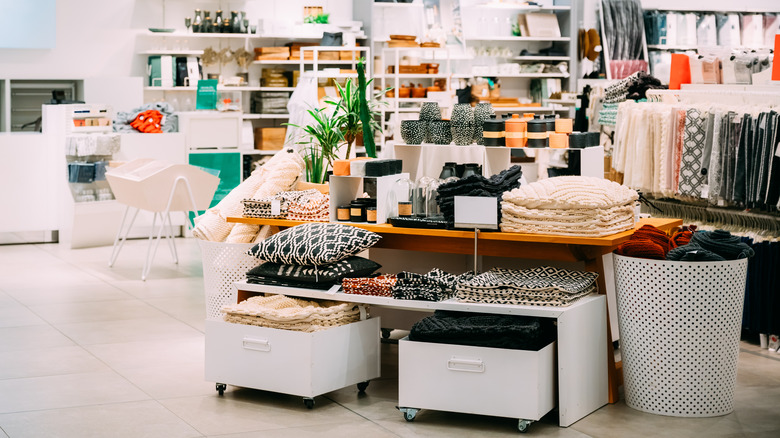 Grisha Bruev/Shutterstock
The more new merchandise, the better, right? That's why you should plan your visits to HomeGoods with its restocking days in mind. This way you'll make sure you get the first look at everything that's just hit the shelves. The store doesn't have across-the-board restocking days, as its locations are constantly getting new shipments, but what we do know is that they're typically not restocking on the weekends. 
According to W3demy, HomeGoods usually restocks smaller products a few times a week, plants about every week, and furniture every couple of weeks. But, as it points out, this may vary due to the demand of the item and whether the item is related to a specific season. Mondays are believed to be popular restocking days since a lot of merchandise is sold during the weekends. Our advice is to simply ask your local HomeGoods about their restocking days, because every store has its own system.
Keep your receipt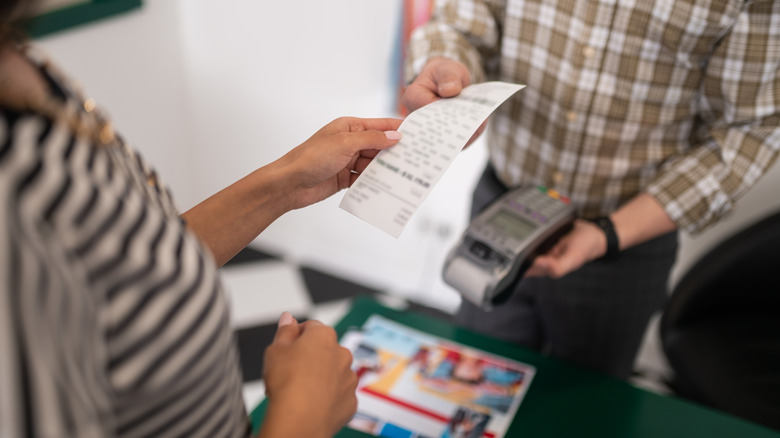 Yakobchuk Viacheslav/Shutterstock
Receipts are annoying, we know, but you're going to want to keep them for all your HomeGoods purchases until you know you want to keep an item. The store has a solid return policy, but you can ensure it's even better if you have your receipt. As Everyday Fun Finds breaks down, you can return the unused merchandise to HomeGoods for a full refund if it's within 30 days and if you have a receipt. 
After 30 days, or if you don't have a receipt, you'll receive the refund in store credit. Still not bad, but having the receipt is certainly better. This return policy even applies to clearance items. With this knowledge in mind, you should probably just buy whatever item you think would work for your DIY. After all, 30 days is plenty of time for you to decide if you want to use it or not. What's great is that HomeGoods offers email receipts, so you don't even have to deal with pieces of paper if you don't want to.